10 Economical Flooring Options to Update your House and Add Value
If you've got old flooring that needs replacing, then you may be dreading the final cost once the new flooring has been chosen and installed. Fortunately, flooring comes in many styles and options, so you can easily find a variety of ways to keep the costs down while enhancing the value of your home in the process.
Here are 10 options for budget-friendly flooring that will help you keep the full cost of flooring replacement under control.
1. Cork
Cork flooring is an attractive natural flooring choice that comes in a variety of installation types, including tiles and planks. Cork tiles are usually installed by gluing them down, while planks normally use a click-lock joint, making the latter easier to install. The planks sit on an underlayment, which can add to the cost and complexity of installation but will also provide additional insulation.
In addition to being a great thermal insulator, cork flooring absorbs sound and can provide natural soundproofing between floors in a multi-story house. Cork is water resistant to some degree (which is why it's normally used as a bottle seal) but should not be considered waterproof to the degree something like vinyl is, as if it gets wet it will swell up. This makes it unsuitable for kitchens, bathrooms, and laundries.
Cork can also be harvested without killing the tree it comes from, which makes it an environmentally sustainable flooring type.
Cork costs around two to six dollars per square foot, with final installation usually being three to five dollars per square foot. While this flooring option is certainly not the cheapest, it is an economical option that can give your home's interior a substantial facelift.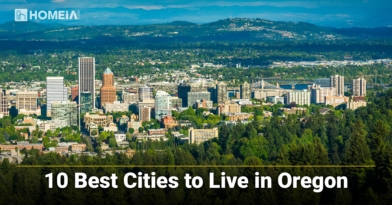 Related article
Oregon is a study in contrasts. It has 363 miles of the most breathtaking coastline you'll encounter anywhere in the world. But it also has dense forests, mountain ranges, and high desert country. Here're the 10 Best Cities to Live in Oregon…
2. Ceramic Tile
Ceramic tiles are usually made from clay and shale fired in a kiln. They come in four main types, which are glazed ceramic, porcelain, quarry tile, and terracotta. Each type has different characteristics, and you should research them further to find out if they suit the area that you want to use them for.
Ceramic tile flooring can vary widely in price, but you can get it for as low as one to five dollars per square foot. Cheaper prices will usually reflect the quality of the product, but the most expensive ceramic tiles are likely to be overinflated in terms of actual value, so make sure that you shop around and do some research into the type of ceramic tiles that you are considering.
Installation will usually set you back around four to twelve dollars per square foot, as the process can be slightly more labor-intensive than other economical flooring options.
Note that, while ceramic tiles are fairly tough, using ceramic tiles intended for use on walls as flooring tiles is a bad idea, as they may not be strong enough to take the regular abuse of being walked on. Make sure that you get ceramic tiles that are rated for use as flooring.
3. Stained Concrete
Stained concrete flooring can be a good choice if your house is built on a concrete slab. If your current flooring is degraded and your budget is limited, then you can just rip up the old flooring and get the concrete underneath cleaned and resurfaced in a variety of styles.
Costs tend to vary widely due to the wide range of approaches you can take to this flooring type and the variable costs involved with removing the old flooring. Generally, this is probably one of the cheapest available options, though.
Related article
Travel aficionados who are looking to fill up their bucket list with various visits to fun U.S. states should most definitely pencil in Tennessee as one of their destinations. The people in the so-called Volunteer State (Go Vols!) are genuinely friendly folks who never fail to provide visitors with…
4. Bamboo Hardwood
Bamboo hardwood flooring is a good environmentally friendly alternative to conventional hardwood, and can be made to look nearly identical. Because bamboo grows so quickly, it can be harvested sustainably compared to standard wood. It is available as both solid strips and planks. Bamboo hardwood flooring tends to be fairly tough, but some cheaper types may suffer from poor manufacturing, which will affect their durability.
So make sure you do your research into the manufacturing quality of the bamboo flooring materials that you are thinking of buying.
The cost of bamboo hardwood is normally around three to eight dollars per square foot, with installation at about seven to twelve dollars a square foot.
Related article
The capital city of the United States has a reputation for being a busy political and business hub, but there is a lot more to discover and enjoy for residents of this diverse city. Washington, DC is consistently ranked among Business Insider's and Niche's top 50 cities to live in, and there are…
5. Engineered Hardwood
Unlike natural hardwoods, which are cut from a specific species, engineered hardwood is an umbrella term that's defined by the product's material composition, being manufactured or man-made to include a range of derivative wood products. Engineered hardwood flooring is usually made from layers of plywood with a thin veneer of natural wood glued over the top.
It is slightly cheaper than natural hardwood and may be easier to source if hardwood supply choices are sparse in your area.
Because it is a composite manufactured product, the range of plank sizes can be more diverse, and the surface finishes can have far more variety available. Additionally, many types of engineered hardwood can offer healthy flooring alternatives, as some are manufactured without harsh chemicals or materials that can impact the air quality of a home.
The range of installation types is similar to natural wood, which means that it doesn't require any special knowledge to install. This flooring type tends to be less durable than natural hardwood, though, and you may find the surface becoming scratched and worn over time.
Costs are usually around two to seven dollars per square foot, depending on the source. Installation is around five to twelve dollars a square foot, which is similar to standard hardwood.
6. Laminate
Laminate flooring is another versatile and easy to install flooring option that comes at a bargain. Laminate is a multi-layered synthetic floor material with the different layers laminated together (hence the name). The surface uses a photographic application layer covered with a transparent protective coating to provide a sturdy and attractive finish.
The individual planks are usually connected via tongue and groove joints, making them easy to install. The planks are normally laid over an underlayment to provide sound and thermal insulation. You can get laminate flooring for around one dollar a square foot if you shop around.
Related article
Laminate is a popular flooring choice today. It comes in many colors and textures, it is durable, and it is easy to install. There may come a time, though, when you want to replace the existing laminate floor with something new…
7. Vinyl
Vinyl flooring is inexpensive, easy to install, and durable, at a cost of around one to two dollars per square foot depending on where you purchase it. In the past the options for printed designs were unfortunately fairly limited, which resulted in a bad rap for vinyl, but modern imaging techniques allow for a huge range of vinyl flooring patterns to be used.
Designs include a wide variety of patterns, such as ceramic tiles, terracotta, and hardwood planks. Installation can be in sheet, plank, or tile form, making it easy to install vinyl flooring into any space. Vinyl flooring is also a great choice for bathrooms and laundry areas where the floor may often become wet.
Related article
To remove your own vinyl flooring, you'll need to remove the baseboards, pull the vinyl out by tiles or strips, free stubbornly glued areas, and clean the remaining adhesive off the floor underneath…
8. Carpet Tile
If you prefer the feel of carpet, but not the cost that comes with some quality carpets, then carpet tile flooring may be a good alternative. As the name implies, carpet tiles are pieces of carpet that come in a tile form that is usually glued into place. You can get the tiles in a variety of sizes, including squares of 12-, 18-, and 24-inch widths. They are easy to install, and also easy to transport compared to carpet rolls.
In addition to being a great choice for the main areas in your house, they can be a fun option for kids' playrooms. You can create a checkerboard pattern of complementary-colored tiles, or choose carpet tiles with animals or other colorful images on them.
Costs including professional installation are usually around three to six dollars per square foot. Minus installation, you are probably looking at half that price for just the tiles.
9. Oak Hardwood
If you prefer a more traditional flooring type, then oak hardwood flooring is about as traditional as you can get. It is often not the cheapest option, though.
Fortunately, you can find cheaper oak flooring planks at budget prices if you shop around looking for second-grade wooden planks. You can often get these directly from the manufacturer and simply use them with the good side facing upwards and the bad side facing down. You may end up throwing some planks away due to their being too far gone, though, so factor this into your costs.
Oak hardwood flooring is best used for living areas with stationary furniture. Areas like the kitchen, where liquid spills may cause moisture absorption and frequently dragged chairs may abrade the surface, are less appropriate prospects for hardwood.
It's still a viable choice for these areas, but you will need to accept that the flooring surface may not last as long as other floor types. Oak hardwood flooring is mostly available as planks, including flat-edged and tongue-and-groove options.
You can find red and white oak hardwood seconds for around a dollar per square foot. Installation is about five to twelve dollars per square foot. You'll also need to factor the finish you use on the flooring into your total costs.
Related article
Before considering your move to Boston, we have compiled a list of 7 key factors we put together for you. Boston life is about the best city life you can imagine. Relatively small, it's often referred to as the walking city, with world-class museums, universities, theaters, and gourmet dining…
10. Linoleum
Linoleum flooring has been around for almost one and a half centuries. Over that time, it has improved dramatically in quality and surfacing options, so the linoleum in your grandparent's house may not be a good example of the choices you have available today.
Linoleum is made from natural and renewable materials, such as cork powder and linseed oil. It is a great alternative to vinyl flooring if you are concerned about the manufacturing process resulting in toxic waste and other forms of pollution.
You can also get linoleum in the same range of options as vinyl flooring, and installation is nearly identical. Linoleum flooring costs around two to five dollars per square foot, with installation costs of around seven to twelve dollars a square foot.
These are just some of the flooring options that you have available, but they should get you started thinking about how to save on that replacement floor. With a few clever choices and some diligent research, you should be able to find a way to replace that dingy old flooring without breaking your bank account in the process. Shop around for some options and see what budget choices are worth considering for your new floor.
Related article
This city has all the advantages of small-town living with proximity to big city amenities. New Prague earned the No. 2 place on our list of the Five Best Cities for Families in Minnesota with good reason. The city is peaceful and safe with a lovely downtown, beautiful lake and opportunity…