3 Reasons Why Real Estate Firms Should Invest in Blog Content Marketing
Do you know that companies who use content see conversion rates that are 6 times higher?
Content marketing is ruling the world of online marketing. Like other businesses, real estate firms are also realizing the importance of blog content marketing. In fact, they now understand that a web presence and a regularly updated blog are critical factors for success.
Investing in blog content marketing has helped many real estate firms find new clients and improve their bottom line.
But the main question is:
A. How does blog content marketing help real estate businesses?
B. What are the advantages that it offers?

According to a TMG Custom Media report, 90% of customers believe that companies with content and blogs are keen to build a lasting relationship with them. If your real estate website doesn't have a blog yet, it is high time you add one to improve your chances of success.
Here are 3 reasons why every real estate firm should invest in blog content marketing.
1. Blogs Help with Search Engine Optimization (SEO) Efforts

First things first, the biggest benefit of having a blog for your real estate firm is the boost it gives to your SEO efforts. SEO is the process of getting human visitor traffic to your website from organic, free, natural or editorial search results on a search engine like Google.com or Bing.com. It basically revolves around making a website appealing to the search engines. Content marketing is one of the basics strategies to improve SEO rankings.
The aim for effective content marketing is to create high-quality content that abides by the standards of SEO to help a business rank higher on search engines. Google and other search engines rank websites based on the quality of the content they offer.
Thus, if a real estate firm has a team of blog content marketers with a comprehensive understanding of SEO techniques, then their search engine rankings will definitely improve. This translates to more clients and improved profits.
When your website starts ranking high on search engines (thanks to your highly informative blog) then your website visitors will also grow. With more website visitors, your chances of converting potential clients into actual clients also increase. You should aim for the highest rank on search engines because hardly any customer goes to the second page of search engine results when they are looking for information.
Thus, reaching the top rank with the help of your blog content marketing is the common approach in SEO.
As mentioned before, people use the internet to find any information they need. It is the internet that they turn to when they need real estate services or are looking for house listings, etc. With a regularly updated blog with relevant high-quality content, your search engine rankings will automatically improve.
However, it is important to note that just adding a blog each day will not do you any good unless the content is valuable, and you promote it intelligently. Therefore, if you want your real estate agency's website to rank higher and enjoy increased business, you need to invest in blog content marketing and create high quality, relevant blogs.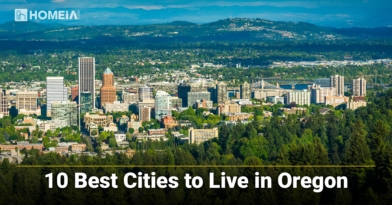 Related article
Oregon is a study in contrasts. It has 363 miles of the most breathtaking coastline you'll encounter anywhere in the world. But it also has dense forests, mountain ranges, and high desert country. Here're the 10 Best Cities to Live in Oregon…
2. Blogs Help Real Estate Agents Improve and Enhance Their Knowledge
Another interesting benefit of a real estate blog is that it helps real estate agents enhance their own knowledge. They may think that they know a lot about real estate, but they certainly don't. With every blog they write, they will learn something new. This also helps them discover their strengths and weaknesses, which can further improve their service.
Real estate agents are also learning when they are trying to inform others about any real estate topic. It can help you become a stronger and better real estate agent. Blog content marketing is a win-win for real estate agents and their clients.
3. Blogs Establish Yourself as an Expert and Help Build Relationships
People want experts when it comes to their real estate needs. They don't want to risk their investment and future with a real estate firm that is uninformed and novice. This is especially important when the investments are high. Blogs can help real estate agents come off as experts in their field.
They can show off their expertise with comprehensive and quality blogs which can produce an uptick in their prospective client list while educating clients on relevant topics.
Blogs help clients understand that this real estate firm knows what they are talking about. They can explain different complex real estate topics to their clients which helps establish trust and makes them a reliable information source. All of this translates to better client relationship, more clients and better profits.
Another benefit of blog content marketing is that it allows your real estate firm to establish itself as a local expert. You can develop some local community pages on your website and put in all the information that you can about a particular area in your blog. These community pages can become the go-to resource for people who are looking to invest in that particular area.
When they have all the information they need about a location and area, they will be able to make an informed decision about their investments. And more often than not, they will end up working with you to finalize the deals as you have now established your business as an expert in that area via your real estate blog.
Once your blog is up and running, it is just a matter of time before other bloggers start collaborating with you. Collaboration is essential to building good real estate relations, especially when it comes to social media. You can also get in touch with some influencers or collaborate with them on certain projects so their followers get to know about you.
This can help you gain more visibility, which is essential if you wish to be successful in today's business world.
Whether it is a real estate firm or any other business, having a blog and investing in blog content marketing can improve their chances of success.
Related article
The capital city of the United States has a reputation for being a busy political and business hub, but there is a lot more to discover and enjoy for residents of this diverse city. Washington, DC is consistently ranked among Business Insider's and Niche's top 50 cities to live in, and there are…