5 Reasons to Invest in a Professional Locksmith for Your Home
These days, home improvement stores sell kits, rent tools and provide nearly everything people need to do just about every home project themselves. Unfortunately, that leads some people to think that they have absolutely no need for professional services any longer.
When it comes to many areas of the home, however, including your locks and security, that simply isn't the case. Having a locksmith on call that you can trust is going to give you peace of mind and guarantee that your home is genuinely secure.
A lot of people don't even think of locksmiths for the home as much as they think of them as an emergency solution for vehicle lockouts. There are, however, a number of benefits to having a locksmith on hand for the protection of your home. With the growing availability of smart technology and the ever-changing world of home security, the average homeowner is usually just too busy to keep up.
By having a professional locksmith service on call, you'll be able to stay current on technology and industry trends, trust that your home is protected, and enjoy more peace of mind overall. You'll never be left standing out in the cold. Keep reading to learn the biggest reasons why everyone should have a locksmith in their home services contact list.
1. Experience and Knowledge
Professional locksmiths are extensively trained, certified and experienced in all aspects of locks, keys and other facets of security. They know what they are doing when it comes to lockouts, rekeying locks, repairing lock damage, replacing locks, and more. Today's professionals even work with access systems and smart technology to provide even more solutions for the modern homeowner.
Even something as simple as installing a new lock kit from the hardware store takes mere minutes for a professional, when it could take you hours to get the job done yourself. Plus, whenever you have questions and concerns, they'll be there to help with the information and experience that you need.
Related article
Before considering your move to Boston, we have compiled a list of 7 key factors we put together for you. Boston life is about the best city life you can imagine. Relatively small, it's often referred to as the walking city, with world-class museums, universities, theaters, and gourmet dining…
2. The Right Tools for the Job
If you decide to replace your locks, you probably will also have to purchase or rent the right equipment to install them properly. Door handles and locks often require a lot of specialty hardware and tools, and if you don't have them on hand, it could get costly.
When you have a locksmith on call, you know that someone with the right tools is ready and waiting to help whenever you need them. Plus, locksmiths aren't going to charge extra for providing tools and supplies that they already have on hand. It's just part of the service, and it can save you a small fortune on equipment and tools.
3. Professional Relationships
There's a good chance that most people will need a locksmith more than once in their lives. Trying to find reputable professional services is often a hassle. It seems like there are hundreds of providers, and everyone claims to be the best.
How are you supposed to know which provider will best serve your needs? Nothing is worse than needing a locksmith in the middle of the night and not knowing who to call. By having a locksmith in your contacts, you'll already know that you have someone you can depend on when you need them, no matter what those needs might be.
Related article
Before you consider a move to Chicago, you should consider 7 key factors that will increase your appreciation for the city and guide you to the right neighborhoods and activities for you…
4. Your Home Locksmith Can Also Help with Your Car
Locksmiths work with all locks. That means that if you have a professional locksmith do work at your house, and you like the work, you can keep their number on hand in case you ever lock yourself out of your car or encounter another lock emergency of some kind. There aren't separate services for car and house lock services, so it's a win-win for you when you already know someone.
Plus, as they do with home security, locksmiths stay updated on vehicle security trends and lock systems, and may be able to help educate you on your own options for security upgrades or vulnerabilities in certain systems or vehicles.
Related article
This city has all the advantages of small-town living with proximity to big city amenities. New Prague earned the No. 2 place on our list of the Five Best Cities for Families in Minnesota with good reason. The city is peaceful and safe with a lovely downtown, beautiful lake and opportunity…
5. Locksmiths Are Always Available
This is one professional that always has 24/7 availability. The nature of most lock emergencies demands it, in fact, so it will be rare to find a locksmith that doesn't offer 24-hour emergency services. You might not think this is important, but when you're making calls at 3 AM because everyone wants a small fortune to help you unlock your car, you'll find yourself wishing you knew someone ahead of time.
You will likely still pay a premium charge for an emergency or after-hours call. However, you'll be able to trust that this fee isn't exorbitant and that the service is worth it when you're calling a locksmith that you have worked with before. That kind of peace of mind in an emergency situation is truly invaluable.
Related article
Michigan is the only state in the United States with two separate peninsulas and five surrounding Great Lakes. Its landscape is diverse, ranging from industrialized skylines to sweeping sand dunes to gorgeous waterfalls. Once home to Henry Ford, it's also considered the epicenter of America's…
The Bottom Line
It doesn't cost anything to have a locksmith on call. If you need their services in the first place and they do quality work, keep them in mind and keep their number. You never know when you'll need one, and it's better to have one than not.
Locksmiths can help with so many different lock and security solutions for your home and vehicles, including programming and rekeying smart locks and smart vehicle keys, as well as helping to set up home automation and smart security systems for the innovative homeowner that wants the latest and greatest in home security and lock protection.
Perhaps one of the best benefits is to have a professional relationship with a locksmith is that they can become a consultant of sorts, even if you aren't quite ready to make any upgrades. If you've already invested in their services for your home at one point or another, they're going to be much more willing to invest in you by helping you find what's right for your home.
If you don't already have a reputable, reliable locksmith in your home services contacts, you should find one sooner than later so that you can start reaping the rewards.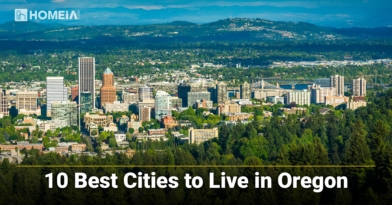 Related article
Oregon is a study in contrasts. It has 363 miles of the most breathtaking coastline you'll encounter anywhere in the world. But it also has dense forests, mountain ranges, and high desert country. Here're the 10 Best Cities to Live in Oregon…