9 Important Rules to Be a Successful Landlord
Deciding to own and manage rental properties is not something to take lightly. Many of us pursue a financial strategy of multiple streams of income which often points to rental income. Indeed, this can be a practical plan, especially when you create a simple business plan, including its potential financial impact, then outline the steps needed to achieve your goals.
Once you've taken a serious look at the reality of rental ownership, you might be excited to get started or decide to take another path. If you're still thinking that it's a workable plan, here are 9 rules to live by:
If you want to be a Landlord, here are 9 Important Rules:
1. Be Financially Aware

Let's assume the reason you are considering rental property ownership is to gain additional income—without adding undue stress to your life. For this, you want to take your time to understand the financial impact on your savings account. Think of it as a business so you don't get emotionally attached to the idea of ownership, or to the property. Doing so will make it easier to find a property that fits your financial plan as well as your management model.
Since this will be a business for you, it makes sense to talk it over with your CPA, tax attorney, insurance agent and financial planner. You will gain a wealth of information and sensible ideas from these professionals who have seen others win and lose in such ventures. They can help guide you in the right direction, and at the right pace.
Decide how much house you can afford and if/when you are ready to invest your 20% down payment, pay the mortgage (even if there is no renter for the month), as well as maintenance and insurance costs.
Related article
We assessed the cost of living across Californian cities and compared them to the national average. The cost of living is calculated based on 5 main categories: housing, food, healthcare, transportation and energy. Based on these calculations, we narrowed down the list to California's 10 most affordable cities…
2. Be Committed to the Hard Work

Being a landlord is not for the couch potato—unless you have a staff of maintenance, management and financial wizards at your service. You will likely spend more time than you had anticipated finding and purchasing a good property, finding good tenants to occupy the space, and maintaining the property.
Before tenants move in, the property will undoubtedly need maintenance, repairs, cleaning, painting, and possibly renovation. While your tenants are living in the home, you will make periodic trips to the property for inspections or to check on a complaint. Additional repairs or replacements may be needed—and at least some will be expensive.
Related article
3. Be Location Smart

As in buying your primary residence, the location of a rental property is important. It would be preferable to find a property within an easy distance of your home and office. You'll also want a neighborhood that feels comfortable to you, since you'll be there frequently and will have a vested interest in the community. Some locations will attract different types of renters. For instance, if the house is near a college, you would expect to see more student applications.
While you are thinking about location and which types of renters are likely to need housing there, you can also think about whether you prefer short- or long-term tenants. Using the student example again, these renters might be short-term or seasonal. If you would prefer longer-term tenants, you might wish to look at homes in a residential community with an easy commute to their office or workplace.
4. Be Knowledgeable about Laws and Regulations

Especially if you'll be a first-time landlord, study up on local, state and federal laws and regulations. If you are planning well in advance, you may find a course that covers landlord responsibilities and legalities for both owners and tenants. You can meet with property managers, investors and other landlords to learn from them. You can ask someone with experience to mentor you which will help avoid some of the pitfalls.
Your insurance agent, real estate attorney or CPA will also have some great advice. No one wants to encounter difficulties, and it's best to be aware of tenants' rights from the start. As a landlord, you also want to protect your time and investment by understanding proper procedures and processes. Make it easy on yourself and plan to do credit and background checks before signing a lease.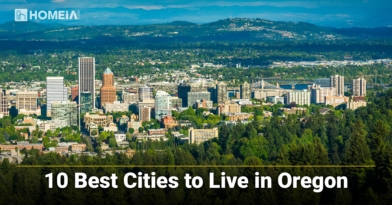 Related article
Oregon is a study in contrasts. It has 363 miles of the most breathtaking coastline you'll encounter anywhere in the world. But it also has dense forests, mountain ranges, and high desert country. Here're the 10 Best Cities to Live in Oregon…
5. Be Thorough in Your Tenant Selection

It will make life easier if you can choose a good tenant. Take your time to get it right and make sure you have developed a process that includes a background check. Ask for references from employers and previous landlords. You can also check their credit score for a better idea of financial reliability.
When you interview the applicants, you will likely find out what's important to them to get an idea of how long they might stay and how well they might take care of the property.
Once you consider all factors, you'll have a good idea of whether it's a good fit. If you decide to use a property management company, they will often take care of the tenant screening, selection, rent collection, and if necessary, the eviction process, as part of their responsibilities. It can save a lot of time and energy on your part.
Related article
Bordering Canada and the Great Lakes is a state fondly dubbed as the "North Star State" and "Land of 10,000 Lakes." The state has a lot of lakes sprawled across its more than 86,000 square mile area. In a comprehensive study of cities, Minnesota is the number one state for raising a family because of its high median income, affordable cost of living and exceptional education services…
6. Be Sure You have a Solid Lease

Having a sound legal document is a good way to start the landlord-tenant relationship. A real estate attorney can write a good lease, so you and your tenants understand the policies, procedures and consequences of non-compliance. Since this is a business relationship, expectations need to be clear for both you and your tenants. Be sure to hold up your end of the bargain and hold your renters accountable for their responsibilities as well.
Good communication goes a long way to forming a respectful relationship. Be friendly, responsive and caring, but don't bend the rules about timely payments, safety, upkeep or cleanliness standards. You should inspect the property at reasonable intervals by scheduling a visit with them, and act quickly and appropriately when they call for assistance.
If you have serious problems with your renters, you'll be grateful for the lease that will help protect your interests.
7. Be Diligent with Inspections and Maintenance

Even though you will have tenants in the house, it is still your property and always in your best interests to do regular inspections and maintenance. You can start with frequent inspections, and when you are confident that the renter is doing a great job of caring for the property, increase the length of time between inspections.
When your tenant calls with a problem, no matter how small, that is the time to make a visit. You never know the true scope of the problem until you see it yourself. While you are there, you may also notice something else that requires attention.
You can budget for expected expenditures and should keep a financial cushion to help you with unexpected expenses. Understand your state/city building codes for rentals and make necessary upgrades. Safety should always be a priority. Examples are a well-maintained furnace, smoke and CO detectors, and repairs to stairs and handrails. If you are not interested in doing this yourself, a property manager can manage that for you.
Related article
Given the outdoors benefits – the cost of living in Colorado is still one of the best values in the country. Here're the 10 most affordable places to live in Colorado, taking into account the cost of living, median housing price, average crime rate and other factors that make the place unique…
8. Be Sure to Keep Good Records

It's best to keep good records from the beginning. Each property should have its own set of files, from purchase information to tax and accounting details. Keep track of expenses, repairs and replacements and save your receipts. You can set up a file showing probable life cycle of appliances and higher-dollar projects like roofing. If you can project these items and plan your finances so multiple projects don't hit in the same year, it will be a good thing!
Your lease will spell out payment terms, and you need to be vigilant. The monthly payment is non-negotiable, and your financial outcome depends on it. Have a plan in place for turnovers which will happen at some point. Be quick to follow your process of finding a new tenant so the property doesn't remain vacant for any length of time.
Related article
If you have the flexibility to move anywhere in the U.S., where could you buy the cheapest home? After examining data from Zillow and World Population Review. Here're 10 most affordable States in the South and the Midwest to consider when buying a house in 2024…
9. Be Guided by Professionals

Unless you are the rental professional, you have many other obligations and demands on your time. There are many great professionals who can help you succeed with a minimum of stress. An experienced real estate agent can help you find the right investment property and help you calculate how much rent to charge for that property.
Your CPA and real estate attorney can help you understand the financial implications and ways to protect your investment. Property managers can help ease the burden of tenant management, maintenance and compliance. You can also benefit from the feedback and support of other investors who have rental experience they are willing to share with you.
Owning rental properties is not without work (and sometimes, a lot of it!) but can also be a rewarding way to gradually build your financial portfolio. Obviously, you are on the right track because you're researching and learning to make it an even better experience for you. Best of luck in your rental venture whenever it begins—and, if you enjoyed this article, please share it with a friend who might also benefit!