9 Key Steps to Buying a Single-Family Home
When you decide to buy a single-family home, possibly for the first time, it can seem a bit overwhelming. Your friend overpaid, and you don't want to fall into that trap. Your brother bought a home and found serious problems after taking possession. Your finances are in order, and you want to make sure they stay that way. Your concerns could fill a whole page.
In this article, we'll outline ways to break the process into manageable steps. This will relieve the stress and help ensure that you don't miss anything. We'll talk about helpful resources to guide you on your way and give you tips on when to rely on yourself. No one understands your financial goals and lifestyle priorities like you do, so you'll want to protect them. Let's take a look.
Here are 9 important steps to buying a Single-Family Home properly
1. Set your financial priorities

It's important not to rush into looking at houses and getting emotionally charged until you have taken an objective look at your goals. Look at your financial situation and set goals. This step sets the foundation for making choices that will support your dreams and help you get there.
Check your financial statement (a snapshot of the current value of your finances) and think about your goals for the next 2 years and the next 5 years. If you have time and are ambitious, you can take it a step further and project even further out. Create a projected financial statement (your wish list) for what you want it to look like in the future. Look at it monthly to see if you're on track or if adjustments are needed. Eventually, your wish list can become your reality.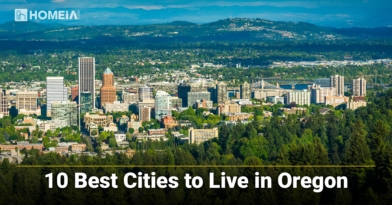 Related article
Oregon is a study in contrasts. It has 363 miles of the most breathtaking coastline you'll encounter anywhere in the world. But it also has dense forests, mountain ranges, and high desert country. Here're the 10 Best Cities to Live in Oregon…
If you don't have a financial statement, you can quickly create one using a spreadsheet and list your assets (the value of what you own) and liabilities (what you owe/debts). Then subtract liabilities from assets, and you'll find your net worth. Assets will include cash, savings, IRA accounts, stocks, bonds, mutual funds, cash value of life insurance, the market value of your home, other property, vehicles, personal property, etc. Your liabilities will be all debt including loans, mortgages and credit card debt.
If you want your savings account to grow, by how much? If you want to travel or have a college education to pay for, how much do you need to set aside each month? If you don't think about these things now, you might find yourself with excess debt, a home you can't afford, and things you can't do because you can't afford them.
Serious thought before the purchase will help you make the best decision for this time of your life and put you in a better position for financial strength and brighter opportunities for the future.
Related article
No matter your reason for considering relocating to Los Angeles, you will find a lot to love in this sunny, warm, sprawling, diverse city. In this article, we will give you a feel for L.A.'s standard of living, climate, housing, education and more. Here are 12 Key factors you should know before moving to Los Angeles, California…
2. Decide on your preferred type of housing

A single-family home can be the standalone house, a condo or a townhome. Decide which features of a house and neighborhood are important to you. List non-negotiable items. That way you'll only look at homes you can afford without regret.
When I looked at homes, my non-negotiable items always included an attached garage, office space and a neighborhood with trees. What will make you happy? Take time to think about your lifestyle and which type of housing can best accommodate your must-have features.
It might be the number of bedrooms, style of architecture, distance to work, school district or available shopping. Write it down and don't settle for less. There are plenty of single-family houses on the market at any given time, and there will be one that's just right for you.
Related article
With year-round warm weather and over 8,000 miles of coastline, it's no wonder Florida is a prime vacation destination. Filled with wildlife, beaches, lakes, rivers, amusement parks, diverse entertainment options and much more, the population of Florida is growing with people that want to call Florida "home," soak up the sun…
3. Find your price point

Now that you have your financial statement in order, make a list of all monthly expenses and weigh that against your income. What's left over? This will help you determine what size mortgage payment you will be comfortable paying each month. Once you decide on a realistic mortgage payment, contact a mortgage loan officer to discuss financing options. Express your intentions and goals and get qualified for a loan.
Many people can qualify for more than they actually want to spend. Don't fall into that trap. You should make the final decision of size of payment because you are the one who will pay for it each month. Be sure you have enough to live and live comfortably. Once pre-approved, you can make an offer on a house quickly and confidently.
4. Find a good realtor

If you don't already know an experienced realtor in your area, ask for recommendations. Find someone who knows the area and has the time to work with you. You can also look online for reviews of the company and the specific agent. A knowledgeable realtor can provide a wealth of information and guide you to other sources of information regarding neighborhoods, safety or school statistics.
Interview a few realtors and discuss what type of housing you want, the areas you are interested in and the price range you will consider. Show the agent your list of must-have features. This sets everyone up for success by narrowing the search to real possibilities. You won't waste time looking at homes that don't fit your criteria.
Related article
5. Find your neighborhood

To narrow your search to a few potential neighborhoods, look at your priorities again. Accept only areas that are within your "distance/driving" requirements or are in certain school districts. You can check out public schools in your top cities at SchoolDigger to see where they rank in comparison to others in the area.
When considering specific neighborhoods, be sure to drive through the neighborhood often and at different times of day. This will give you a clear picture of what it would be like to live there. Take a walk. Talk with residents. Does it look like home? That answer tells you a lot.
Related article
The popularity of the waterfront can mean high housing costs and consumer prices. Luckily, for those willing to look past the likes of Malibu and Venice Beach, there are plenty of scenic spots along the country's lakes and oceans where retirees can make a nice home even with a reduced…
6. Visit homes with your realtor

When your selections are focused in on certain neighborhoods and a certain type of home, you can begin looking in earnest. Your realtor will look for possibilities, set appointments and take you to see the homes. The sellers should have prepared their home for showings, meaning that the home should be clean and inspection-worthy.
Judge the homes by your first impression, quality of construction, condition and whether it has your must-have features. Don't be shy. Look in storage areas, the garage, cupboards, closets and drawers (but not drawers of personal furniture—be polite). If you buy, it's good to know what is in store for you.
Your realtor will also give you a professional opinion on the value and condition of the house compared to others in the same price range. If you make an offer, you should have a home inspector go through it with a fine-tooth comb.
7. Choose a house and make an offer

Make a list of improvements that are necessary to make this an acceptable home to you. Consider the time and money it will take to repair or update it, and you'll know whether the purchase makes sense for you. If you still really like the house, you can make an offer that compensates for these expenses.
Your realtor should be the expert in single-family homes in the area and will help you with all the details of making a proper offer and counter offers. Be sure to include proper contingencies, like having the home inspected or selling your existing home. These qualifications are critical because they give you a way to back out if the inspection uncovers something that is a deal breaker or if you can't sell your current house in time.
Related article
Once a farming and milling community, Edina has blossomed into a preferred suburban city with all the most desired amenities. From upscale, boutique shopping and exquisite dining to consignment shops and casual bistros, residents and visitors are enamored with the…
In all cases, review your priorities and budget. Stick to it. Sometimes, if you stand back and take another look, you and your realtor can find another way to make an offer that will work. Or, you can work with your mortgage broker to find another method of financing that will work.
In many ways, even though you are looking for a place to call home, it makes good sense to view this transaction as an opportunity for single-family home investing. After all, it's likely to appreciate and you may choose to sell someday. Or, you may decide to buy the single-family home to rent out after living there for a few years as part of your financial investment plan.
Related article
Given the outdoors benefits – the cost of living in Colorado is still one of the best values in the country. Here're the 10 most affordable places to live in Colorado, taking into account the cost of living, median housing price, average crime rate and other factors that make the place unique…
8. Tie up loose ends, pack and prepare to move

Once your offer has been accepted, you can get started on the transition phase. This can seem daunting too, but take it one step at a time, and you'll be fine. If you're also selling your home, work with your realtor, make a list and tackle it together. Make repairs necessary to vacate your current home and leave it in good condition. If you have kids, talk about the changes and get them excited about the move and their new space.
Hire a professional home inspector and review the results for any action items. Decide how to move your belongings. Hire professional movers, schedule a truck rental, or get definite promises of help from friends and family. Pack items that aren't needed until after the move. Be sure to label all boxes clearly with the intended room and contents. You can put a colorful sticker on boxes that don't need to be unpacked right away. This will save time when getting settled.
When you get close to the scheduled closing date, pack the rest of your belongings, marking all boxes carefully. Throughout all of this, ask for help. Friends and family can save you a lot of stress. If you have children, involve them in the process. They can pack some of their own things and label their boxes. Clean the house and start your journey to life in your new home.
9. Attend the closing and move into your new home

You realtor will get you through this final detail. Choose your closer, or if you don't have a recommendation for an excellent title company, your realtor will know several. Inspect the home one last time before the closing to be sure it's clean, in good repair and that nothing was left behind. Be sure that everything expected to stay with the house is still there—and working. Do a quick test of appliances and plumbing. You don't want any surprises.
After the closing, you'll have the keys to prove you are a happy, new homeowner. Celebrate and get busy moving in, unpacking and making the home your own. This is the fun part. Make a list of to-do items and schedule them so it's not overwhelming. Enjoy your new home, get acquainted with the neighbors and refer to your budget and financial statement monthly to make sure you're on track financially.
Related article
Michigan is the only state in the United States with two separate peninsulas and five surrounding Great Lakes. Its landscape is diverse, ranging from industrialized skylines to sweeping sand dunes to gorgeous waterfalls. Once home to Henry Ford, it's also considered the epicenter of America's…
If you keep your mind open to the idea of real estate investing, in a few years you may decide to buy another single-family home or possibly a multi-family house and rent one while living in another. As your homeowner experience grows, you will better understand the basics and possibly welcome the idea of profitable real estate investments. With multiple properties, you can enjoy an additional stream of income from happy renters.
Buying a single-family home can be an enjoyable adventure. Plan well for your financial security and a comfortable lifestyle. Enlist the people and professionals who will help you achieve your goals, and take it one step at a time. Don't forget to celebrate along the way!
If you have enjoyed this article and gained motivation to get started with your purchase and move, please share it with a friend who might also benefit. Thank you and best of luck as a homeowner!
Related article
If you have the flexibility to move anywhere in the U.S., where could you buy the cheapest home? After examining data from Zillow and World Population Review. Here're 10 most affordable States in the South and the Midwest to consider when buying a house in 2022…