Basics for Buying Residential Rental Properties
For many of us, buying a single-family home or duplex sounds like a good idea for creating additional income. Of course, we know that there's more to it than just making an offer on a property that looks like a good bet. All bets are off when basing a financial decision on the first impression. We need to do the homework and understand the numbers to expect solid returns on our investment. This isn't the time for a misinterpretation of facts or an emotional purchase.
In this article, we'll look at some of the basics for making an intelligent financial decision. With increased awareness, a heads-up for potential pitfalls and helpful resources, you can greatly improve the odds of creating wealth in real estate. Let's jump in.
1. Educate yourself.

To prepare properly, learn as much as possible. Take the time to read books and articles. Talk with investors, realtors, property managers and members of local investment clubs. There are courses offered by community education and seminars on the subject. Find out what is available in your community. Listen to those who have taken this route and learn from their mistakes and triumphs. They have a lot of wisdom and are willing to share it.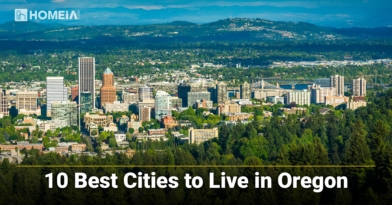 Related article
Oregon is a study in contrasts. It has 363 miles of the most breathtaking coastline you'll encounter anywhere in the world. But it also has dense forests, mountain ranges, and high desert country. Here're the 10 Best Cities to Live in Oregon…
2. Choose your support team.

You will need professional, experienced guidance which might include advice and services from a realtor, loan officer, title company, home inspector, accountant, tax advisor, attorney, property manager, insurance agent and possibly a real estate investment partner. Think about which of these you might need and build the relationships. They will help you gain knowledge and confidence in addition to providing the services you'll need.
When understanding the condition and value of the property and terms of the sale, you will need an experienced realtor, title company, home inspector and property manager. If you need to finance your purchase, your accountant, loan officer and investment partner will be your go-to people.
To understand the financial implications, you'll need your tax advisor, attorney and property manager. Adding your investor friends to your support team brings a perspective from people who know you and your personal goals.
Neighbors and current tenants will be part of your unofficial support team. If these people are willing to talk with you, you can learn a lot about the neighborhood, the condition of the home and history of the house that might otherwise remain undisclosed.
3. Location is important.

The location of your rental property is a key ingredient to future success. Buy something within a reasonable travel distance from your home and office. There's no doubt that you will make many trips to the property for renovations, upkeep, and the inevitable emergency repairs. Even if you plan to hire most of it out, it's still the best policy to check in often so nothing gets out of hand.
Location is also important from the tenant's viewpoint. Find something in a nice neighborhood, close to schools, retail and parks, with well-maintained homes and yards and low crime rates. The home should be appealing to renters who have a good work ethic and value a peaceful family life.
Buy property in a city that is growing and well suited for the families you intend to attract as renters. You'll find relevant information on the city website and, from there, you will usually find access to the police reports as well.
In most states, you'll find criminal justice reports on the state police website. You are likely to find criminal alerts, news releases, crime mapping, statistics, and data. For example, in Minnesota, the Bureau of Criminal Apprehension compiles a statistical report each year detailing the amount of criminal activity in the state. The MN BCA issued its 2016 report at the end of June 2017.
Related article
If you have the flexibility to move anywhere in the U.S., where could you buy the cheapest home? After examining data from Zillow and World Population Review. Here're 10 most affordable States in the South and the Midwest to consider when buying a house in 2022…
4. Know the area's supply and demand and rent averages.

Once you have a neighborhood in mind, check out rent and vacancy averages. Rather than guessing, find statistics to back up your assumptions on how much rent you can charge.
To find information on rent, ask the seller for tax proof to verify rent that was paid and income the property has created over the past two years. You can Google average rent in [city, state] to find some websites with useful data and also check out Rentometer.com, Zillow.com and Trulia.com. The results might not be exact, but you can get a good idea for comparison purposes and then discuss it with your property manager.
Be prepared for some months with no tenants. How much turnover is there in this area? Again, you can ask the seller, tenants and property manager. You can also check online for local opinions and reports from a variety of sources. Be sure to save for unexpected expenses and vacancies so you're not strapped or dipping into your savings account.
Related article
Michigan is the only state in the United States with two separate peninsulas and five surrounding Great Lakes. Its landscape is diverse, ranging from industrialized skylines to sweeping sand dunes to gorgeous waterfalls. Once home to Henry Ford, it's also considered the epicenter of America's…
5. Run the numbers.

Your support team will be helpful but you still need to do your own research and calculations. Double check the data received from the seller and have your accountant look at it as well. Create a spreadsheet to analyze all related purchase costs, anticipated expenses and income. Make sure the numbers support your intended income goals. If it's all work and no income, you won't be happy. You're looking for positive cash flow and long-term income.
Be conservative in your estimates. A happy surprise is better than falling behind financially because of overly optimistic projections. Once you find a property that fits your investment objectives, you can make an offer.
6. Discover the power of savings and insurance.

Save for the down payment which might be 20- 25% for an investment property. Once you purchase, continue to save for unexpected expenditures like roofing, furnace or major appliances. A 6-month cushion will provide the comfort needed to give you peace of mind.
A good relationship with your local insurance agent carries many benefits. Be sure you are getting good coverage and rates and that your agent has experience with rental properties and understands the coverages needed. If you end up with a claim, you want good communication and prompt results minus any hassles.
Related article
Geographically, Oregon boasts dramatic Pacific coastlines as well as volcanic mountain ranges. Its climate spans from rainforests along the coast to semi-arid conditions in the central and southeastern regions. The Beaver State is home to both Crater Lake, the deepest lake in the U.S., and Mount Hood, the second-most-climbed mountain in the world…
7. Buy below market prices.

Buying a rental property is different than buying a home for your family which will include more emotional pieces to the puzzle.
If buying strictly as an investment, always buy at a low price. For this to happen, you need to know your numbers: What you're willing to pay and how much rent the property can support. You need to have your worksheet ready to fill in the blanks and calculate your expenses vs income to verify an acceptable return on investment. Being prepared means you'll be able to move quickly when you find a home that looks good on paper.
If you are a first-time home buyer or first-time investment buyer, you might want to consider buying a home, living in it for a few years, then renting it out and buying another home in a nearby neighborhood. If you do this a few times, you'll end up with an income source from your rentals and inside information on the property and neighborhood.
Your realtor will help you understand the current market prices and how to identify a good buy. Look for motivated sellers because they will accept a low offer. They could be people moving out of state who want to sell because they don't want a long-distance relationship with a rental unit. Motivated sales can also come from foreclosures, estate sale, and bank-owned properties.
Look at potential updates and repairs. Sometimes investment property rules are different than for owner-occupied housing. Ask your home inspector about compliance with state and local rental housing codes. You can also refer to your state's Attorney General website for details.
Related article
This city has all the advantages of small-town living with proximity to big city amenities. New Prague earned the No. 2 place on our list of the Five Best Cities for Families in Minnesota with good reason. The city is peaceful and safe with a lovely downtown, beautiful lake and opportunity…
8. Find (and keep) tenants.

Once you purchase, you're in business to find good tenants and keep them. Discuss the existing lease with your attorney and let tenants know about any future changes. Carefully prepare your processes and procedures. You'll save yourself a lot of trouble if you have rules from Day 1 and enforce them. Once you make exceptions, that exception (and more) will be expected going forward.
Your lease should spell out the rental term, rent payment date, late fees, information on raising rates, which utilities are included, process for giving notice of termination, return of security deposit, how to report problems, expectations for repairs, pet policy and eviction information. It should also state who is responsible for yard work or snow removal and outline compensation for the tenants if they have agreed to do outdoor maintenance.
Use a Residential Tenant Screening Service or your property manager's services to do this for you. You'll be checking references, criminal, payment and credit history. Make sure you have a good lease created by your attorney and a step-by-step process for dealing with infractions and possible eviction. Collect a security deposit (higher than typical if pets are allowed).
9. Be a good landlord.

You want good tenants, and they want a good landlord. Be open and honest. Let renters know what the policies are and why. If you find an exceptional tenant, do your best to keep that tenant with you. Receiving rent on time and having someone take good care of the property is worth a lot to you as the owner. It's even worth keeping the same rent payment rather than raising rent and starting over with another renter who might not care so much about the property.
Keep lines of communication open and stop by frequently to make sure all is well. If there is an issue, respond quickly, and do a good job with repairs. You save money by doing some of the work yourself, but if you're not qualified or don't have the time, hire someone reputable. This way everyone will be pleased, and you'll have fewer problems with the same issue in the future.
Purchasing a single-family home or duplex for rental income is a practical way to increase your net worth and enjoy a long-term income stream. Having a solid support team will help you plan carefully for location, purchasing at a below-market price, appropriate rental fees, and finding and keeping good tenants.
Keep your goals in mind and make conservative projections. If you are a good landlord, you're more likely to have tenants who want to stay and keep their end of the bargain.
If you have enjoyed this article and gained motivation to get started with your investment property goals, please share it with a friend who might also benefit. Thank you and best of luck as owner and landlord.
Related article
The capital city of the United States has a reputation for being a busy political and business hub, but there is a lot more to discover and enjoy for residents of this diverse city. Washington, DC is consistently ranked among Business Insider's and Niche's top 50 cities to live in, and there are…