Benefits of a home inspection for Home Buyers
We know there are multiple steps in the process of buying a single-family home. You start out by engaging the services of an experienced realtor and making your list of priorities for the home and the neighborhood. You look carefully at your finances and financial goals for the future to see what price range makes sense for you. Next, you get excited as you look at listings, go to showings and feel the reality of homeownership getting closer.
As you narrow in on your choices and make an offer, a reasonable next step is to engage the services of a home inspector. You might ask why that's important when you've already spent a good deal of time looking at the property with your realtor and checking to make sure everything is in good shape.
Because the reasons go far beyond that (and in the end, unknowns can affect your checkbook and raise your blood pressure), this article will discuss some of the common-sense reasons for having a home inspection. Let's dig a little deeper.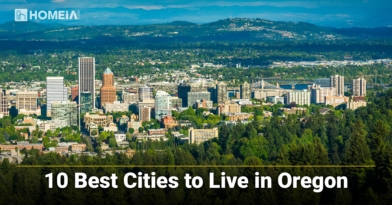 Related article
Oregon is a study in contrasts. It has 363 miles of the most breathtaking coastline you'll encounter anywhere in the world. But it also has dense forests, mountain ranges, and high desert country. Here're the 10 Best Cities to Live in Oregon…
Since buying a single-family home is the largest single purchase made by most people, it's important to make sure nothing is glossed over. We can't afford to make assumptions, or we might pay dearly for it later.
Sure, some people have more knowledge than others about construction, structural issues, mechanical fundamentals, and appliances. Let's face it — most of us, even when combining forces with a well-informed family member or friend, can't see everything in enough detail to warrant confidence in the true condition of the house. It's best to hire a professional who has the experience and the specialized tools to do the job thoroughly and correctly.
Here are some important points to consider in making this substantial personal investment in real estate and a new home:
1. Home inspectors provide a professional report on the condition of the property.

It seems basic, but the first step is to find a home inspector who is knowledgeable, experienced and has the time to help you. Inspectors can be busy, especially in peak season, so be sure to ask if the inspector has time to do a thorough job to meet your deadline. This isn't the time to skimp on information.
If you don't already know an inspector, ask for referrals, check reviews and references. Look at the company's website. Check to see if the inspector belongs to a professional association such as the American Society of Home Inspectors (ASHI) which promotes excellence by providing resources, education and a firm code of ethics. Ask if the inspector who will do the work is certified (not just the company's owner).
Each home inspector will have a checklist of items to inspect and a standardized format for providing you with the results. You should expect an organized, written report with many pages of detail, including plenty of photos.
The inspector will spend hours at the house, inspecting inside and out. Ask what the process is, how detailed the report will be and if there are items that are not included. If you interview more than one inspector, you can choose the one who helps you feel most comfortable with the expertise, process and the attention to detail. Find one who cares!
Related article
With year-round warm weather and over 8,000 miles of coastline, it's no wonder Florida is a prime vacation destination. Filled with wildlife, beaches, lakes, rivers, amusement parks, diverse entertainment options and much more, the population of Florida is growing with people that want to call Florida "home," soak up the sun…
2. Home inspection reports provide an impartial opinion on the structural components.

Making sure that the house is structurally sound is essential because any problems in this category can cause inconvenience, worry and financial setbacks. Compared to merely cosmetic issues, which you can usually take care of easily and within budget, major structural issues will take longer and cost more to repair.
Structural issues are not always easily recognized; however, home inspectors are experienced in knowing what to look for and will check to see if the house was solidly built with professional craftsmanship.
Inspectors work for the buyers to help them avoid making a financial misstep if the home is not up to standards. Upon receiving a good report, a home buyer will gain peace of mind knowing that no major flaws were uncovered. If there are problems, negotiations can begin, taking the new information into account. Your realtor will write a contingency clause into the contract so that if something major was found, you could terminate the contract.
3. Unbiased findings help buyers understand the current condition of the home.

Before the home inspection, you can note possible issues in the home. Look for any areas that smell musty or damp, water damage spots on the ceilings or walls, black spots on windows or woodwork that could possibly be mold, any obvious do-it-yourself projects, windows with broken seals (they'll look milky or have signs of condensation) or any significant cracks. Make a list and talk with the inspector about these concerns.
Your home inspector will help you gain a more in-depth understanding of the condition of the home, from the foundation to the attic and from the mechanical systems to appliances. An inspection will reveal information on the home's insulation, windows, doors, crawl space, sump pumps, ventilation, fireplaces, carbon monoxide detectors and smoke detectors.
Related article
Having a thorough check of mechanical, plumbing and electrical systems will give you a good starting point for future reference. You can expect tests on the furnace, air conditioner, water heater, water softener and humidifier, as well as the water pressure, faucets, showers, toilets, and drains. Electrical circuits, fuses, fixtures, switches, and outlets will also be checked.
If there are issues, you and your realtor can discuss the findings with the seller to make proper adjustments to the purchase offer. Where major appliances are concerned, the inspector will generally give you an idea of life expectancy which is helpful in setting up a budget for replacing these expensive items.
Some home inspectors may provide radon testing or they can give a referral if you're interested in this service. If you are fearful of pest problems or infestations, your home inspector can direct you to a company that can offer a thorough check for pests in addition to the typical home inspection.
Related article
The popularity of the waterfront can mean high housing costs and consumer prices. Luckily, for those willing to look past the likes of Malibu and Venice Beach, there are plenty of scenic spots along the country's lakes and oceans where retirees can make a nice home even with a reduced…
4. The exterior review also helps plan for future repairs and replacements.

Home inspectors offer a wealth of information about the exterior of the home, including the roof, siding, gutters, downspouts, windows, doors, and lighting. They will also check the condition of the garage, driveway, sidewalks, steps, patio, porch and balconies. You can expect detailed opinions on the condition of retaining walls, fences, and outdoor buildings.
A home's exterior can present many challenges if it has not been properly maintained, and most of these repairs or replacement projects end up as major expenditures. It's best to know the truth about the condition of the shingles, for instance, for budgeting purposes.
The inspector can give an educated opinion on how much life is left in the roofing and siding. For special features like an in-ground swimming pool, the inspector may refer you to a partner professional as an additional resource if that is not part of the included services.
Hiring a professional home inspector is well worth the investment. If you and your realtor had concerns about the property that still draw a question mark in your mind, mention them to the inspector so you can get a professional opinion. If the house is older, the inspector will most definitely find many issues to point out for future reference and evaluation. You can then decide if you can handle the inevitable repair, renovation or replacement projects.
5. New construction can benefit as well

If you are buying a new home, it can be beneficial to have an inspector checking in if the building is still in the construction phase. Just because a building is new doesn't mean that the builder didn't take a few shortcuts with items that will be hidden once the walls are enclosed.
It would be advisable to have an inspector check in on construction standards for the foundation, framing, wiring, plumbing and electrical. These are critical points of construction, and it would be good to have an advocate at the time of production.
Related article
Seattle is a beautiful port city on the Puget Sound in the northwestern U.S. state of Washington, 100 miles south of the Canadian border. As the largest city in the state (and the Pacific Northwest for that matter), Seattle is heavily endowed with natural resources. This hilly city earned…
6. A comprehensive opinion and report provides information for now and later.

You are not required to be at the home inspection, but it can be a good idea if you can make it happen. You can join the inspector, ask questions and learn a lot about the property which will soon be yours. Plus, you'll understand the process better and receive a verbal explanation to preface the written version.
The time spent checking the overall condition of the property will yield a lengthy report that you can use to create budgets and replacement schedules. This is not usually high on the list of a new homeowner, but it's valuable information so you know if major work is needed sooner or later.
Planning is always better for your financial well-being than being hit with an unexpected expense. You can refer to this document repeatedly while you own the home and make necessary updates.
Becoming well acquainted with the property early on will help you pay a fair price for the house and, once purchased, it will set the foundation for proper maintenance. For your safety, the inspection will give you peace of mind. The major components will have been tested, and you'll sleep soundly at night knowing that you and your family are in a good space.
As you build equity in your new home, you'll be glad you made the wise decision to enter the transaction fully aware of the actual condition of the home and its impact on your financial future. If you have enjoyed this article and learned more about gaining sufficient data to make a wise purchase and protect your financial stability, please share it with a friend who might also benefit. Thank you!
Related article
If you have the flexibility to move anywhere in the U.S., where could you buy the cheapest home? After examining data from Zillow and World Population Review. Here're 10 most affordable States in the South and the Midwest to consider when buying a house in 2024…