How Long Does it Take to Buy a House
With the events of recent months, people are spending more time than ever inside their homes—and that means they've had plenty of time to consider every flaw and limitation.
Some have invested in home improvement. Home Depot and Lowe's combined increased their net sales by 26 percent—$13.5 billion—for the three-month period ending in July 2020, compared to the same period in 2019 (according to the LA Times).
Others have learned to appreciate what they have.
For a significant portion of renters and homeowners, though, the self-quarantine has led to the decision that it's time to buy a new home.
Whether in search of more space, more privacy, a better location for work, or just a more pleasant atmosphere, the number of home buyers today has skyrocketed (as of December 2020).
"The State of the Nation's Housing 2020" report by Harvard's Joint Center for Housing Studies (JCHS), reported that, while the early days of the pandemic caused an abrupt drop in home sales (sales of existing homes dropped 27 percent year-over-year in May), the market has since recovered. Total sales in 2020 are now expected to exceed those for 2019.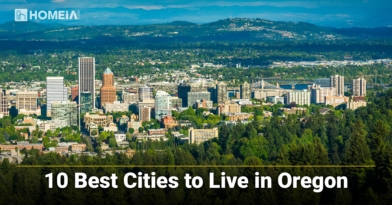 Related article
Oregon is a study in contrasts. It has 363 miles of the most breathtaking coastline you'll encounter anywhere in the world. But it also has dense forests, mountain ranges, and high desert country. Here're the 10 Best Cities to Live in Oregon…
The supply of homes, though, is insufficient to meet current demand. There were 1.47 million homes on the market in September 2020, according to the JCHS report—a supply of only 2.7 months. That's the lowest supply in U.S. markets in decades.
Financially, buyers' incentives are mixed: on one hand, interest rates are extremely low, making mortgages more appealing. On the other hand, lenders, wary of the recent hits to the economy, have tightened their standards, making it harder to get approved.
What to Expect When You're Expecting to Buy
With few things in a state of normalcy, you may be anxious to know how long it will take you to find your next home, get everything in order, and close on a new property.
The answer will depend on factors such as the inventory in your location, your financial situation, and delays caused by backlogs in work surrounding real estate transactions.
Here we'll explore the steps of home buying, estimate the time they might take in the current environment, and suggest ways to expedite the process and get you in your new home faster.
Step 1: Examine Your Finances
TIME: 1 day if you're extremely organized; 1 month if you need to search for documents or request changes to your credit score.
Speed it up: Keep your records organized so it's easy to pull up the relevant information.
Your heart wants to jump right in and look at all of the exciting homes for sale in your neighborhood. But the first step involves your brain, and your financial records.
Fire up a spreadsheet and take a good, hard look at the numbers. Pull or print relevant documents for your mortgage application file while you're at it. Here is what you'll need to evaluate:
A. Income

—Salary, wages, tips, bonuses, dividends, interest. If you're

buying a home with your partner

, you'll need this information for both parties.

B. Debt

—Any existing mortgage, school loan, vehicle loan, credit cards and lines of credit. Your lender will look at your

debt-to-income ratio

(how much you owe compared to how much you make) as well as the actual amount of debt.

C. Savings

—Look at accessible and inaccessible savings for the full picture: checking and savings accounts, IRAs, 401(k) or 403(b), stocks, bonds, and

equity in your existing home

.

D. Monthly expenditures

—How much are you spending each month? Account for housing, insurance, food, transportation, clothing, maintenance, and loan payments. If there are payments you make annually, divide them by 12 to add to your monthly costs.

E. Credit report

—You're entitled to a free credit report every year from each of the three credit bureaus (Equifax, Transunion, and Experian). The official website for this is

AnnualCreditReport.com

; don't fall for the many imposters. Look for any errors and request corrections as necessary. Lenders will pull your credit score, but if you want to see it before they do, you can pay for it.
Once you've completed this work, pat yourself on the back. For many, the worst part is over.
Related article
With year-round warm weather and over 8,000 miles of coastline, it's no wonder Florida is a prime vacation destination. Filled with wildlife, beaches, lakes, rivers, amusement parks, diverse entertainment options and much more, the population of Florida is growing with people that want to call Florida "home," soak up the sun…
Step 2: Find your team members
TIME: 1 week if you have someone in mind; 2-3 weeks if you need to do more research.
Most people don't buy a home alone. Even if you're paying for the whole thing in cash (unlikely unless you're downsizing or just struck gold), you'll at least want to talk to your bank.
I. Lender

: You can

find a mortgage lender

by shopping around online for good mortgage rates and

the lenders' reputations

for servicing their loans. Be sure to check any bank you use already (they may offer better terms for their current clients) as well as credit unions in your area. Online lenders are becoming more popular, too.

Set up a phone call or video chat to discuss the mortgage products the lender offers and be ready to provide all of the information you've compiled so they can qualify you.

You'll want to walk away from the process prequalified for a loan up to a particular amount.

II. Real estate agent:

For some, a buyer's agent is essential. A buyer's agent often represents only the buyers in the sale, which is usually preferable to working with the seller's agent.

a. You may especially want to work with a real estate agent if it's your first time buying a home, or if you're buying and selling at the same time.

b. There are downsides to this arrangement, too. While buyers don't pay a fee to a buyer's agent, that agent does get paid out of the sale of the home—typically a six percent fee is split between the buyer's side and the seller's side. With the right negotiations, you may be able to reduce the final price by paying only the selling fee. Be careful to include this information in your offer; don't get caught paying six percent for one agent.

c. It's best to

meet with a few agents before you make a decision

; they vary in their approaches, personalities, availability, experience, knowledge of the area, and negotiation skills.

d. In the past, open houses have been a good way to meet realtors, but with fewer of those happening now, more agents are willing to do a video call. You can also look for reviews online and ask for recommendations among your friends and coworkers.

III. Housing counselor

: If you might qualify for an assistance program, be sure to

talk to a housing counselor

, too. These counselors can help you figure out how to qualify for various programs and what will work best in your situation.
Speed it up: Do your research ahead of time and line up your team before the "official" beginning of your search.
Step 3: Your Hopes and Dreams
Time: None if you've been considering options and discussing nonstop; 2-4 weeks if you need time to think.
What do you want in a home? Make three lists: Needs, Wants, and Deal Breakers. Share these lists with your agent, if you have one, and use them to filter results on real estate websites.
Here are a few things to think about:
A. Location, location, location—

Neighborhood and proximity

to work and other places you visit regularly; public transportation; parks and nature; anything loud or odorous or busy that you want to avoid.

B. Square footage—More space or less to maintain?

C. Age—Historic charm or new and trouble-free?

D. Bedrooms and bathrooms—What do you need now, and what will you need later? Do you plan to have children, and will they share a room? Do you need a guest room or home office?

E. Style and layout—What do you want the home to look like? Should there be big windows for natural light, an open kitchen design, or bedrooms all on one level?

F. The lot—A big lawn that you have to mow? Small and tidy?
Speed it up: If you've been considering options and discussion nonstop, you can make your lists quickly.
Related article
Step 4: Go Shopping
Time: Varies considerably; you may luck out and fall in love with the first home you visit or take months to find just the right thing. We'll estimate one month.
Finally, the fun part! Set those filters on your searches. Enable notifications and tell your agent you want to know about any new matches. If it's appropriate, go to open houses.
Since the pandemic began, there have been far fewer in-person visits; some even buy a house sight unseen.
The good news is that it's easier than ever to tour a house remotely. Listings very often include video tours or 3-D walkthroughs of the house. In most cases, though, you'll still want to visit the home in person before you make an offer to get a feel for it and notice anything you might have missed (smells and sounds, for example).
How do you know if you've found "The One?" It depends on your personality. The house should check every box on your Needs list, and none of the boxes on your Deal Breaker list. If that's not the case, you should have a plan to accommodate the problem. Look over your Wants list and see if anything that's missing is a big deal to you.
Some buyers will come to a final decision when their spreadsheets show they've optimized the outcome, but for others it's a more emotional decision. Some buyers describe getting chills while imaging themselves in the space, feeling at home already, or even crying spontaneously.
Whatever tells you that this is the house, it's time to make an offer.
Speed it up: Narrow your focus so you know what appeals to you in a buyer's market. In a seller's market, let go of your less necessary "needs."
Related article
Miami is the only major U.S. city to have been founded by a woman. Arriving in 1891, native Clevelander, Julia Tuttle bought several hundred acres along the bank of the Miami River in an area then known as Biscayne Bay. Her passion to build a community in her newly found paradise…
Step 5: Make an Offer
Time: A few hours to 2-4 days; longer in a buyer's market.
You or your real estate agent will prepare an offer letter to submit to the seller's agent. This letter will include the price you're offering to pay, as well as any contingencies (for example, contingent on no major flaws found in the inspection, or contingent upon the sale of your current home—meaning you're not contractually obligated to pay for the home until your house sells.)
When determining your offer price, you and your agent should look at any "comps" in the neighborhood—similar homes that have sold recently. That will give you a benchmark. The amount of your offer will also be influenced by how tight the market is and how willing you are to keep looking if you don't get this house.
The offer can include other details, like a proposed closing date, or anything you want to be left onsite. It can also include requests for credits ($1,000 for carpet replacement, for example) or additional "sweeteners" like covering the seller's closing costs.

This is where the loan preapproval comes in. Contact your lender and ask for a letter of preapproval that has the offer amount filled in. This is better than a letter with the full amount you're approved for; you don't want the seller to know how much higher you can go. Preapproval means you won't need to make the sale contingent upon qualifying for financing, and that can put your offer ahead of others.
In the tightest markets—the ones where sellers receive multiple offers, sometimes within hours of listing a property—you'll want to make your offer as clean and enticing as possible. Can you remove any contingencies? Offer at or above asking price? Some buyers even write moving letters to the sellers in hopes of swaying their decision.
If your local market has a lot of available homes, you can play it cooler. Offer the lowest price you think they would consider and ask for whatever accommodations you would like. The seller may willing to sweeten the deal in order to make the sale. Speed it up: The way to complete this step quickly is to put your best offer forward right away; your agent can convey this to the seller's agent.
Step 6: Negotiate
Time: If everyone is on the same page, a day or two. If there are multiple offers from buyers, multiple rounds of counteroffers, or various contingencies, it could take several weeks. And if your offer is rejected, you'll need to start over.
Most offers have an expiration date and time, and it's typical to require acceptance or a counteroffer within 24 or 48 hours.
A seller who accepts right away could leave money on the table; a seller who declines your offer doesn't know if you would have gone much higher (though it still happens, especially with lowball offers). Most likely, you'll get a counteroffer.
Decide in advance what amount you'll accept if you want to take the emotion out of the decision. Then, when you get your counteroffer, you'll know whether to accept it or submit a counter-counteroffer.
The negotiation process can go multiple rounds, and bump clauses, home sale contingencies and the like can push the timeline out further. In many cases, though, one or two back-and-forths will result in acceptance. If instead your offer is declined, you'll be back to the search.
Speed it up: Reduce contingencies. Pay for an inspection to happen before the offer is accepted. Get preapproved for a loan. Sell your old home, if you have one, and rent month-to-month until you find your new house.
Related article
No matter your reason for considering relocating to Los Angeles, you will find a lot to love in this sunny, warm, sprawling, diverse city. In this article, we will give you a feel for L.A.'s standard of living, climate, housing, education and more. Here are 12 Key factors you should know before moving to Los Angeles, California…
Step 7: Contract to Closing
Time: Approximately 30-60 days; long enough for all parties to complete the final steps, but before your lender's rate commitment runs out. Longer if the inspection results in major repairs that must be approved.
Once an offer is accepted, several parties become involved. Besides you, the seller, and any real estate agents, there is the lender, the inspector, the appraiser, the title company, and the insurance company. It all needs to come together by the closing date, which is typically 30-45 days after acceptance.
A. Inspection

It's extremely common for the sale to be contingent upon the outcome of the inspection. You'll reach out to schedule a home inspection with your chosen company within a few days of an accepted offer.

Inspectors specialize in examining the house's structure. They look for water damage, mold, improperly installed wiring, and many other elements that can require minor to major fixes.

It's also the step where you're most likely to be thrown off course. It's not uncommon for an inspection to turn up a major problem, which you may require the seller to cover, depending on your agreement. In the worst case, major problems could cause you to walk away from the sale.

More likely, though, there will be a few small things that you can accept as-is or get repaired easily.
Related article
Given the outdoors benefits – the cost of living in Colorado is still one of the best values in the country. Here're the 10 most affordable places to live in Colorado, taking into account the cost of living, median housing price, average crime rate and other factors that make the place unique…
B. Appraisal

You may wonder why you need an appraisal; after all, the tax appraisal value is already a matter of public record.

The reason is that an unbiased, professional appraisal requested by the lender and paid by the borrower is meant to ensure that the price is appropriate—and that the property can serve as collateral for the amount you're borrowing.

Unlike the inspection, the appraisal usually doesn't turn up much that will interrupt the sale. After all, the fact that you're willing to pay the price is evidence that it's worth that amount.

But if the appraiser determines that the house is worth far less than the purchase price, your transaction can be delayed. The appraisal contingency isn't satisfied, and the seller may need to come down in price—otherwise you might have to walk away from the sale.

As long as the home is valued at or above the purchase price, though, the transaction will go on.
C. Title search

The person who hold the title to the property is the legal owner, with the rights and responsibilities that come with it. The title company's job is to make sure the owner can legally transfer the title to you. They'll check to make sure no one else has a claim to the property. For example, they'll make sure the seller doesn't have outstanding loans that use the home as collateral.
Related article
The popularity of the waterfront can mean high housing costs and consumer prices. Luckily, for those willing to look past the likes of Malibu and Venice Beach, there are plenty of scenic spots along the country's lakes and oceans where retirees can make a nice home even with a reduced…
D. Get insured

Your lender will require you to have proof of insurance by about three days before closing, so shop around and make an appointment for a call with your insurance agent. You'll generally need to pay the first year's premium up front.
At this point you should have come to an agreement with your lender, both real estate agents (if applicable), and the title company on a closing date for your sale.

Now you can choose your move-in date. Contact movers (if you're using them); they'll expect you to estimate how much they'll be moving, but don't worry if you have no idea. They're used to guiding movers who can't accurately estimate.

If you won't have movers, you'll probably want to invite some friends and decide on a pizza place near your new home. Then you can get to work packing boxes.
Speed it up: Don't dawdle. Get your paperwork turned in efficiently and call to schedule inspections and appraisals right away.<

Step 8: Closing Day
Three major things happen at closing:
I. You sign a lot of documents
II. The payment goes from the lender to the seller
III. You get the keys and become the owner of the home!
Speed it up: Request a copy of the closing documents ahead of time so you can speed through the initialing and signing.
A. Move in

Time: One day to one week, depending on how much you have to move, how much help, and whether you'll move gradually or all at once.

Once you've moved in, you'll want to update everyone who needs to have your address. This includes anyone who bills you regularly, your place of employment, family and friends, and even your alma mater. You'll need to transfer the utilities from the old owner to you, have mail forwarded to your new address, and set up cable and Wi-Fi.
Speed it up: Purge your belongings so there is less to move. Splurge on a good moving company—some will even pack boxes for you.
Conclusion
It should be clear by now that the amount of time to buy a house can vary widely. If you assume that the process will go smoothly, you can expect to spend about 45 days from start to finish. But be prepared for a lot of potential obstacles, from being unable to find a house that fits your needs to an offer falling through or a not-so-positive inspection. Even in the longest cases, you shouldn't need more than 180 days.
Related article
We asked real estate agents and industry experts to share the effects they've seen on their own markets. They painted a picture of an extreme seller's market where homes are sold as soon as they're listed, leaving many buyers out of luck…