Things You Shouldn't Underestimate After Buying a New Home
Nothing is more fulfilling than finally buying the home of your dreams. When you get the keys and step over the threshold, you may feel like you've reached the finish line. But your work is not quite done.
Here are a few steps to take once the home is yours. If you tackle them right away, while the home still feels new and the sale is fresh in your mind, you'll make your life easier in the long run.
1. Getting Familiar with Your New Home
Accidents occur, and emergencies happen. After buying a house, take the time to familiarize yourself with your home so you are prepared if you ever need to act quickly. Some of the important things to check include:
The location of all exits—doors and windows—and how to lock and unlock them.

The location of the extinguisher and gas shutoff in case of a fire.

The fuse box or

circuit breaker panel

for checking, replacing, and resetting fuses or circuit breakers when the lights go off.

The location of

the sump pump

, to make sure it's draining excess water away from the house in a storm.

The main water shutoff valve, so you can stop flooding and

prevent water damage

if a pipe bursts.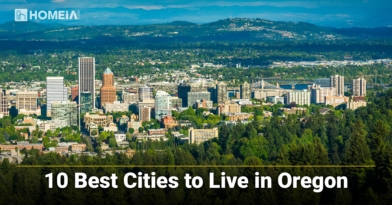 Related article
Oregon is a study in contrasts. It has 363 miles of the most breathtaking coastline you'll encounter anywhere in the world. But it also has dense forests, mountain ranges, and high desert country. Here're the 10 Best Cities to Live in Oregon…
2. Beefing Up Security and Safety
Start by changing all the locks and codes on external doors. Hide your extra keys in a place that isn't obvious, and make copies for anyone who may need to enter in an emergency.
Ensure that your security lights are functional, your fire extinguisher is full and not expired, and your smoke detectors and carbon monoxide detectors have fresh batteries. If you are missing any, safety equipment, have it installed as soon as possible.
If you have a security system, test it out and determine whether there is a subscription you'll need to maintain.
3. Ensuring You Have Proper Documentation
The documents from your purchase are important and should be saved indefinitely.
The original deed should be kept in a safe deposit box; you can make copies or scan the documents to the cloud using a secure service to serve as a backup in case you lose the original ones.
Some additional documents you should keep in your files include the lender's contact details, the inspection report, the property survey, your insurance policy, and your closing documents.
Related article
Miami is the only major U.S. city to have been founded by a woman. Arriving in 1891, native Clevelander, Julia Tuttle bought several hundred acres along the bank of the Miami River in an area then known as Biscayne Bay. Her passion to build a community in her newly found paradise…
4. Maximizing Comfort and Appearance

You can't afford to overlook décor and comfort in your new home. Do a deep clean and paint it to your preference. It is easier to clean and paint an empty house, so you may want to do it before moving in.
You may also want to replace any of your belongings that do not go well with the new home, including furniture.
Bring in some new pieces to make the space your own. You could invest in comfy rugs for the floor, and perhaps a showstopper centerpiece couch like the ones seen at kasala.com. Add some throw pillows for color and texture. Complete the look by investing in good light fixtures, curtains, blinds, wall art, and other interior décor.
Create an inviting space, and you will love your new home.
5. Creating a Maintenance Schedule

The new home you're moving into may be bigger or more complex than your previous home. While the home is still new to you, figure out what maintenance and cleaning routines you'll need to keep it in great shape.
Determine what it will take to clean each room in your home and how often they'll need to be cleaned. Purchase cleaning supplies.
Various systems, appliances, and equipment may also require regular maintenance to keep them functioning properly and efficiently. For instance, the air conditioning system may require filter cleaning or changing every two months, plus an annual inspection.
Outdoors, the gutters may need clearing every season to ensure your roof stays in top condition. Plants, including trees and bushes, may need watering or trimming. If you have a driveway and snowy winters, don't wait for the first blizzard to buy a shovel or snowblower.
Figure out which days garbage and recycling collection occur. There may also be pickup days for large items, yard waste, leaves, and even Christmas trees.
Add all of the relevant maintenance routines to your schedule. Doing so will help maximize comfort in your home and reduce stress later.
6. Getting Acquainted with the Neighbors
Unless you've bought a home deep in the woods or in a very remote area, there's a high chance that you have new neighbors to meet. If you are lucky enough to buy a home in a friendly neighborhood where people are social, your new neighbors might come to you to introduce themselves. But we live in busy times, where even next-door neighbors may have few accidental encounters.
If you bump into someone in the driveway, say hello and let them know you just moved into the home. Better yet, knock on the doors nearest your home and introduce yourself. Regular evening walks are another great way to meet the people in your neighborhood.
7. Changing Your Address
You'll need to update your address in many places. Start with the post office, where you'll also want to set up forwarding to your new address. The U.S. Postal Service offers a Mover's Guide that can help you notify everyone who needs to know you've moved.
You'll need to update your employer and anyone else who pays or bills you regularly.
Contact your utility companies to cancel or turn over service at your previous address, and let them know that you will be taking over the accounts at your new location. Gas, electric, and cable companies all deal with this regularly and can help you through the process.
And don't forget your online shopping accounts, especially if you've enabled one-click purchases.
8. Having a Housewarming Party
Finally owning your dream home calls for a toast.
Once the transaction is finalized and you have moved in and settled down, invite your family and friends for a housewarming party. In the pandemic times of COVID, it could even be a virtual party, featuring a virtual tour. It will give you a chance to show off your new place so visitors can find you—and your bathroom—when you invite them again in the future.
Conclusion
Buying a home is an investment not only of money, but also of time. After all the hard work you've put in to buy your new home, don't skip the final steps that will make it comfortable, efficient, and functional.
Related article
If you have the flexibility to move anywhere in the U.S., where could you buy the cheapest home? After examining data from Zillow and World Population Review. Here're 10 most affordable States in the South and the Midwest to consider when buying a house in 2024…