Buying a Single-Family Home: What You Need to Know
Buying a home for you and your family is a big deal, and we know it! It's a huge monetary commitment, and for most people, it's the largest purchase they'll ever make. It also creates a very real impact on your lifestyle, sense of stability and level of happiness. You will spend a lot of time in the home and make a lot of memories there. There's definite pressure to get it right.
Let's start our discussion of the single-family home with a short description. This property is typically a stand-alone, detached housing unit built on its own parcel of land. It is not attached to or governed by others, and as such, offers the owners the freedom to use and enjoy as best suits them (within local laws and regulations). It also has its own entrances, utilities and yard.
The Advantages

The advantages to owning a single-family home are many. These homes come in all sizes, so you can purchase the amount of space you need or even additional space to grow into, if that is in your plans. Even with a mortgage payment, you "own" your home and your parcel of land.
This means that you can make the important decisions about upkeep, landscaping and improvements without outside approval. The exception to this rule is that some homes are also part of a community association which will have some rules about exterior maintenance and use.
When you own this type of home, you have a greater share of privacy than those living in townhomes, condos or multifamily buildings. There are no shared walls or noisy disturbances through those walls.
You can invite guests and feel free to entertain into the evening without worrying about disturbing your neighbors. For you, it's also easier to maintain the sleep and work schedules you need. You can wash clothes at midnight or practice your trumpet at dawn if that's the best time for you.
In most cases, since you own the single-family home, there will be no homeowner fees, which can get expensive depending on the townhome or condo complex. This can equate to savings if you enjoy managing your own exterior maintenance, lawn care, and snow removal in the northern states. You don't need to fear the next homeowner dues increase or large, unexpected assessment for lack of sufficient funding in the association reserves.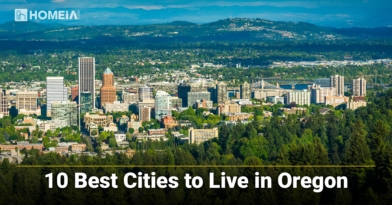 Related article
Oregon is a study in contrasts. It has 363 miles of the most breathtaking coastline you'll encounter anywhere in the world. But it also has dense forests, mountain ranges, and high desert country. Here're the 10 Best Cities to Live in Oregon…
Compared to townhome and condo living, a single-family home has few guidelines and restrictions. There might be some local limitations from the city, but these are usually designed to keep everyone safe and maintain property values, so compliance is generally easy.
Rules might include where you can park on adjoining streets, whether you can park an RV or boat alongside your home, when you can put out your trash bin, or specifics on how to maintain your lawn or trees. If there is an association, check the rules to make sure you understand them.
Often, single-family homes have a better resale value than other properties. Since these homes are popular choices for families of all sizes and stages, they are always in demand. This is good for the owner when it's time to sell. Owners are pleasantly surprised when they find out that their home has appreciated nicely over time. According to the National Association of Realtors, statistics show that:
In the U.S. the median price is $248,800 for a single-family home vs. $234,300 for condos/co-ops in 2017.
From 2016- 2017, the appreciation percentage for a single-family home was 4.3% compared to a decrease of 0.2% (-0.2%) for condos/co-ops.
Source: https://www.nar.realtor/research-and-statistics/housing-statistics/metropolitan-median-area-prices-and-affordability
Related article
The popularity of the waterfront can mean high housing costs and consumer prices. Luckily, for those willing to look past the likes of Malibu and Venice Beach, there are plenty of scenic spots along the country's lakes and oceans where retirees can make a nice home even with a reduced…
The Disadvantages

Along with these many advantages, there are disadvantages as well. The purchase price of a single-family home is generally higher than that of a townhome, condo or twins-home in the same general area.
However, you must take into account the square footage, floor plan and features to make a fair comparison. You will expect to pay higher taxes for this type of property ownership since it's based on the lot size and the size, style and age of the house.
When purchasing, you'll likely need to make a higher down payment and pay more in closing costs, although a good realtor will help you negotiate. As an owner, you could pay higher monthly mortgage payments and more for insurance.
Maintenance will also be higher since you are solely responsible for all upkeep, repairs and renovations. This also translates into more work on your part to maintain it—or hiring someone to do the work for you. Homeowners also require more equipment to maintain their home, like lawn mowers, snowblowers and other specialized tools.
Special features such as a workout room, swimming pool, tennis court or adjacent workshop will increase your costs as a homeowner. Utilities are typically higher as well since you have no adjoining walls with other units, and you are often heating and cooling more square footage.
In Conclusion

Although owning a single-family home can involve more work and challenges for busy families, it can be rewarding and a source of comfort, privacy and joy. Families members can decide on priority projects and work on them together. They can also save for future improvements that are important to them. At the end of the day, there's no place like home, so it makes it all worthwhile.
If you will be a first-time homeowner, be sure to do your research so you know what you're getting into. Find an experienced local real estate agent and discuss your needs as well as your long-term financial plans. The realtor, along with your mortgage professional, will help you decide on the best financial strategy and how much house you can comfortably afford.
If you are interested in reading more about buying a home or the mortgage loan process, here are a few links to related HOMEiA articles:
Thank you for taking the time to read some tips on buying your next home. If you've enjoyed this article, please share it with a friend who can benefit. Happy home hunting!
Related article
If you have the flexibility to move anywhere in the U.S., where could you buy the cheapest home? After examining data from Zillow and World Population Review. Here're 10 most affordable States in the South and the Midwest to consider when buying a house in 2024…