Buying Single Family or Duplex Homes for Rental Income
Are you ready to consider real estate as a source of additional income? Real estate has provided the opportunity for an additional income stream and financial growth since our country was formed. Sure, there are economic ups and downs that affect the market, but with careful analysis of the market, the property and expected positive cash flow, investing can help you create another steady source of income.
In this article, we'll look at the benefits of buying an investment property. We'll compare purchasing and maintaining a single-family home or a duplex for rental income. Let's take a look.
When discussing single-family homes, most people envision a stand-alone structure in a neighborhood with other single-family homes. This is typical, but the definition also extends to condos and townhomes since they are occupied by only one family. Duplexes accommodate two families and can have side-by-side or two-story construction.
For the purposes of our discussion, we'll focus on traditional single-family houses with their own private property. If you're interested in buying and renting out condos or townhomes, you can do that as well, but be sure to check the Association Bylaws, rules and regulations. Many have rules against rentals.
Here are 5 things to consider when comparing the advantages of buying and renting single-family or duplex homes. You'll see that there are differences that will weigh into your decision depending on your circumstances.
1. Location and availability

Clearly, location is important when purchasing real estate of any kind. Find a neighborhood that is safe and has the conveniences people want. Make sure other homes in the neighborhood are well maintained. That will make it easier to rent and easier to sell if you decide to cash out later.
Typically, it's easier to find single-family homes because there will be more of them on the market. You have more choices. Most likely, there will be fewer duplex options, but you can take your time to watch for the new listings. If you have your analysis worksheet well prepared in advance, you'll know exactly what you are looking for and can move quickly when the right opportunity presents itself.
You will be renting the property, make sure it's also convenient for you because you will make many trips to the house to renovate, repair and collect rent. If you choose to purchase a duplex and want to live in one unit, be sure it's in a community that feels comfortable to you and supports your lifestyle and activities. If you live there, you can do maintenance without travel. You'll also know what is going on since you are there. Not much will escape your notice.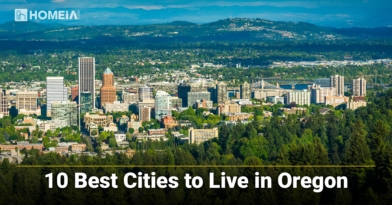 Related article
Oregon is a study in contrasts. It has 363 miles of the most breathtaking coastline you'll encounter anywhere in the world. But it also has dense forests, mountain ranges, and high desert country. Here're the 10 Best Cities to Live in Oregon…
2. Purchase price and financing options

Be sure to make a good deal. Remember that the purpose is profitability. Buy below market value and you'll have a great start to building value.
If buying a single-family home, the price will likely be lower than a duplex, making it more affordable. However, you'll have only one tenant. If you can handle the price of a duplex, you'll be gaining rent from two tenants, or you can live in one unit yourself and use the renter's monthly payment to help pay expenses and the mortgage.
Run a spreadsheet to see which works best for you and your objectives. It might be harder to get financing for a duplex, but you'll increase your chances of finance ability if you will be living there and if the other unit is already occupied.
If buying a duplex, you are essentially paying less per unit than with a single-family home which is a financial plus. You are gaining a higher total rent or, if you live there, your personal housing expenses are very low or possibly free. Once the mortgage is paid off, you will have a nice stream of income to help you with other financial objectives.
Related article
With year-round warm weather and over 8,000 miles of coastline, it's no wonder Florida is a prime vacation destination. Filled with wildlife, beaches, lakes, rivers, amusement parks, diverse entertainment options and much more, the population of Florida is growing with people that want to call Florida "home," soak up the sun…
3. Management and maintenance

Management of your property is another consideration that some people might overlook. In the case of vacancies, there are ads, tenant screenings, clean up and repairs.
When rented, you need to check in on the property, answer calls for assistance with issues, collect rent, maintain the yard, settle disputes, and, in rough times, deal with evictions (GASP!). If this doesn't sound like fun, there are property management companies who will manage it for you. Look for one with experience, processes and procedures.
Renters in a single-family home will sometimes handle some of the problems that arise without asking for help. It is likely that there will be more maintenance required at a duplex, and it all takes time and money. It all depends on knowing your renter.
If you have vacancies, it might be easier to find a new renter for a single-family home and you should expect lower turnover than with a duplex. However, if the house is empty, you are not earning any rent. In a duplex, if one tenant moves out, you are still collecting rent from the other renter.
4. Operating cost and cash flow analysis

With both types of rentals, the initial investment price will determine how quickly you can profit. Try to find a foreclosure, bank-owned property or estate sale where the price is low and the seller wants a quick sale. You can make a low offer and negotiate. If it doesn't work out, move on to the next deal.
Beyond the purchase price, down payment and closing costs, be careful to estimate all possible expenses related to ownership. Calculations should include property taxes, insurance, mortgage payments, utilities, repairs, and renovations. Estimate large purchases like the furnace, air conditioner, roofing, siding and paving if they are reaching their age expectancy.
A single-family home will have a lower purchase price, lower insurance premium and no utility expenses. It could appreciate faster and higher than a duplex since appreciation is largely based on supply and demand.
The value of a duplex will be based on rental income. With multiple units, you should have a higher monthly income. There could be more management time, maintenance and risks, but with good management skills and procedures, your return on investment could prove worthwhile.
With help from your realtor and accountant, you can estimate your positive cash flow which is a key ingredient to a successful rental investment. it's important to know if you can handle the mortgage payment, expenses, and potential vacancies.
Related article
5. Exit strategy and eventual resale

If your investment is a short-term undertaking, you can plan for your eventual sale, setting a timeline and objectives for ownership. Use online resources, read books and talk with real estate professionals and other investors. There are often community education courses that will help you develop your objectives for profitable financial results. Timing will be critical when planning for the most lucrative exit.
You can talk with your realtor when it's time to start watching the market for the best time to sell.
Generally, it will be easier to sell a single-family home, again because of more people in the market for that type of property. That process might go a bit faster than with a duplex. Just as it sometimes takes longer to find tenants for a duplex, it might also take longer to sell the building.
However, your sale price should be higher with the duplex and worth waiting for the most beneficial deal. If your rental income history is impressive, you'll have a selling point that can't be denied.
Related article
If you have the flexibility to move anywhere in the U.S., where could you buy the cheapest home? After examining data from Zillow and World Population Review. Here're 10 most affordable States in the South and the Midwest to consider when buying a house in 2022…
Whether you currently own property or you're looking for your first investment, considering a real estate purchase is an exciting time. Like anything else, it's a great idea to educate yourself. Do the research, read articles, talk with realtors, investors and property owners.
Asking questions is a smart way to learn and people are generally more than happy to share their perspective. In doing so, you'll realize that there isn't one method that is perfect for everyone. You can decide what fits your situation best.
If you carefully consider the location, condition of the property, purchase price and financing, along with rental management, maintenance and operating costs, you'll have a good estimate of cash flow and anticipated income. It takes work on your part and good advice from professionals. If you're ready to take on the responsibility and have an appetite for owning property and becoming a landlord, you can learn and profit from your dedicated efforts.
If you have enjoyed this article and gained ideas to expand your income-generating skills to that of property owner and landlord, please share it with a friend who might also benefit. Thank you and best of luck in your new ventures.