10 Most Affordable Places to Live in Florida
With year-round warm weather and over 8,000 miles of coastline, it's no wonder Florida is a prime vacation destination. Filled with wildlife, beaches, lakes, rivers, amusement parks, diverse entertainment options and much more, the population of Florida is growing with people that want to call Florida "home," soak up the sun, and enjoy everything the state has to offer.
Buying or renting a home in a place that's considered a prime vacation spot can get a bit pricey. But if you do your research, you'll find places in Florida that are much more affordable than you'd think.
The 10 cheapest places to live in Florida.
1. Kissimmee, FL

Kissimmee is a small town in a prime location, perfect for living near the magical world of Walt Disney but not in it. It's in a central location in the sunshine state, just minutes away from Disney and just over an hour's drive to beautiful Cocoa Beach on Florida's east coast. If you want to check out the west coast gulf beaches, getting to Clearwater Beach is just under a two-hour drive.
Fun attractions near Kissimmee include Walt Disney World, Sea World, Legoland, Universal Studios, Kennedy Space Center, among others. Most of these family-fun attractions offer discounted annual passes for Florida residents.
Beaches and amusement parks aren't the only perks of Kissimmee's central location. Other cities, such as Tampa and Miami are easily accessible.
Located in Osceola County, Kissimmee has a population of just under 60,000 with a median home value of $162,600 and an average household income of $39,841. If you're not quite ready to own a home, the average monthly rent is around $1,091, which is less than its neighboring city, Orlando.
Related article
Miami is the only major U.S. city to have been founded by a woman. Arriving in 1891, native Clevelander, Julia Tuttle bought several hundred acres along the bank of the Miami River in an area then known as Bay Biscayne.  Her passion to build a community in her newly found paradise and single-minded drive to bring the Florida East Coast…
2. Orlando, FL
When most people think of Orlando, they think of Mickey Mouse, since Orlando is home to the world-famous Walt Disney World. But Orlando is much more than a tourist destination and over 238,000 people call it "home."
If you're moving to Orlando, you don't have to choose a high-tourism area. Orlando offers neighborhoods for any type of lifestyle, even for those that prefer a suburban home. Housing is reasonably-priced, with the average home being valued at $217,000 and monthly rent averaging at $1,139.
You will never run out of things to do living in this vacation-destination city. Nature parks, shopping, restaurants, outdoor activities, shows, and concerts, are just some of the many activities Orlando has to offer.
Finding employment in Orlando should be no problem with tourism providing thousands of jobs and with over 35 colleges and universities in the area, you're sure to find the education you're looking for.
Related article
If you are considering a move to Tampa, you'll find plenty of information here to help you make a wise decision. This article will cover Tampa's climate, standard of living, health care, education, employment, leisure-time activities and more. Tampa's livability score, as determined by areavibes.com, is 76 on a 100-point scale. It's ranked in…
3. Cape Coral, FL

If you're looking for affordable waterfront property, Cape Coral might be just where you need to be. Located on Florida's gulf coast, this city, with a population of over 154,000 offers over 400 miles of canals that allow you to hop on a boat and head over to the Gulf of Mexico.
If you live in Cape Coral, you won't run out of fun things to do. From fishing, boating, kayaking, water sports, wildlife-watching, to watching live shows at the local theater, there is something for everyone to enjoy at any age. The Sunsplash Family Waterpark makes for a fun-filled day trip or weekend getaway for the whole family.
The average home value in Cape Coral is $214,700, which is much lower than the average cost for waterfront homes in Florida. Monthly rent averages around $1,172 and the average household annual income is $57,125.
4. Gainesville, FL
Gainesville, FL is the largest city in north-central Florida and home to the University of Florida. It has fewer residents than Orlando, with a population of almost 134,000 and is known as a prime spot to retire, mainly for its mild, year-round climate and low cost of living. The median house value is $154,400. If you're looking to rent, the average monthly rent payment is on the lower-end too, at $930 per month.
Finding a job in Gainesville should be no problem with the two large hospitals, Veterans Affairs Medical Center, and also the university. Small businesses tend to thrive as well.
The perks to living in Gainesville aren't only the cost and climate, but also the many activities this university town has to offer. You can visit the local museum, parks, view wildlife, and take a day trip over to an Atlantic coast beach.
Related article
If we look beyond the best-known cities, we will find many communities where you can own a piece of the Sunshine State and stay within our budget. Many of these offer not only affordability, but also low crime rates, good employment opportunities, housing availability, recreational opportunities and educational facilities…
5. Palm Coast, FL

Palm Coast, FL offers a suburban-like feel to residents and is a great place for outdoor lovers, offering parks, nature reserves, beaches, and golf resorts. Palm Coast is only minutes away from Atlantic beaches and is located on 70 miles of canals that are both saltwater and freshwater. The waterways in Palm Coast allow for watching dolphins and manatees during the spring and summer months. Walking, hiking, and biking are activities you can enjoy on the 125 miles of trails the city has to offer.
Palm Coast is a great option for those looking to retire in the warm weather and with the parks and beaches, it also offers family-friendly activities. For families with school-aged children, school systems in Palm Coast are known to be above average.
Most of the 89,000 people that reside in Palm Coast own their homes and the average home value is $194,500. If you're looking to rent, $1,187 is the average monthly payment. The median annual income is $53,820.
Related article
Michigan is the only state in the United States with two separate peninsulas and five surrounding Great Lakes. Its landscape is diverse, ranging from industrialized skylines to sweeping sand dunes to gorgeous waterfalls. Once home to Henry Ford, it's also considered the epicenter of America's…
6. Palm Bay, FL

Palm Bay, located in Brevard County, is located on Florida's east coast and his home to 104,000 residents. Living in Palm Bay, you'll have access to east coast beaches at a lower cost than many of Florida's coastal cities. The cost of living is 10 percent lower than the national average.
You won't be bored in Palm Bay, either. Golfing, boating, airboat rides, beaches, shopping, and wildlife watching are just a few of the many things to do. In addition, the Kennedy Space Center, is only a short drive away.
Palm Bay has many employment opportunities, being home to multiple corporations and Palm Beach Hospital. As far as education, Brevard Community College has a campus in Palm Bay, and opportunities for higher education are nearby.
The average home value is $136,600 and rent payments are about $1,027 per month. The average annual income is around $47,640.
Related article
7. Homosassa Springs, FL

If you like nature and wildlife, Homosassa Springs may be where you want to buy your next home. Almost 14,000 people call it home, and it is also home to manatees and wildlife that reside in or around the beautiful spring.
Homosassa offers unlimited options for outdoor activities such as hiking, kayaking, fishing, camping, and swimming. If you want to watch some manatees in their natural habitat you can make a trip to Homosassa Springs Wildlife State Park. Homosassa also offers historical sites, restaurants, flea markets, and breweries.
The cost of living is affordable too, with a median home value of $76,400 and monthly rent at $698. The average household annual income is around $35,800.
8. Dade City, FL

If big city-living isn't for you, you might want to consider Dade City, a small, quaint town in Pasco County with a population of about 7,300.
This small, cozy town offers its residents antique stores, boutiques, restaurants, and a brewery. For such a small town, it offers a lot to do. It is home to an aerial adventure park, museums, a giraffe ranch, an alpaca farm, and an annual Halloween event known as Scream-a-Geddon.
If you live in Dade City, you're only about 35 miles from Tampa and only a car ride away from beaches on either coast.
Dade City offers affordable housing, with an average home value of $95,000 and $935 on average for monthly rent. The average household annual income is around $46,350.
Related article
Houston, Texas is a vibrant city with much to offer. U.S. News & World Report ranks Houston #30 in its Best Places to Live assessment and #26 in Best Places to Retire. There's much to love about this southern city, nicknamed Space City in the days of the NASA Manned Spacecraft Center (now known as the Lyndon B. Johnson Space Center)…
9. New Port Richey, Florida

New Port Richey is another quaint town in Pasco County, located on Florida's gulf coast, not too far from Tampa. It offers its 16,700 residents shopping, dining, nature, festivals, sports, and culture, all with a small-town feel.
If you want to be surrounded by water and the wildlife that resides in it, this may be the place for you, with beachfront as well as riverfront options available. The Pithlachascotee River runs through the city and to the west side of the city is the Gulf of Mexico.
New Port Richey offers affordable housing, with an average home value of $76,900 and average monthly rent payments at only $811. The median household annual income is $34,644.
Related article
Geographically, Oregon boasts dramatic Pacific coastlines as well as volcanic mountain ranges. Its climate spans from rainforests along the coast to semi-arid conditions in the central and southeastern regions. The Beaver State is home to both Crater Lake, the deepest lake in the U.S., and Mount Hood, the second-most-climbed mountain in the world (next to Japan's Mount Fuji)…
10. Bartow, Florida

Surrounded by lakes and citrus groves in Polk County is Bartow, FL, with a population of about 20,000. It's a small town with a country feel. If you have a family, you may want to consider Bartow. The school systems in Bartow are above average and with the small size of the town, the schools are generally close to home.
Bartow doesn't offer much nightlife, but if you get the urge for a night out on the town, Tampa is only about 45 miles away and Orlando is about an hour to the east.
The average cost for a home in Bartow is about $121,600 and monthly rent around $817. The median household annual income is $46,850.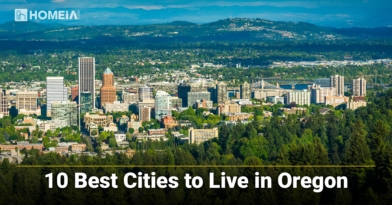 Related article
Oregon is a study in contrasts. It has 363 miles of the most breathtaking coastline you'll encounter anywhere in the world. But it also has dense forests, mountain ranges, and high desert country. Here're the 10 Best Cities to Live in Oregon…
Conclusion:
Florida, a vacation hotspot known for its sunshine and beaches, is growing rapidly with people who want to call Florida "home." Living in tourism cities can be costly, but it doesn't have to be. You just need to know where to look.