12 Best Places in Washington State to Raise a Family
If you're considering a move to Washington State and you haven't visited yet, here's the first thing you need to know: Washington is more like two states.
The nickname "The Evergreen State" is a bit of a misnomer. While parts of Washington are incredibly gorgeous and green, much of the state is desert. Also gorgeous, but not exactly what you picture when you hear "Evergreen State."
The terrain is not the only thing that's diverse about this state. So are political views. Any native could tell you that, if you split Washington and Oregon vertically instead of horizontally, you'd find a blue state to the west and a red state to the east.
When it comes to choosing a place to raise a family, it is essential to know your family's values. Do you want your children to be raised in a small, progressive, university-based community? Do you prefer a quiet agricultural community? Do you want your children to be exposed to the sights, sounds, and cultures of a larger city?
In this piece, we will explore areas of the state that represent all different value systems and explain why people love living there. We call these the "12 Best Places," but they are not ranked. Families are different. They have different interests, different values, and different priorities. Here we will present each place's unique characteristics, complete with opinions from locals.
The 12 Best Places in Washington State to Raise a Family.
1. East: Tri-Cities
The Tri-Cities is an area that has exploded over the last decade. Its first explosion of growth came in the 1940s with the addition of the Hanford nuclear site. Its demographics were historically an interesting mix of an agricultural community and many engineers.
As the Hanford site hired more and more people to help with the cleanup and containment of toxic waste from the 1940s, the area continued to grow and diversify.
Today the area includes more than just the three cities alluded to in the name. Though the core is Richland, Kennewick, and Pasco, there are a number of smaller towns on the edges that locals would definitely consider part of the area.
Related article
Seattle is a beautiful port city on the Puget Sound in the northwestern U.S. state of Washington, 100 miles south of the Canadian border. As the largest city in the state (and the Pacific Northwest for that matter), Seattle is heavily endowed with natural resources. This hilly city earned…
Here are some reasons that residents love living in the Tri-Cities:
It's safe. The crime rate is well below the national average. Violent crime is relatively low for a community of this size. Walking the streets at night is not an issue. Homelessness is not as visible as it is in bigger cities.
Excellent schools. There are some fine private schools in the area, but they are not your only option unless you desire a parochial education. The public schools in all local districts are safe, with great teachers and administrators and large numbers of college-bound graduates.
The state's Running Start program, paired with an excellent community college, enables high school juniors and seniors to take college classes tuition-free for dual credit. If your kids want to live at home while attending a four-year university, a branch campus of Washington State University is located in Richland.
A highly educated population. Due to the proximity of the Hanford site, there are many scientists and engineers in the area. People here value education, which benefits the community in many ways.
Low cost of living. Housing is incredibly affordable compared with larger areas such as Seattle or Portland. You can enjoy much more space, both inside and outside your home, for a lot less.
A vibrant arts scene. Potentially due to the highly educated residents, there is a strong focus on the arts for a community of this size. There's always something artsy going on locally, from outstanding children's theater, choir, symphony, and dance programs to professional musicians, actors, and singers.
The annual production of The Nutcracker is always worth attending. The Reach is a small but well done museum focused on local history. There are lots of opportunities for children's education.
Temperate weather. While there is occasionally a little snow, winters are pretty mild here. The Tri-Cities area is alleged to have 300 days of sunshine per year. Rainfall averages 7 inches compared to Seattle's 38 inches! The main thing to be aware of is the wind.
Due to the Tri-Cities' geographic location in a "basin," (this area is also referred to as "the Columbia Basin,") there can be quite a bit of wind. Paired with the dry desert air and dust, it is no fun for those who wear contacts.
Outdoor activities. Being at the confluence of three rivers provides opportunities for boating, waterskiing, swimming, and riding personal watercrafts. It also makes for excellent fishing for salmon, steelhead, bass, and walleye, along with some world-class waterfowl hunting. The annual Water Follies boat races bring thousands to the area every summer.
Miles of paved trails provide walking and biking opportunities, and there are excellent parks and playgrounds for families. The Blue Mountains are an hour and a half away for hiking; wildlife viewing; and hunting for deer, elk, bear, turkeys, and grouse. Many public sites for upland bird hunting are within an hour's drive.
Proximity to big cities. If you crave the big city experience, Portland and Seattle are a 45-minute flight or 3.5-hour drive from the area. It's an easy overnight trip to watch the Portland Trailblazers, Seattle Mariners, or Seattle Seahawks. You can also catch the latest hip hop or rock concert, or even an opera.
Traffic is minimal. There are times during rush hour when you might be delayed an extra 10 minutes, but that's about as bad as it gets, and that's only at peak hours in specific places.
The Spudnut Shop. It's the last of these potato-based donut shops left in the world. Enough said.
Wine country. Wine country may be just what you're looking for to take a break from your kids! The wineries here are incredible and internationally known.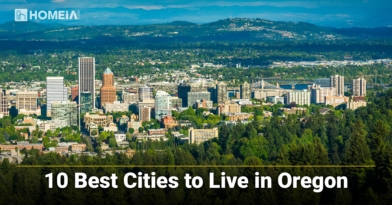 Related article
Oregon is a study in contrasts. It has 363 miles of the most breathtaking coastline you'll encounter anywhere in the world. But it also has dense forests, mountain ranges, and high desert country. Here're the 10 Best Cities to Live in Oregon…



2. East: Walla Walla
A longtime Washington resident who has lived in almost every area of the state told us, "If I were to pick a place on the map to raise my kids, it would be Walla Walla. It is such a sweet, fun little town."
Walla Walla has an incredible history. At one point in the mid-1800s it was the largest town west of Minneapolis!
Agriculture. Walla Walla is an old farming community. No matter where you currently live, you may have heard of Walla Walla sweet onions.
Historic downtown and sites. The downtown is nationally renowned as one of America's favorite Main Streets. Fort Walla Walla, a fur trading post established in the early 1800s, is a great place to take your kids for a history lesson.
A local remembers visiting there in elementary school (several decades ago) and still remembers how impactful it was to see actual ruts in the ground from covered wagons.
Universities. Walla Walla is a very slow-living, friendly place. But there are still several universities here that keep progressive thinking in the mix. Walla Walla University, Walla Walla Community College, and Whitman College have a very established presence in the area.
Weather and terrain. The weather here has four distinct seasons, which are really fun to walk through with kids. It snows a couple of times every year, but you also get really hot, wonderful summers. A distinct fall and spring provide the opportunity to watch leaves fall and flowers spring up.
The Blue Mountains are close by, providing plenty of opportunities for nature walks, but there are also giant fields with blue, open sky that seems to go on for days. This is not a rainy place like the west side of the state.
Again, WINE. Get a babysitter and tour fabulous wineries. There are literally more than 100 wineries in the area.
A nearby runner-up. Dayton is a small nearby community that shares the awesome weather with Walla Walla. It's close to skiing and camping at Tucannon Campground, and it has none of the hustle and bustle of larger cities. The views are amazing.
Related article
Once a farming and milling community, Edina has blossomed into a preferred suburban city with all the most desired amenities. From upscale, boutique shopping and exquisite dining to consignment shops and casual bistros, residents and visitors are enamored with the…



3. West: Seattle
Seattle is by far the largest metropolitan area in the state. If you can stand the high cost of living and the rainy weather (which, we must add, also creates the most incredible green landscape you've ever seen), you'll find unlimited opportunities to expose your kids to learning and nature.
Neighborhood highlight: Ravenna. Ravenna is a central Seattle neighborhood near the University of Washington. It is an excellent neighborhood for walkability, especially with kids. There are some awesome grocery stores with a ton of variety.
You can raise your children near diversity and higher education, bringing ideas and critical thinking that may expand your family's beliefs. You don't have to attend the university to benefit from the effects of its environment.
Education. Nearly all of the top 10 high schools in Washington, according to U.S. News and World Report, are located in the Seattle area. Education is an extremely high priority for Seattle residents. The city of Bellevue is the standout in this area.
Coffee. Many people know that Seattle is the birthplace of Starbucks, but it isn't just Starbucks that puts Seattle in competition for the best coffee town in the entire United States. (There have been many studies done on this topic… But no matter what the data show, Seattleites are not going to surrender that title to anyone else, if we're being honest.)
Open-air markets. Seattle loves its open-air markets. Pike Place Fish Market is the most famous by far and is definitely one of the must-see tourist attractions for the area. But it doesn't have the market cornered on open-air markets, so to speak. There are more than 25 farmers' markets in the area, and they are an integral part of the way of life for locals.
Artistic community. Portland might have the slogan "Keep Portland Weird," but Seattle shares some of the artsy, rainy, creative, contemplative spirit with its Oregon sister.
Tourist attractions. The Space Needle is such a cultural icon that it's recognized worldwide. There are a restaurant and an observatory on the top of this 605-foot structure, which provides views for miles and miles.
The Museum of Pop Culture is more than just an incredible educational experience; the building itself is one of the most shocking things you've ever seen, particularly from an aerial view.
There are so many sights to see and things to experience in the Seattle area, we could write pages about it. Check it out yourself; whatever it is you're into, there's likely a way to experience it (and expose your kids to it) in Seattle.
Suburb highlight: Edmonds. One of the great things about the Seattle area is the beauty of Puget Sound, and Edmonds is super close to the waterfront. Edmonds boasts a lot of family-friendly mom-and-pop-type shops. The school district is good, and the area is up and coming at the moment. There are many people moving to the area, which makes it rich and full of young families.
Before this season of growth, Edmonds was primarily a town that folks would retire in. Those folks are still here and contribute significantly to the happy, seaside-feeling town. The playgrounds here are so good, Seattle residents from all over the area travel here just to play. It's close to the ferry dock, which has a lot of fun opportunities for children as well!



4. East: Yakima Valley
The city of Yakima has a moniker: "The Palm Springs of Washington State." Most locals laugh about this nickname and would tell you not to get your hopes up about that promise; however, there are a lot of things people love about living in Yakima and the surrounding areas.
Agriculture. Almost three quarters of the hops grown in the U.S. last year were grown in Yakima. There are hops fields on top of hops fields on top of hops fields. There's a big festival every year to celebrate these hops fields—and, naturally, lots of great breweries for date nights. Orchards are absolutely everywhere, and there are fruit stands on every corner.
Weather and seasons. Yakima's weather is gorgeous.
Nearby small town highlight: Moxee. Moxee is a true small town. It's one of those last holdouts without even a stoplight. And people love raising their kids here. Kids can ride their bikes outside, play with neighbor kids, swim in the community pool, and enjoy the park.
Holidays. The Fourth of July and Halloween are very community-minded holidays. The town may be small, but that doesn't stop residents from getting hundreds of trick-or-treaters every year! Moxee is also the only town in Yakima County that allows fireworks, and it shows. People light up the skies every Fourth, and families have a blast!
The downside.

This is an honest article about where to raise your kids, so we'll mention that the town of Yakima does not have the most comforting crime rate. However, we are keeping Yakima Valley on this list because the surrounding towns are beautiful, excellent places to raise children. Aside from Moxee, check out Selah and Zillah!
Related article
The Denver area is growing in population much faster than most of the country, increasing by almost 20% from 2010 to 2018. It's no wonder; it rates as the second-best place to live in the United States, according to U.S. News & World Report (2019). Here're 7 key factors you should know Before living in Denver Colorado…



5. West: Vancouver
Vancouver and the surrounding towns of Battle Ground, Ridgefield, etc., are excellent places to live if you like the proximity of the big city (Portland, Oregon is right across the river) without the cost and crime. Vancouver is often included in the Portland metro area—it's definitely close! But once you cross the river, you quickly get away from the city.
Affordability. Many, many residents choose to live on the Washington side of the border to avoid the income tax laid on Oregon residents. It's the best of both worlds, because Oregon boasts no sales tax, so people often drive down to do any major shopping.
Vancouver is a much more affordable way to live "in Portland." And if you don't want to live in Portland anyway, you can stay in Washington and avoid all the drama of the city!
Beauty. The views of Mt. Hood are incredible. The spring is luscious. The fall is colorful. You're still on the west side of the state, so there is still a lot of rain. If you're going to move here, you will have to embrace the "romance" of a rainy existence.
Downtown. The downtown area is growing, and it is gorgeous! There is a ton of romantic waterfront dining. And again, it's still the west side of the state, so there's enough coffee and beer to go around.
Related article
HOMEiA is here to help you explore ten of the best places to live in Southern California. Each place has its own charm and unique qualities. Let's take a quick dive into what Southern California has to offer! Here're 10 best places to live in Southern California…



6. Central: Wenatchee
Wenatchee is the only central Washington town that made our list.
Living in the Pacific Northwest, just about anywhere, you're going to find gorgeous landscapes and outdoor activities. Wenatchee is no exception.
Outdoor activities. Hiking, fishing, camping, golfing, whitewater rafting, hunting, skiing, biking—Wenatchee has it all. You're in central Washington, so you're not dealing with constant rain. The temperatures are mild—up to 90 degrees Fahrenheit in the summer and down to 25 in the winter. You're going to see four seasons.
Snow. Not everywhere in Washington is going to give you snow every year. If this is important to your family, consider Wenatchee. Kids ice skate and play ice hockey here—certainly not an option in most areas of the state, which only get a few days of snow each year.
Awesome parks. With kids, it's all about the parks, isn't it? The Columbia River flows through here, which provides an excellent foundation for many state and neighborhood parks. Wenatchee Confluence State Park and Riverfront Park are two very popular options.
Leavenworth. Right around the corner from Wenatchee is a little Bavarian village called Leavenworth. Leavenworth's history is worth knowing. It almost died out in the 1960s after a railway was rerouted away from the area. Its industry almost didn't make it.
The town's leadership had a new idea: tourism. They took advantage of the gorgeous scenery surrounding them (when you're there, it looks like you're in a little canyon of beauty!) and gave all their buildings a new look: little Bavaria! It's a blast, especially at Christmas time. It's definitely worth checking it out with your kids and taking a sleigh ride!
Related article
The capital city of the United States has a reputation for being a busy political and business hub, but there is a lot more to discover and enjoy for residents of this diverse city. Washington, DC is consistently ranked among Business Insider's and Niche's top 50 cities to live in, and there are…



7. West: Bellingham
One local said that Bellingham is like the western version of Walla Walla. Here's a hint: that was the same person who said they would choose Walla Walla on the map to raise their children! Bellingham is a university town with the arts and culture to prove it. Western Washington University educates over 16,000 students each year.
It's green, it's green, it's so green. Bellingham may not be a large area, but there are more walking trails than you'll have time for. Everything is so incredibly beautiful. Playgrounds are so incredibly beautiful. It's super close to the water, so you can walk the boardwalk with your kids.
College things. With colleges come other perks, such as the dying art of great bookstores.
Weekend trips. Seattle and Vancouver, British Columbia are easy jaunts from here if you need to get away from home.
Political diversity. The West Coast, college town aspect of Bellingham draws a younger, more liberal crowd, but the county itself and outlying areas are much more conservative. This creates a rich tension that's great for education.
Nickname. Bellingham is known for its nickname, "The City of Subdued Excitement." That phrase speaks for itself. See if it speaks to you!



8. East: Spokane
In Spokane, you're always a 15-minute drive from nature. Its motto is "Near nature, near perfect."
Nature. Hiking, climbing, biking, golfing, and skiing are popular. There is a lot of snow in the winter—which is fun, if you're into that sort of thing! Kids seem to love it.
Unique size. Spokane has over half a million residents in its metro area; however, people still feel like the town is somewhat quiet and calm. This size provides access to a lot of great activities, shopping, etc., without making you feel like you're in a big city. The surrounding agricultural community is strong.
Traffic is not terrible. And that's good, right?
Related article
Each of the five large cities described are chock-full of neighborhoods that are favored by families with children, young professionals, and retirees. We'll focus on eight critical attributes that often define a city: History and population, Lifestyle, Affordability, Housing market and neighborhoods, Healthcare and safety, Employment…



9. West: Snohomish
Snohomish is an excellent place to live for slower, low-key, farm-type living. It is located north of Seattle, right on Puget Sound. It has just under 10,000 people, so it's certainly small enough to run into people you know at the grocery store!
Location. It's still close to the city—only half an hour from excursions to the zoo and other Seattle tourist attractions or educational opportunities.
Seasonal activities. Snohomish residents love celebrating the seasons. There are tons of pumpkin patches and Christmas tree farms, plus a Lavender Festival. These experiences are so much fun for kids! Livability rated Snohomish in their top 10 "Best Cities for People Who Are Obsessed with Fall."
Aquatic center. For a small area, Snohomish has a very cool aquatic center. There are lots of classes, including paddle boarding and diving, and a lazy river and hot tub to enjoy with the whole family.
Hot air balloon rides. Need we say more!?
Spencer Island. Spencer Island, in nearby Everett, is a great place to view wildlife. If you're a birdwatcher, it's a must-see. You can also find deer, otters, and other small animals.
Related article
We took 4 main variables into consideration to determine the best places in Arizona to raise a family. The variables are quality of education, health care, personal safety, and recreational opportunities. Here you'll find our list, along with the highlights that make each Arizona locale a special place to raise a family…



10. West: Olympia
Olympia has a small city vibe with big-city values. It's a liberal area, with a "maker" crowd that loves urban homesteading. It's similar to Bellingham, but it's much cheaper to live in Olympia. It's a haven for free spirits, hippies, and vegans.
Government jobs. Olympia is the state capital of Washington and has over 25,000 employees.
Great Wolf Lodge. This destination is a family favorite, and it might behoove you to move somewhere you can easily access it!
More outdoor fun. Like many of the other towns and cities in Washington, there is a ton to do outside.
Children's museum. They have a children's museum on Puget Sound that is gorgeous!
More good coffee. Batdorf and Bronson's is a huge hit.
Related article
If you are considering a move to Tampa, you'll find plenty of information here to help you make a wise decision. This article will cover Tampa's climate, standard of living, health care, education, employment, leisure-time activities and more. Tampa's livability score, as determined by…



11. West: San Juan Islands
Sitting squarely between British Columbia to the west and Washington State to the east, the San Juan Islands also mark the border between the Strait of Juan de Fuca and the Georgia Strait.
Safe, close-knit island communities. Vashon and Lopez Islands both have amazing parks, beaches, and farmer's markets. Vashon, in particular, is close to Seattle.
Vacation spots. The San Juans are a favorite vacation destination for Washington residents, especially in the summer. There are many swimming, kayaking, and boating options, as well as horseback riding and trails to hike.
Whale Watching. This is one of the best places in the world to catch a glimpse of an orca in the wild!
Close to nature. The air is crisp and clean all year 'round. There is also abundant wildlife: birds, seals, foxes, and more.
Local eating. There aren't many chain restaurants on the islands, which means you get to help build the economy through local restaurants.
Related article
When kids enter the picture, those preferences can give way to highly practical: great schools, safe neighborhoods, plenty of young families, and high-quality healthcare. We've compiled a list of 15 cities that meet the needs of a growing family—our picks for the most family-friendly cities in the United States…



12. West: Port Angeles
The Salish Sea—specifically, the Strait of Juan de Fuca—divides Port Angeles from British Columbia. This small community has strong blue-collar roots, and beautiful, historical buildings decorate its downtown and even some neighborhoods.
Gateway to Vancouver, British Columbia. Want to leave the U.S. for a day trip? Port Angeles offers a quick one-hour ferry ride to Victoria. (Don't forget your passport!) You can experience another country and stock up on good chocolate. Any 19-year-olds in your party can legally drink alcohol.
Olympic National Park. Full of hiking and biking trails, stunning mountains, rivers, streams, camping amenities, and more, this Pacific Northwest gem is not as well-known as many national parks. It's a well-kept state secret. It rarely gets overly warm and is a fabulous family destination for a day trip or overnight stay.
Olympic Discovery Trail. Whether you like riding bikes, walking, jogging, or other forms of transportation, the ODT has you covered. It's mostly paved and runs over 70 miles from Forks (hello, Twilight) to Port Townsend. The journey offers plenty of variation in landscapes: mountains, rivers, secret beaches, lakes, and the ever-curving coastline.
Native American Culture. Washington State is home to many Native American tribes, and there are eight that reside near Port Angeles. The Elwha Klallam Heritage Center downtown has displayed many artifacts from the Klallam people's ancient village, which was rediscovered back in 2003.
Small-town life.

Port Angeles is the largest town on the Olympic Peninsula, but it still counts as a small town with a population coming in at about 20,000 residents. Thus, it is a destination for many on the Peninsula for shopping and culture but maintains the charm and friendliness for which small towns are known and beloved.
We hope you have found the ideal city on this list to be your new home. If you find it helpful, please share it on your Facebook page so others can benefit from it as well. Thank you in advance!