The 10 Best Places to Live in Idaho in 2024
Idaho is a highly sought-after and very family-friendly state to live in. According to the 2020 U.S. census, Idaho is the second-fastest-growing state in the United States.
Idaho grows nearly one third of America's potatoes, and it is also known as the lentil capital of the world. Other state specialties include ice cream, huckleberries, and fry sauce.
Idaho's unique attractions make it an exciting place to live. Throughout Idaho you can find things like ice caves, ghost towns, hot springs, canyons (even deeper than the Grand Canyon) and North America's longest gondola ride.
Is Idaho a good place to live? The answer to this question is Yes. With its safe reputation and friendly residents, Idaho is definitely a state worth considering when finding a new location to settle down on your own or with a family. Here you'll find our list, along with the highlights that are the 10 best places to live in Idaho in 2024.
1. Meridian
Population: 117,635 | Rank Last Year: #2
Cost of Living: 18.5% above the national average
Home price to income ratio: $274,900/$71,389=3.85 (buying homes is expensive)
Income to rent ratio: $71,389/$13,332=5.35 (renting homes is expensive)
Neighboring the city of Boise in Ada County, Meridian is the second largest city in the state of Idaho — and the fastest growing. In fact, thanks to unprecedented growth between 2010 and 2020, Meridian has become one of the ten fastest-growing cities in the United States (source: AP News).
This growth is apparent as you travel through Meridian. You will see brand-new subdivisions almost everywhere you look.
Driving is the best way to get around, since the city is not very walkable. Given the rapid increase in population, though, you're likely to encounter some congestion on the road, especially during peak travel times.
Meridian is a very self-sustaining city. It has one of the largest hospitals in the area, complete with an ER. It also has many stores and restaurants. If you never wanted to leave Meridian, you probably wouldn't have to.
Meridian has a lot of entertainment to offer as well. Meridian's open-air shopping mall, The Village, is home to many delicious restaurants, as well as trendy stores such as Lululemon and Vans. During the winter months, you can sit outside and enjoy a cup of coffee while watching people ice skate on the outdoor rink. It's an experience straight out of the movies.
Meridian is also home to the largest outdoor waterpark in Idaho, Roaring Springs. This waterpark is complete with a wave pool, slides of all varieties, a toddler area, and a lazy river.
Related article
Wyoming is known for its big skies, open prairies and cowboy boots — yet it's more than that. It reminds you that open space matters. In Wyoming, space is allotted for what's essential, and the rest is left open for all to enjoy. It's a place where you can relax, breathe in and breathe out…
2. Boise
Population: 235,684 | Rank Last Year: #1
Cost of Living: 16.5% above the national average
Home price to income ratio: $253,400/$60,035=4.22 (buying homes is expensive)
Income to rent ratio: $60,035/$11,484=5.23 (renting homes is expensive)
Also located in Ada County, Boise is the largest city in Idaho. It is home to more than 200,000 residents. Boise has drawn attention in recent years as one of the best places to live in the country; in fact, U.S. News and World Report rated it #11 for 2021-2022.
Birding enthusiasts will be interested to know that Boise has the greatest concentration of birds of prey in the United States.
If you enjoy being active, then the Boise Greenbelt might be right up your alley. This 25-mile path is perfect for strolling, biking, or rollerblading. If this isn't your thing, you may want to consider skiing at the Bogus Basin Ski resort, which is a mere 40-minute drive outside of Boise.
Boise has a large variety of outdoor recreational activities, including horseback riding, skiing, mountain biking, running, fishing, snowboarding, snowmobiling, boating, hiking, kayaking, surfing, hunting, ATV-ing, camping, rock climbing, and boating. According to Business Wire, Boise is considered one of the top-ten fittest cities in the country.
There are many options for education in Boise. You can choose from private schools, public schools, charter schools, homeschooling, or even a dual enrollment in any combination of these. Secondary education can also be found here: Boise State University — Idaho's largest university — is located in the heart of Boise.
All these amenities sound great, right? The popularity of Boise comes with a price, however. Home prices have been rising. The median value of an owner-occupied home in Boise is around $283,000, according to the U.S. Census Bureau, well above the median housing price in the state.
Fortunately, though, with an unemployment rate of around 1.8%, there are many opportunities to find work and earn a good living, making Boise still a great option to raise a family.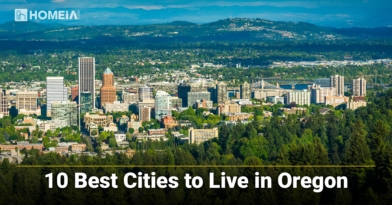 Related article
Oregon is a study in contrasts. It has 363 miles of the most breathtaking coastline you'll encounter anywhere in the world. But it also has dense forests, mountain ranges, and high desert country. Here're the 10 Best Cities to Live in Oregon…
3. Idaho Falls
Population: 64,818 | Rank Last Year: #4
Cost of Living: 6.9% above the national average
Home price to income ratio: $164,500/$53,148=3.10 (buying homes is inexpensive)
Income to rent ratio: $53,148/$9,312=5.71 (renting homes is expensive)
If you are looking for the city feel, but do not want all the people that come with an area like Boise, then Idaho Falls might be the sanctuary you have been looking for. With a population of just under 65,000, it has a small-town atmosphere, but also has the amenities a big city offers.
Perhaps you enjoy a good baseball game. You can find that here at Melaleuca field. If you like to casually stroll through museums, then you might want to visit The Art Museum, The Collector Museum, or The Museum of Idaho. Outdoor parks include The Japanese Pavilion, Freeman Park, and Tautphaus Park.
Hell's Half Acre is an intriguing historic site created by lava flow thousands of years ago. You can walk along the trail and admire the uniqueness of the lava rock and the nature surrounding it, but watch out for rattle snakes!
And a less-than-two-hour car ride will take you straight to Yellowstone National Park, where you can enjoy the beautiful wildlife and historic geysers. If you haven't visited Yellowstone, it's a must see!
As far as weather goes, prepare to bundle up in the winter because the winters in Idaho Falls can be quite brutal. Although it is only a four-hour car ride to the other side of the state, the winters here are vastly different than in the Boise/Meridian area. It is not uncommon to see temperatures as low as zero degrees Fahrenheit (and sometimes even lower). The spring and summer, however, are absolutely gorgeous with very mild temperatures.
Housing prices in this area are relatively inexpensive, which makes Idaho Falls another good option to consider.
4. Coeur d'Alene
Population: 54,628 | Rank Last Year: #7
Cost of Living: 14.1% above the national average
Home price to income ratio: $234,900/$51,073=4.60 (buying homes is expensive)
Income to rent ratio: $51,073/$11,784=4.33 (renting homes is expensive)
One of the most beautiful areas in the state, Coeur d'Alene is located in Kootenai County, which is in the northern region of Idaho. This city is home to about 55,000 people, making it the seventh largest city in the state.
Unlike many other cities in Idaho, Coeur d'Alene is very walkable. If you need to go somewhere within the city, you are most likely able to walk there in a short amount of time.
Coeur d'Alene is home to the third-deepest lake west of the Mississippi, Lake Pend Oreille. This lake allows you to take advantage of many great water activities, including boating and paddle boarding. If you take a look at the houses, you will find cabins and mansions on the lake as well as houseboats. Talk about unique! Additionally, you can enjoy Silverwood Theme Park, which is the Pacific Northwest's largest theme park.
If food and restaurants are important to you, you might be happy to know that the restaurants in this area are quite good. Two restaurants, Capone's Pub and Jimmy's Down the Street, were featured on the hit TV show "Diners, Drive-ins and Dives."
Let's talk affordability. Homes in Coeur d'Alene have a median value of $276,600, according to the U.S. Census, which is above the state median value and just below Boise's.
However, Coeur d'Alene has an unemployment rate at just around 2.3%, which is less than the state average of 3.1%. Employment opportunities in this area are abundant, making it relatively achievable for many to live in this area. Many jobs in the area are based around the construction industry.
Related article
Montana is an outdoor enthusiast's paradise. Known as "Big Sky Country," Montana is the fourth largest state in the United States, but with a population of just over a million, there is a lot of space to spread out…
5. Eagle
Population: 30,346 | Rank Last Year: #10
Cost of Living: 50.0% above the national average
Home price to income ratio: $426,000/$92,807=4.59 (buying homes is expensive)
Income to rent ratio: $92,807/$13,656=6.80 (renting homes is expensive)
On the outskirts of Boise, Eagle is a quaint little town that is known as a ritzy area. While it is more expensive than surrounding cities, there are also many perks associated with it. It is nestled in the foothills, creating a beautiful scenery for all four seasons. This Boise suburb has around 33,000 residents and is growing rapidly. In fact, Eagle has tripled in population in the last 20 years and has become the 11th largest city in the state.
If you are an avid golfer, Eagle has two 18-hole golf courses and three other courses right outside city limits. If you enjoy mountain biking, Eagle Bike Park offers a variety of trails, from well-groomed trails to more advanced jump lines and rock gardens. Certain trails here are also open to hikers, trail runners, and dog walkers.
At Eagle Island State Park, you can take advantage of the water slide, paddle boarding, and zipline. In the winter, you can find tubing hills here to enjoy at a relatively affordable price.
The crime rate in Eagle is extremely low and the city is very clean. You don't have to worry about your children as they ride their bikes to school or to a friend's house. There is a strong sense of pride in this community.
One major con of living in Eagle is the distance to the freeway. It is quite a drive to get to the freeway, which can be a bit of an annoyance.
Related article
Arizona is world-renowned for its dramatic beauty, a combination of rugged mountains and vast desert landscapes. The sixth-largest state by area and the 14th largest in terms of population, Arizona is indeed beautiful–but it's much, much more than that…
6. Twin Falls
Population: 51,807 | Rank Last Year: #8
Cost of Living: 8.9% above the national average
Home price to income ratio: $162,000/$50,739=3.19 (buying homes is inexpensive)
Income to rent ratio: $50,739/$9,816=5.17 (renting homes is expensive)
Between Pocatello and Boise, this town located in Twin Falls County has a population of around 90,000 people, making it the eighth largest city in Idaho. With home values below the state median and a 1.95% unemployment rate, Twin Falls is another great option to call home.
If you are a night owl and enjoy being on the town late at night, Twin Falls might not be right for you. Twin Falls has a much quieter vibe. In spite of this, Twin Falls has many things to see and do.
If you enjoy quaint, small downtown areas, Twin Falls will not disappoint. You can find shops, breweries, and even a cheese store.
Twin Falls is home to Glanbia Foods, which is a major cheese producer. Chobani and Cliff processing plants can also be found here.
One of the main attractions that lures people to Twin Falls is the Snake River Canyon, which boasts a 1,500-foot-long bridge. Shoshone Falls Park is also located here; some call it the Niagara Falls of the West.
As for the weather, it is extremely windy here with gusts of wind frequently topping 50 miles per hour. This can prove to be quite the headache when trying to enjoy the outdoors.
Another thing to be aware of is that there is no airport in Twin Falls to fly in and out of. You have two options: You can either head west to Boise, which will take you around two hours, or you can head southeast toward the Salt Lake City airport, and that will take a little over three hours (but the flights are generally cheaper).
7. Moscow
Population: 25,435 | Rank Last Year: #14
Cost of Living: 0.7% above the national average
Home price to income ratio: $229,900/$41,896=5.49 (buying homes is expensive)
Income to rent ratio: $41,896/$8,772=4.78 (renting homes is expensive)
Moscow, Idaho has many recreational activities, such as hunting, hiking, mountain biking, fishing, and white-water rafting, but it is not a resort town full of tourists. Moscow is home to the University of Idaho, which is the second largest university in the state. The town has a comfortable 25,000 residents. With only a few major stores, including a recently added Target, this town is small, but definitely growing in amenities.
Moscow may not be known as a resort town, but it does have many community activities to offer: Rendezvous in the Park, the Jazz Festival, the Renaissance Fair, the Art Walk, and the annual community fair. These are family-friendly events where kids are sure to have a good time.
Let's talk about the cost of living. With a relatively low cost of living and the median home value being only $240,500, Moscow is a great place to raise a family. If you enjoy the small-town feel, this might be the place for you. In fact, Moscow is so small that the main street that runs through Moscow is actually called Main Street. Go figure.
If you are looking to move here, it's important to note that the housing market is extremely limited, so if you want your best shot at finding a home, you'd better find yourself a good real estate agent. Likewise, job opportunities can be scarce. It is important to be aware of those factors when considering a move to Moscow.
Related article
We assessed the cost of living across Californian cities and compared them to the national average. The cost of living is calculated based on 5 main categories: housing, food, healthcare, transportation and energy. Based on these calculations, we narrowed down the list to California's 10 most affordable cities…
8. Pocatello
Population: 56,320 | Rank Last Year: #6
Cost of Living: 13.7% above the national average
Home price to income ratio: $148,200/$46,617=3.18 (buying homes is inexpensive)
Income to rent ratio: $46,617/$7,872=5.92 (renting homes is expensive)
Home to about 56,000 residents and Idaho State University, this Idaho town is surrounded by mountains and trees. The town has a myriad of attractions. Here you can find the Idaho Museum of Natural History, where you can see collections in anthropology and Earth and Life Sciences. Additionally, you can visit the Fort Hall Replica, which resembles an Oregon Trail trading post. If you haven't noticed yet, Idaho is very rich in history and its museums show that.
Another family-friendly attraction you can find in Pocatello is the Aquatic Center, which is a small outdoor water park specifically tailored to children. Another option, only a 40-minute car ride away, is Lava Hot Springs, where you can enjoy the natural hot springs. Complete with water slides, an indoor kids' area, and more, this is a fun place for the entire family.
If you enjoy shopping at stores like Trader Joe's or Whole Foods, you are going to need to find an alternative, because those stores just don't exist here. However, Pocatello hosts a farmer's market every week in the summer where you can get fresh, locally grown produce.
With the median home value in Pocatello being around $154,000 Pocatello has a very low cost of living. If a small home and a small yard are what you need, you can find that here. However, if you are looking for a large home with a lot of land, you will also find more expensive homes available.
Related article
We'll explore areas of the state that represent all different value systems and explain why people love living there. We'll present each place's unique characteristics, complete with opinions from locals…
9. Lewiston
Population: 34,203 | Rank Last Year: #11
Cost of Living: 6.1% above the national average
Home price to income ratio: $189,400/$56,479=3.35 (buying homes is inexpensive)
Income to rent ratio: $56,479/$8,664=6.52 (renting homes is expensive)
With a median home value of $204,600 and a population of 34,000, Lewiston is comparable to Moscow.  Since Lewiston is a fairly small city, the average commute to work is only around 15 minutes, which is really nice for the pocketbook.
Lewiston is in the center of a canyon where the Snake River and Clear Water River meet. Additionally, the city is surrounded by volcanic landscape, giving it a very unique feel.
Lewiston is home to ten city parks and a downtown area known as "Old Town Lewiston." Here you can find the city's only brewery, Rants & Raves.
Fishing is a major industry here, so if you are an avid angler then you may want to consider a move to Lewiston. You can catch steelhead, salmon, small-mouth bass, and more here. And the good news is that you don't need to have a large boat to do it.
As far as the weather goes, Lewiston is at a very low elevation compared to many other cities in Idaho, which makes its weather very temperate, with a below national average snowfall.
One important thing to note is that the Lewiston community is generally older, with an average age of around 40. Things move a little slower around here. In fact, the late night showing at a movie theater is around 7:30 p.m. If you are looking for a younger and more active community, Lewiston may not be your cup of tea.
Related article
Geographically, Oregon boasts dramatic Pacific coastlines as well as volcanic mountain ranges. Its climate spans from rainforests along the coast to semi-arid conditions in the central and southeastern regions. The Beaver State is home to both Crater Lake, the deepest lake in the U.S., and Mount Hood, the second-most-climbed mountain in the world…
10. Post Falls
Population: 38,485 | Rank Last Year: #9
Cost of Living: 8.9% above the national average
Home price to income ratio: $218,100/$54,021=4.04 (buying homes is expensive)
Income to rent ratio: $54,021/$12,156=4.44 (renting homes is expensive)
Located in northern Idaho, Post Falls comes in as the ninth largest city in Idaho with about 38,000 residents. Post Falls is a unique city with a small-town feel and an extremely low crime rate. The Spokane River runs through Post Falls and is absolutely gorgeous.
The city of Post Falls doesn't attract a lot of people because, honestly, there isn't a lot to do here. With only two Walmarts and various other local stores, there's not much in the way of shopping. If you want to get out, though, you are in a nice central location between Spokane, Washington, which is a 30-minute car ride away, and Coeur d'Alene, which is only 15 minutes away.
Post Falls does not have much of a downtown area. Stores, restaurants, and recreational activities are spread out all around the town. Housing is also very spread out, and ranges widely in cost. It is not uncommon to find both million-dollar homes and trailers along the river.
Don't be fooled, however; Post Falls has been growing at around 4% per year, so it is quite common to see new neighborhoods being built. If you want the rural feel with a brand-new home, this could be the perfect spot for you and your family.
As you can tell, there is quite a variety of things to do and see here in Idaho. If you are looking for a small town or large city, you can find it here. These towns and cities are very safe, as Idaho has been ranked one of the safest states in the country.
Additionally, Idaho touts many different types of activities, from outdoor recreation to typical indoor attractions such as movie theaters and restaurants. With many cities in Idaho having a relatively low cost of living as well as an abundance of employment opportunities, it stands to reason that Idaho is an excellent option to raise a family.