The 8 Safest Neighborhoods in Seattle, Washington
Seattle Washington, the Emerald City in the Pacific Northwest, welcomes you warmly to explore its colorful mix of ecosystems across its diversified communities. Known for its evergreen forests, thriving tech hubs, and blend of urban-suburban lifestyles, Seattle boasts several exclusive community options tailored thoughtfully for varied lifestyle preferences.
This comprehensive guide takes readers through the safest neighborhoods in Seattle for the year 2023. Each neighborhood is uniquely different; Magnolia offering serenity and peaceful bliss, Queen Anne oozing vibrant communal energy, among many more. We've prioritized safety in our selection method by considering crime rates, accessibility to amenities, quality of education, and overall lifestyle.
Each neighborhood holds a unique charm catering precisely to specific individual choices–from tech professionals looking to exist in thriving urban hubs or families seeking convenient parks and top-notch schools, to retirees living a peaceful life within the city.
Join us on an adventure through Seattle's most appealing residential neighborhoods that positively impact culture and the real estate market. This guide offers valuable insights for anyone seeking a new home base in this bustling and thriving cityscape by providing comprehensive snapshots of each safe haven across Seattle's stunning span.
Here're the 8 Safest Neighborhoods in Seattle:
1. Fremont: The Eccentric Hub Blending Artistic Flair and Community Spirit
Nestled along the north bank of the Lake Washington Ship Canal, Fremont is a quirky and vibrant neighborhood in Seattle known as the "Center of the Universe." Renowned for its eclectic spirit, artistic culture, and strong sense of community, Fremont is a magnetic enclave that attracts creatives, young professionals, and those with a penchant for the unconventional.
One of Fremont's most famous landmarks is the Fremont Troll. This colossal public art installation, which clutches an actual Volkswagen Beetle, is nestled under the Aurora Bridge and has become an iconic symbol of the neighborhood's quirky charm. It's a must-visit for both residents and tourists, offering an offbeat photo opportunity.
Another highlight of Fremont is its dynamic food scene. Among the numerous eateries, Roxy's Diner stands out as a beloved institution. With its retro ambiance and a menu that combines classic diner fare with modern twists, Roxy's has been serving comfort food to Fremont's residents for decades. Whether you're craving a hearty breakfast or a late-night sandwich, Roxy's Diner is a cozy spot that feels like home.
Fremont is also known for its array of events and festivals, including the famous Fremont Solstice Parade featuring naked bicyclists in full body paint, and the Fremont Oktoberfest with original German beers. These events, characterized by a blend of artistic expression and community engagement, reflect the neighborhood's lively and inclusive spirit.
Safety is a notable aspect of life in Fremont. The neighborhood's design, with pedestrian-friendly streets and plenty of public spaces, encourages community interaction. The powerful sense of camaraderie among residents contributes to the overall safety, as neighbors look out for one another. Local businesses and residents are actively involved in community initiatives aimed at maintaining a safe and welcoming environment.
Besides its cultural attractions, Fremont offers scenic beauty with views of the canal, and ample green spaces like the Fremont Canal Park. The neighborhood also boasts a range of shops, breweries, and an active nightlife, yet maintains a close-knit community feel.
The combination of its creative culture, enticing food scene, and the cohesive community spirit makes Fremont a uniquely appealing neighborhood. For those seeking a lively urban environment that doesn't compromise on safety and community bonds, Fremont is an outstanding choice within Seattle's rich tapestry of neighborhoods.
2. West Seattle: Coastal Bliss with a Strong Sense of Community
West Seattle, encompassing the city's western peninsula, boasts a distinctive blend of picturesque coastal living and a dynamic community spirit. Offering some of Seattle's most beautiful waterfronts and spectacular views of the city skyline, West Seattle is ideal for those seeking a relaxed pace of life without compromising on urban amenities.
Alki Beach is a crown jewel of West Seattle. With its sandy shoreline, it's a beloved spot for beachcombing, picnicking, beach volleyball, and indulging in a vibrant dining scene along Alki Avenue. The beach offers a rare opportunity in Seattle to feel the sand between your toes, and the adjacent path is perfect for joggers, bikers, and those taking a leisurely stroll. On clear days, the breathtaking views of the Olympic Mountains and Puget Sound are unparalleled.
The Junction, often referred to as West Seattle's downtown, is the neighborhood's beating heart. Here, you'll find a plethora of independent shops, cozy cafes, and mouth-watering eateries. The West Seattle Farmers Market, a staple since 1999, offers an abundant selection of fresh produce and artisanal goods every Sunday.
For outdoor enthusiasts, Lincoln Park is an oasis. With over 130 acres of woodland, open fields, and shoreline, it's a favorite for hikers, swimmers, and picnickers. The park's Coleman Pool, a saltwater pool overlooking Puget Sound, is a unique experience.
What sets West Seattle apart is its strong sense of community. Residents are actively involved in neighborhood watch groups, and the West Seattle Block Watch Captains' Network is particularly notable for its efforts in ensuring neighborhood safety, praised for being the first such program in Seattle. This engagement, combined with the peninsula's geography, contributes to lower crime rates. West Seattle also boasts excellent schools and family-friendly activities, making it an attractive area for families.
Another aspect contributing to safety is the network of well-maintained streets, pedestrian-friendly areas, and green spaces. These not only foster an active lifestyle but also help in keeping the neighborhood safe and secure. Adding to commuting safety, a water taxi runs from West Seattle to downtown, providing a traffic-free commute, a stress-free rarity in the Emerald City.
West Seattle strikes a balance between the serene beauty of the Pacific Northwest and the convenience of city life, with the added bonus of a tightly-knit and safety-conscious community. Whether you are drawn by the coastal charm or the bustling community spirit, West Seattle stands out as one of the safest and most appealing neighborhoods in Seattle.
3. Ballard: A Maritime Haven with Historic Charm
Ballard, a lively neighborhood to the northwest of downtown Seattle, melds its rich Scandinavian heritage with an invigorating modern vibrancy. Once a sleepy fishing village, Ballard has emerged as a hot spot for young professionals, families, and culture enthusiasts alike, while maintaining its close-knit community feel.
A key highlight of Ballard's historical roots is the Hiram M. Chittenden Locks, commonly referred to as Ballard Locks. This impressive engineering feat connects Puget Sound to Lake Union and Lake Washington. Visitors to the Locks can wander through lush botanical gardens, witness boats navigating the locks, and even spot salmon migrating through the fish ladder.
Just a stone's throw from the Locks, the Golden Gardens Park invites with sandy beaches and unobstructed views of the Puget Sound, making it an ideal spot for picnics, beach volleyball, and soaking in stunning sunsets.
The neighborhood's Scandinavian heritage is proudly showcased at the Nordic Museum, a cultural gem where you can immerse yourself in the rich history and traditions of the Nordic countries. Ballard's heritage is celebrated annually through events like the Ballard SeafoodFest and Syttende Mai parade on Norwegian Constitution Day, May 17 each year.
Another draw to Ballard is its booming culinary and brewery scene. From the historic Ballard Avenue lined with stylish restaurants and boutiques to the burgeoning Ballard Brewery District, there is no shortage of delectable offerings. Additionally, the Ballard Farmers Market, Seattle's first year-round market, is a lively weekend affair offering fresh local produce and artisanal goods.
Safety is integral to the Ballard community. Residents are actively engaged in neighborhood watch programs, and communication channels like community forums foster mutual support. Ballard's layout, with well-lit streets, pedestrian-friendly zones, and a conscious effort to create safe biking lanes, contributes to making it one of Seattle's safest neighborhoods. The sense of community in Ballard is so strong that it is not uncommon for neighbors to know each other by name, creating an environment where people look out for one another.
For those seeking a safe neighborhood that offers historical charm, modern amenities, and a sense of community, Ballard is an outstanding choice in Seattle.
Related article
Seattle is a beautiful port city on the Puget Sound in the northwestern U.S. state of Washington, 100 miles south of the Canadian border. As the largest city in the state (and the Pacific Northwest for that matter), Seattle is heavily endowed with natural resources. This hilly city earned…
4. Queen Anne: A Hilltop Gem Blending History and Urban Sophistication
Situated just north of downtown Seattle, Queen Anne is an iconic neighborhood known for its historical charm, stately homes, and vibrant cultural scene. Set atop a hill, Queen Anne boasts some of the most breathtaking views of Seattle's skyline, with a harmonious blend of quaint, tree-lined streets and a bustling urban atmosphere.
One of Queen Anne's defining features is its architectural heritage. The neighborhood is dotted with historic Queen Anne-style homes, the namesake of this neighborhood. These homes, with their intricate designs and old-world charm, are a testament to Seattle's rich history and aesthetic appeal.
Queen Anne is divided into two distinct areas: Upper Queen Anne and Lower Queen Anne (or Uptown). Upper Queen Anne is the quieter, more residential part, characterized by elegant homes, lush gardens, and serene parks. Kerry Park, located here, offers a postcard-perfect view of Seattle, with the Space Needle, downtown skyline, and Mount Rainier in the background. It's also home to a thriving local business scene, with quaint cafes, bookstores, and boutique shops.
Lower Queen Anne, in contrast, is energetic and vibrant. Home to the Seattle Center, it features iconic landmarks like the Space Needle, Experience Music Project, and Chihuly Garden and Glass. The neighborhood's pulsating cultural core also includes theaters and art galleries, offering a rich tapestry of entertainment options.
Safety is an integral aspect of Queen Anne's community. The neighborhood prides itself on its active community groups and well-maintained streets. Queen Anne Community Council is notably engaged in various initiatives to ensure the safety and well-being of its residents. The neighborhood's layout, with ample street lighting and pedestrian-friendly zones, contributes to creating a secure environment.
In addition, Queen Anne's location is strategically close to downtown, yet it maintains a peaceful ambiance. Its hilltop setting not only offers stunning views, but also creates a natural barrier that keeps the hustle and bustle at bay.
For families, Queen Anne provides an excellent education system, with highly rated schools and libraries. The neighborhood's parks, such as David Rodgers Park and Big Howe Park, offer safe play areas for children.
In Queen Anne, you find an exquisite blend of history, culture, and urban living, all within a secure and community-driven environment. Its unmatched charm and the proactive nature of its residents make it one of the most desirable and safest neighborhoods in Seattle. Whether you're seeking cultural richness, historical landmarks, or a tranquil residential setting, Queen Anne caters to a diverse range of lifestyles.
Related article
Geographically, Oregon boasts dramatic Pacific coastlines as well as volcanic mountain ranges. Its climate spans from rainforests along the coast to semi-arid conditions in the central and southeastern regions. The Beaver State is home to both Crater Lake, the deepest lake in the U.S., and Mount Hood, the second-most-climbed mountain in the world…
5. Magnolia: A Scenic Oasis Offering Peaceful Living and Natural Beauty
Tucked away on a peninsula just west of Queen Anne, Magnolia is a lush and scenic neighborhood in Seattle, widely recognized for its tranquil atmosphere, stunning views, and abundance of green spaces. Often described as a peaceful retreat within the city, Magnolia draws families, professionals, and retirees who seek a serene environment without straying far from the city's conveniences.
One of Magnolia's crowning jewels is Discovery Park, the largest park in Seattle. Covering over 534 acres, this sprawling natural sanctuary offers an array of trails, meadows, beaches, and dramatic sea cliffs. Whether you're looking for a quiet picnic spot, hiking trails, or just to immerse yourself in nature, Discovery Park has something for everyone. The park is also home to the iconic West Point Lighthouse, a historical landmark and a perfect spot to take in panoramic views of Puget Sound.
Magnolia's charm is also noticeable in its quaint village center. Magnolia Village is the heart of the community and features an array of shops, restaurants, and cafes. Whether it's picking up groceries, enjoying a coffee, or dining out, Magnolia Village offers residents a cozy and convenient hub for their daily needs.
Safety is paramount in Magnolia, and this is reflected in the neighborhood's design and community spirit. The streets are wide and well-lit, and the houses often have gardens, adding to the open and airy feeling of the area. The sense of community is strong, with neighborhood watch programs and active involvement in the Magnolia Community Council. The relative seclusion provided by being on a peninsula further adds to the sense of safety, as there is less through traffic and the area is primarily residential.
Schools in Magnolia are highly regarded, and the neighborhood's tranquil streets and ample parks make it a favorable environment for families with children. Magnolia's public spaces such as Magnolia Playfield offer sports facilities in a safe setting.
Though Magnolia feels like a world apart, it boasts excellent connectivity to downtown Seattle. Its serene streets, strong community bonds, and unmatched natural beauty make it a highly sought-after neighborhood for those in search of both safety and tranquility.
For individuals and families yearning for a blend of peaceful living, safety, and access to expansive natural beauty, Magnolia emerges as an idyllic choice. The neighborhood's welcoming community, coupled with its verdant surroundings, paints the perfect picture of harmonious urban living in Seattle.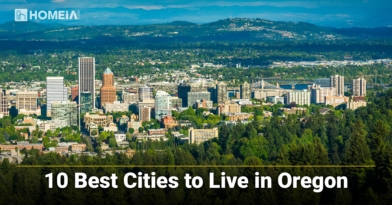 Related article
Oregon is a study in contrasts. It has 363 miles of the most breathtaking coastline you'll encounter anywhere in the world. But it also has dense forests, mountain ranges, and high desert country. Here're the 10 Best Cities to Live in Oregon…
6. Green Lake: A Nature Lover's Sanctuary in the Heart of the City
Green Lake, positioned in north-central Seattle, is an idyllic neighborhood built around its namesake – Green Lake. Known for its lush parks, recreational activities, and a close-knit community, Green Lake offers a slice of serenity amidst the urban sprawl. The neighborhood strikes a harmonious balance, making it a sought-after destination for families, fitness enthusiasts, and nature lovers.
The centerpiece of the neighborhood is undoubtedly Green Lake Park, a verdant oasis enveloping the lake. The park's 2.8-mile paved path teems with joggers, cyclists, and walkers reveling in the tranquil setting. With a plethora of recreational facilities, including playgrounds, sports fields, and an indoor pool, the park caters to diverse interests. Rowing and paddleboarding on the lake add a touch of adventure for water enthusiasts.
Beyond the park, Green Lake's urban village presents an array of charming cafes, independent bookstores, and family-owned eateries. Its cozy and vibrant atmosphere invites you to linger over a cup of coffee or explore eclectic shops.
Safety is embedded in Green Lake's community fabric. The neighborhood's layout, emphasizing pedestrian pathways and well-lit streets, not only encourages outdoor activities but also ensures safety. Green Lake Community Center and Evans Pool provide safe spaces for community gatherings and recreational activities, fostering a sense of belonging among residents. The neighborhood also enjoys lower crime rates compared to other parts of Seattle, due in part to the vigilant and engaged community members.
Additionally, Green Lake is a nexus for community-driven events, such as the annual Green Lake Gobble & Mashed Potato Munch Off, which offers a family-friendly 5K/10K run and contributes to local food banks. Such events bolster the neighborhood's communal spirit and contribute to the overall well-being and safety of the area.
Proximity to excellent schools and a plethora of family-friendly amenities make Green Lake a magnet for families. Its serene environment combined with the community's vigilance contributes to its standing as one of Seattle's safest neighborhoods.
In Green Lake, you will discover a neighborhood that offers a respite from the city's hustle, a treasure trove of natural beauty, and a community that prides itself on maintaining a safe and wholesome environment for residents of all ages.
Related article
With its safe reputation and friendly residents, Idaho is definitely a state worth considering when finding a new location to settle down on your own or with a family…
7. Madison Park: A Tranquil Retreat with Upscale Charm
Nestled on the shores of Lake Washington, Madison Park is an affluent neighborhood in East Seattle that epitomizes elegant lakeside living with a hint of vintage charm. A favorite among families and retirees, Madison Park offers an enchanting blend of tranquil streets, lush green spaces, and upscale amenities, all cocooned in an aura of sophistication.
One of the standout features of Madison Park is its picturesque waterfront. Madison Park Beach, with its rocky shoreline and grassy picnic areas, is a perfect spot for a family day out or a peaceful escape from the city's hustle. The beach's swimming area and floating platforms are inviting during the summer, while the spectacular views of Mount Rainier across the lake are a year-round delight.
Madison Park's commercial area is small but charming, with a selection of high-end boutiques, eclectic eateries, and cozy coffee shops. The well-preserved early 20th-century buildings evoke a sense of nostalgia, while the chic restaurants and cafes provide a modern twist.
Safety is one of Madison Park's strongest attributes. With its secluded, residential character, the neighborhood enjoys some of the lowest crime rates in Seattle. The close-knit community plays a significant role in this regard. Residents are known to actively engage in neighborhood associations and watch groups, creating a collaborative atmosphere that contributes to the overall safety and security of the area.
In addition, Madison Park's tree-lined streets and well-maintained public areas encourage outdoor activities among residents. McGilvra Boulevard's "Green Street" is a testament to the neighborhood's commitment to creating safe and appealing pedestrian environments.
For families, highly ranked schools like McGilvra Elementary School and proximity to several parks adds to the appeal. Madison Park Playfield, for instance, offers sports fields, tennis courts, and play areas for children in a safe and inviting setting.
Madison Park also boasts excellent connectivity to Downtown Seattle while retaining its peaceful ambiance. The neighborhood's tranquil environment, coupled with a vigilant community and top-tier amenities, make Madison Park an exemplary model of safe and refined urban living. Whether you are a family seeking a serene abode, or someone looking for a tasteful retreat within the city, Madison Park stands as a premier choice among Seattle's neighborhoods.
Related article
Montana is an outdoor enthusiast's paradise. Known as "Big Sky Country," Montana is the fourth largest state in the United States, but with a population of just over a million, there is a lot of space to spread out…
8. Phinney Ridge: A Harmonious Blend of Community, Nature, and Safety
Nestled between Ballard and Green Lake, Phinney Ridge is a delightful neighborhood in Seattle, renowned for its peaceful ambiance, charming streets, and deep sense of community. With its mix of quaint local businesses, lush green spaces, and excellent schools, Phinney Ridge is an idyllic spot for families and individuals seeking a balanced urban life.
One of Phinney Ridge's most cherished features is its lively central street, Phinney Avenue, which is lined with a plethora of eateries, cafes, boutiques, and galleries. The Ridge's residents frequently visit this vibrant stretch to savor a coffee, shop for unique items, or enjoy delicious meals. The weekly Phinney Farmers Market runs from June through the end of September and is a hit among locals, providing access to fresh produce and artisanal goods.
For nature enthusiasts, Phinney Ridge's proximity to Green Lake is a huge bonus. A short stroll or bike ride leads you to the trails and water of Green Lake, where you can indulge in morning jogs, family picnics, or leisurely boat rides. The Woodland Park Zoo, situated at the southern end of Phinney Ridge, is another popular attraction for families. The zoo's sprawling grounds and diverse animal exhibits make it a delightful destination for a day of exploration and learning.
Community events in Phinney Ridge, such as the Winter Festival & Crafts Fair and various community workshops, foster belonging and camaraderie among residents. This collective spirit also contributes to the neighborhood's safety. Neighbors look out for each other, and community programs ensure well-lit streets and secure public spaces.
Phinney Ridge's schools are part of the Seattle Public Schools district and are known for their high educational standards. The neighborhood's peaceful streets and abundance of family-oriented amenities make it an appealing environment for raising children.
Real estate in Phinney Ridge is highly sought after, and though the market can be competitive, the tranquility, community spirit, and picturesque surroundings make it well worth the investment.
Phinney Ridge offers a harmonious blend of community, nature, and safety. Its enchanting streets, proximity to green spaces, vibrant local businesses, and strong community bonds make it a highly desirable neighborhood for a serene and fulfilling life in Seattle.
Related article
The cost of living in Minnesota varies by location and is highest in its large metro areas, but on the whole, it compares well to the coasts and to big cities. Each community in Minnesota has its own personality, and here we will introduce you to 15 of the best options for retiring in the North Star State…
Conclusion: Your Safe Haven in Seattle Awaits
As our journey through the safest and most charming neighborhoods of Seattle comes to an end, it is evident that the Emerald City is a treasure trove of diverse communities, each with its own unique flavor and charm. From the serene and family-friendly streets of Phinney Ridge and Madison Park to the quirky and vibrant atmospheres of Fremont and Ballard, Seattle's neighborhoods cater to a myriad of lifestyles and preferences.
Safety, an essential factor in selecting a place to call home, is prominent across these neighborhoods. The strong sense of community, coupled with initiatives for well-lit streets and secure public spaces, contribute to the overall feeling of well-being. Whether you're a nature enthusiast, a lover of the arts, a young professional, or seeking the perfect place to raise a family, Seattle offers a neighborhood that not only meets but exceeds your expectations.
Besides safety, the neighborhoods explored offer a wealth of amenities, including world-class restaurants, lush parks, bustling markets, and a rich cultural scene. The education standards are high, and the blend of urban and suburban settings ensures there's always something new to discover and experience.
As you ponder your next move, consider what's most important to you in a neighborhood. Is it the bustling cultural scene, proximity to parks and natural beauty, educational opportunities, or a combination of these factors? Whichever it is, you're sure to find a neighborhood in Seattle that feels like it was crafted just for you.
Related article
While everyone in Minnesota shares accesses to the great outdoors, four distinctly enjoyable seasons, and a friendly Midwestern vibe, each community has its own personality. Here are our views of the Top 8 Cities for family life in Minnesota. With a variety of personalities and attractions…