7 Key Factors to Know About Living in Boston, Massachusetts
Boston is one of the oldest cities in the United States and has a rich history that played a significant role in the American Revolution. The city is filled with historical sites, museums, and landmarks like the Freedom Trail, Fenway Park, and the USS Constitution. Boston life is about the best city life you can imagine. Relatively small, it's often referred to as the walking city, with world-class museums, universities, theaters, and gourmet dining just minutes away in all directions. Living in Boston, MA, can be an exciting and rewarding experience, but there are 7 important things you should know before you move there in 2023.
1. Lifestyle
In 1630, Puritan colonists from England founded Boston, Massachusetts. Today, living in Boston is an incredible life experience. From the diversity of people, shopping opportunities, world-class museums, four-star entertainment, and cutting-edge food and drink – it's a truly top-notch and memorable experience.
Boston is big enough to offer all of the standard metropolitan pleases, but is small enough that you can walk it.
The founding of our country is displayed nowhere better than in Boston; and driving the country to where it is today. From the Bunker Hill Monument, the Boston Harbor of the infamous Boston Tea Party, and the Old North Church where Paul Revere warned his fellow patriots that the British were coming, historical sites and museums celebrating the roots of American history are planted deep in this city of our founding fathers.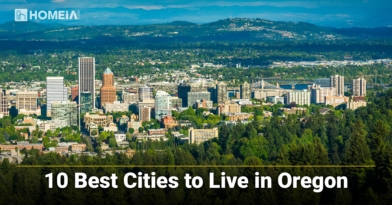 Related article
Oregon is a study in contrasts. It has 363 miles of the most breathtaking coastline you'll encounter anywhere in the world. But it also has dense forests, mountain ranges, and high desert country. Here're the 10 Best Cities to Live in Oregon…
Baseball fans have flocked to Fenway Park, the oldest (and smallest) ballpark still used by Major League Baseball, since 1912, to cheer on their beloved Red Sox, and Boston is also the birthplace of some major musical and theatrical groups, including the band Aerosmith, the Blue Man Group and many more.
Music and theater are deeply ingrained in Boston culture.
Famous for its fried seafood and clam chowder (pronounced famously in New England as chow-dah), Boston in also home to many impressive and sophisticated gourmet restaurants such as Deuxave, Mistral, No.9 Park and Sonsie.
Food explorers also flock to cultural neighborhoods like Boston's Chinatown and the North End (a traditional Italian neighborhood) for a taste of the best traditional recipes to be found anywhere.
With a myriad of nightclubs and countless bars, Boston offers a night-life scene to parallel any city in America, and less than four-hour drive south to New York City, and two more hours from historic Philadelphia, it's a central hub of Americana.
2. Cost of Living in Boston

As the largest city in New England, Boston is considered New England's unofficial Capital for economic and cultural importance in this region.
With a well-deserves reputation as an intellectual and medical hub, Boston's economy and reputation is derived, in large part, from its advanced teaching and research facilities, including than 100 colleges and universities within the Greater Boston Area.
Boston's economy has shown consistently strong growth since 2009, with an average increase of 2.9 percent per year.
As of April 2019, the city's unemployment rate was 2.2 percent, remaining far below state and national levels.
The Sales Tax Rate for its County is 7.0%. lower than the US average is 7.3%, but the real incentive is found when comparing the national average income tax rate or 4.6% with its rate of 0.0% (yes, zero percent).
Related article
No matter your reason for considering relocating to Los Angeles, you will find a lot to love in this sunny, warm, sprawling, diverse city. In this article, we will give you a feel for L.A.'s standard of living, climate, housing, education and more. Here are 12 Key factors you should know before moving to Los Angeles, California…
3. Housing Market in Boston, Massachusetts

Boston, Massachusetts's cost of living is 48% higher than the national average with an average four-person family monthly cost of $3,850, not including mortgage or rent.
Rank 22nd of 460 cities worldwide, Boston's cost of living decreases significantly (as much as 50%) once outside of the city center.
Still, the cost of living index for Boston is 17.23% lower than in New York.
Like any major metropolitan area, it's important to research and know the available neighborhoods. From the beauty of Beacon Hill to trendy Jamaica Plain, it's worth knowing what area best suites your lifestyle and goals.
Of the numerous Boston neighborhoods, each has something unique to offer, with a significant range in cost of living, safety and opportunities for employment, night life and recreation.
Related article
Seattle is a beautiful port city on the Puget Sound in the northwestern U.S. state of Washington, 100 miles south of the Canadian border. As the largest city in the state (and the Pacific Northwest for that matter), Seattle is heavily endowed with natural resources. This hilly city earned…
4. Safety & Health Care
Boston is a great place to receive quality treatments or, even better, to stay healthy, with some of the best doctors and medical facilities in the nation.
The state of Massachusetts prides itself as a leader in the nation's healthcare, achieving recognition as the third healthiest in the nation (following Hawaii and Vermont). 98% of Massachusetts residents are covered by health insurance, more than any other state in the nation.
It's a safe city, as well…particularly when compared to other cities in its class. That's not to say that Boston doesn't have crime, but serious crime is minimal, and Boston has one of the most efficient police departments of any city in the U.S.
5. Employment in Boston, MA

Boston is considered one of the top places in which to do business in the United States, making it one of the best places to find employment, as well.
Total payroll and non-payroll jobs have been on a steady rise since 2017, reaching its highest numbers since 1969. Trending job growth suggests that the city will add between 107,000 and 150,000 jobs by 2026.
Boston's major industries are diverse, encapsulating finance, high-tech research, tourism, advanced medicine, higher education, publishing, government, and many more.
Related article
Michigan is the only state in the United States with two separate peninsulas and five surrounding Great Lakes. Its landscape is diverse, ranging from industrialized skylines to sweeping sand dunes to gorgeous waterfalls. Once home to Henry Ford, it's also considered the epicenter of America's…
6. Education
If you're looking for the best state in the nation to send your kids to high school, or on to a prestigious college, Boston is a hard city to beat.
A 2019 study by U.S. News and World Report ranks 48.8% of the state's schools within the top 25% nation-wide, making Massachusetts the highest ranked state for high schools in the US. And 38 of the state's schools ranked in the top 5%.
Boston is also a hub for higher education, boasting prestigious Harvard University, Northeastern, and the famous Massachusetts Institute of Technology (M.I.T.) the nations leading college of science and technology, among its local centers of education.
Related article
The capital city of the United States has a reputation for being a busy political and business hub, but there is a lot more to discover and enjoy for residents of this diverse city. Washington, DC is consistently ranked among Business Insider's and Niche's top 50 cities to live in, and there are…
7. Climate
Boston's weather can be as diverse as its residents. A few years back, winter snows piled to more than 6 feet high in a traditionally brutal Boston winter, while another year offered 75-degree beach days in February.
From July into September the weather can be hot and humid, and Bostonians maintain extensive wardrobes in preparation of unpredictable weather. In Boston, whether it's minus-eight, or eighty degrees, life goes on!
To sum up:
World-class health care, a dedication to the arts, superior education, and a rich history, Boston offers everything you could want in a city. Living in Boston, you're never at a loss for something to keep you busy.