7 Key Factors You Should Consider Before Moving to Chicago, Illinois
Living in Chicago is an experience of big city vibes while still maintaining its Midwest personality. It is the third-most-populated city in the US, Chicago is home to nearly 3 million residents spread across its 237 square miles. The home of deep-dish pizza, Wrigley Field, and sprawling Lake Michigan, it's a clean, friendly and vibrant city.
1. Lifestyle
Chicago maintains the vibrancy and diversity of other major cities like Los Angeles and New York, without the frenetic pace that seems to drive these cities that never sleep. From family-friendly activities to the hottest clubs and nightspots, Chicago has something for everyone.
Garfield Park Conservatory is a local indoor favorite, especially during the chilly winter months, containing thousands of plant species, free yoga classes, monthly lectures, free concerts for kids, and much, much more. Of course, the city by the lake is also the birthplace of Major League Baseball and baseball's legendary Wrigley Field.
It's a city of festivals, from food to music Chicago hosts world-renowned events including Taste of Chicago, Jazz Fest, Blues Fest, Country Music Fest, and Gospel Music Fest.
These enormous (and free) block parties show. Chicagoans pride in their history as an influential part of American music.
Travel aficionados who are looking to fill up their bucket list with various visits to fun U.S. states should most definitely pencil in Tennessee as one of their destinations. The people in the so-called Volunteer State (Go Vols!) are genuinely friendly folks who never fail to provide visitors with…
Known as the city in a garden, residents and visitors alike take advantage of the warmer seasons to flock to the city's more than 580 parks and 8,300 acres of green spaces, offering everything from beaches and outdoor ice rinks, to miles of bike and running paths.
Chicagoans tend to be down-to-earth, family-oriented, and friendly, with a strong work ethic. This is, after all, the same Chicago that hosted the 1893 World's Fair only two decades after most of the city burned to the ground!
Famous Chicago personalities include Michael Jordan, John & Jim Belushi (via the world-renowned Second City improv) and infamous gangsters like John Dillinger, "Baby Face" Nelson and, of course, Al Capone.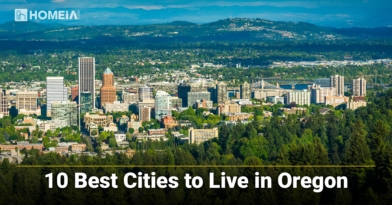 Oregon is a study in contrasts. It has 363 miles of the most breathtaking coastline you'll encounter anywhere in the world. But it also has dense forests, mountain ranges, and high desert country. Here're the 10 Best Cities to Live in Oregon…
2. Cost of Living
The cost of living in Chicago can be expensive, even for the frugal. This is due, in part, to the high (10.25% combined) state and local sales tax, grocery and restaurant taxes, and the second-highest property tax in the United States.
Monthly costs, not including rent or mortgage payments, average $929 for an individual and around $3,400 for a family of four.
Still, studies suggest that the cost of living in Chicago is as much as 15% lower than that of New York and that the city's average family income is 13% higher than the national average, which helps make up for this gap.
While private automotive costs and auto insurance can be spendy, Public transportation (El, bus, or train) will take you to nearly any spot in the city for a few bucks.
Due to frequent traffic congestion, the two-wheeled community is growing rapidly.
Chicago has the second-highest percentage of commuters pedaling their way to work every day and has put serious planning and finances toward building a safe and efficient system for cyclists to get around.
3. Housing
With a median home price of $229,100, neighborhoods like Pilsen, Hyde Park, and Chatham, with traditionally higher numbers of sales and houses spending less time on the market, are consistently popular locations for home seekers.
Sales in Pilsen and Hyde Park rank among the best for condos, and townhouses, while in Chatham, it's single-family houses.
Higher-end home options can be found in Kenwood, Hyde Park, Lakeview, Andersonville, and Rogers Park, neighborhoods that tend to offer a wider and more upscale restaurant and shopping scene.
As a whole, the real estate market in Chicago, Illinois (like most of the country) experienced a notable shift in 2019. With home prices leveling off, and properties requiring more time to sell, the market is beginning to favor home buyers over sellers, once again.
While it may be premature to state that Chicago is currently a buyer's market, there are strong indications that it's headed in that direction.
Michigan is the only state in the United States with two separate peninsulas and five surrounding Great Lakes. Its landscape is diverse, ranging from industrialized skylines to sweeping sand dunes to gorgeous waterfalls. Once home to Henry Ford, it's also considered the epicenter of America's…
4. Safety & Health Care
With a history marked by icons such as the aforementioned Al Capone, John Dillinger, and Baby Face Nelson, Chicago has struggled under its past criminal reputation.  However, great strides have been made in reducing violent crime, with the shooting victim rate plummeting by 30% over the past two years.
Regarding healthcare, more than 90% of the city's residents have health coverage, with nearly half of those on employee plans, and another 25% relying on Medicaid.
Chicago's Northwestern Memorial Hospital was recently named one of the Top 20 Hospitals in the country.
Once a farming and milling community, Edina has blossomed into a preferred suburban city with all the most desired amenities. From upscale, boutique shopping and exquisite dining to consignment shops and casual bistros, residents and visitors are enamored with the all-American lifestyle. You can enjoy the many parks, golf courses…
5. Employment
The hard-working businesses and industries of Chicago offer abundant work opportunities, especially in publishing, finance, manufacturing, biotech, health services, and wholesale food-processing.
With 31 Fortune 500 companies and nearly 4.6 million people working in Chicago's metropolitan area, the city produces an annual GRP (gross regional product) of around $561 billion, becoming one of the major financial contributors both nationally, and around the world.
Chicago's metro area ranks near the top, among similar cities worldwide, for economic potential hundreds of new or expanding facilities each year, contributing $10.5 billion in economic development activity.
Home of The Oprah Winfrey Network, Crate & Barrel, Trunk Club, Pabst Brewing Company, and many more, jobs in all sorts of industries and interests are in strong supply.
Leading industries in Chicago center around the financial and business services sector, manufacturing, biotech, health services, and transportation, providing a niche for everyone seeking employment in the city's countless businesses.
6. Education
Chicago Public Schools (CPS), is the third-largest school district in the United States, serving nearly 400,000 students.
CPS had made remarkable strides forward since the late 1980s when it ranked among the worst school in America. The graduation rate has risen steadily, especially in the last two decades.
Numbers of graduates have grown by more than 22 percent since 2011, while the dropout rate decreased by 50%, to an all-time low of just 6% in 2019.
2019 also saw a record high with 48.6 percent of graduates earning early college and career credentials prior to graduating.
Recent studies by Stanford University state that Chicago public school students, on average, learn more from third grade through eighth grade than those in any similar-sized district in the country, while more students from the district are enrolling in college than ever before.
Before considering your move to Boston, we have compiled a list of 7 key factors we put together for you. Boston life is about the best city life you can imagine. Relatively small, it's often referred to as the walking city, with world-class museums, universities, theaters, and gourmet dining…
Chicago Public Schools were awarded the top five spots (and 20 total) in the ranking of the top 100 high schools in state (with Payton College Preparatory High School, Northside College Preparatory High School, and Lane Technical High School taking the top three spots), with nine CPS schools ranking among the top 350 schools in the United States.
Likewise, Chicago's higher-education facilities have seen a recent boom in both enrollment and graduation, awarding more than sixty-thousand degrees last year.
From the University of Chicago to Northwestern, to Loyola and DePaul University, Chicago is dotted with private higher learning institutions of every size and makeup.
The median tuition costs in Chicago are $27,345 for private four-year colleges, and $7,957 and $15,915 respectively, for public four-year colleges for in-state students and out-of-state students.
If you have the flexibility to move anywhere in the U.S., where could you buy the cheapest home? After examining data from Zillow and World Population Review. Here're 10 most affordable States in the South and the Midwest to consider when buying a house in 2021…
7. Climate
Chicagoans joke that they only have two seasons, winter and summer, and it can certainly feel that way. With temperatures dropping rapidly by mid-October, with no signs of warming until nearly May, local weather calls for heavy coats on Halloween, and snow boots at Easter egg hunts are not uncommon.
While the winter wind chill can drop as low as 40 below, the mild summers in Chicago can be glorious, warm and sunny with temperatures averaging in the low to mid-80s, with that same famous Chicago wind drawing off the humidity.
To sum up: Chicago offers both visitors and residents an urban feel with big-city opportunities. From coffee shops to bars, modern and historic architecture to miles of white sand beaches and blue water, the city of big shoulders has become a haven for companies, families and young professionals, and a great place to call home.