What is it Like Living in Denver, Colorado
Living in Denver Colorado is the life's goal of many people because of its high-quality living. It rates as the second-best place to live in the United States, according to U.S. News & World Report (2019). The Denver area is growing in population much faster than most of the country, increasing by almost 20% from 2010 to 2018.
The first thing to know about Denver is that it's literally the "Mile High City"—its elevation is 5,280 feet, one mile above sea level! Denver is also the gateway to the Rocky Mountains. You can navigate the city by locating the hazy blue peaks off to the west.
A 20-minute drive will get you to the foothills, beautiful in themselves, and in an hour you can be among the majestic, snow-capped granite peaks of the continent's largest mountain range.

Here're the 7 Key things you should know before moving to Denver, Colorado.

1. Lifestyle of Denver

Denver is the largest city in Colorado, with around 716,000 residents in the city itself and almost 3 million in the metro area (including Aurora and Lakewood).
Denver's culture could be described as "city mountain west," combining the best of urban excitement, the great outdoors, and western independence. With its proximity to the Rocky Mountains and 300 days of sun per year, it invites all sorts of outdoor activities, from biking and hiking in the warmer months to downhill skiing in the winter.
The population leans young, with a good nightlife, including lots of local breweries, music from indie rock to country, and an increasingly cutting-edge food scene. Public transportation is generally good and includes buses, commuter rail and light rail.
And thanks to its high-volume international airport, Denver benefits from ease of access, drawing business and recreational travelers.
It's a healthy city, too, frequently rating highly on measures of population health and fitness.
Related article
Given the outdoors benefits – the cost of living in Colorado is still one of the best values in the country. Here're the 10 most affordable places to live in Colorado, taking into account the cost of living, median housing price, average crime rate and other factors that make the place unique…
2. Cost of Living

While it's a popular and growing city, Denver has a lower cost of living than many cities of its size, including Washington, D.C., Seattle and Boston.
One person working full-time in the Denver metro area would need to make around $13.87 per hour—about $28,851 per year before taxes—to cover living costs, according to MIT's Living Wage Calculator.
That's achievable for most people in Denver. With a highly educated workforce, and a high proportion of two-earner households, most Denverites' household incomes are well above the national average. Income tax rates are low; the state of Colorado has a flat income tax rate of 4.5%.
Prices in the area are fairly average in the US; a family of two working adults and two children could expect to spend about $10,000 per year on food, $13,000 on childcare, $7,000 on healthcare and $10,000 on transportation.
The best test of cost of living is whether people want to move to the area. If the lifestyle is worth the price, people will come. And Denver continues to draw new residents, especially young adults: Millennials (born between 1981 and 1997) now make up almost a quarter of the greater metro area, the largest percentage of any population group.
3. Denver Housing Market

An increasing population means a high demand for housing in Denver, increasing the value of existing homes and properties. While that means prices above the national index, it also means that plenty of people are finding home ownership here to be worth the cost.
In 2010, the Denver metro area's median sale price was just under $200,000. In the last decade, that price has more than doubled, so a mid-range home in Denver now costs around $400,000.
For a standard mortgage, that's a payment around $1,800, compared to a median gross rent of approximately $1,400.00. With continued population growth expected in the near future, many will find buying to be a great long-term investment.
Denver's many neighborhoods vary in affordability, meaning most new residents will find an area that fits. The neighborhoods of East Colfax, Montbello and Windsor, for example, are more affordable, while Montclair, North Park Hill and Northeast Park Hill are mid-range.
Those whose tastes and means are at the high end will find opulent and unique homes in areas like South Park Hill, Lowry Field and Stapleton.
Proximity to the downtown area will cost a premium but may draw those working in the central business district—especially with the extensive views from the city's high-rises. For families who value space over the club scene, the suburbs (such as Aurora) offer lower-cost options and larger lots.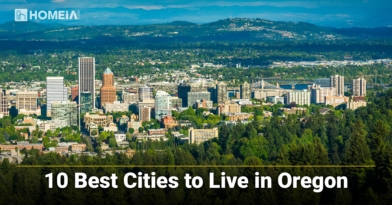 Related article
Oregon is a study in contrasts. It has 363 miles of the most breathtaking coastline you'll encounter anywhere in the world. But it also has dense forests, mountain ranges, and high desert country. Here're the 10 Best Cities to Live in Oregon…
4. Safety & Health Care in Denver

Every city aims to protect its citizens' health and safety, and Denver is no exception. Denver's rates of violent crime are lower than most similarly sized cities in the United States. U.S. News & World Report gave it an index of 7.2 out of 10, putting it toward the better end of the scale.
The health care system in Denver is strong; in a recent report the Commonwealth Fund ranked the city sixth in the nation. The largest health plan in the state is the Kaiser Foundation Health Plan of Colorado, which covers over 25% of Colorado's medically insured residents.
One of the best medical centers in the Denver area is top-rated UC Health (University of Colorado Healthcare), which is located in the neighboring suburb of Aurora. UC Health is nationally ranked in seven specialty areas.
We all know the best way to reduce health care costs is to stay healthy in the first place, and in that area Denver is thriving. It often appears on lists of the healthiest cities, and the fresh air and sunshine surely play a part.
Related article
The popularity of the waterfront can mean high housing costs and consumer prices. Luckily, for those willing to look past the likes of Malibu and Venice Beach, there are plenty of scenic spots along the country's lakes and oceans where retirees can make a nice home even with a reduced…
5. Employment in Denver

Jobs have been plentiful in Denver in recent years, and unemployment rates in the metro area are near historic lows.
Major employers in Denver include city, county and state government (Denver is the capital), the airport, public schools, the University of Colorado System, and a number of large health care organizations, including Centura Health, Healthone and SCL Health System.
Others big businesses include telecom companies (Comcast, CenturyLink, Dish Network), Wells Fargo, Xcel Energy and Ball Corporation.
Fortune 500 company Davita Healthcare Partners is headquartered in Denver, and a number of other companies have headquarters in the metro area: Ball Corporation, Dish Network, Level 3, Liberty Interactive, Newmont Mining, Arrow Electronics, Envision Healthcare Holdings, Western Union and CH2M.
One of the newer industries in Colorado stems from its legalization of marijuana in 2012.
And if you're looking to start a business, Denver may be the place. It's home to many tech-focused early-stage investors and it's an attractive place for young professionals.
6. Education

Denver produces and attracts a larger educated population; an impressive 41% of residents in the metro area have at least a bachelor's degree.
The local school system is extensive, comprising 157 public schools and 220 private schools (K-12). The area has 23 high schools listed in U.S. News & World Report's Best High Schools.
For postsecondary education, Denver offers 9 colleges and universities. These include the University of Denver, University of Colorado Denver, Regis University, Metropolitan State University of Denver and Johnson & Wales University.
Highly regarded schools in the suburbs include Colorado School of Mines in Golden, Colorado Christian University in Lakewood, Arapahoe Community College in Littleton and Rocky Mountain College of Art & Design in Lakewood.
Related article
Bordering Canada and the Great Lakes is a state fondly dubbed as the "North Star State" and "Land of 10,000 Lakes." The state has a lot of lakes sprawled across its more than 86,000 square mile area. In a comprehensive study of cities, Minnesota is the number one state for raising a family because of its high median income, affordable cost of living and exceptional education services…
7. Climate in Denver

It's true; winters in Denver can be dramatic. Snowstorms can strike early or late—both September and May have an average snowfall of one inch, though October through April is a more typical range. Seasonal snowfall averages 55 inches, and record snowstorms dump over 30 inches in one go.
But the residents here take the winter in stride; maybe it's the snow-capped mountains in the distance all year long, or maybe it's because the snow heralds the arrival of favorite winter sports, such as downhill and cross-country skiing and hockey.
Related article
Before considering your move to Boston, we have compiled a list of 7 key factors we put together for you. Boston life is about the best city life you can imagine. Relatively small, it's often referred to as the walking city, with world-class museums, universities, theaters, and gourmet dining…
Summers in Denver are warm, with average highs in the 80s, and the nights are crisp and cool; the temperature swings quickly due to the low humidity. The drier air makes summer weather more comfortable here than in muggy, damp areas. And there's another benefit: lots of sunny days!
Frequently asked Questions When Living in Denver, Colorado
Before moving to Denver, Colorado, there are several frequently asked questions that you should consider to ensure a smooth transition and to understand what to expect in your new city. Here are the top 8 commond questions before moving to Denver:
Is it expensive to live in Denver?
The answer is No! Denver has a lower cost of living than many cities of its size, including Washington, D.C., Seattle and Boston. Besides, the cost of living in Denver can vary widely depending on your lifestyle, housing choices, and personal spending habits. Here are some factors to consider when assessing the cost of living in Denver:
Housing Costs: Denver has experienced rising housing costs in recent years, with a competitive real estate market. Renting or buying a home in popular neighborhoods can be relatively expensive. However, if you are willing to live in the suburbs or less trendy areas, you may find more affordable options.
Utilities: The cost of utilities, including electricity, heating, and water, is typically moderate and comparable to the national average.
Transportation: Denver has a public transportation system, but if you need a car, you should factor in the costs of owning and maintaining one, including gas, insurance, and parking.
Food: Dining out and grocery shopping costs in Denver are generally on par with the national average. Prices can vary depending on where you shop and eat.
Healthcare: Healthcare costs can vary depending on your insurance coverage. It's important to research healthcare options and consider insurance premiums and potential out-of-pocket expenses.
Taxes: Colorado has a relatively low state income tax rate, but property taxes can vary by location. Be sure to understand the tax implications of your specific situation.
Entertainment and Activities: The cost of entertainment, dining, and recreational activities can vary widely depending on your interests and spending habits. Denver offers a wide range of options to fit different budgets.
In summary, while Denver's cost of living is not as high as some other major cities in the United States, it has become relatively expensive in recent years, especially when it comes to housing. It's essential to carefully evaluate your budget, lifestyle preferences, and housing choices to determine if Denver is an affordable place for you to live.
What is Denver best known for?
Denver, Colorado, is famous for several reasons and is known for its diverse attractions and cultural contributions. Here are some things that Denver is famous for:
Outdoor Recreation: Denver is renowned as a gateway to the Rocky Mountains, offering easy access to hiking, skiing, snowboarding, mountain biking, and other outdoor activities. The city's residents have a strong connection to nature and outdoor adventures.
Craft Beer: Denver is often called the "Napa Valley of Beer" due to its thriving craft brewery scene. The city hosts the Great American Beer Festival, one of the largest beer festivals in the world, and is home to numerous award-winning breweries.
Red Rocks Amphitheatre: Located just outside of Denver, Red Rocks Amphitheatre is famous for its stunning natural setting and world-class concerts. It's one of the most iconic music venues in the United States.
Cultural Attractions: Denver boasts a variety of cultural attractions, including the Denver Art Museum, the Denver Museum of Nature & Science, and the Denver Center for the Performing Arts. These institutions showcase art, science, and performing arts.
Professional Sports: Denver has a strong sports culture and is home to several professional sports teams, including the Denver Broncos (NFL), Denver Nuggets (NBA), Colorado Rockies (MLB), and Colorado Avalanche (NHL).
Skiing and Snowboarding: Denver's proximity to the Rocky Mountains makes it a major hub for those interested in winter sports. World-class ski resorts like Vail, Breckenridge, and Aspen are within a few hours' drive.
Legalized Marijuana: Colorado was one of the first states in the U.S. to legalize recreational marijuana, and Denver has been at the center of the cannabis industry's growth.
Music Scene: Denver has a vibrant music scene, with venues of all sizes hosting live music events. The city has produced or been a home to several well-known musicians and bands.
Diverse Neighborhoods: Denver is known for its diverse and unique neighborhoods, each offering its own character, culture, and attractions. Notable neighborhoods include LoDo (Lower Downtown), RiNo (River North), and Capitol Hill.
Cowboy Culture: Denver has a rich Western heritage, and the National Western Stock Show, one of the largest livestock shows in the world, takes place in Denver annually.
Denver International Airport: Denver International Airport (DEN) is one of the busiest airports in the United States and is known for its distinctive architecture, including the famous blue horse sculpture known as "Blucifer."
These are just a few of the things that Denver is famous for. The city's dynamic blend of outdoor adventure, cultural offerings, and unique attractions makes it a popular destination and a vibrant place to live.
Is Denver livable without a car?
The answer is Yes! Denver is relatively livable without a car, but the ease of getting around without a vehicle can depend on several factors, including where you live within the city, your lifestyle, and your specific transportation needs. Here are some considerations:
Public Transportation: Denver has a public transportation system that includes buses and light rail. The Regional Transportation District (RTD) operates these services, making it possible to commute to many parts of the city and surrounding areas without a car. The light rail system, in particular, serves various neighborhoods and can be a convenient way to get around.
Biking: Denver is bike-friendly, with bike lanes, paths, and bike-sharing programs available. Many residents use bicycles as their primary mode of transportation, especially during the city's pleasant weather months.
Walking: If you live in or near downtown Denver or other walkable neighborhoods, you may find that you can accomplish most of your daily tasks on foot. Denver has been working to improve pedestrian infrastructure in recent years.
Ridesharing and Taxis: Ridesharing services like Uber and Lyft are widely available in Denver, providing convenient transportation options for those who don't own a car.
Carpooling and Car Sharing: Some residents use carpooling or car-sharing services like Car2Go and Zipcar for occasional trips or when they need access to a vehicle.
However, there are a few factors to keep in mind:
Neighborhood Choice: The livability of Denver without a car can vary significantly depending on the neighborhood you choose to live in. Some neighborhoods are well-connected by public transportation, while others may have limited options.
Weather: Denver experiences a range of weather conditions, including snow in the winter months. This can affect your ability and willingness to walk or bike, so it's important to plan for seasonal changes.
Commute: If your work or other regular destinations are not conveniently located near public transportation, it may be more challenging to live without a car. Consider your daily commute when making this decision.
Grocery Shopping: Access to grocery stores and other essential services is a crucial factor. Some areas may have limited options within walking distance, while others may have ample choices.
Ultimately, whether Denver is livable without a car depends on your individual circumstances and preferences. Many residents successfully live car-free in Denver by using a combination of public transportation, biking, and other transportation options. It's advisable to research the specific neighborhood you plan to live in and evaluate how well it meets your transportation needs before making a decision.
Is Denver a dog friendly city?
Yes, Denver is generally considered a dog-friendly city with a variety of amenities and activities for dogs and their owners. Here are some reasons why Denver is known for being dog-friendly:
Dog Parks: Denver has numerous dog parks and off-leash areas where dogs can socialize and play. Some popular options include Cherry Creek State Park Dog Off-Leash Area, Stapleton Dog Park, and Railyard Dog Park.
Hiking and Trails: Denver and the surrounding areas offer many dog-friendly hiking trails and outdoor recreational opportunities. Dogs are often welcome on-leash or off-leash in designated areas.
Pet-Friendly Businesses: Many businesses in Denver, including restaurants, cafes, and shops, are pet-friendly and allow dogs on their patios or inside their establishments. Some even provide water bowls and treats for furry patrons.
Dog-Friendly Events: Denver hosts various dog-friendly events and festivals throughout the year, such as dog walks, pet expos, and adoption events.
Veterinary Care: Denver has a thriving veterinary community, offering a wide range of healthcare services for pets.
Pet Services: You can find numerous pet services in the city, including grooming salons, pet sitters, dog trainers, and doggy daycares.
Residential Areas: Many neighborhoods in Denver are pet-friendly and have sidewalks and parks for walking dogs. Some apartment complexes and housing developments also cater to pet owners with amenities like dog parks and pet wash stations.
It's important to note that while Denver is generally dog-friendly, there are breed-specific legislation (BSL) restrictions in place, which ban or restrict certain breeds, particularly pit bulls. These laws vary by jurisdiction, so if you have a pit bull or a similar breed, it's essential to research the local regulations in the specific area you plan to live.
Additionally, responsible pet ownership is encouraged, which includes cleaning up after your dog, keeping them on-leash in areas where required, and ensuring they are well-behaved in public spaces. Overall, Denver offers many opportunities for dog owners to enjoy the city with their furry companions.
what is the best high school in denver?
Determining the "best" high school in Denver can be subjective and depends on various factors, including your individual needs and priorities, such as academic programs, extracurricular activities, location, and school size. Denver Public Schools (DPS) operates many high schools, and there are also private and charter high schools in the area. Here are a few high schools in Denver that are often recognized for their excellence in various aspects:
Denver School of the Arts (DSA): DSA is a magnet school known for its strong arts programs, including music, theater, dance, and visual arts. It's a highly competitive school that attracts students with a passion for the arts.
East High School: East High School is one of the oldest and most prestigious public high schools in Denver. It offers a variety of advanced placement (AP) courses and has a strong academic reputation.
George Washington High School: This public high school is known for its International Baccalaureate (IB) program, which provides a rigorous and globally focused curriculum. It's a diverse school with a strong academic focus.
Cherry Creek High School (Located in nearby Greenwood Village): Cherry Creek High School is part of the Cherry Creek School District and is often highly ranked academically. It offers a wide range of AP courses and extracurricular activities.
DSST: Stapleton High School: DSST (Denver School of Science and Technology) is a network of charter schools with a focus on STEM (science, technology, engineering, and math) education. DSST: Stapleton is known for its strong STEM programs.
KIPP Denver Collegiate High School: KIPP is a network of charter schools with a focus on college readiness and providing opportunities for underserved communities. KIPP Denver Collegiate High School is often recognized for its dedication to academic success.
It's important to note that the "best" school for your child may not necessarily be the highest-ranked school but rather the one that aligns with their interests, needs, and educational goals. Additionally, factors like your location within Denver and the availability of school choice options can influence your decision.
Before making a decision, consider visiting schools, talking to current students and parents, reviewing academic programs, and assessing extracurricular offerings to find the high school that is the best fit for your child's educational journey.
Where is the safest place to live near Denver?
Determining the safest place to live near Denver can depend on various factors, including your preferences, budget, and what you consider important in terms of safety. Denver and its surrounding suburbs generally have lower crime rates compared to many major U.S. cities. However, here are some suburban areas near Denver that are often considered safe:
Highlands Ranch: Located to the south of Denver, Highlands Ranch is known for its low crime rates, good schools, and family-friendly atmosphere. It's a well-planned community with numerous parks and recreational opportunities.
Lone Tree: Lone Tree is a suburb south of Denver known for its safety, upscale neighborhoods, and access to amenities like shopping, dining, and entertainment. It's also home to the Park Meadows Mall.
Greenwood Village: Greenwood Village is an affluent suburb with a strong focus on safety and quality of life. It offers a mix of residential areas, business parks, and recreational facilities.
Cherry Hills Village: This exclusive suburb is known for its luxury homes and a very low crime rate. It's a small and affluent community to the south of Denver.
Centennial: Centennial is a large suburban city known for its safety and excellent schools. It offers a range of housing options and amenities.
Broomfield: Located to the north of Denver, Broomfield is often considered safe and family-friendly. It has a mix of residential neighborhoods and commercial areas.
Superior: This small town to the northwest of Denver is known for its safety and quality schools. It's often chosen by families looking for a peaceful suburban lifestyle.
Louisville: Louisville, located to the northwest of Denver, is a charming town with low crime rates, good schools, and a strong sense of community.
It's essential to research each area thoroughly and consider factors such as your commute, lifestyle preferences, budget, and the availability of amenities when choosing where to live. Additionally, while these areas are generally safe, it's always a good idea to check the latest crime statistics and speak with local residents to get a sense of the community and any specific safety concerns in a particular neighborhood.
How many dogs can you have in Denver Colorado?
The answer is 2 dogs! In Denver, you were allowed to have a maximum of two adult dogs (over six months old) in a single-family dwelling unit without a special permit.
Additional Dogs with a Permit: If you wanted to have more than two adult dogs, you would need to obtain a Multiple Dog Permit from Denver Animal Protection. This permit typically required meeting certain conditions, such as providing proper care, sanitation, and adequate living space for the additional dogs.
It's important to note that local regulations can change over time, so I recommend checking with Denver Animal Protection or the official website of the City and County of Denver for the most up-to-date information regarding pet ownership regulations, including the number of dogs allowed in your area. Be aware that specific neighborhoods or homeowners' associations may also have their own rules and restrictions related to pet ownership.
Does Denver have good nightlife?
Denver offers a diverse and vibrant nightlife scene with options to suit various tastes and preferences. Whether you're interested in craft breweries, live music, clubs, or cultural events, Denver has something to offer. Here are some aspects of Denver's nightlife:
Craft Beer Culture: Denver is often referred to as the "Napa Valley of Beer" due to its thriving craft brewery scene. The city is home to numerous breweries, brewpubs, and taprooms where you can enjoy a wide variety of craft beers. The RiNo (River North) Arts District is particularly known for its concentration of craft breweries.
Live Music: Denver has a rich live music scene, with venues of all sizes hosting concerts by local and national artists. The historic Red Rocks Amphitheatre, located just outside the city, is renowned for its breathtaking setting and world-class music events.
Nightclubs and Bars: Downtown Denver and the LoDo (Lower Downtown) area offer a range of nightclubs, bars, and lounges, catering to different music genres and nightlife styles. You can find everything from dance clubs to speakeasies.
Cultural Events: Denver hosts a variety of cultural events and performances, including theater productions, art exhibitions, and cultural festivals. Check out venues like the Denver Center for the Performing Arts and the Denver Art Museum.
Late-Night Eateries: You'll find late-night food options, including food trucks and diners, to satisfy your cravings after a night out.
Neighborhood Hangouts: Each neighborhood in Denver has its own unique nightlife offerings, allowing you to explore different atmospheres and local scenes.
Sports Bars: Denver residents are passionate about their sports teams, and there are plenty of sports bars where you can catch a game and enjoy the local sports culture.
Outdoor and Rooftop Bars: With Denver's pleasant weather, rooftop bars and outdoor patios are popular choices for enjoying drinks and city views.
Art and Entertainment Districts: Denver has several districts, such as the Art District on Santa Fe and the Golden Triangle Museum District, known for their arts and culture scenes, which often come alive at night.
Denver's nightlife tends to cater to a diverse crowd, from young professionals to music enthusiasts, and it can be enjoyed year-round thanks to the city's relatively mild climate. Keep in mind that the specific offerings and hours of operation of nightlife venues may vary, so it's a good idea to check in advance, especially if you have specific plans or preferences in mind.
To sum up
Denver is a city in the spotlight right now, and quality of life and happiness indicators show that it's doing something right to earn the attention. It's a growing city for business and its central location in the country makes it an ideal hub between the east and west coasts.
With the mountains always in the background, it's an attractive location for single life, family life and business. And for the most affordable cities to live in Colorado here is the list we compiled for you.
Related article
Seattle is a beautiful port city on the Puget Sound in the northwestern U.S. state of Washington, 100 miles south of the Canadian border. As the largest city in the state (and the Pacific Northwest for that matter), Seattle is heavily endowed with natural resources. This hilly city earned…