12 Key Factors to Know About Living in Washington, D.C.
The capital city of the United States has a reputation for being a busy political and business hub, but there is a lot more to discover and enjoy for residents of this diverse city. Washington, D.C. is consistently ranked among Business Insider's and Niche's top 50 cities to live in, and there are many reasons why.
The District's central role in U.S. and world politics has drawn people of every conceivable culture and personal background, creating a colorful, eclectic mixing bowl.
Because the average income in DC is high, cost of living and housing are some of the most expensive in the country (as of August 2020); only Hawaii ranked higher in average state housing costs. An average house in D.C. costs well over $600,000, but prices vary widely, from a rare condo around $100,000 to mansions for tens of millions of dollars.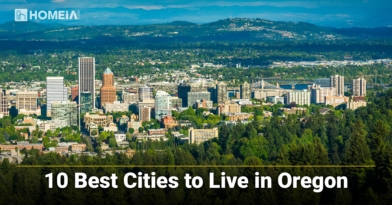 Related article
Oregon is a study in contrasts. It has 363 miles of the most breathtaking coastline you'll encounter anywhere in the world. But it also has dense forests, mountain ranges, and high desert country. Here're the 10 Best Cities to Live in Oregon…
Prices of goods can also run high, with visitors experiencing sticker shock at the cost of food and drinks especially. But as in any city, shying away from renowned boutique shops and eateries, and sticking to value-conscious stores, can bring down the cost of living considerably.
Locals often describe the city as a collection of many small towns: community-oriented neighborhoods that each have their own distinct flavor. Below are a few characteristics common to every D.C. living experience.
Here're 12 key things you should know before moving to Washington D.C.
1. Central Hub for World Travel and Cross-Cultural Connections
With a national and international airport, and the grand Union Station for train and bus travel, Washington, D.C. is a hub for travelers and a prime location for businesses looking to expand. There are 177 embassies in the city, and communities of immigrants from all over the world.
This diversity creates an atmosphere of inclusiveness, where many different traditions, ethnic backgrounds and interests are celebrated year-round. The Smithsonian Folklife Festival, the annual Pride Parade, and the D.C. Jazz Festival are just a few of these vibrant cultural celebrations.
As for local travel, rush hour in and out of the city can be a drag, but there are other options. Besides being largely walkable and bikeable, the DMV (D.C., Maryland and Virginia area) has one of the most extensive bus-and-subway systems in the country, called the Metro.
Despite occasional annoying delays and stop closures, the Metro effectively ties the area together and allows you to start the day in a Northern Virginia park, lunch in Northeast, tour a few museums downtown, and make it to U Street for dinner, without ever getting in the car.
Related article
HOMEiA is here to help you explore ten of the best places to live in Southern California. Each place has its own charm and unique qualities. Let's take a quick dive into what Southern California has to offer! Here're 10 best places to live in Southern California…
2. Ample Activities for Nature Lovers
New arrivals to the D.C. area are often surprised by the multitude of parks and wildlife in the area. There are several large and popular green spaces in the city, like Roosevelt Island, the National Botanic Gardens, and the long, winding trails of Rock Creek Park.
The Smithsonian National Zoo, a completely free 163-acre park in the middle of Northwest, is a great weekend destination, whether you want to watch exotic creatures or just jog along a pleasant, shady path from Woodley Park to Adams Morgan.
The areas around these parks are your best bets for greenery and wildlife. Every neighborhood has a dog park or playground and many Washingtonians pride themselves on growing beautiful, creative gardens in limited lawn space. Walking along a tree-shaded residential lane is surprisingly quiet and peaceful, compared to the wide streets and bustling foot traffic downtown.
3. Politics and Professionals
It's a truism in the DMV that the first thing you will be asked at a party is not "where are you from?" or "what are your hobbies?", but "what do you do?" DC is a professional town, with newcomers from all over the world pursing their careers in politics and law—or healthcare, non-profit work, education or many other fields the town is known for.
People who seek a professional future in the Capital City are passionate about their calling, and interested in networking to form friendships with like-minded people.
It's also, unsurprisingly, a town where almost everyone has a political opinion. The population skews Democrat, but with politicians and their entourages representing every corner of the country, there exists a real diversity of opinion. Rather than hearing offhand comments, the political discussions you overhear in restaurants or on the train tend to be more informed and nuanced.
People who work around the capital have strong beliefs and social values, and there will always be a rally, march or protest to take part in—but only if you want to. Plenty of residents prefer to remain out of the fray, and just sit back and enjoy the political theater.
Related article
Once a farming and milling community, Edina has blossomed into a preferred suburban city with all the most desired amenities. From upscale, boutique shopping and exquisite dining to consignment shops and casual bistros, residents and visitors are enamored with the…
4. Living History
For many D.C. natives and transplants, there is a special thrill to walking by the White House and waving to the president, or seeing the Speaker of the House step out of your local Starbucks.
To live in D.C. is truly to watch history unfold. With famous buildings and sites on every block, it is hard not to get wrapped up in stories of the past as you walk down Georgetown's cobblestone streets to the Exorcist Stairs, or stroll past the Watergate Hotel.
Moreover, the downtown area is crowded with iconic monuments and some of the best museums in the country, many of which belong to the Smithsonian Institution and are free to visit. Tourists know the awe-inspiring Air and Space and Natural History Museums, but locals tend toward overlooked gems like the National Portrait Gallery and the Octagon.
No matter what your interest, from spies to African art to the history of nursing, there is something to discover in one of over 200 museums and historic sites.
Related article
The Denver area is growing in population much faster than most of the country, increasing by almost 20% from 2010 to 2018. It's no wonder; it rates as the second-best place to live in the United States, according to U.S. News & World Report (2019). Here're 7 key factors you should know Before living in Denver Colorado…
5. A Live Event Destination
From the Anthem concert venue on the recently renovated Wharf to the prestigious Kennedy Center for the Performing Arts, D.C. is never at a loss for live events and nightlife. There are world-renowned theater companies with repertoires ranging from Shakespeare to modern experimental plays, and the city is a common stop for music and comedy tours.
After a show, anyone on the street will likely be able to point you toward several of their favorite hangouts, from dive-y neighborhood bars to high-scale nightclubs. The city certainly comes alive at night, and foot traffic as well as ride-share services are ubiquitous.
There are also residential areas that quiet down at night, typically those further from college campuses and the popular venues. The hotels and housing areas dedicated to early-rising business people also tend to be less active late at night.
6. A Hundred Small Towns
A common feature of long-time D.C. residents is allegiance to a particular neighborhood: whether Bloomingdale, Eastern Market or Foggy Bottom, people grow to love their area and the people there. The city used to be infamous for violent crime in the 80s and 90s, but the crime rates have dramatically decreased and are now at about the national average.
Residential areas in Washington, D.C. are often described like old-fashioned small towns: you know your neighbors; there are many small, local-owned businesses; you walk everywhere; craft fairs and little libraries spring up all over town; and families organize block parties and informal events.
Many of these neighborhoods have their own characteristic flavor. Georgetown combines beautiful historic architecture with boutique shopping; Dupont Circle is very LGBTQ-friendly and is protective of its small, home-grown businesses; Capitol Hill has more of the bustling city life, featuring markets and restaurants of many ethnicities; Mt. Pleasant is very walkable (if you don't mind hills!), residential, and adjacent to surrounding woodlands.
When looking for housing, newcomers should spend some time in different areas before deciding which feels right.
Related article
Miami is the only major U.S. city to have been founded by a woman. Arriving in 1891, native Clevelander, Julia Tuttle bought several hundred acres along the bank of the Miami River in an area then known as Biscayne Bay. Her passion to build a community in her newly found paradise…
7. A City for All Seasons
Whether visiting or moving to the District, it's important to remember that, unlike many areas of the country, D.C. feels all four seasons in full force. Summer can get fairly sweltering, and as it was built on wetlands, one of D.C.'s most characteristic weather patterns is humidity—sticky, thick, nearly liquid air. Some days, it is best to stay in the air conditioning with a cold beverage.
But the seasons do have their charms: fall is typically beautiful and temperate; winter is cold but not unbearable, and snow is a rare event. Perhaps D.C. shines most brightly in spring, when the city's famed cherry blossoms bloom and everyone seems to have an excuse to stay outside. Tourists also run rampant in the warmer months, but long-time Washingtonians know a few lower-traffic outdoor spots for when the weather is perfect.
Related article
Before considering your move to Boston, we have compiled a list of 7 key factors we put together for you. Boston life is about the best city life you can imagine. Relatively small, it's often referred to as the walking city, with world-class museums, universities, theaters, and gourmet dining…
8. A Gourmand's Dream
Washingtonians take their food seriously. There are thousands of unique restaurants for sampling American and international cuisine, from seriously gourmet establishments like Le Diplomat to casual locally-based chains like Sweetgreen and CAVA. Sunday brunch, getting work done in a neighborhood café, and meeting up for dinner in a fashionable spot are all core parts of D.C. culture.
Residents also put a high value on the quality of their groceries, with several thriving organic supermarkets, and a number of farmers markets that supply fresh, local produce every day of the week. There are over 30 community gardens around the district, where neighbors work together to grow plants that beautify the area and ensure fresh food for disadvantaged residents.
Related article
Before you consider a move to Chicago, you should consider 7 key factors that will increase your appreciation for the city and guide you to the right neighborhoods and activities for you…
9. A Beacon for Education-Seekers
A majority of people living in D.C. were born elsewhere and one of the main draws of the area is higher education. Between Howard University (historically black), Gallaudet University (catering to deaf and hard of hearing students), Georgetown University, George Washington University (both with attached hospitals and strong medical programs), and over a dozen other colleges and universities, D.C. has always been high on the list for those seeking an exceptional education.
Along with students rushing to class, a common sight around Capitol Hill is interns running errands for Congress people, a great path for young people interested in a political career.
The Library of Congress provides a staggering number of primary sources, historical records and fascinating books to anyone with a thirst for knowledge. The constant influx of the young and ambitious gives an idealistic energy to the town and to many public events, especially around campuses.
10. Sports Fever
You never have to look far to find sports in D.C., whether it's a professional team to cheer for or a casual team to join for a weekly game. Attendance and enthusiasm are high at home games; the Nationals (baseball) took home the national title in 2019, and the Capitals (hockey) did the same the year before.
The Wizards (men's basketball), Mystics (women's basketball) and D.C. United (soccer), are perennial strong contenders. For years the Washington football franchise has been the favorite team for locals to mock, but with its recent name change, diehard fans hope for a turnaround.
For non-professional athletes, the city boasts hundreds of local amateur teams for everything from Frisbee golf to roller derby. It's not uncommon to see a team playing bubble football on the Mall (the grassy expanse between the Capitol and Washington monument) or volleyball on the dedicated courts by the river, then grabbing a drink in the local pub beside an international cohort of soccer fans going wild for their team.
Related article
No matter your reason for considering relocating to Los Angeles, you will find a lot to love in this sunny, warm, sprawling, diverse city. In this article, we will give you a feel for L.A.'s standard of living, climate, housing, education and more. Here are 12 Key factors you should know before moving to Los Angeles, California…
11. Options for Many Price Ranges
Washington, D.C. has a reputation for being a very competitive housing market, and to an extent this is true. In neighborhoods like Georgetown, for example, the historic homes, easy accessibility to other areas, beautiful waterfront views and high-end local businesses combine to drive up housing prices.
For some, the best solution is renting, and some great deals can be found in central locations like Capitol Hill, if you know someone savvy in the market.
But not every house in D.C. is outside of a more average price range. Areas like Mount Pleasant, Brookland and H Street have been slower to gentrify and move upscale, so here you are more likely to find a reasonably-priced home without sacrificing pleasant surroundings.
Related article
Geographically, Oregon boasts dramatic Pacific coastlines as well as volcanic mountain ranges. Its climate spans from rainforests along the coast to semi-arid conditions in the central and southeastern regions. The Beaver State is home to both Crater Lake, the deepest lake in the U.S., and Mount Hood, the second-most-climbed mountain in the world…
12. Let a Professional Help You Find a D.C. Home
When looking at housing options in D.C., the key is to find someone who knows the market and can leap on good bargains as soon as they become available. Luckily, real estate is a popular career field in the District, and you will be able to find knowledgeable, passionate realtors who specialize in just what you need.
A licensed realtor can help you navigate D.C.-specific strategies for home-buying: pointing you to specialized housing search websites, credits available to D.C. buyers, and special programs if you are being housed by your employer.
If Washington, D.C. sounds like your kind of town, speak to a local realtor for more information. You'll learn why long-time residents of D.C. love it, and why visitors often want to stay.
HOMEiA hopes you find this article helpful, if you do please share it on your Facebook page so others can benefit from it as well. Thank you in advance!
Related article
If you have the flexibility to move anywhere in the U.S., where could you buy the cheapest home? After examining data from Zillow and World Population Review. Here're 10 most affordable States in the South and the Midwest to consider when buying a house in 2024…