Differences in Owning a Condo, Co-op or Townhouse
Getting ready for homeownership? You may have already decided that renting is no longer for you, nor is it a good use of your money. Perhaps you've decided to pay your own mortgage instead of someone else's! Often, the final decision of homeownership is made difficult by the thought of extra responsibilities such as lawn care and snow removal or worrying about expensive repairs like siding and roofing.
You can get around most of that when you buy a condo, townhouse or co-op. In this article, we'll give you an overview of the differences in purchasing and owning these homes to help you get started toward your best decision.
1. Condominiums

For an easy visual, many people picture a condo as an apartment that you own rather than rent. Condos are generally situated in a large building housing many units or, there may be many buildings, pretty much all the same, within a condominium complex. Individuals buy their condo and own the real estate, meaning their specific unit, while all common elements are owned collectively. In this instance, owners do not own any land.
Advantages to condo ownership are a reasonable purchase price, lower property taxes, and convenient common elements such as a community room, pool, tennis court, exercise room or underground parking.
Related article
With year-round warm weather and over 8,000 miles of coastline, it's no wonder Florida is a prime vacation destination. Filled with wildlife, beaches, lakes, rivers, amusement parks, diverse entertainment options and much more, the population of Florida is growing with people that want to call Florida "home," soak up the sun…
Maintenance is often lower than a single-family home since much of the expense is divided among owners. It can be appealing to busy people with no time or inclination for maintenance and for people who have "been there, done that" and want to enjoy life with less stress and less chores.
Disadvantages can be lesser square footage, homeowner association fees that can increase according to need, assessments that can be mandated if major improvements are needed and funding is insufficient, and a multitude of association rules and regulations.
Condo owners do not own the actual land, and it's a question of perspective whether this would matter to the owner. They still own their space and have access to all common elements although there may not be as much privacy as some would prefer.
Related article
2. Co-ops

Where co-ops are available, the main thing is that you own shares, not real estate. In other words, you will live in your space but won't actually own that unit (unlike a condo that you own). The building itself may look similar to a condo building; however, with this concept, you will own a number of shares and enjoy your space and the common property with other shareholders.
Buying into a co-op situation can be advantageous with its lower price and lower property taxes. You will have voting rights in accordance with your number of shares and can decide on important decisions along with the other co-op owners. These decisions might cover items like rules, restrictions and building improvements. Co-ops will typically have conveniences and designs similar to a condo.
Related article
If you have the flexibility to move anywhere in the U.S., where could you buy the cheapest home? After examining data from Zillow and World Population Review. Here're 10 most affordable States in the South and the Midwest to consider when buying a house in 2022…
For some buyers, disadvantages might be the more difficult and lengthy process of gaining approval for purchase and the financial responsibility of ownership since all owners divide the expenses and responsibility for upkeep and renovations. Fees might be higher than in a condo and subleasing may be prohibited.
It's always best to carefully examine the rules and regulations to understand your potential financial obligations. Since you will not own the property, tax deductions are based on your shares, and you'll want to talk with your CPA or tax attorney to understand the financial implications.
3. Townhouses

There are many styles of townhouses, but they typically share walls side-by-side with neighboring units and are multi-level. However, there are also single-level townhomes and detached townhomes.
Townhomes are like condos in that there are some common elements, association fees, a board of directors and, most often, a property management company. In many ways, owning a townhome is as close as you can get to owning a single-family home without taking on all the exterior maintenance.
The upside to owning a townhome is that the fees you pay will take care of items such as lawn care, landscaping, and tree services, snow removal in the snow belt, driveways, roofing and siding. Each association is different, and it's imperative that you look at the rules and regulations to compare owner responsibilities with the association responsibilities.
In this case, you own the real estate, including the land, and you will likely have a small yard, porch or patio area for your own use and some degree of privacy. Typically, square footage is larger than in a condo and townhomes appreciate well and sell rather easily.
If you're looking for the drawbacks, the purchase price could be higher than a condo or co-op, and there might be fewer available common elements such as a pool, tennis courts or community center.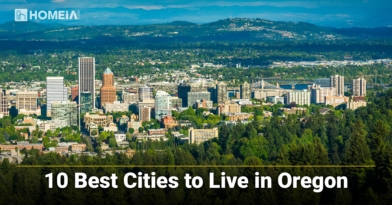 Related article
Oregon is a study in contrasts. It has 363 miles of the most breathtaking coastline you'll encounter anywhere in the world. But it also has dense forests, mountain ranges, and high desert country. Here're the 10 Best Cities to Live in Oregon…
Association fees will vary and should only be a disadvantage if the reserve funds are insufficient for upkeep required to maintain the property over time. Check the financial statement carefully since assessments could be a serious financial burden if funds are low and a major improvement is needed, such as new roofing or siding.
This overview of condos, co-ops and townhomes will help you determine whether you would like to dig a little deeper to see what's available in your area. Each region can have differences in definition, governance and amenities.
In any of the 3 options, you will encounter working within association rules and guidelines that may help simplify your life or may drive you crazy with limitations. Your personal lifestyle preferences and financial situation will be key considerations.
For a more personalized discussion and detailed information for your local area, don't hesitate to reach out to a recommended real estate expert who can answer your questions. They have the experience and industry knowledge to guide you, understand possible money pits, save you money, and feel confident in your final choice. Happy home hunting!
I hope you find this article helpful. If you do, please share it on your Facebook page so others home buyers can benefit from it as well. Thanks in advance!