4 Best Real Estate Services for New Home Buyers
Buying a new home is an exciting time! Granted, there's a lot involved in making the right decisions and making sure the investment is in line with your financial goals. As a new home buyer, you set priorities and think of features the house must have to create a happy home and support the lifestyle you desire. Yet, knowing that buying a new home will be one of the most expensive purchases of your life causes more than a little stress in the quest to get it right.
The truth is that buying a home can be fun, but it's a serious decision involving a complicated process and significant financial implications. We need all the help we can get! In this article, we'll discuss the Top 4 Professionals who can help you before and during the purchase of a new home. There are important elements to consider, and these professionals will help you make sure you have everything under control. Let's talk about finding that expert guidance.
1. Realtor/Real Estate Agent

When ready to buy a new home, you can start by thinking about why you want to buy a home and what's on your wish list. Make a written list—one that is specific and spells out exactly what you have in mind and why. Once you have your list, you can talk with a realtor in very precise terms to find the home you want, in a neighborhood that suits your lifestyle.
Guidance from someone who is immersed in the industry is invaluable, and that guidance begins with your real estate agent.
If you don't already have a connection to a top-performing realtor, ask for referrals from family, friends, colleagues or HOMEiA. You can research agents online and read reviews from their clients. Narrow it down and interview two or three to find the best fit.
It's important to have a great deal of confidence in your realtor because you are not buying new towels for the bathroom—you are buying a home with a mortgage and a significant impact on your daily life and your bank account.
You'll spend a lot of time with your realtor, on the phone and in person. Find someone who makes you feel comfortable asking questions. That person will also help you learn what to look for when comparing homes and how to make a good offer.
Your realtor's years of experience will help you make informed decisions to find a home that fits your criteria and creates a sound investment. A well-connected realtor will also help you find other resources that are needed or unique to your situation.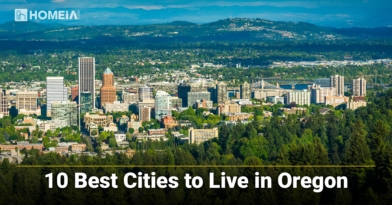 Related article
Oregon is a study in contrasts. It has 363 miles of the most breathtaking coastline you'll encounter anywhere in the world. But it also has dense forests, mountain ranges, and high desert country. Here're the 10 Best Cities to Live in Oregon…
2. Mortgage Broker/Loan Officer

Most people will need a loan to finance a home. A loan officer works specifically for one lender and can find several options, all from the same source, perhaps a local bank. A mortgage broker, on the other hand, can find loan options from multiple sources.
It's advisable to find a mortgage professional early in the process, discuss your finances and get pre-qualified for a purchase. This process will give you confidence in the amount you want to spend on a new home and the type of payment program that would work best for you.
Even if you believe you will have no trouble getting the loan you will need, an experienced lender will understand the many types of loans available and which would serve you best. If you don't know a mortgage broker or loan officer, your realtor can make suggestions. You can also talk with your circle of friends. If you hear a recommendation for the same professional from several people, that would indicate a high level of trust and anticipated excellence.
Look for someone who is a good listener and will understand your goals for housing, location and financial security. Think carefully about how the mortgage payments will affect your lifestyle. It might be better to have lower payments, so you can contribute to your savings or 401(k) plan, make home improvements or take vacations. Only you know your priorities and how to best stick to your budget.
3. Title Company/Closer

Once you have selected a home and your offer is accepted, a date will be set for the closing. A closing sounds rather final, but what is it really? The closing is a meeting of seller and buyer and their representatives to complete and finalize the deal, and yes, there's a lot of paperwork.
The closer is the person who does a title search to make sure the title to the property is clear and will be transferred to you without restrictions. The closer prepares the paperwork, issues title insurance, handles the money that is transferred, paid or put in escrow for future disbursement, and records the transaction (deed and mortgage).
If you know a closer, you may have heard stories of complicated situations when a title had been compromised in one way or another. There is a lot at stake, and you want an experienced closer to handle your transaction so there won't be any question of ownership rights in the future. Again, your realtor should know an excellent title company, and you can also ask other homeowners for recommendations. It's important that you gain clear title to your new home.
Since there are many legal requirements in finalizing the deal, be prepared to sign a lot of documents! Work with people you can trust to manage the paperwork without missing anything important. Attention to detail is a must for closers, and this complex process will provide smoother sailing if you engage the services of an efficient, well-respected title company.
Related article
Michigan is the only state in the United States with two separate peninsulas and five surrounding Great Lakes. Its landscape is diverse, ranging from industrialized skylines to sweeping sand dunes to gorgeous waterfalls. Once home to Henry Ford, it's also considered the epicenter of America's…
4. Home Inspector

Another professional with valuable services for the new home buyer is the home inspector. To better understand the condition of the home, it makes good sense to hire a home inspector for a comprehensive analysis of the property. Your realtor can include a home inspection contingency in your purchase agreement to allow you sufficient time for a complete inspection and specify an option to withdraw your offer if a major problem is discovered.
A thorough home inspection will include a lengthy, written report with recommendations and photos after a systematic evaluation of the property, inside and out.
The inspector will check exterior components (roof, siding, concrete, steps, grading, windows, etc.), interior features (flooring, appliances, windows, doors, attic, insulation, etc.), fundamental systems (plumbing, electrical, mechanical, alarm, etc.) and provide comments, suggestions and life expectancy estimates for many components, including appliances.
Related article
The capital city of the United States has a reputation for being a busy political and business hub, but there is a lot more to discover and enjoy for residents of this diverse city. Washington, DC is consistently ranked among Business Insider's and Niche's top 50 cities to live in, and there are…
The inspection report contains a wealth of information to be used as needed in negotiations and later for regular home maintenance and to make projections for replacements or renovations. It's not necessary to be there for the inspection, but if you can make it, you will have the opportunity to ask a lot of questions about the home you will be living in. This is a valuable learning experience, especially for first-time home buyers.
Your home buying experience can be much more enjoyable with the help of experienced real estate experts such as realtors, mortgage professionals, closers and home inspectors. Choose knowledgeable advocates who regularly work in your preferred locations and understand the type of property you are interested in buying.
As the buyer, you will learn, make educated decisions, and finalize the transaction with less stress than expected, and ultimately enjoy homeownership at its best.
If you have enjoyed this article and learned more about the wisdom of finding and working with experienced real estate professionals, please share it with a friend who might also benefit. Thank you!