8 Luxurious Additions That Add Value to Your Home
Owning a home can be a great financial investment, particularly in areas where property values are expected to rise quickly. In a good market, you can resell your home for well over what you paid.
Besides market dynamics, your home's value is influenced by how well you maintain it—and by the improvements you make. Whenever you take on a remodeling project, you have a chance to make your home more appealing to future buyers.
That said, future profits alone are not a good reason to invest in a major upgrade. Why? Because even with the most effective improvements, owners rarely recoup the full amount they spent on the project.
The most important return on your investment is the increased comfort and enjoyment you get from your home.
We've put together a list of home improvements that will wow future buyers, if they ever get a chance to look. With these upgrades you may never want to leave!
1. Heated Flooring
If you have always complained about how your bathroom's floors are too cold, you can finally have cozy comfort with a heated flooring installation. Radiant floor heating comes in two varieties; one uses electric resistance cables, often embedded in mats, while the other uses warm water piped through tubes. In either case, the heating element is installed beneath the flooring.
Timers and thermostatic controls give you the ability to adjust the temperature and timing to your liking. Since this heating technology is energy efficient, it won't add too much to your monthly utility bills. Heated floors can improve cleanliness and health in addition to comfort, because they help eliminate damp areas, making the bathroom less friendly for mold.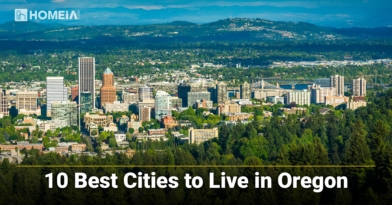 Related article
Oregon is a study in contrasts. It has 363 miles of the most breathtaking coastline you'll encounter anywhere in the world. But it also has dense forests, mountain ranges, and high desert country. Here're the 10 Best Cities to Live in Oregon…
2. Skylight Installation
Older houses, lacking today's high-quality windows, sacrificed natural light in order to retain heat. If your home is among those deprived of natural light, you can bring in some sunshine by installing skylights in dark rooms. This helps reduce your reliance on artificial lighting in the daytime, and at night you can look up and enjoy the night sky.
Natural lighting can improve your home's aesthetics, giving it a warm and cozy feel Not only will it make your home appear larger than it is, but it can also help highlight your home's architectural details, which you can use as a strong selling point when you decide to sell your home.
If you want to make your skylight more versatile, you can choose one that you can open and close as necessary, which is great for regulating your home's ventilation.
3. Steam Room
One luxurious addition that will make your home feel like a spa is a home steam room. Popular in gyms for their purported health benefits and relaxing effects, steam rooms are unexpectedly glamorous additions to private homes, but growing in popularity.
Related article
The capital city of the United States has a reputation for being a busy political and business hub, but there is a lot more to discover and enjoy for residents of this diverse city. Washington, DC is consistently ranked among Business Insider's and Niche's top 50 cities to live in, and there are…
4. Home Theater
If you don't yet have one in your home, consider putting a home theater room on your list of remodeling projects. A dedicated space where you can stream all the movies and television shows you love is a guest-pleasing upgrade that can make your home stand out from the rest.
The cost of upgrading an existing room to a home theater can vary depending on how elaborate you get with your sound system and furnishings. On the low end, you may even spend more on a new TV than on the rest of the remodeling project.
Related article
Bordering Canada and the Great Lakes is a state fondly dubbed as the "North Star State" and "Land of 10,000 Lakes." The state has a lot of lakes sprawled across its more than 86,000 square mile area. In a comprehensive study of cities, Minnesota is the number one state for raising a family because of its high median income, affordable cost of living and exceptional education services…
5. High-Quality Furniture
Sometimes you don't have to change much about your living space. All it takes is ditching some old and worn-out furniture and replacing it with luxurious new items. Invest in pieces that suit your lifestyle and the aesthetic that you want to achieve for your home.
One positive aspect of furniture as an investment is that you can take it with you if you move to a new home. But does that mean it has no effect on the resale price of the home? No. Real estate agents have long known that staging a home to show its beauty and utility helps to attract top-dollar offers. Carefully chosen furnishings can add to buyers' perceptions of the home as desirable and high-quality.
6. Finished Basement
If your home has a basement, it is time to give it some love. Basements are often the most neglected parts of the house. In some homes, they act as storage spaces where homeowners dump items that they no longer want to see but have not yet decided to discard. If you want your future buyers to pay good money for your home, it helps to maximize the usable space.
Start by decluttering and letting go of items that you no longer use or need, then, start the remodeling process. Drywall, flooring, lighting and paint are all it takes to transform a basement from a dark, spooky storage space to a friendly and inviting family room, home theater, or game room.
Related article
Before considering your move to Boston, we have compiled a list of 7 key factors we put together for you. Boston life is about the best city life you can imagine. Relatively small, it's often referred to as the walking city, with world-class museums, universities, theaters, and gourmet dining…
7. Outdoor Kitchen
If you have ample space in your backyard, convert this space into something useful. Building an outdoor kitchen will add a whole new entertainment space to your home. Outdoor kitchens can range from a simple grilling pavilion to a complete kitchen with cabinetry, countertops, and even a wet bar.
If you love the idea of backyard cooking with family and friends, an outdoor kitchen could be a great value, encouraging you to host get-togethers and enjoy the outdoors more often, in an atmosphere suggestive of a stylish restaurant patio.
8. Statement Landscaping
Another way to invest in your home if you want it to evoke a sense of luxury is to hire professional landscapers to make over your yard. Landscaping projects can be simple, such as planting a few trees and bushes or adding a new perennial flower bed.
On the high end, though, they can involve reshaping your property, using stone or other materials to construct fire pits and bench seating, adding paths and lighting, and even creating a water feature such as a fountain or pond.
Related article
Once a farming and milling community, Edina has blossomed into a preferred suburban city with all the most desired amenities. From upscale, boutique shopping and exquisite dining to consignment shops and casual bistros, residents and visitors are enamored with the…
Key Takeaways
Home improvements can cost a lot of money, and you should consider them carefully before you make a commitment. If you have the means, though, improving your home can increase its value and make it into a stronger asset. It's only worth it, though, if you make changes you will love to live with.
Keep your lifestyle in mind and spend where you'll get the best returns—in the bathroom if a spa day is your idea of a bliss; in the kitchen—indoors or outdoors—if you love to cook and entertain; and in a basement or rec room if you love movie nights and board games.
Overwhelmed by the possibilities? Or does your current home lack the space or modern features to turn your dreams into reality? It may be time to look into a custom home in a neighborhood like The Woodlands Reserve, a luxury community north of the Houston metro area. The Woodlands Reserve offers homes with these attractive features and more, and you can work with a knowledgeable builder to make sure your home fits your vision.