6 Tips for Pet-Friendly Curtains
As great as living with a pet is, there are certain décor adjustments that you need to make to preserve your interior. One of those things is curtains. Once you see a kitten climbing on your beloved curtains, you'll know it's time to find a better solution and protect the window treatments as much as possible.
Safety is important, too. Just as you're careful with the greenery you have in the house, you also need to choose your curtains wisely. You don't want your furry friend to get injured while playing and climbing.
When it comes to the safety of your pets and the appearance of your curtains, you should think about curtain length, color, material, print, and more.
Below, you'll find six tips that you should consider when buying pet-friendly curtains.
1. Opt for Blackout Curtains
Blackout curtains are very popular right now, so it's a good thing they're a suitable choice for pet owners. They come in many colors, prints, and lengths, so you'll have a lot to choose from.
One of the reasons why these curtains are perfect if you own pets is the material thickness. These blackout styles feature a high thickness, meaning that your cats and dogs won't be able to get their claws into the drapes as easily. Once they see that these coverings are not an exciting toy, they'll give up.
To get the most out of blackout window treatments, you could opt for floor length. But if your pet keeps trying to put its claws on the material, you can always make the curtains shorter. If you've never had blackout curtains before, it's good to know that, while they're the best choice for your bedroom, they're also suitable for all the other rooms in your home.
Related article
With year-round warm weather and over 8,000 miles of coastline, it's no wonder Florida is a prime vacation destination. Filled with wildlife, beaches, lakes, rivers, amusement parks, diverse entertainment options and much more, the population of Florida is growing with people that want to call Florida "home," soak up the sun…
2. Avoid Low-Hanging Fabrics
Low-hanging fabrics are your pet's favorite toy. We're so sorry to let you know that you might have to get rid of those gorgeous, flowing curtains you love so much. Cats–especially kittens—love climbing on curtains, and you'll be so hurt to see the curtains being tortured like that.
Low-hanging materials also make it easier for your pet to get tangled, causing even more damage than climbing. These things considered, your smartest choice is to get rid of low-hanging curtains and drapes from all over the house. If you need extra privacy after going short, you can install blinds on the windows.
Related article
Each of the five large cities described are chock-full of neighborhoods that are favored by families with children, young professionals, and retirees. We'll focus on eight critical attributes that often define a city: History and population, Lifestyle, Affordability, Housing market and neighborhoods, Healthcare and safety, Employment…
3. Beware Dangling Cords
When we say no dangling cords, we really mean it. If you're a long-time pet owner, you already know that any cords that hang from the wall or the windows are a tempting pet toy. Kittens and puppies find these cords so fascinating! But hanging items also pose a danger to your pet's health, so you should be careful with what you choose.
If you want to avoid a disaster, you should stay away from curtain accessories such as tieback ropes, clips, tassels, or anything else hanging and attracting attention. Your pets will jump on these accessories, chew, and pull on them.
If you hate that your window treatments are so basic and boring, there are ways to boost their appearance without fearing that your furry friends will destroy them.
Let's talk about trendy curtain rods, rings, and accessories they can't reach. There are so many stunning curtain rods you can choose from in gorgeous colors such as gold, copper, silver and brass. Next, upgrade the rods with fabulous, eye-catching finials. If that's not your thing, opt for fun rings and buttons.
4. Choose Materials and Colors Carefully
Investing in expensive drapes and curtains is not a wise idea when you own a pet. High-end materials such as silk and velvet can cost a fortune. It would be such a waste to see them destroyed after a few days by the skilled claws of your furry friend.
If you don't want to see your money go down the drain, you should choose textured fabrics that won't show damage as easily. Another smart move is to pick more affordable materials that you can replace more often if there's extensive damage.
When it comes to colors, opt for multi-colored, printed fabrics. If there's a patterned curtain material that works well with your interior, don't hesitate to buy it. When the curtains are printed, people won't notice pulled strands, hanging threads, nail damage, and holes.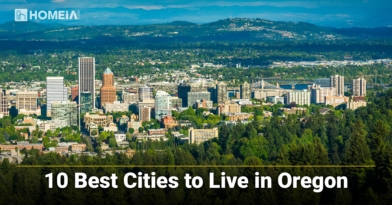 Related article
Oregon is a study in contrasts. It has 363 miles of the most breathtaking coastline you'll encounter anywhere in the world. But it also has dense forests, mountain ranges, and high desert country. Here're the 10 Best Cities to Live in Oregon…
5. Consider Insulated Curtains
Another great addition to a pet-friendly home is insulated curtains. They are made of a thick material that is durable and can withstand damage. The main goal of these curtains is to keep your home safe, but they're also fantastic at keeping the pets away from the windows.
Just like with the blackout type, the thick insulated fabric won't be as interesting for your pets because they can't hook their nails on it. They'll very likely try, but as soon as they notice they can't climb the curtains, they'll quit.
Another reason that you want a thick material is because the furry friends won't scratch it.
6. Ditch the Curtains
If none of these tips works, forget about curtains and find durable window coverings such as vertical blinds, roller blinds, and bamboo shades. These coverings will keep the room dark enough when needed, and you can easily regulate how much light gets in.
Cats and dogs are not big fans of these treatments because they're not suitable for climbing or scratching. Roman blinds are made of fabric, but they're short, hard to reach, and use a thick material.
Related article
Given the outdoors benefits – the cost of living in Colorado is still one of the best values in the country. Here're the 10 most affordable places to live in Colorado, taking into account the cost of living, median housing price, average crime rate and other factors that make the place unique…
Conclusion
Pet-proofing your home is just as crucial as babyproofing because there are countless accidents that can happen. One of the best ways to start is to find pet-friendly curtains. It will save you money, nerves, and time.
When searching for the best curtain choices, you need to remember that low-hanging fabrics and dangling cords are a huge "no." Blackout draperies and curtains are great because they feature a thick material and offer privacy.
Insulated curtains will keep your home warm and safe from cat and dog curtain attacks. They are also made from a thick fabric that is not as interesting to pets. When it comes to colors, vibrant prints are the best because they will hide the damage.
When none of these tips works, that might be a cue to switch to simple window coverings such as Roman blinds, roller shades, or bamboo shades.