How to choose the right buyer agent or broker
Home buyers who have bad experiences are often those who called an agent advertised on a neighborhood lawn sign or in a magazine ad. Without much thought to expertise, they then quickly entered into a contract. I'm not saying those agents can't do a good job, I'm saying that to choose the right agent for yourself and for higher odds of a good experience, you need to dig deeper, beyond the real estate license and visual advertisements. (Believe me, I learned it the hard way years ago)
There are more important factors in choosing a REAL real estate professional such as: personality, experience, reputation and local expertise. Here's how to choose the right buyer's agent or broker for yourself.
First, you should contact at least 3 real estate agents or brokers for interviews in the city where you want to buy a house. If you are not happy with the first 3 agents you interviewed, contact 3 more. Here are a few suggestions to find good agents for interviews:
Search the website directory of the local Chamber of Commerce for real estate agents. Visit each real estate agent's website to find agents with at least 3 years of experience and a good number of great testimonials. Ask each agent for 3 references from recent customers (served in the last 24 months), then follow up to verify. If an agent (either full-time or part-time) can't produce 3 good references in the last 24 months of practice, it's not a good sign. Move on to the next agent until you line up 3 solid agents for interviews.
Do a Google search for

real estate agents

in your area. Read their Google reviews (if available) and visit each agent's website. Then follow the steps I suggested above to line up interviews.
Ask your relatives, friends or neighbors for referrals to a

local real estate agent

they respect. Make sure they have had a great first hand experience with the agent. Remember, don't let your relatives or friends foist someone on you or try to guilt you into using an agent. Since buying a house is one of the biggest transactions in your life, you don't want to take this lightly.
Related article
No matter your reason for considering relocating to Los Angeles, you will find a lot to love in this sunny, warm, sprawling, diverse city. In this article, we will give you a feel for L.A.'s standard of living, climate, housing, education and more. Here are 12 Key factors you should know before moving to Los Angeles, California…
Second, in your interviews you should look for:
An agent whose personality suits you. For example: If you're an early-bird type of person, don't choose someone who is habitually late. If you're a well-organized type of person, don't choose the agent who constantly misplaces papers or things which she is supposed to bring to your meetings. You get the point.
An agent with many years of experience. I'm not saying a new agent can't do a good job. Sometimes a brand-new agent can over-deliver on results because s/he is eager to build a name for himself/herself. However, more often than not, the more experience an agent has, the more transactions s/he has handled, the more situations s/he has managed, and the more insights s/he can provide will help you get a better result in the end. Besides, you wouldn't want to take any chance on being the guinea pig.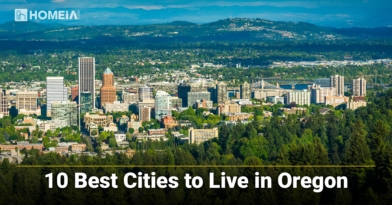 Related article
Oregon is a study in contrasts. It has 363 miles of the most breathtaking coastline you'll encounter anywhere in the world. But it also has dense forests, mountain ranges, and high desert country. Here're the 10 Best Cities to Live in Oregon…
An agent who won't push you into deciding when you are not yet ready. A good agent is the one who shows you the facts and provides logical details to help you make informed decisions, instead of scaring or pressuring you into a deal. In your interview, ask the agent to describe the process he uses to assist his buyers. Try to get a feel for his background, experience and philosophy. If you sense he is pushy or might attempt to pressure you into signing up with him, trust your instincts and interview another agent.
An agent who specializes in the local area. A 15-year experienced agent who just moved into the new neighborhood will not measure up to a 5-year experienced agent who grew up in the neighborhood. A keen 5 years of experience teaches the agent about local market trends and provides valuable insights on the schools, shopping centers, parks, areas of interest, community events, safety, traffic patterns, noise levels and crime potential. Combined, this information is vitally important to your investment decisions.
Third, once you select an agent, read the contract terms carefully to understand the binding nature of what you're signing. You don't want to be stuck with an agent if you become uncomfortable with them. You can ask for a short-term initial agreement of 30 days, with a clause for an additional 60 days upon mutual consent. A competent agent shouldn't have a problem with such a request.
However, you should place yourself in the shoes of your agent to get the other perspective before making your requests. As humans, we naturally opt to invest in the business that potentially has a higher chance of success.
If you were the agent and your customers didn't give you enough contractual time to help them find and buy a house and/or if they seemed unlikely to commit, the deal wouldn't interest you much, would it? So be fair, and give your buying agent at least 30 days to prove to you that he can help you find a home you will like.
Related article
If you have the flexibility to move anywhere in the U.S., where could you buy the cheapest home? After examining data from Zillow and World Population Review. Here're 10 most affordable States in the South and the Midwest to consider when buying a house in 2024…
Here's the list of Top 12 questions to Interview for buying agents
How many years have you been in the real estate business?
Please tell me a little about you and your professional background.
Please explain the process you use to assist your home buyer clients.
How many real estate transactions have you completed in each of the last two years?
What percentage of your business is home buyers? And what percentage of those home buyers are first-time home buyers? (If this will be your first home purchase, the answer to the latter question is important for you to know.)
What was the price range of the homes you helped your clients buy in the last 12 months? (Ideally, you want an agent who had lots of experience assisting home buyers within your price range.)
What type of home do you frequently work with? (If you're looking for a single-family home but the agent usually deals with town-homes, it might not be a good fit.)
What are the primary neighborhoods or communities in which you specialize? How many years have you worked in those neighborhoods? (The more specialization and years of experience an agent has in a neighborhood or community where you are looking to buy a house, the better it will be for you.)
How many home buyers or sellers do you work with at any given time?
Do you work alone, with an assistant, or with a team? If I choose you, will I be working with you most of the time or with another representative? (It is better for you as a client if the agent receives a lot of assistance from his team, but make sure that the agent will be working directly with you most of the time during your home buying process.)
How frequently would I hear from you? What is the best way to reach you (phone, email, text)? Are you planning any extended vacation in the next five months? (The last question is important to know, because you don't want to be handed off to a different agent 3 weeks into the process when your agent goes on a 2-week vacation. You might then be in a position of working with someone who is not as experienced or qualified as the original agent you expected to help you.)
Are you an exclusive buyer broker? Do you require your home buyers to sign an exclusive contract? Do you charge an upfront fee that is later applied to the commission?
Following the suggestions above will give you a much better chance of finding a good real estate agent that suits you best. While on your journey of becoming wiser and more prepared to buy a home, please also Like our Facebook page at https://www.facebook.com/HOMEiA. We really appreciate your supports. Thanks in advance!