How to Find a Good Commercial Property Management Company in the UK
As a commercial landlord in the UK, having a great property manager is crucial, particularly if you've got a range of properties in your portfolio. Leaving them all with capable, efficient teams is the ideal scenario. However, it doesn't always work out that way.
Many landlords face difficulties with their property management companies, citing a lack of communication and laziness as their top bug-bears. To save you from stumbling upon a commercial property management provider that may not have your best intentions at heart, check out this list on how to find the best property manager!
1. Get Referrals from Different Sources
Before you choose to dine at a restaurant where you have not been before, you check the reviews online to see what other people have to say about their experiences there. It's a simple and effective way to ensure a good quality meal. The same process should apply to finding a good commercial property management company.
Related article
The Denver area is growing in population much faster than most of the country, increasing by almost 20% from 2010 to 2018. It's no wonder; it rates as the second-best place to live in the United States, according to U.S. News & World Report (2019). Here're 7 key factors you should know Before living in Denver Colorado…
2. It Is a Big Decision, So Give It the Gravitas It Deserves!
One of the simplest—but most effective ways—is to ask for recommendations in your network. If you have been active in an industry for some time, you may have contacts who will be able to advise you. Recommendations through word-of-mouth are always preferable over an online search.
However, if you are new to the real estate industry, then you'll need to rely on any referrals you can find, whether they are online reviews, in-person recommendations, or web forums. It is important to note that biased referrals are not impossible to avoid. Therefore, it is a good idea to get your referrals from several sources, both online and offline.
A company which demonstrates high qualities on the internet and word-of-mouth recommendations is often a property management company you want to choose.
3. Conduct Your Own Research Online
Of course, knowing where to conduct your research online can be a daunting prospect at first. Luckily, there are plenty of resources on the web to help.
Websites such as AllPropertyManagement.com allow you to put in specific information such as your location and the size of the property, then it will generate a list of property management companies in the area. It can be a great starting point if you really are starting from scratch.
Once you have found a few names, do a quick business search on places like Yelp or even LinkedIn. Brutally honest reviews fill both sites. It is up to you to make up your mind on whether these reviews are legitimate.
Related article
Before you consider a move to Chicago, you should consider 7 key factors that will increase your appreciation for the city and guide you to the right neighborhoods and activities for you…
4. Visit Their Current Portfolio
At this stage, if you're confident you've got a few good property management companies to choose from, you can shortlist them. Take a look at some of their marketing advertisements. Are they professional, compelling and clear? And where are you finding these adverts?
Advertising only on Gumtree.com and community bulletin boards suggests no funding for marketing. However, if you find advertisements on several sources—paid and unpaid—then it is more apparent that they are willing to invest in sourcing legitimate landlords, which points to them as a legitimate property manager.
If you like the look of them online, advertisements and all, the next step is real life reconnaissance. This can and should include visiting actual properties that they currently manage.
Of course, this doesn't mean you have to go gallivanting up and down the country to scope out every property on their roster, but you can certainly take a look at some in your local area that are of interest, especially if they match closely with your property. Ask yourself whether they look well maintained. It is often a clear indication of how the property manager will care for your property if you hire them.
Related article
Given the outdoors benefits – the cost of living in Colorado is still one of the best values in the country. Here're the 10 most affordable places to live in Colorado, taking into account the cost of living, median housing price, average crime rate and other factors that make the place unique…
5. Interview Your Commercial Property Management Company
Entrusting a company with your commercial property is an enormous responsibility, so you want to ensure it is in safe hands. For that reason, you have every right to ask them detailed and specific questions regarding this as you want to ensure the company is right for you.
Also, don't be afraid to interview several companies before making any commitments. This allows you to gather a wide range of information about what they can offer, which can help you to narrow down the right company for you.
Treating this process like an interview can help you to determine the salespeople from the real deal. If they promise you the world at this interview stage, it is perhaps unlikely they will be able to deliver it. So, look for the one you "feel" you can count on. Trust your instincts at this point.
Furthermore, you need to check that they have a firm understanding of landlord-tenant law. If they aren't jumping at the opportunity to impress you and clarify their capabilities, it will likely be worse if you allow them to manage your property.
During the interview stage, you should also check their license and certification. Most regions will require a property management company to have a real estate broker's license in order to show vacant real estate. You'll be able to double check this with the local council.
Furthermore, other organisations your property management company may be a part of are:
– The Institute of Real Estate Management
– Community Associations Institute
– National Association of Residential Property Managers
– National Apartment Association
In order to become a member of such associations, you'll need to pass strict entry requirements and complete a tough training program. If a property management company is willing to put themselves through such a lengthy and time-consuming process, it will be a good indication that they are a high-quality company.
Related article
Michigan is the only state in the United States with two separate peninsulas and five surrounding Great Lakes. Its landscape is diverse, ranging from industrialized skylines to sweeping sand dunes to gorgeous waterfalls. Once home to Henry Ford, it's also considered the epicenter of America's…
6. Analyse Their Contract with a Specialist
Each company will provide their own contract. This agreement should clearly define the responsibilities of the property management company and that of the property owner. Contact a specialist to run through the documents with their knowledgeable eye to ensure this protects you, first and foremost.
It is also imperative to pay close attention to the sections that detail the services provided, the extra fees, their compliance with fair housing laws, and their reasons for cancellation clause. You should also ask the company for an example of the monthly report that you'll be receiving.
If this is to your satisfaction, then congratulations! You have found a commercial property management company that you can work with.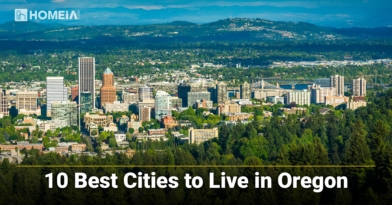 Related article
Oregon is a study in contrasts. It has 363 miles of the most breathtaking coastline you'll encounter anywhere in the world. But it also has dense forests, mountain ranges, and high desert country. Here're the 10 Best Cities to Live in Oregon…
7. Switching Property Management Companies
There may come a time where you're looking to switch UK commercial property management companies. This is do-able as long as you're abiding by the terms of your contract.
There are many reasons as to why you may wish to cut ties with your current property management company. Whether their lack of care and attention that has led to damage to your commercial property or you simply selling up and investing in another part of the world. Just apply the tips above and you should be able to find a good commercial property management company.
We hope you find this article helpful. If you do, please share it with other landlords so they can benefit from it as well. Thanks!
Related article
Before considering your move to Boston, we have compiled a list of 7 key factors we put together for you. Boston life is about the best city life you can imagine. Relatively small, it's often referred to as the walking city, with world-class museums, universities, theaters, and gourmet dining…