Home Selling Tips: How to Best Prepare Your Property for Showing
A properly staged and cleaned house will sell in half the time and offer a good return on investment. However, not all renovations will add face value to the property, and not all staging strategies will work. Minding how your property is staged and presented to the public is an underrated but fundamental aspect of selling your house.
If you want to get the most money for your property, you need to know where to put in some money and energy. Here are some proven tips for effectively presenting your property to a potential buyer and getting the best offers in a short time.
1. Start with the exterior
One of the most common mistakes sellers make when preparing their property for viewing is that they focus too much on the inside. Cleaning and staging the rooms are important, but if your front yard and the exterior of your house look unappealing, buyers will feel discouraged from the beginning.
If you have a front garden, make sure to get rid of all the weeds, trim the bushes and sweep away fallen leaves. The path from the street to the front door should be cleared out. Consider investing in some flowers, and plant them along the way, or place them by the main door. As 92% of buyers want exterior lighting on their properties, an investment in the front yard and backyard lights will show quick returns.
The exterior of the property must be clean and in good structural condition. Fix all broken windows and chipped doors. Your rain gutters should also be clean, especially if they are easily visible from the front yard. Rain gutters are easy to overlook, but if clutter builds up, it will make your home look dirty and poorly maintained.
Clear out rain gutters before showing the house. After you do, consider giving the exterior walls a throughout wash, and a hand of paint if needed. Choose your color scheme wisely: color choices that are too bold or poorly matched will scare away most buyers.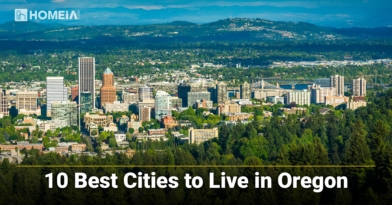 Related article
Oregon is a study in contrasts. It has 363 miles of the most breathtaking coastline you'll encounter anywhere in the world. But it also has dense forests, mountain ranges, and high desert country. Here're the 10 Best Cities to Live in Oregon…
2. Stage the inside the right way
Staged houses sell up to 73% faster than non-staged properties. But remember: the point of staging isn't to make the house seem more appealing, but rather, to help prospective buyers see themselves living in the house. That's why your staging design must be universal, welcoming and depersonalized. Never hang pictures of your family or friends, and always remove all objects that are too personal. You must also get rid of all the clutter.
If the buyer feels this is "someone else's home" they will be less inclined to acquire it. Instead, they should see an appealing design that shows very clearly the purpose of each room and the general flow of the house.
There are staging companies that specialize in staging homes for rental or sale. They provide complete services, from designing each room to providing the furniture and decorations, and even setting them up and removing them after the sale. This is your ideal option if you have already moved out of the house, or if the property is empty (as might happen after an inheritance process).
However, if you are still living in the house with furniture and appliances, hiring a home decorator to give you some advice should be enough. Some companies even offer furniture rental services alone, so you can save money in case you find yourself tight on budget.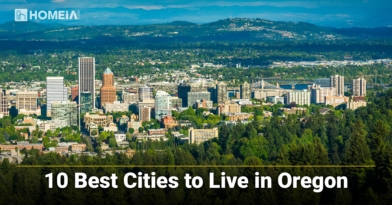 Related article
Oregon is a study in contrasts. It has 363 miles of the most breathtaking coastline you'll encounter anywhere in the world. But it also has dense forests, mountain ranges, and high desert country. Here're the 10 Best Cities to Live in Oregon…
3. Keep it clean and smelling nice to welcome your buyers
A dirty, messy or smelly house will immediately turn viewers away. Rationally, you understand that dirt isn't as large a problem as structural issues or room size. You can fix it quite easily with one or two days of work. However, the immediate emotional impact of a dirty house could cost you sales and selling price.
If you want to get the most money for your property, you need to deep clean it, and then keep it clean every day. Remember that you have been living there for a while, so you might be to stains, odors, and imperfections here and there; but buyers will see them. You can either commit yourself to the task or hire a professional deep cleaning service to make your house spotless for viewing.
Another thing homeowners often overlook is the smell of a room or an entire house. They get used to the scent so they might not realize it's driving buyers away. Pet owners should make sure they remove carpets, pet beds and other items that gather their pets' odor.
Families of smokers should also be wary of how much rooms smell of tobacco. Put your best efforts into ridding the house of smoke smells before the viewing. There are many cleaning products that get rid of tobacco smells, like ammonia and TSP, as well as home remedies like vinegar and baking soda.
4. You can do some renovations—but choose them wisely
If you want to go further than just mopping the floors and painting the front door, you can start plans for a renovation: technological updates, room expansions, added features, and many more. However, you should make sure you carry out the right renovations because not all of them will help you make your money back. In some cases, it will be a loss.
The right renovations offer a return of investment of over 100%. Even some decorations will increase the perceived value of a property, like a stone veneer and a new hardwood flooring finishing. The kitchen and the bathroom are the rooms where renovations pay off the most, from updated appliances and features to improved flow.
Adding a new bathroom, however small, can increase your property value a lot. On the other hand, renovations that offer the least return of investment include a swimming pool, impractical landscaping of the front and back yard, and wall-to-wall carpets.
Related article
Before considering your move to Boston, we have compiled a list of 7 key factors we put together for you. Boston life is about the best city life you can imagine. Relatively small, it's often referred to as the walking city, with world-class museums, universities, theaters, and gourmet dining…
5. Get your property ready for sale
The correct selling strategy goes beyond setting up a reasonable price and making a deal with the right agent. You would be surprised to find out how much the proper presentation can tip the scale for potential buyers. Cleaning and staging your property the right way will increase its final selling price and shorten its time on the market. The right renovations will help you earn the most money. Take the right decisions and sell your home fast and for a good figure.
I hope you find this article helpful. If you do, please share it on your Facebook page so other home sellers can benefit from it as well. Thanks in advance!
Related article
The Denver area is growing in population much faster than most of the country, increasing by almost 20% from 2010 to 2018. It's no wonder; it rates as the second-best place to live in the United States, according to U.S. News & World Report (2019). Here're 7 key factors you should know Before living in Denver Colorado…