Selling Your House? Choose home improvements that sway and sell
Undoubtedly, when you're at the family reunion or chatting with friends, someone is starting to think about selling their home and moving on. This is a great conversation starter and leads to all sorts of related topics. An idea that often comes up is that certain home improvement projects will add to the value of your home and benefit you with larger profits at the closing. This can be true—or, not so much!
If you plan to sell your home and are thinking of repairs and improvements that might increase your chances of a quicker sale and better financial outcome, read on. While there are many opinions on the subject, I'll share some of the choices that have made sense to me, especially when you're dealing with a limited budget. Let's dive in.
1. Sometimes it's better to save your time and money.
You can dive into the pool (maybe) but that doesn't mean it will add perceived value. Some perfectly marvelous features of a home won't WOW the buyer enough to pay more for the property.
These are nice-to-have items like a swimming pool. Whether it's an in-ground or above-ground pool, it looks like more work, expenses and liabilities to many home buyers. If you have one that you enjoy, that's great, but if you are thinking of adding one so it can add value to the home, that idea might not hold water. In fact, before selling, you might be advised to remove an above-ground pool and re-seed the lawn so it looks large and beautiful.
What about a new roof? Buyers will expect a decent roof, and if the home inspection shows the need for replacement, you will need to address that. If you know the need is immediate, replace it if you can, especially if you'll be there for a while. Then play it up as much as possible when you sell. If you decide to leave it in its current condition, you can prepare to negotiate.
For a lot of people, siding carries a more visual appeal than a worry about performance. Unless the exterior is unsafe, unsightly or a source of leaks, you can let the buyer decide if it needs updating after the purchase. For roof and siding replacements, there is something nice about letting the new owner choose the installer and decide on product color, brand, life expectancy, and warranty.
Related article
Miami is the only major U.S. city to have been founded by a woman. Arriving in 1891, native Clevelander, Julia Tuttle bought several hundred acres along the bank of the Miami River in an area then known as Biscayne Bay. Her passion to build a community in her newly found paradise…
Generally, anything that is over-personalized would be terrific for you as a homeowner enjoying your dream home, but it isn't likely to bring in additional funds when you sell. This includes items like trendy or personalized wall treatments like an artistic custom cork design, hobby-themed wallpaper or a fully mirrored exercise room. Such items are a matter of personal taste and might not fit into the buyer's decorating style.
Expensive closet, storage or garage shelving and racks are also iffy items. Buyers expect to have closets and storage but aren't inclined to pay more for a custom storage plan.
The other feature to watch out for is a DIY project gone wrong. If you or a predecessor started a project and didn't finish it, or if the project looks sloppy and didn't turn out despite your best efforts, the safest bet would be to get it fixed before you list the home for sale. Buyers can recognize areas that will need work, and they'll make a lower offer to compensate. In most cases, you can correct the situation for much less than the buyer will want as compensation.
Related article
2. Choose exterior more-for-your-money projects.
Now that we have the not-so-great projects out of the way, let's move on to the good stuff. So much can be done, even on a low budget. You'll wonder why you didn't do it sooner. Since curb appeal makes a big difference, we'll start with the exterior. Drive up to your house and take a good look from an outsider's point of view. Does it look inviting? What are your first impressions? This is where you start.
The front entry door is a big part of the first impression. A little sanding, a coat or two of paint and a new door handle and lock will make a world of difference. Check the siding and roofing. Do they look presentable as you approach the house? If not, perhaps minor repairs are in order.
You'll also want shiny, clean windows and if any have a broken seal (foggy appearance) or cracks, you can get them repaired at a reasonable cost. If they're in seriously sad shape, see if replacement is in your budget. It could be worth it. Be sure to check the caulking and make repairs, and if you have a mailbox, repair or replace it if needed.
Related article
No matter your reason for considering relocating to Los Angeles, you will find a lot to love in this sunny, warm, sprawling, diverse city. In this article, we will give you a feel for L.A.'s standard of living, climate, housing, education and more. Here are 12 Key factors you should know before moving to Los Angeles, California…
Your lawn makes a statement as well. If there is pet damage or other thin spots, you can re-sod or hire someone to do it. Any dead or dying plants should be removed. You can fill in the area with landscaping rock or mulch, or plant some new shrubs or perennials to take advantage of the season.
Trees and bushes can be trimmed. Check your deck to see if it needs power washing, repairs, or a coat of paint or stain. A colorful rug on the patio makes it feel like home. Once it's all back in good condition, arrange the furniture invitingly.
Landscaping is a solid bet, but an outdoor kitchen might be too much. It won't likely yield the higher dollars you'd like unless the home is in a higher-end neighborhood with large well-manicured lawns and ready-for-a-magazine-cover outdoor living spaces. As you can see, there's a lot you can do to freshen up the exterior appearance for a small investment of time and money.
3. Be objective about your kitchen.
Over the years, kitchens continue to rank high on a buyer's list. So much goes on in the kitchen: cooking nutritious meals, baking while the aroma filters through the house, catch-up conversations, cleaning and even homework. A clean kitchen with good appliances, lighting and storage are all selling points.
Since full-scale remodels are costly, it will be difficult to regain those dollars. However, a reasonable kitchen remodel can be helpful, and is especially fun if done while you still have time to enjoy it yourself.
Many people are doing more cooking at home, preparing food that is fresh, healthy and delicious. None of this requires a gourmet kitchen. You can give your kitchen an inexpensive make-over with new handles or fresh paint on the cupboards. You can even remove the cupboard doors and paint the hinges so they look like new.
Related article
The popularity of the waterfront can mean high housing costs and consumer prices. Luckily, for those willing to look past the likes of Malibu and Venice Beach, there are plenty of scenic spots along the country's lakes and oceans where retirees can make a nice home even with a reduced…
If the counters are looking tacky, it can be expensive to replace them, and you'll want to decide whether you really need granite or if a lovely less expensive finish will suffice. Weigh this against the desired purchase price of the home. Appliances are another important consideration. If cleaning them thoroughly does the job, bravo! If not, you can look for good quality appliances on sale or at a discount distributor.
Small details like new electrical switches and outlet covers and new classic lighting fixtures are also possibilities. If your sink and faucets have seen their better days, it's not that expensive to replace them. Once you have completed the needed improvements, just clean and clear your counters and floors, and add some flowers or a batch of cookies. Now that's a welcoming kitchen!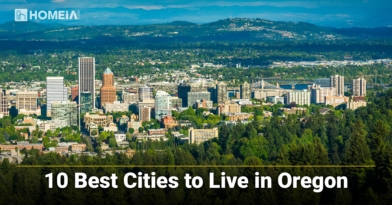 Related article
Oregon is a study in contrasts. It has 363 miles of the most breathtaking coastline you'll encounter anywhere in the world. But it also has dense forests, mountain ranges, and high desert country. Here're the 10 Best Cities to Live in Oregon…
4. How beautiful are the bathrooms?
Yes, they should look beautifully clean. Bathrooms usually can use some help. You'll know by an honest assessment of the condition if you need a full remodel. Maybe not. It could be that the cat has scratched up the vanity and you can replace that at a reasonable cost. Maybe you need a new toilet and faucet. Or you might need to refresh the caulking in the tub and showers. Clean it all until it shines and then see what you think.
It's true that sparkling clean bathrooms are a high priority for most buyers. It will pay off to spend some time and a little money to get these areas up to standards. Make them spotless. Put personal items away, hang up a new towel and display a flower in a rose bowl.
5. Consider the condition and appearance of each room.
It's important that you take a good look at each room, including floors, walls and ceilings, because buyers will study them carefully. It's wise to fix any cracks or blemishes on the walls and ceilings. If you're up to it, a fresh coat of paint makes a room look new — just be sure to choose a neutral color. You can hire a professional for any of this if you want it done quickly and expertly.
Flooring is also important to buyers and, even though they could replace it when they move in, many buyers want something nice from the beginning so they have one less thing to manage. Hardwood floors are in demand. Clean them and they are beautiful.
If it's time for maintenance or refinishing, you can hire the pros to take care of it. Clean tile and replace any broken tiles. Carpet should also be cleaned, and if that doesn't do the trick, you can consider replacing it — also with a neutral color. (Ask your realtor for current selection favorites.)
Related article
If you have the flexibility to move anywhere in the U.S., where could you buy the cheapest home? After examining data from Zillow and World Population Review. Here're 10 most affordable States in the South and the Midwest to consider when buying a house in 2024…
Also remember that when making improvements to your home, it's a good idea to keep the overall value of the house within the average selling range for the neighborhood. It's harder to sell a home that's priced much higher than the neighboring houses even when it has more features.
I learned this the hard way, and although mine finally sold at a good price, it was on the market for much longer than was typical. (If you find yourself in this position, be sure to engage an experienced realtor with excellent marketing skills.)
With a little objective planning, you can make home improvements that should lead to a quicker, more profitable sale. Once your projects are complete, be sure to declutter, remove furniture that crowds the space, and put away personal items. Make it look like a model home.
You know how inviting they are, and your buyers will love that look too. There's an emotional side to buying a home that can't be denied. Once a buyer falls in love with your house, you're in business.
If you have enjoyed this article and gained an idea or two and the motivation to start preparations, please share it with a friend who might also benefit. Thank you and best of luck with your projects and sale!