The Best 10 Ways to Maintain Your House
Your house is most likely the most expensive purchase of your lifetime — and a safe haven that provides a hub for everyday activities, relaxation and making memories. It doesn't remain in great shape without some effort, but with some loving care and an organized maintenance schedule, you can manage the upkeep without added stress.
In this article, we'll discuss 10 ways to keep your home in tip-top condition and how to prevent some costly mistakes. Let's get to it.
1. Prevent water damage.
The last thing you want is water damage which can be an expensive and time-consuming project that you didn't want in the first place. It can also be heartbreaking if your treasured personal items reach the soggy, beyond-repair stage. Check these items regularly:
A. Sump pump: Make sure it is working properly. A battery backup that kicks in during a power outage serves as good insurance against disaster and is a much cheaper alternative to a flooded basement.
B. Gutters, downspouts and drains: Make sure there's no blockage. Cleaning gutters in spring and fall will help keep them clear and functional.
C. Windows: Make sure windows are sealed properly.
D. Bathtubs, showers, toilets and sinks: Check the seals and replace as necessary.
E. Water softeners: Make sure the water softener is in good repair and not likely to leak.
F. Landscape grading: Check the plants and grading around the house to make sure water will flow away from the house rather than toward the foundation or window wells. If the ground is perfected leveled, it can become a virtual moat filled with water after heavy rains. This can end in seepage or flooding through cracks and windows.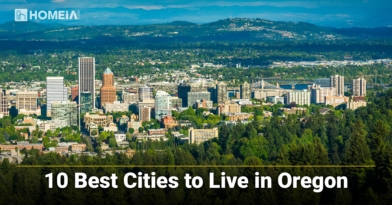 Related article
Oregon is a study in contrasts. It has 363 miles of the most breathtaking coastline you'll encounter anywhere in the world. But it also has dense forests, mountain ranges, and high desert country. Here're the 10 Best Cities to Live in Oregon…
2. Control moisture levels.



High levels of household moisture can cause mold, a serious health hazard that can often require considerable work to correct. Excessive moisture may also attract rodents and insects into the home. No one wants to deal with that! Watch windows for condensation. That can be a clue that there's too much humidity in the house.
Related article
Geographically, Oregon boasts dramatic Pacific coastlines as well as volcanic mountain ranges. Its climate spans from rainforests along the coast to semi-arid conditions in the central and southeastern regions. The Beaver State is home to both Crater Lake, the deepest lake in the U.S., and Mount Hood, the second-most-climbed mountain in the world…
3. Keep the air clean.



Dust can also create a health hazard by triggering allergies or asthma issues. Dust and vacuum your spaces regularly or hire an experienced housecleaning service. You can also purchase an air cleaner if dust and pet hair is a problem.
4. Check your HVAC unit.



Yearly inspections by an HVAC technician can help extend the life of the unit and save you thousands of dollars. Change the air filters according to the recommended intervals, usually every 3 months for an average house—or more often if you have furry pets.
Related article
With year-round warm weather and over 8,000 miles of coastline, it's no wonder Florida is a prime vacation destination. Filled with wildlife, beaches, lakes, rivers, amusement parks, diverse entertainment options and much more, the population of Florida is growing with people that want to call Florida "home," soak up the sun…
5. Vacuum your floor regularly.



Vacuuming your floor every week or at least every other week will help eliminate dust, fur dander and dirt. Regular cleaning will extend the life of your floor may it be carpet, laminated, hardwood, or other materials, which help improve the air quality in your home.
Related article
6. Keep your dryer vent clean.



Clogged dryer ducts and vents can cause fires. It's important to clean the vent every year and replace old accordion-style interior dryer ducts with a straight metal duct. The folds in the old-style vents collect lint until the buildup becomes hazardous. Once the ducts are cleaned, your dryer will operate more efficiently also.
Related article
Given the outdoors benefits – the cost of living in Colorado is still one of the best values in the country. Here're the 10 most affordable places to live in Colorado, taking into account the cost of living, median housing price, average crime rate and other factors that make the place unique…
7. Clean ceiling fans and bathroom fans.



Having a ceiling fan can help keep the air in your room circulated and possibly lower energy costs. Make sure fan blades are clean, so you don't end up breathing in the dust that collects on the fan. The bathroom fan reduces the moisture accumulation in your bathroom, and it is more efficient and effective when it's clean—and besides, it looks nicer too!
8. Check exterior components.



Routinely check the siding and paint to make sure there's no serious damage and that everything is in good shape. They help protect your house from the elements such as rain and snow. Get an opinion from your home inspector or a reputable roofing company on the condition of your shingles or other roofing material. They can let you know if there is any damage, if repairs are needed, and how much life is left in the roof so you can budget for a replacement.
Related article
The popularity of the waterfront can mean high housing costs and consumer prices. Luckily, for those willing to look past the likes of Malibu and Venice Beach, there are plenty of scenic spots along the country's lakes and oceans where retirees can make a nice home even with a reduced…
9. Schedule services for pest control.



Rodents can cause bigger problems than you would think, especially if they are in the basement or walls. Bees, wasps, mosquitoes and even spiders can create a health hazard, so make sure to keep them at bay. If raccoons are a problem in your neighborhood, that can spell trouble and considerable damage. Be sure to keep trash out of reach.
If your home is susceptible to termites, they can ruin thresholds, trim, walls and furniture. As you can imagine, damages are expensive to repair. Talk with your homeowner's insurance agent to see what coverage you have and what is recommended, and if you have a serious problem with pests, ask for a referral to a professional pest control company.
10. Maintain your deck.



If you have a deck, make sure there are no protruding nails, splinters, or loose boards that could cause a safety issue. Clean or power wash your deck to keep it free of dirt or any buildup. Painting or staining the surfaces will to keep your deck looking beautiful while extending the life of the deck.
With awareness of these top 10 critical areas, you can schedule and maintain your home with minimal hassles. Create recurring calendar events to keep you on task and ask for help from family members. You can spread out the work throughout the year, so it doesn't need to be done at once.
If some of the items require professional help that you are unqualified for, research local vendors, check reviews and ask for referrals from trusted friends and family members.
Your home should be a safe, happy place that puts a smile on your face. Proper maintenance will keep it that way. If you learned something and enjoyed this article, please share it with a friend or colleague.
Related article
If you have the flexibility to move anywhere in the U.S., where could you buy the cheapest home? After examining data from Zillow and World Population Review. Here're 10 most affordable States in the South and the Midwest to consider when buying a house in 2024…