Top 10 Tips for Apartment Hunting with a Disability
Living with a disability certainly presents additional challenges in life. Your life could get much harder or slightly challenging, depending on the situation and the specific type of incapacity. So, it makes sense to look for the ideal apartment, specifically designed to meet your unique wants and needs.
Are you prepared to handle the challenges that come with apartment hunting when you have a disability? Do you know what to ask or look for to make your life easier in your new home?
Believe it or not, some people overlook critical aspects of their disability when looking for a new apartment. Since we prefer you don't make the same mistakes, we'll share 10 of our best tips to make apartment hunting easier, more enjoyable and definitely more effective. Please keep reading to discover the powerful tips we've shared with you today.
Tip #1: Begin Your Apartment Hunting Search Online
When you think about it, the easiest way to start your search for a new apartment is to begin looking online. Why start your search at street level when you can easily access tons of information about specific apartments on the internet? It's much less stressful to begin looking on a phone, tablet or computer screen first.
There are many top-rated websites and apps that will allow you to look for exactly what you need. Use the apartment locator feature and type in the specifics you're looking for. Also, remember to check off specific disability-related boxes to make sure the apartments are designed with your abilities in mind.
Related article
If you have the flexibility to move anywhere in the U.S., where could you buy the cheapest home? After examining data from Zillow and World Population Review. Here're 10 most affordable States in the South and the Midwest to consider when buying a house in 2022…
Tip #2: Do Not Fear a No-Pet Policy If You Have a Service Dog
Times are definitely changing, and apartment landlords can no longer refuse rentals to people with service dogs. Do not immediately turn away from apartments that have no-pet policies. This is especially true if you happen to find an apartment that you really like and think it would be the perfect fit for your lifestyle and your specific disability.
Instead, call the landlord and be open, honest and upfront with this individual right away. Let them know about your disability and that you need a service dog to help better navigate your everyday life.
You'll quickly see that landlords are more than accommodating to people with service dogs. And since the Fair Housing Act states that landlords must provide reasonable accommodations to their tenants with disabilities, you are unlikely to get turned away again because you happen to have a service dog.
Tip #3: Look for the Newest Properties during Your Apartment Hunt
Why is it best to look at the newest properties first during your apartment hunt? Well, the newest apartments–meaning any apartment built after March 1991–are going to be up to code and have the required amenities needed for persons with disabilities. Any apartment built earlier may or may not have taken the necessary actions to update their apartment building for people with specific needs.
Sure, you can get mad and go after apartment building owners who do not have their property up to code. However, you may not have time to fight the good fight if you're in need of an apartment quickly. So, just focus on newer properties if possible, and you'll have no trouble discovering a great place to accommodate your specific needs.
Related article
We assessed the cost of living across Californian cities and compared them to the national average. The cost of living is calculated based on 5 main categories: housing, food, healthcare, transportation and energy. Based on these calculations, we narrowed down the list to California's 10 most affordable cities…
Tip #4: Do Not Avoid Apartments Designed for Senior Citizens
Even if you happen to be much younger than senior citizen age, you should still look at these apartments if you really need to find a place to live quickly. Why? Senior citizen apartments are designed to accommodate elderly people, which means they are more than likely designed to accommodate people with disabilities since many elderly people need helpful amenities as well.
It's possible you may not qualify, and that's certainly okay if this turns out to be the case. But you should always ask the landlord or property management company if they'd let you move into the apartment building. The worst they can say is no, so it's worth it to reach out because senior citizen apartments are ideal for many people living with disabilities.
Related article
With year-round warm weather and over 8,000 miles of coastline, it's no wonder Florida is a prime vacation destination. Filled with wildlife, beaches, lakes, rivers, amusement parks, diverse entertainment options and much more, the population of Florida is growing with people that want to call Florida "home," soak up the sun…
Tip #5: Make Sure You Qualify for the Apartment in the Traditional Sense
You'll never run into a landlord who will turn you down because of your disability. But that doesn't necessarily mean you're going to qualify to rent one of their apartments. They have other strict requirements that all tenants need to pass in order to qualify.
What do we mean? Well, you'll have to undergo a credit check in most cases. So, make sure your credit is in good standing. You'll also have to undergo a background check more often than not. Make sure you have good credit and enough income to afford the place. Also, be sure everything else that a landlord would typically look for during a background check is in order.
Tip #6: Familiarize Yourself with the Fair Housing Act to Know Your Rights
The FHA also known as the Fair Housing Act is a federal law specifically designed to make sure landlords treat you right even if you have a disability. You deserve to have an apartment that can accommodate your specific needs, just like everybody else. And this law makes sure landlords provide you with the necessary accommodations to fit your lifestyle.
So, take some time to familiarize yourself with the FHA. There are certain things that all landlords must do to accommodate you. There are also certain things that they must avoid doing when dealing with tenants. Know your rights and apartment hunting will be a lot easier once you do.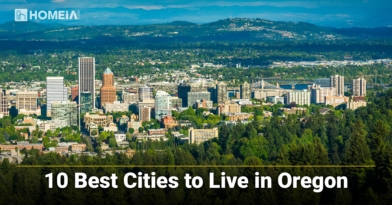 Related article
Oregon is a study in contrasts. It has 363 miles of the most breathtaking coastline you'll encounter anywhere in the world. But it also has dense forests, mountain ranges, and high desert country. Here're the 10 Best Cities to Live in Oregon…
Tip #7: Do Not Be Afraid to Request Reasonable Accommodations of Landlords
Do you have a tough time finding the perfect apartment for your disability? Perhaps you found a place that is very close to what you need. The only thing is you'll need the landlord to make one or more additional modifications to meet your needs.
Guess what? The FHA rule means that landlords need to provide reasonable accommodations to those with a disability. So, you can ask landlords to make additional changes for you and, in most cases, they would be obliged to do so.
Related article
Michigan is the only state in the United States with two separate peninsulas and five surrounding Great Lakes. Its landscape is diverse, ranging from industrialized skylines to sweeping sand dunes to gorgeous waterfalls. Once home to Henry Ford, it's also considered the epicenter of America's…
Tip #8: Illegal Steering Is a Form of Discrimination
What is illegal steering? For starters, it's a type of discrimination even though it's less direct. More specifically, it's a situation when a landlord tries to limit the housing choices of people with disabilities by encouraging them to look for an apartment in a different place.
As an example, a landlord might try to get all his or her tenants in wheelchairs to live in one building. This will limit your ability to find vacancies in different apartment complexes that might be better suited or more convenient for other reasons.
Tip #9: Do Not Fear Asking Questions Over the Phone
After performing an online search, it might not have been possible to have all your questions answered over the internet. Instead of booking an appointment to look at the apartment, you could call the landlord or property manager and ask questions over the phone. This is especially true if you happen to suffer from a severe disability.
Remember to use every resource at your fingertips to make your life easier, and the phone is definitely a good way to avoid making an unnecessary trip.
Related article
Bordering Canada and the Great Lakes is a state fondly dubbed as the "North Star State" and "Land of 10,000 Lakes." The state has a lot of lakes sprawled across its more than 86,000 square mile area. In a comprehensive study of cities, Minnesota is the number one state for raising a family because of its high median income, affordable cost of living and exceptional education services…
Tip #10: Remember to Ask Questions about the Area
Not only will you need specific accommodations in the apartment or apartment building itself, but you'll also need to find out about the neighborhood. You may have general questions that need answering, and you should definitely inquire about them.
As an example, you may need access to public transportation. If you can't find this information online, you could talk to the apartment manager to find out if you'll have easy access to public transportation. This is just one example of many that you can talk to the apartment manager about when you call on the phone or set up an appointment to look at the place in person.
Final Thoughts
As you can see, apartment hunting with disabilities isn't necessarily the easiest thing to accomplish. But it's getting better, and the laws are now more in your favor than they've ever been.
Even more, landlords are willing to accommodate people with disabilities so you should speak up and let your landlord or future landlord know when you need a modification to improve your lifestyle. In most cases, they'll be willing and eager to make necessary changes to satisfy your needs, especially when it helps you with accessibility and safety.