Private Water Wells Can Increase Property Value and Decrease Monthly Costs
Water wells can bring forth nostalgic visions of a simple life where one fetched a bucket of water at the pump—or of dangerous falls requiring a rescue by Lassie the dog. While wells have a place in the imagination, they also have a place in the modern world.
Simply put, a well is a private water source that can serve as an alternative to a municipal water supply. In the United States, there are over 13 million people who get their water from private wells, compared to 280 million who rely on city water.
1. What properties might a well, have?
Wells are typically located in rural areas, where properties are larger and homes are located farther from population centers with water mains and pumps.
Well water comes from an underground source, so not every property can support one, regardless of its size.
Related article
The popularity of the waterfront can mean high housing costs and consumer prices. Luckily, for those willing to look past the likes of Malibu and Venice Beach, there are plenty of scenic spots along the country's lakes and oceans where retirees can make a nice home even with a reduced…
2. How do wells work?
Private wells come in three forms. Dug or bored wells are large in diameter and relatively shallow—generally 10 to 30 feet from the surface to the bottom. They're lined with stone or other materials to prevent them from collapsing.
Driven wells are created by driving pipes through the ground to a depth of about 30 to 50 feet. They are cased (using impermeable pipes made from metal or plastic), but because they access water that's not far below the surface, they're vulnerable to contamination.
Drilled wells are much deeper—they are capable of reaching down thousands of feet, and their casing prevents contamination. These wells are dug using specialized machinery, including percussion or rotary-drilling machines.
Pumps work to draw water from the wells; these can be jet pumps (for shallow wells) or submersible pumps (for deep wells).
Related article
With year-round warm weather and over 8,000 miles of coastline, it's no wonder Florida is a prime vacation destination. Filled with wildlife, beaches, lakes, rivers, amusement parks, diverse entertainment options and much more, the population of Florida is growing with people that want to call Florida "home," soak up the sun…
3. Do you pay for water if there's a well on your property?
While there are costs involved in the installation and inspection of a well, once it's up and running you will not have to pay for the water you pump. You'll just have to cover the electricity costs of running your pump system.
Even if you buy a property with a working well, there will be some expenses. Private wells have to be inspected regularly—the frequency can vary based on your location. And if there are problems with your well you could have substantial maintenance and repair bills.
Because you don't pay for your well water, you might end up saving money over time as the cost of municipal water goes up due to inflation or scarcity.
4. Pros of having a well
Beyond the lack of a water bill, there are some benefits to well water over city water. For those who value independence, for example, a private well contributes to a home's "off-grid" capabilities. Municipal water sources are vulnerable to contamination in the case of a natural disaster, such as a flood. Sufficiently deep wells are protected from this contamination, so shutoffs and boil orders are less likely.
Many also argue that the taste and health benefits of well water make it superior to city water. Because it comes from an underground aquifer, and does not use surface water or runoff, it can be cleaner and fresher. Well water from underground can also be higher in minerals, improving health value and even flavor.
Related article
If you have the flexibility to move anywhere in the U.S., where could you buy the cheapest home? After examining data from Zillow and World Population Review. Here're 10 most affordable States in the South and the Midwest to consider when buying a house in 2022…
5. Cons of having a well
To get water from your well, you need a pump—and to run a pump, you need electricity. If you lose your electricity—during a storm, for instance—you will also lose the ability to use your pump. You can get around this problem if you have an alternate energy source such as solar panels or a generator.
With greater independence comes greater responsibility, so if your well runs dry or if any repair is needed you will be responsible. Testing is your responsibility, too.
Related article
6. Maintenance of wells
Since the city isn't monitoring your well water quality, you will have to have your water tested on a regular basis to make sure it is free of bacteria, chemicals, parasites and more. You may also decide to use a whole house water filter.
In addition to water quality, you'll also need to test to make sure the well and pump have no mechanical problems and that there have been no changes that make the water more vulnerable. For example, there should be adequate separation between your well and chemical storage, waste systems and your home itself.
A well's serviceable life can be 20 years or more, but if your well is no longer repairable to good condition, you should hire a well driller and pump installer, who can decommission your old well and create a new one.
7. Wells and Property Values
A functional well on a property can increase the home's value. The buyer is spared the expense of constructing the well in the first place, but benefits from the lack of water bill.
Unless a well no longer works or is contaminated, there should be an overall increase in the property value. Wells that produce potable water for use throughout the home are valued above those that are used only for irrigation.
The better the water quality, the more value a well adds to a home. Buyers will pay more if the well is in good shape and provides fresh, clean water.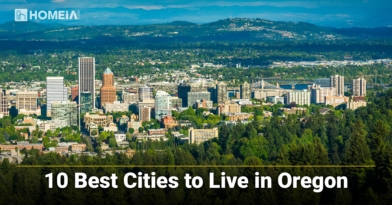 Related article
Oregon is a study in contrasts. It has 363 miles of the most breathtaking coastline you'll encounter anywhere in the world. But it also has dense forests, mountain ranges, and high desert country. Here're the 10 Best Cities to Live in Oregon…
8. What to look for if you buy a home with a well
If you're considering purchasing a property that has its own well, you will need to consider a number of factors to determine whether it will meet your needs or be a burden.
Make sure you know the basic facts about the well itself. Is it a more reliable drilled well, or is it a dug or bored well? How old is it? On average, wells last about 30-50 years. What is its depth, flow rate and capacity?
You should also know the specifications and condition of the well's casing, the pump and the pressure tank. Have them tested as needed. The casing should end at least a foot above the ground, to prevent the cap from being submerged in surface water, which could lead to contamination. Look into the local ground water supply in general, too, to make sure you're comfortable with its condition.
Conclusion
If you have a private well on your property, or if you're looking at buying a property that has one, you can assume that the well will be an asset overall, as long as it is clean and well maintained. While people may differ in their preconceived notions about well water versus city water, most homeowners can agree that having access to your own water source with no need to pay a regular water bill is a big plus for the home.
Related article
No matter your reason for considering relocating to Los Angeles, you will find a lot to love in this sunny, warm, sprawling, diverse city. In this article, we will give you a feel for L.A.'s standard of living, climate, housing, education and more. Here are 12 Key factors you should know before moving to Los Angeles, California…