When to Follow your Realtor's Advice and When to Trust Your Own Intuition
Buying or selling your home can be a stressful time to say the least. Add the need for a quick turnaround and it's a real mess. Even people who have plenty of time to buy or sell put it off because they fear it will be more hassle than they can endure.
Why all the pressure? A decision of this scale has a huge impact on finances and home-style happiness. No wonder it causes anxiety. In this article, we'll discuss ways to lessen the worries by creating an alliance with your realtor — and knowing when to trust your own judgment. Let's start.
1. Get it done right

Let's begin by saying that most people rely on a real estate agent to help them with the sale of their home or the purchase of a new house. Yes, there are times when it makes sense to go it alone, but even then, you will likely need the services of a realtor or real estate attorney to wrap up the details of documents and filings. Since that is the exception, we'll leave it for another article, and assume that you will be using a realtor for your transaction.
Related article
The capital city of the United States has a reputation for being a busy political and business hub, but there is a lot more to discover and enjoy for residents of this diverse city. Washington, DC is consistently ranked among Business Insider's and Niche's top 50 cities to live in, and there are…
2. Hire a full-time real estate agent
Now that we know you'll be working with a professional, let's make sure the agent is just that—a professional. Many realtors are working at it on a part-time basis. If you hire one of these agents, be sure to ask how long they have been in the business, how many homes they have helped clients buy and sell, and in which neighborhoods those transactions took place.
Why is this important? You want an expert to advise you and asking questions will help you determine which agent is best for you.
If you choose to work with a full-time realtor, the same questions apply. It makes good sense to interview several agents before making your decision. Homeowners often know many realtors or might have a realtor in the family. There might be recommendations from friends, family or colleagues. How to decide? Here's where you trust your own intuition.
Take this step seriously because who you are working with will play a big role in whether you are getting good advice, receiving proper communication and getting the best opportunity for your sale or purchase. It can be uncomfortable to say no to a friend or family member who is competing for your business, but you know these people and can ask them direct questions like those mentioned earlier.
Related article
Once a farming and milling community, Edina has blossomed into a preferred suburban city with all the most desired amenities. From upscale, boutique shopping and exquisite dining to consignment shops and casual bistros, residents and visitors are enamored with the…
3. Interview several agents
In your interview, ask if they have the time to give you their full attention. If you know they'll be vacationing or hunting, you have a good reason to make another choice. If they are just getting started in their career and you aren't totally savvy in this department, it would serve you better to work with a seasoned professional. Because of the considerable impact on your finances and lifestyle, think of it as business rather than personal.
You can also look at reviews on the agent's website, Google, Yelp and others. Get references and ask other clients about their experience. Look for someone who is up to date in the industry and has the experience to back up the opinions they will be sharing with you. Choose a realtor you feel will serve you best, even if it won't be a popular decision with everyone else. You can offer an honest, yet tactful, reason later if you feel it's necessary.
4. Work with your agent
Now that you have engaged a realtor whose personality and skills are aligned with your needs, have an honest, more in-depth conversation about your expectations and where you will need help. Ask about priorities and processes and how they will communicate with you.
A good realtor will explain the process and outline the steps that will be needed to get you through the transaction. Your agent should be your advocate and always looking out for your best interests.
When buying a home, you'll quickly discuss price range. Talk with a mortgage professional and get pre-qualified so that step is out of the way. If you don't know a mortgage broker, your realtor can make a recommendation. You can also talk with people you trust for recommendations. If you hear the same name more than once, it's a good clue that you would do well working with that person.
Related article
If you have the flexibility to move anywhere in the U.S., where could you buy the cheapest home? After examining data from Zillow and World Population Review. Here're 10 most affordable States in the South and the Midwest to consider when buying a house in 2022…
5. Find a good Mortgage loan officer
The mortgage process is another area that requires your own perspective and determination. You can trust your loan officer or broker to help you qualify and get all the paperwork in order. Where you need to trust your own good sense is in deciding how much you really want to invest in a house.
Just because you can qualify for a certain amount doesn't mean you need to look for a home in that price range. You might want to find a wonderful house in a lower price bracket to stay true to your other financial priorities.
Once you decide on a price range, be sure to stick to it. Looking at homes above that level is non-productive and a waste of time. Discuss this with your realtor for a clear understanding of the desired price range, then restrict your activities to finding a home that's priced right for you.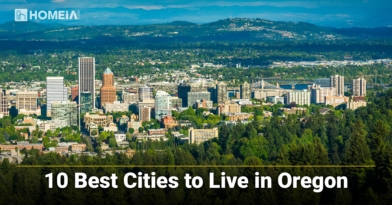 Related article
Oregon is a study in contrasts. It has 363 miles of the most breathtaking coastline you'll encounter anywhere in the world. But it also has dense forests, mountain ranges, and high desert country. Here're the 10 Best Cities to Live in Oregon…
6. Stick to your priorities
Another important item when buying a home is to be very clear on the location and features that you must find to be happy with the purchase. Make your own list (with family members) of locations that interest you and features that are non-negotiable.
Once you have your list, talk with your realtor about your priorities. Having chosen your realtor well, you can trust the agent's information about neighborhoods and lots within those neighborhoods for sensible guidance.
Stay true to your own set of priorities and look only at homes that have the items on your non-negotiable list. There's no reason to give in on things that are that important to you and your family. This is where you trust your own determination to know what's best for your future. Features that would be nice to have, but are not entirely necessary, should carry less weigh in your decision process. The agent can help you make perceptive comparisons of homes and value.
1. Price your home correctly
For those of you who are selling your home, your realtor will provide market comparisons with other homes that have sold recently in your area. An experienced realtor will know how to price your home to be competitive, yet yield as much as the market will bear. It's important to price correctly so that you gain from the true value without overpricing. If the price is too high for market demand, it will stay on the market longer and eventually require a change in listing price.
If you have information on any of the homes used in the market comparisons that would explain why your home could be worth more, this is the time to speak up. Sometimes, friends and neighbors know more about features and problems in a home than is apparent in the listing.
A good realtor can write the listing for your home to highlight the features that warrant a higher selling price. These upgrades and benefits can also be a focus when showing the home and talking to potential buyers.
Related article
With year-round warm weather and over 8,000 miles of coastline, it's no wonder Florida is a prime vacation destination. Filled with wildlife, beaches, lakes, rivers, amusement parks, diverse entertainment options and much more, the population of Florida is growing with people that want to call Florida "home," soak up the sun…
2. Prepare your home well for higher offers
When preparing your home for a sale, your agent will provide helpful tips on how to make your home as attractive and appealing as possible. They have seen countless homes for sale and know what helps and what hurts. Follow this advice and you'll have a much better experience—and a better offer.
Knowing yourself and your schedule, decide how much you can accomplish in the given time frame, and if it's beyond your capabilities, be sure to ask for help, either from friends or professionals.
3. Leverage your Agent's expertise to negotiate for you
Your agent will also be a valuable resource when an offer comes in. You'll want a well-informed opinion on the details of the offer and, if negotiation is needed, you'll be glad to have your realtor representing you. Offers can be complex, and one part of the offer might offset another. You can discuss the price and terms to see if it makes good financial sense.
Negotiations can be tough, especially if emotions run high. Your realtor will know how to soften this while maintaining a firm stance on terms that will work for you.
Overall, when buying or selling your home, remember that one of the most important decisions is to find an excellent real estate agent. Making a good business decision to hire the most capable agent will make all the difference in your transactional experience and the outcome.
With an experienced realtor, you'll have knowledge, support and competence on your side. Listen and learn as the practical information guides you, and tune into your own intuition to stay on course and achieve your goals.
If you have enjoyed this article and gained some perspective about working with a realtor while trusting your own judgment, please share it with a friend who might also benefit. Thank you and best of luck with your buying or selling experience.
Related article
Houston, Texas is a vibrant city with much to offer. U.S. News & World Report ranks Houston #30 in its Best Places to Live assessment and #26 in Best Places to Retire. There's much to love about this southern city, nicknamed Space City in the days of the NASA Manned Spacecraft Center…