22 Fun Things to Do in Palo Alto, California Today
While San Francisco is the first city people think of whenever California's Bay Area is mentioned, several other cities make sizable contributions to the region. One of these is Palo Alto, a mid-sized city of 66,649. Palo Alto was founded in 1894 by Leland Stanford, an American naturalist who founded the esteemed Stanford University. Palo Alto is Spanish for "tall stick" and is so named for the giant redwood trees that grow in this area of the country.
Palo Alto has lots going for it. It's the birthplace of Silicon Valley, the representative region of the technology and innovation industries. While it is one of the most expensive cities in the United States, the high quality of education and the vast array of amenities it provides its citizens make it a desirable place with many opportunities.
People who live in Palo Alto or the greater Bay Area are always looking for fun and exciting things to do. We've compiled this list for anyone living there, looking to relocate, or planning to visit this west coast city. Here are 22 top-rated fun things to do in Palo Alto, CA.
STANFORD UNIVERSITY ATTRACTIONS
As a significant part of the city, Stanford's campus is where many exciting things happen. Many of these activities are available to the general public as well as students. Here are just a few.
1. Take a Tour of Stanford University
Stanford is one of the best academic institutions in the nation, consistently ranking as high or higher than some of the schools from the Ivy League. Whether you're considering enrolling in a program, the University's campus is worth checking out. It's large enough to warrant its own zip code, although it is considered part of Palo Alto's city limits. The prestigious University is also home to unique educational architecture, state-of-the-art athletic facilities, and an overall classic college atmosphere.
2. Cantor Arts Center at Stanford University 
Cantor Center is home to 24 separate art galleries and 15 special exhibits each year. It's been open since 1891 and has since amassed over 38,000 pieces of art for public enjoyment. Those around Stanford's campus, the city of Palo Alto, and the Bay Area can take advantage of free daily admission, educational tours, and special lectures year-round. The Cantor Arts Center is considered one of the largest and most coveted collections of University art in the entire country.
Related article
We assessed the cost of living across Californian cities and compared them to the national average. The cost of living is calculated based on 5 main categories: housing, food, healthcare, transportation and energy. Based on these calculations, we narrowed down the list to California's 10 most affordable cities…
3. Stanford Dish
The Stanford Dish is more of a novelty visit than anything else, but it's a cool stop, regardless. The radio telescope was built by the Stanford Research Institute in 1961. It is 150 feet across in diameter and is still used today for various educational and research purposes. The dish also has a 3.7-mile trail around it, a popular spot for walkers and joggers. People who aren't interested in the dish but need to get outside and exercise can still enjoy the area.
4. Stanford Shopping Center
Who doesn't love a good shopping spree? The Stanford Shopping Center is an open-air outdoor mall located on the campus of Stanford University. The facility is enormous, as it houses over 140 specialty businesses and plenty of restaurants and cafes. It's even a pleasant place to take a walk, with fountains, sculptures, and gardens adding to the peaceful aesthetic of the mall.
Related article
HOMEiA is here to help you explore ten of the best places to live in Southern California. Each place has its own charm and unique qualities. Let's take a quick dive into what Southern California has to offer! Here're 10 best places to live in Southern California…
PALO ALTO ACTIVITIES AND ATTRACTIONS
Outside the University campus, Palo Alto has a terrific downtown area and a plethora of friendly neighborhoods to explore. If you're looking for unique and exciting activities around town, you will do worse than check out these options.
5. Take a Walking Tour of the City
Palo Alto has numerous companies that offer walking tours of various parts of the city. The biggest challenge is finding the right one for you. Find a guided tour of downtown, Stanford University, or one of the many historic neighborhoods, or use a local website to conduct a self-guided walk. You'll get some exercise and fresh air while learning about the city and its local traditions.
6. Hewlett Packard Garage
Since Palo Alto is the center of the tech industry's Silicon Valley, it's no surprise that it's also the home of the exact location where the industry took off. The unassuming suburban home built in 1905 would become a historic landmark in the story of California's computing business.
It was rented in 1938 by David and Lucille Packard, who would use the home's small garage to work on their computers. The breakthroughs they achieved there became the stuff of legend. Their garage became a National Historic Landmark in 2007. While it is not usually open to the public, you can drive by and get a photograph.
Related article
No matter your reason for considering relocating to Los Angeles, you will find a lot to love in this sunny, warm, sprawling, diverse city. In this article, we will give you a feel for L.A.'s standard of living, climate, housing, education and more. Here are 12 Key factors you should know before moving to Los Angeles, California…
7. Participate in a Scavenger Hunt 
Bay Mystery Scavenger Hunt runs events that don't necessarily take place in Palo Alto (some of them do). Still, they are a regional Silicon Valley favorite. Groups of up to 15 can book special events that take them through various businesses in the area. Many of these events involve sampling food, drink, and local culture while trying to solve a crime or find the answer to a narrative mystery. There's no better way to get to know the area around Palo Alto.
8. Palomo Archery
Archers in other cities often need help finding an excellent place to practice. Not in Palo Alto! Palomo Archery is a fully-equipped indoor archery range offering lane and equipment rentals, lessons, and a professionally-trained staff ready to keep all guests safe and happy during their visit. The space is also rented to larger groups, such as corporate teams and families. Be sure to book in advance, as space is limited.
9. Junior Museum and Zoo
The Palo Alto Junior Museum and Zoo were conceived during the Great Depression in the United States as a place for children to come and spend some leisure time. Today the zoo is home to over 200 individual animals spanning over 50 species. Some of the favorites for children are the pink flamingos and the giant tortoise. Children can stimulate their curiosity inside the museum with a large selection of science exhibits designed to educate young minds about the world around them and how it works.
10. Play Polo on a Segway
The Bay Area would be the birthplace of Segway Polo, a variation on the popular horseback sport where the players ride on segways instead. The sport was developed in the region back in 2003 and since has grown into an international phenomenon, with teams from Europe and Latin America getting in on the friendly tournaments and competitions. The Segway Off-Road company offers lessons for anyone who wants to learn. Other startups exist in the area as well.
Related article
Geographically, Oregon boasts dramatic Pacific coastlines as well as volcanic mountain ranges. Its climate spans from rainforests along the coast to semi-arid conditions in the central and southeastern regions. The Beaver State is home to both Crater Lake, the deepest lake in the U.S., and Mount Hood, the second-most-climbed mountain in the world…
11. Music on the Square
Every summer, nearby Redwood City's Courthouse Square hosts a free concert series on Friday evenings. These concerts are all family-friendly and feature a wide array of regional acts playing all genres and covering well-known rock and pop acts. 2022 was their 16th season, and they show no signs of slowing down anytime soon. So if you're in Palo Alto or the surrounding area from June-September, take a trip to hear some great tunes on a Friday.
12. Palo Alto Art Center
According to its website, Palo Alto Art Center engages over 150,000 people annually through its exhibits, events, classes, and community outreach programs. That's a significant amount of folks. The center was founded in 1971 as a place where any community member could show up to engage with the local art scene and create some of their own. The center is also highly invested in the local education system, visiting schools and providing great classes and programs for children.
13. Stanford Theater
Managed by a group called the Stanford Theater Foundation, this theater is dedicated to treating audiences to the classic films from Hollywood's golden age before technology allowed the general population to see these films from their homes. The theater opened in 1925 and still regularly hosts showings of films from that era up through the 1950s and 60s. Whether on a date, a night out with friends, or looking to share classic cinema with your children, check out the schedule at the Stanford Theater.
14. Farmers Markets
Eating locally-produced food is a great way to support small businesses and ensure you eat only the healthiest available products. Palo Alto is home to three regular farmers markets so that locals can pick the best. The Downtown Palo Alto Farmers Market is open every Saturday morning, the California Avenue Farmers Market operates on Sundays, and the V.A. Palo Alto Farmers Market is open on select weekdays.
Related article
Arizona is world-renowned for its dramatic beauty, a combination of rugged mountains and vast desert landscapes. The sixth-largest state by area and the 14th largest in terms of population, Arizona is indeed beautiful–but it's much, much more than that…
PALO ALTO'S GREAT OUTDOORS
Northern California is known for its comfortable weather. It never gets too cold in the winter or too hot in the summer. To that end, people around Palo Alto will want to get outside and experience some of the region's extraordinary nature.
15. Redwood Grove Nature Preserve
The Redwood Grove is a 6-acre nature preserve featuring a beautiful patch of redwood trees, a meadow, and other natural areas observable to all lovers of the outdoors. Palo Alto's Parks department runs summer camps for kids and programs for adults out of the area. A nonprofit preservation group is responsible for the site's restoration and upkeep. It's perfect for a walk or a picnic.
16. Rinconada Park
Looking for a place to observe or photograph some giant redwoods? How about taking a swim in the local municipal pool? Or getting involved in a pickup sports game? Rinconada Park, one of the oldest in Palo Alto, has all this and more. Locals have been enjoying the facility since the 1920s. It's a favorite among children, too, with multiple playgrounds installed on the 19-acre property.
17. Baylands Nature Preserve
With 15 miles of trails and almost 2,000 acres of undisturbed marshland, Baylands Nature Preserve is one of the largest preserved habitats in San Francisco Bay. It is considered the best place for bird watching in the state, as the natural habitat for many species. There's also a duck pond and a Nature Interpretive Center for visitors.
Related article
Both California and Texas have not only the largest populations but the largest habitable landmass of any of the U.S. states. This means there are not a lot of statements that can be made which represent either state in totality. We'll let you know here the general cost factors to consider when making a decision to relocate to either state…
PALO ALTO RESTAURANT SCENE
Any great city will have its share of popular local restaurants. If you're visiting Palo Alto, there's no better way to find an enjoyable dining experience than talking to some of the residents, but for now, here's our list of a few great choices.
18. Sundance 
Known as Palo Alto's best steakhouse, Sundance provides an intimate setting that's luxurious and classy for all guests. The dining room has the air of an upscale restaurant, but they also offer take-out and a semi-private space for large parties to book. Sundance is known most for its rich cuts of beef but also serves incredible fish and chicken dishes so everyone can get their fix.
19. Terun Pizzeria
With a focus on the freshest ingredients and a perfectionist philosophy, Terun has some of the most popular pizzas in the bay area. The three founders were all born in southern Italy, so they know what it takes to make an authentic wood-fired Neapolitan-style pizza. Other menu items are also available.
20. Fambrini's Cafe
This family-owned restaurant has a menu based on specialty recipes and old secrets. Their sandwiches are all crafted to be unique, and they use the freshest ingredients in all of their creative offerings. The European philosophy is to create food pleasing to the senses, and they deliver on that promise.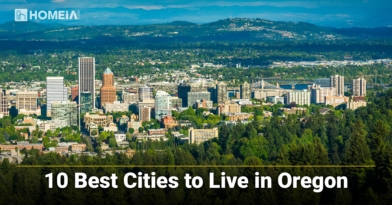 Related article
Oregon is a study in contrasts. It has 363 miles of the most breathtaking coastline you'll encounter anywhere in the world. But it also has dense forests, mountain ranges, and high desert country. Here're the 10 Best Cities to Live in Oregon…
21. Sun of Wolf
When choosing to go out for Mexican food, it's essential to know where the best local spots are. Sun of Wolf is that spot for Palo Alto. The restaurant is run by a group of siblings who chose the name to represent their family ties. Their philosophy is to combine old-world Mexican flavors with modern Bay Area sensibilities. The result is a unique, enjoyable, classy experience.
22. Freewheel Brewing Company
Located just up the road in Redwood City, Freewheel Brewing is the most popular beer brewer in the region. Their tap room is perfect for patrons to sip on some unique California brews, and they also offer a full lunch and dinner menu. They're closed on Mondays and Thursdays but open for the rest of the week for lunch and dinner.
Conclusion:
From the technology industry to a prestigious university, to wondrous natural landscapes, to fantastic local businesses, Palo Alto is an exciting place with no shortage of fun things to do. People of all ages can get lost in the excitement here for weeks. As part of the more extensive Bay Area and Northern California region, Palo Alto is a big winner.
Related article
We took 4 main variables into consideration to determine the best places in Arizona to raise a family. The variables are quality of education, health care, personal safety, and recreational opportunities. Here you'll find our list, along with the highlights that make each Arizona locale a special place to raise a family…