Points to Consider Before Choosing Roof Restoration
Replacing a roof is a big project. It is costly and inconvenient, requiring all roofing material to be removed before a new roof is applied. For a homeowner hesitant to commit to such a renovation, a shortcut could be appealing.
Enter roof restoration. In this process, the existing roofing material remains in place. Roofers address minor problems, then resurface the whole roof with the intention of prolonging its useful life.
There are good reasons to consider restoration before committing to a replacement, but it's not the best option in every situation. Factors such as cost, age and condition can help to determine the right approach for your roof. For more info than what is discussed below, Benchmark Roofers & Restoration is the roof restoration/replacement provider you can reach out to learn more from.
1. What's in a roof?
A roof is more than its shingles; many of its essential parts are invisible from the exterior.
The roof deck is the wooden structure over which the protective layers are placed—the bones of the roof.
Next is the underlayment, which is attached directly to the decking, giving it a waterproof or water-resistant barrier. A common material for underlayment is roofing felt (sometimes called "tar paper"). This material comes in rolls and has a base layer (usually made of wood cellulose, fiberglass or polyester) with a protective coating (such as bitumen/asphalt).
Flashing is a material applied to parts of the roof most likely to experience water leaks, like valleys in the roof's surface, around a chimney or in areas with heavy runoff. Flashing is usually made from rust-resistant metal such as galvanized steel. Metal drip edging is installed around the perimeter of the roof.
Shingles are the outermost layer—the roof's armor. They overlap to channel water off the rooftop and into the gutter system. While they can be made of many different materials, asphalt shingles are the most common in the United States.
Related article
Bordering Canada and the Great Lakes is a state fondly dubbed as the "North Star State" and "Land of 10,000 Lakes." The state has a lot of lakes sprawled across its more than 86,000 square mile area. In a comprehensive study of cities, Minnesota is the number one state for raising a family because of its high median income, affordable cost of living and exceptional education services…
2. How do you know when your roof needs work?
When it's working properly, a roof doesn't get a lot of attention. Besides water pouring in from the ceiling, what should you consider when evaluating the state of your roof?
A. Age. Roofing has an expiration date; most roofs last around 20 years.
B. Light through the roof. Check your attic on a sunny day; if you see daylight coming through, your roof needs work.
C. Stains and dark streaks. Check the underside of the roof (from the attic) and the walls adjacent to its base. Inspect the exterior of the roof with binoculars or from a secure ladder. Streaks and stains are a sign of leaking and moisture damage.
D. Sagging. Soft, drooping, or easily bent areas are problem areas.
E. Shingle damage. Look for missing or broken shingles, rotting, disintegration or moldy buildup. Check the gutters for granules from the shingles.
F. Moss, algae and lichens. Take note of anything growing on your roof.
G. Damaged flashing. Check the material especially around the chimney or other structures.
If you find any of these problems, find a roofing contractor, who will do a thorough inspection to determine whether you need a repair (generally less than a third of the roof), replacement (completely tearing off the old roof, or installing a new one over the old one), or restoration.
3. What is involved in roof restoration?
Roof restoration is a much smaller project than a total replacement. First, the roof will be cleaned and cleared of moss, lichens and mildew. Next, the flashing, seams and fasteners will be examined and sealed if needed.
Problem areas will then be resolved, with repairs and rebuilds where required and replacement of particularly damaged shingles.
Finally, a coating will be applied that will extend the roof's useful life. A number of coatings are available on the market, including acrylic (often white and reflective, to reduce heat absorption), an asphalt emulsion that is brushed on with a broom, solvent-based asphalt that is liquefied so it can be rolled on, and solvent-based silicone that comes in many colors and can be applied in several ways.
In a complete roof replacement, in contrast, all shingles and underlayment will be stripped from the roof deck, which will be examined and repaired as needed. Then all-new materials will be installed.
Related article
Given the outdoors benefits – the cost of living in Colorado is still one of the best values in the country. Here're the 10 most affordable places to live in Colorado, taking into account the cost of living, median housing price, average crime rate and other factors that make the place unique…
4. What is the cost of restoration versus replacement?
The average residential roof in the United States measures around 1,700 square feet—or, in roofing lingo, 17 "squares." Larger roofs, of course, cost more to both restore and replace since they require more materials and work hours. A typical roofing project breaks down to about 40% materials and 60% labor.
The materials used to replace or restore a roof can vary widely in cost, but the bottom line for restoration tends to be no more than 50% of the replacement cost.
Related article
Geographically, Oregon boasts dramatic Pacific coastlines as well as volcanic mountain ranges. Its climate spans from rainforests along the coast to semi-arid conditions in the central and southeastern regions. The Beaver State is home to both Crater Lake, the deepest lake in the U.S., and Mount Hood, the second-most-climbed mountain in the world…
5. Benefits of restoration
The lower price of restoration is the biggest reason to consider it instead of replacement. The second is convenience. A roof replacement is a long and invasive project, whereas restoration can be done without much effect on the occupants.
Restoration can buy 10-15 years of usable life, which wrings more use out of your roofing materials. That means it has an ecological benefit as well as an economic one. Longer use reduces the amount of material going into landfills.
Finally, since many restoration coatings are reflective, your energy bills may decrease (especially in summer). The roof absorbs less of the sun's heat.
6. Drawbacks of restoration
The main objection to restoration is that it is a way of kicking the can down the road—of putting off a replacement that will need to be done sooner or later. The original materials in your roof will continue to degrade over time, despite being slowed by repairs and protective coating.
Additionally, restoring a roof that ought to be replaced can cover up deeper problems, giving homeowners a false sense of security.
Related article
Michigan is the only state in the United States with two separate peninsulas and five surrounding Great Lakes. Its landscape is diverse, ranging from industrialized skylines to sweeping sand dunes to gorgeous waterfalls. Once home to Henry Ford, it's also considered the epicenter of America's…
7. When is restoration an option?
Because of the dangers of covering up an underlying problem, any consideration of restoring a roof and forgoing replacement requires a very careful inspection.
In order to qualify, your roof deck should be in good condition; restoration won't touch it. You should have proof of yearly routine inspections and maintenance, ensuring that small problems were caught and resolved before they could worsen.
Any leaks that have occurred should have been permanently repaired, and there should be no moisture or decay. Multiple leaks suggest a new roof may be needed.
Overall, a roof that is in good shape but whose shingles are reaching the end of their expected life is the best candidate for restoration over replacement.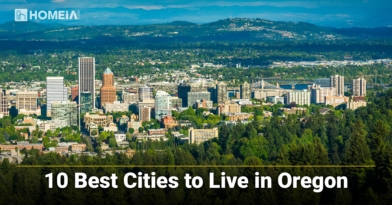 Related article
Oregon is a study in contrasts. It has 363 miles of the most breathtaking coastline you'll encounter anywhere in the world. But it also has dense forests, mountain ranges, and high desert country. Here're the 10 Best Cities to Live in Oregon…
Conclusion
Play it safe with your roof; it's a critical part of your home. If there's doubt, or if there are major problems, go ahead with a full replacement and enjoy the peace of mind that comes with it. But if it's still going strong below the surface, a roof restoration could be a smart way to get more utility out of your investment.