How to Raise Your Home's Value with Bathroom Renovations
The bathroom is one of the most-used rooms in a home, and discerning buyers who want a spa-like experience at home are willing to pay top dollar for a good one. But what if you plan to stay in your home?
You spend time in your bathroom every day, so if your current space is uncomfortable or doesn't match your tastes, it's time to renovate.
Bathroom renovations are an excellent way to add value to your home. As with any remodeling project, however, you can't expect to recoup the entire cost of the project when you sell. Remodel Magazine puts the expected value of a midrange bathroom redo at 64 percent of the price tag.
So if you're considering a bathroom upgrade, make sure it will be appealing and functional for you and your family now. If you should happen to sell the house in the future, you'll have the added benefit of a more desirable property and likely a higher sale price.
1. First Things First: Functional Bathroom Renovations
Before you get started with any bathroom renovation, you'll want to consider the practical aspects of the project. That means you should inspect the entire room and make sure everything works, that there are no leaks, and that no damage is present.
If there is an issue, it should be handled before you move on to other aspects of the project.
Structural, plumbing, and electrical upgrades can be expensive, which means you need to take them into account from the beginning. Even though these repairs take time and money and offer little visual payoff they can also prevent surprises down the road and keep the bathroom from being a liability if you sell the home.
The next thing you need to consider is whether you want extra room, an update to the design you already have, or an entirely new layout. Setting the scope of your bathroom renovations will help you decide on your budget and priorities.
If you have carpentry skills, you may be able to handle small changes on their own—but when it comes to plumbing, wiring, or removing walls, you should work with a professional. The more changes you make to the layout, the more expensive your project will be. Pay particular attention to the plumbing: moving or adding faucets and toilets can be labor-intensive and costly.
Related article
We assessed the cost of living across Californian cities and compared them to the national average. The cost of living is calculated based on 5 main categories: housing, food, healthcare, transportation and energy. Based on these calculations, we narrowed down the list to California's 10 most affordable cities…
2. Swapping Out Plumbing Fixtures
There are some bathroom renovations that make a big difference for very little effort. One such change is swapping outdated plumbing fixtures for attractive modern ones. New faucets and showerheads can create a space that is inviting and up to date. This is an excellent project for DIY renovators, since swapping out fixtures is relatively inexpensive and easy to do.
It's not all about appearances, though. These small touches can change the way you experience the room. Adding a high arc sink faucet can make it easier to wash your face, for example, and a new showerhead can offer massage-like features while also using water more efficiently.
Related article
3. Making Upgrades to the Vanity
If your budget allows, consider upgrading the whole vanity, including the fixtures, sinks, countertop, and cabinetry.
There are two ways to go about replacing your vanity. You can buy a single vanity kit that has all the items you want for a single price, or you can put together a great vanity all on your own.
If you plan to sell soon, be sure that the materials you use will appeal to potential buyers. Granite and marble, for example, are often the top picks of buyers when it comes to countertops. Choosing laminate or tile can make the room look more dated.
4. Brushing on a Coat of Paint
You might be surprised to find out that one of the most significant bathroom renovations you can make is merely adding a new coat of paint to the room. This is especially true if your bathroom shows signs of mildew or water damage. First, you'll need to address the cause of the problem. Once it's resolved, you can add fresh paint to make the room like new.
One of the perks of painting as a bathroom renovation is that you can do it on your own. You'll want to use painter tape to ensure a clean result. If you're decorating the master bathroom, choose any color that makes you happy. If you want to sell soon, though, it's better to select a neutral color that will appeal to more buyers.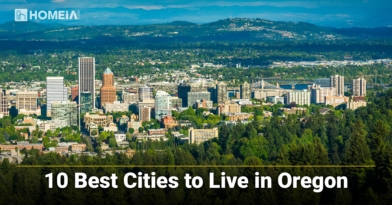 Related article
Oregon is a study in contrasts. It has 363 miles of the most breathtaking coastline you'll encounter anywhere in the world. But it also has dense forests, mountain ranges, and high desert country. Here're the 10 Best Cities to Live in Oregon…
5. Making Changes to the Flooring
If you want a seriously dramatic change to the bathroom, consider upgrading the flooring. Flooring can range in price depending on the materials and the size of the space, plus labor costs if you don't plan to do the work all on your own. However, it can entirely change the way the bathroom looks and feels.
Stone flooring, such as marble, is prized for its beauty and water resistance; be careful, though, that the material you choose isn't so slippery as to become a hazard, especially when wet.
Tile is one of the most versatile options, as it comes in a vast array of colors, shapes, textures, and patterns. You can even get tile that looks like wood flooring—an interesting option, since wood floors themselves don't stand up well to wet conditions.
You can take your flooring to the next level by adding in radiant heat mats under the tiles. This will keep the floors warm and cozy, for a luxurious touch in the morning, late at night, or when exiting the bath or shower. The extra cost can be well worthwhile for the impact on your comfort—and it can make a significant impact on potential buyers, too.
If your budget is limited, don't overlook vinyl flooring. Newer products are durable and often very attractive, and they're easy to clean since they don't have grout.
Related article
If you have the flexibility to move anywhere in the U.S., where could you buy the cheapest home? After examining data from Zillow and World Population Review. Here're 10 most affordable States in the South and the Midwest to consider when buying a house in 2024…
6. Adding Energy-Efficient Updates
You already know that energy efficiency helps protect the environment, but that isn't its only benefit. It can also add dollars to the resale value of your home.
There are lots of options for making your bathroom more energy efficient. You can optimize your sink, shower, and toilet for low flow, which means they use less water (and you pay less on your water bill).
Energy efficiency is also a draw for prospective buyers, who tend to appreciate modern innovations.
7. Finishing with Decorative Touches
Don't stop when the major renovations are done. Some of the biggest impact in your bathroom can come from the smallest investments.
Choose beautiful mirrors to put over your sinks, rather than settling for builder grade or frameless models. Hang fresh towels in coordinating colors or patterns. Adorn the walls with artwork, as you would in any other room, and place a few well-chosen accessories on the counter. Plants may enjoy the humid conditions in a bathroom, so bring some green into the space. And make the room seem like a destination with a small chair or stool.
Conclusion
Along with the kitchen, your bathrooms are some of the most high-impact parts of your home to renovate. They get daily use, and they stand out to potential buyers when you're ready to sell. Whether your budget is tiny or unlimited, a few fresh updates to the bathroom can increase the value of your home and add a lot of enjoyment, too.