How Long Does It Take to Sell a House in 2023
1. How Long Will It Take to Sell My Single-Family Home in 2023?
Nearly every homeowner will eventually be faced with one or more life situations requiring them to sell their single-family homes.
Since it's not something we do every day, there are many questions that will arise. One of the first questions a prospective seller will ask is, "How long will it take?" In real estate parlance, this time period is referred to as DOM, or 'days on market'; the number of days between a property's original listing date to the day an offer is accepted by the seller.
Like many other questions that pop up in life, the answer to this question is; "It depends". What market factors does DOM depend on?
1. The specific market that the single-family home is situated in –
Every market has its own unique factors which will influence how long a property remains on the market prior to offer acceptance and closing. For example, the area may have recently gained or lost a large employer. Either way, this will spur real estate activity with families experiencing a transition in their living circumstances.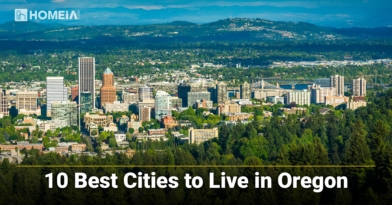 Related article
Oregon is a study in contrasts. It has 363 miles of the most breathtaking coastline you'll encounter anywhere in the world. But it also has dense forests, mountain ranges, and high desert country. Here're the 10 Best Cities to Live in Oregon…
2. Overall market conditions and trends –
Days on the market is affected by the inventory of properties for sale at any given time and the inventory is often determined by trends, such as people moving to seek improved climates or relocating to seek better economic opportunities.
3. Overall economic conditions –
Interest rates, recessions, and economic booms influence the rate of sale (DOM) for single-family homes. For example, if the stock market is rallying to new highs, the real estate market will heat up too, since investors have access to capital through their financial gains.
4. Time (season) of the year –
Certain seasons, like spring and summer, usually see increased buying activity, which decreases a listing's days on market. The end-of-the-year holiday period is traditionally a slow period for real estate sales.
Related article
If you have the flexibility to move anywhere in the U.S., where could you buy the cheapest home? After examining data from Zillow and World Population Review. Here're 10 most affordable States in the South and the Midwest to consider when buying a house in 2022…
The time it takes a homeowner to sell his home actually begins well before the property is listed for sale. According to Zillow, most homeowners begin thinking about selling approximately six months prior to actually closing on the sale. Most homeowners spend a few months preparing the house for sale with upgrades and renovations.
The length of time a residential property remains on the market prior to offer acceptance can vary widely from year to year and even month to month, and is a function of the four factors listed above. For example, in 2010, the first full year of the real estate recession, the average number of days a property remained on the market nationwide was 140 days; over four and a half months!
In 2018, by comparison, the average number of days a single-family house was listed for sale nationwide was only 68 days. In the month of October 2020, compared to October 2019, the national average had dropped further to 53 days.
Below is a table showing sales and listing data pertaining to the top real estate markets nationwide, including average transaction price, the days listed on the market prior to closing, and the total number of single-family homes currently listed in each market. Also indicated is how the October 2020 data compared to the October 2019 data, percentage-wise.
Related article
Geographically, Oregon boasts dramatic Pacific coastlines as well as volcanic mountain ranges. Its climate spans from rainforests along the coast to semi-arid conditions in the central and southeastern regions. The Beaver State is home to both Crater Lake, the deepest lake in the U.S., and Mount Hood, the second-most-climbed mountain in the world…
This table illustrates how a general economic condition, such as the Covid-19 pandemic economic slowdown, can dramatically affect residential real estate transactions, including days on the market, and the number of property listings available for sale in a particular market.
For example, the overall number of single-family homes for sale in each of these 26 markets is down from those available for sale in October, 2019 by a national average 38%! That is a huge drop in available inventory.
Those home sellers who can wait to sell are waiting. What this means is that as soon as the pandemic is over, a huge glut of new listings is going to pour into the market. What happens when inventories increase? Prices soften.
To further illustrate this point, prices for single-family homes are up 12% nationally (year over year). This is an enormous single-month, year-over-year difference. In the short term, prices have been supported and stimulated by these 'Covid19-created', artificially low inventories. This recent upward price trend will slow down or reverse in 2021 when inventories increase. If you're planning to sell your house, do it now, during the pandemic.
Another example of this current pandemic-related market situation is # of days on the market. The average number of days on the market for single-family homes, nationwide, is currently only 53. This is down from October 2019 by 20%.
| | | | | | | | |
| --- | --- | --- | --- | --- | --- | --- | --- |
| MARKET | Median Price | Up/Down from 2019 | Days on Market | Up/Down from 2019 | 2018 Days on Market | # of Listings | Up/Down from 2019 |
| USA | % | UP 12% | 53 | DOWN 20% | N/A | 813,665 | DOWN 38% |
| BOSTON | 669K | UP 14% | 33 | DOWN 31% | N/A | 8166 | DOWN 29% |
| Philadelphia | 349K | UP 17% | 48 | DOWN 21% | N/A | 10,801 | DOWN 42% |
| Washington DC | 502K | UP 5% | 36 | DOWN 15% | 65 | 9442 | DOWN 37% |
| RALEIGH | 390K | UP 7% | 49 | DOWN 18% | N/A | 2889 | DOWN 45% |
| ATLANTA | 355K | UP 11% | 46 | DOWN 15% | 66 | 24,719 | DOWN 46% |
| Miami / Ft Laud | 410K | UP 3% | 93 | DOWN 1% | 104 | 38,632 | DOWN 16% |
| Nashville | 400K | UP 8% | 32 | DOWN 14% | N/A | 4454 | DOWN 44% |
| Memphis | 264K | UP 14% | 45 | DOWN 21% | N/A | 1632 | DOWN 49% |
| Cincinnati | 310K | UP 16% | 39 | DOWN 24% | N/A | 3183 | DOWN 45% |
| CHICAGO | 345K | UP 9% | 43 | DOWN 14% | N/A | 26,987 | DOWN 33% |
| DES MOINES | 279K | UP 4% | 56 | DOWN 16% | 65 | 2373 | DOWN 35% |
| Minneapolis | 348K | UP 2% | 37 | DOWN 15% | N/A | 8591 | DOWN 30% |
| KANSAS CITY | 330K | UP 10% | 47 | DOWN 17% | N/A | 3517 | DOWN 49% |
| New Orleans | 329K | UP 16% | 64 | DOWN 11% | N/A | 2812 | DOWN 39% |
| HOUSTON | 334K | UP 8% | 52 | DOWN 17% | N/A | 19,682 | DOWN 33% |
| DALLAS | 356K | UP 4% | 47 | DOWN 17% | N/A | 12,422 | DOWN 47% |
| OMAHA | 295K | UP 6% | 46 | UP 31% | N/A | 1463 | DOWN 47% |
| DENVER | 520K | UP 5% | 36 | DOWN 16% | 49 | 4932 | DOWN 44% |
| PHOENIX | 416K | UP 8% | 36 | DOWN 15% | N/A | 7480 | DOWN 42% |
| Salt Lake City | 495K | UP 15% | 30 | DOWN 23% | 49 | 1294 | DOWN 51% |
| Los Angeles | 995K | UP 17% | 49 | DOWN 11% | 66 | 17,774 | DOWN 23% |
| San Francisco | 1000K | UP 12% | 35 | No Change | 49 | 6626 | DOWN 4% |
| PORTLAND | 510K | UP 9% | 49 | DOWN 3% | N/A | 4487 | DOWN 44% |
| SEATTLE | 625K | UP 6% | 35 | DOWN 19% | 50 | 5831 | DOWN 32% |
Related article
The above table also offers a window into some of these markets and provides some useful insight for potential investors. If you're looking to buy, what can you learn from this data?
Since these residential inventories will increase dramatically once the pandemic is over, if you're an investor, you want to wait until prices begin to soften. And which markets look the best? Let's begin with Miami. Miami already has a glut of inventory, only 16% lower than this time last year. The time on the market is the highest in the nation at 93 days.
This is essentially unchanged from 2019 and only slightly down from 2018's average. When a seller sees his property on the market for that length of time without an offer, he gets nervous and begins entertaining lower offers, even 'low-ball' offers. Miami is a buyer's market.
Right now, it looks like Boston is a seller's market and should continue that way. Single-family homes are only on the market for an average of 33 days, which means that most new listings have accepted offers on them fairly quickly. Prices are up by 14% compared to last year. The inventory is also down right now by 29%, but that compares to a 38% reduction nationwide. If I'm an investor, I'm staying away from the Boston real estate market for the foreseeable future.
Related article
Given the outdoors benefits – the cost of living in Colorado is still one of the best values in the country. Here're the 10 most affordable places to live in Colorado, taking into account the cost of living, median housing price, average crime rate and other factors that make the place unique…
2. What About Condominiums and Townhouses?
Detached, single family homes represent 76% of all residential real estate transactions in the U.S. Condo and Townhouse sales each account for 8% of all residential transactions, or 16% combined.
After being listed for sale, these properties tend to remain on the market for longer periods prior to offer acceptance and sale, but there are few national statistics available to demonstrate any meaningful trends. DOM statistics for condo and townhouse transactions vary widely from market to market. In some markets, they can sell quicker than single-family, detached homes.
Condominium sales and townhouse sales are specialized sub-markets of the overall residential market. How many days a condo or townhouse remains listed on the market prior to sale is determined by the same four market factors listed above. However, there are additional factors which influence days on the market for these properties.
For one thing, the condo and townhouse markets are much smaller than the overall single-family home market. Representing only 8% of the total market, the number of condominiums for sale at any given time is only about 10% of the total homes for sale.
Related article
The popularity of the waterfront can mean high housing costs and consumer prices. Luckily, for those willing to look past the likes of Malibu and Venice Beach, there are plenty of scenic spots along the country's lakes and oceans where retirees can make a nice home even with a reduced…
The larger an economic market is, the more liquidity it has, with a constant flow of sales transactions taking place. Along with a smaller inventory of properties comes market volatility and uncertainties, including the uncertainty of how many days a property will remain listed prior to sale.
When someone buys a condominium, one of the most important factors to consider is resale. How easy or how difficult will it be to sell the property when the time does come to sell? If you're shopping for a condominium, and you find one that is priced under market value, why is it priced lower? Maybe it's been listed for a long time and the owner is having trouble selling it. In fact, there may be several condos listed for sale within that same complex.
What happens with many condominium developments is that they inevitably incur some fatal flaw which inhibits resales. Maybe it's situated in a bad neighborhood, or a deteriorating area. Maybe the infrastructure is run-down, or the units are poorly maintained.
When shopping for a condo, one of the first questions to ask is, "How many units in this development are currently rented out?" If there are many rental units in the complex, the reason most of them are rented is because the owners couldn't sell them and were forced to rent them out to generate income to pay the mortgage.
The DOM for condos and townhouses can vary widely from market to market.
3. How to Shorten Days on Market
Ultimately, the seller, working in conjunction with his real estate agent, can take measures to help shorten the DOM. These measures include the following:
A. PRICE ADJUSTMENT – If a property doesn't sell quickly, a knee-jerk reaction that many sellers and agents have is to lower the price. But lowering the price may not be the problem. In fact, lowering the price could actually be detrimental. How much activity has there been on the listing? If you have had no showings, or only a few showings, it may not be about price at all.
B. The seller and the agent should revisit the asking price to determine if it is realistic when considered in relation to similar properties for sale. If it is priced correctly, compared to the overall market, then don't lower the price. If, in fact, the seller is willing to negotiate a lower price, that willingness can be communicated to prospective buyers by way of the agent(s) at the time of showing or during negotiations.
Related article
The capital city of the United States has a reputation for being a busy political and business hub, but there is a lot more to discover and enjoy for residents of this diverse city. Washington, DC is consistently ranked among Business Insider's and Niche's top 50 cities to live in, and there are…
C. MARKETING – Sometimes, just beefing up the marketing efforts can stimulate more activity. The seller must also keep the property in tip-top shape 24/7 while it is listed. Perhaps a special promo of some kind can be run on a holiday weekend. Maybe the seller should provide some out-of-pocket funds for increased advertising.
D. GROOMING AND UPGRADES – Sometimes a property doesn't show well, and the seller doesn't realize it or doesn't know what to do to increase the property's 'sales appeal'. Ask some friends and neighbors what they think. Ask your agent and his fellow agents. What are some simple upgrades that are quick, affordable, but that will make a real impact on prospective buyers? Maybe it's as simple as keeping the lawn mowed. Perhaps some simple landscaping will make a difference. Maybe a room or two could use a fresh coat of paint. Whatever it is, get it done.
Related article
HOMEiA is here to help you explore ten of the best places to live in Southern California. Each place has its own charm and unique qualities. Let's take a quick dive into what Southern California has to offer! Here're 10 best places to live in Southern California…
Bonus:
Sam Walton, founder of Wal-Mart, had a saying; "You make money when you buy." Everyone who purchases real estate should consider the property's future sales appeal and marketability prior to making an offer.
If you're like most real estate buyers, you'll eventually be faced with the prospect of selling your property. Will it be an easy property to sell or is it likely to be difficult? Make resale potential one of your primary considerations when you purchase residential real estate.
We hope you find this article helpful, if you do please share it on your Facebook page so others can benefit from it as well. Thanks in advance!