Repairing Pier and Beam Foundations
No one wants to experience foundation issues. They can be expensive and invasive, and the very idea suggests that your home is not stable. If you have a pier and beam foundation, though, you have one of the easier foundation types to repair. It's not a cheap project, but it's worth it to avoid much larger problems in the future.
Here're a few things you should know if you suspect an issue with your pier and beam foundation.
1. What are pier and beam foundations?
Pier and beam foundations are constructed by drilling into the ground and placing vertical piers (columns typically made of concrete) in a grid-like formation. Large pressure-treated wooden or concrete beams (girder beams) are lain across the piers and secured. The floor joists and subfloor go over the beams, and the house is built on top.
An alternative to basement foundations and slab-on-grade, pier and beam construction is popular in much of the South, the Pacific Northwest, and some areas of the southeast Atlantic coast.
Pier and beam foundations are relatively easy to build and low in cost. They lift the house above grade to prevent water damage and can be corrected easily to accommodate shifting soil. Unlike basement foundations, they don't require deep excavation, which is prohibitively expensive in rocky areas.
Related article
We assessed the cost of living across Californian cities and compared them to the national average. The cost of living is calculated based on 5 main categories: housing, food, healthcare, transportation and energy. Based on these calculations, we narrowed down the list to California's 10 most affordable cities…
This type of construction leaves a crawlspace between the ground and the subfloor. In the past (especially before the 1960s), builders often left this space open to the outside, or added foundation walls with large openings for ventilation. The intent was to keep moisture from building up underneath the house. They also provided easy access to the underside of the house for repairs and maintenance.
Some homes are still constructed this way, but lately enclosed crawlspaces have become more common. What enclosed spaces lack in accessibility, they make up for in protection: they can be insulated, mechanically ventilated, and conditioned with the rest of the house, reducing the likelihood of mildew, mold, rot, warped floors, and pests.
Related article
2. How do you know if your foundation needs repair?
You're most likely to suspect that your pier and beam foundation needs work when you notice problems with the floors inside your home. They may seem unsupported—bowing or flexing, sagging under weight, or even sinking. You might also hear more creaking or see cracks in tiles or gaps in wood floors.
When the base of the house moves, everything on top of it becomes less stable, so you may also notice cracks in your walls, doors and windows that don't open and close properly, or even cracks in your fireplace, all indicating the house has shifted.
If you're able to get under the house yourself, you might be able to see the problem directly. A pier may have shifted so the beam no longer rests on it; this can put excess strain on the beam and cause cracks.
Beams can also crack or sag due to rot, mold, insect damage (such as termites), or water. Anything used to adjust the height of the piers—shims or concrete blocks, for example—may have shifted over time or collapsed.
3. Who can you call for foundation repair?
The first step is to find a good foundation repair company. When you're looking for a company to handle the job, consider how long they have been around and their reputation locally. They should be able to provide references and let you know what professional or trade associations they belong to.
Here are some other questions to ask:
a) Does the inspector get a commission? If the technician who inspects your foundation and recommends a solution also has a product to sell, the analysis might skew toward their preferred approach.
b) Do they come up with a plan on site? In other words, do they have a plan as soon as they've visited your home, or do they take their time to devise a thorough solution? Quality matters more than speed in this industry.
c) Does a licensed engineer review the recommendations?
d) Where will they refer you if their specialty does not fit the situation?
e) Are they familiar with the conditions and regulations in your area? Local experience matters, since both soils and laws vary widely.
Related article
HOMEiA is here to help you explore ten of the best places to live in Southern California. Each place has its own charm and unique qualities. Let's take a quick dive into what Southern California has to offer! Here're 10 best places to live in Southern California…
4. How will they fix your foundation?
There are several methods for repairing your pier and beam foundation. Make sure you discuss with the company which approaches they typically use; there are pros and cons to each, and you'll want to know that their preferred methods are well suited to your home and the problem at hand.
As we've seen, pier and beam construction makes it fairly easy for your contractor to get under the house and examine the issue, especially if the crawlspace is open. Once they've gained access, a visual examination should be enough to diagnose the issue and to give you an estimate.
The different repair methods are largely a matter of materials. The goal of any approach is to provide more support to the structure, thereby spreading the weight load until there is no more sagging or risk of collapse.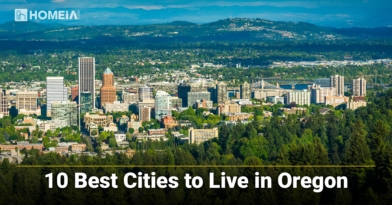 Related article
Oregon is a study in contrasts. It has 363 miles of the most breathtaking coastline you'll encounter anywhere in the world. But it also has dense forests, mountain ranges, and high desert country. Here're the 10 Best Cities to Live in Oregon…
Here are a few of the methods your contractor might use:
a. Check the level using precision tools such as altimeters
b. Use high-capacity hydraulic jacks to raise the house so supports can be added underneath
c. Install or adjust foundation shims (small strips that fill the gap between the pier and the beam)
d. Replace decaying wood beams and joists with new wood, concrete, or steel beams
e. Install additional foundation piers under the house
f. Install deep pilings under the piers (if there are severe soil issues)
g. Supplement mechanical leveling using hydraulic or chemical stabilization or backfilling
Factors that affect the method used include the extent of the problem, the composition of the soil, and the state of the existing structure.
Related article
If you have the flexibility to move anywhere in the U.S., where could you buy the cheapest home? After examining data from Zillow and World Population Review. Here're 10 most affordable States in the South and the Midwest to consider when buying a house in 2022…
5. How much will it cost?
Factors that determine the cost of your repair project include ease of access to the space, the extent of the problem, and the type of solution used.
A ballpark estimate for typical repairs is around $2,000 to $7,000 dollars. If this price gives you sticker shock, remember that there's a reason we use the word "foundation" metaphorically as well as literally: everything else is built on top of it. That means it's important; problems here can jeopardize your whole house. It's not a good place to skimp.
A minor crack can be filled for as little as $250 or as much as $800, but it may be an indication that you should have an evaluation by a structural engineer.
The cost for each pier or pile that's installed may be around $1,000 to $3,000, and sealing a leaky foundation will set you back between $2,000 and $7,000.
If you have a major issue, and your repair requires the use of hydraulic piers, you could be out $10,000 or more. Having the foundation leveled can cost $500 to $1,300 for mud-jacking and $1,000 to $3,000 for each pier that's added. If moisture or soil problems caused the issue, you'll pay more to have them professionally evaluated.
The longer you wait, the more damage can accumulate, causing the price to skyrocket. Make sure to check with your insurance company in case they cover this type of damage.
Conclusion
Repairs to your pier and beam foundation are not only possible but necessary; despite the costs, ignoring the problem could be far worse. Be a responsible homeowner and make sure your foundation stays in great shape.