Should You Sell Your House Now or Sell Later?
No homeowner wants to be forced into a sale, but it does happen. People get transferred, relocate to a work for another company, or lose their jobs entirely. Couples split up and sell the house as part of the settlement. Growing families often dictate new housing choices, such as moving from a two-bedroom condominium in the city to a single-family home in the suburbs.
Deciding to sell your home can be an emotionally wrenching experience, and if you're not careful, a financially devastating one. If you have a choice in the decision, examine all your options before you jump into the market.
Reasons to Sell
Some common reasons to sell your home include:
1. A job change
If you take a job in a new city, you may have to sell in order to purchase another home. You may also cut the ties to your current home if the new city is far too distant to justify the commute. If your new job is in another part of the same city, moving might save commute time, gas, and wear and tear on your car.
For military personnel, when you receive orders to report to a new location, you may need to sell and start anew in a distant city or state.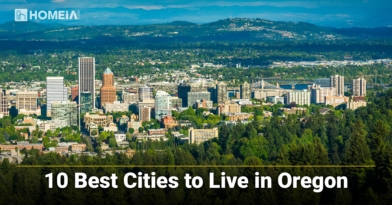 Related article
Oregon is a study in contrasts. It has 363 miles of the most breathtaking coastline you'll encounter anywhere in the world. But it also has dense forests, mountain ranges, and high desert country. Here're the 10 Best Cities to Live in Oregon…
2. Space requirements
If the size of your household is changing, your need for space also will change. When you need less space, selling is a practical option. But if you need more space, you can also consider building an addition.
If remodeling is impractical or too expensive, selling may be your best option. If the lot does not allow for the renovations you need, it might be better to find a home with the options and space you require. If the house does not lend itself to the type of remodeling you have in mind at a reasonable price, you may be happier to look for a home that can offer the style and space you desire.
When

considering a remodel project

and getting quotes from several reputable companies, you may find that, if the project would be completed, the house would be priced far beyond others in the nearby area. This is fine if you intend to stay long-term, but if selling is on the horizon in the not-so-distant future, it may be difficult to sell because of the higher price tag and apparent overpricing for the neighborhood.
3. A change in marital status
If you are getting divorced, you may need to sell your home as part of a settlement. Consult a lawyer or accountant and examine your options. If you are a recent widow or widower, you may decide to sell your home in favor of a property or apartment with less upkeep. You may also decide to move closer to other family members or places you frequent the most.
Related article
If you have the flexibility to move anywhere in the U.S., where could you buy the cheapest home? After examining data from Zillow and World Population Review. Here're 10 most affordable States in the South and the Midwest to consider when buying a house in 2022…
4. Equity
If you have created substantial equity, selling your home may be a way of cashing in on your investment, especially if you would prefer to move to a less expensive area. In some cases, you may be an owner who enjoys buying homes to fix up and sell at an advantage. Once you have put in some considerable sweat equity, you can sell at a handsome profit, and do it again.
Related article
Michigan is the only state in the United States with two separate peninsulas and five surrounding Great Lakes. Its landscape is diverse, ranging from industrialized skylines to sweeping sand dunes to gorgeous waterfalls. Once home to Henry Ford, it's also considered the epicenter of America's…
5. Great timing
If the housing market is hot, and you plan to move to a less expensive area, you may make money on your sale even if you've lived in your home only a short time. When homeowners are flexible, this can be a great strategy.
Reasons to Stay
Some examples of reasons to stay in your current home are:
I. Tight finances
If you're barely able to make your current mortgage payment, you may be overwhelmed by relocation and commission costs (plus the possible increase in your monthly loan payment), even if you make a profit on your current home. Consider refinancing your current home instead of selling. Find a recommended mortgage broker to help you find the best options for a reasonable mortgage payment plan.
Related article
Geographically, Oregon boasts dramatic Pacific coastlines as well as volcanic mountain ranges. Its climate spans from rainforests along the coast to semi-arid conditions in the central and southeastern regions. The Beaver State is home to both Crater Lake, the deepest lake in the U.S., and Mount Hood, the second-most-climbed mountain in the world…
II. An unsure destination
If you don't know where you want to move, think about staying for the time being. You'll build equity by continuing to pay your current mortgage. You'll also avoid the cost of moving twice—once when you have to vacate your current home and again when you decide where you want to live.
Related article
The capital city of the United States has a reputation for being a busy political and business hub, but there is a lot more to discover and enjoy for residents of this diverse city. Washington, DC is consistently ranked among Business Insider's and Niche's top 50 cities to live in, and there are…
III. The remodeling option
The neighborhood is homey, the schools good, but you just don't like your house? Consider making it more appealing. If you have owned the home for several years, you may have enough equity to do some serious remodeling.
Or, you can pay as you go by managing projects in phases, starting with the most pressing remodel project. Make your list and prioritize according to what would make life easier for you and which changes would minimize your dissatisfaction with the house more quickly.
If you are a Do-It-Yourselfer, costs can be greatly minimized by doing most of the work yourself. Even with complex projects, you could contract someone to do licensed work such as electrical or plumbing, while you do the sanding, painting and staining.

You may be deciding to add a mother-in-law apartment or a home office which can give good reason for a building project if you love your location, neighbors and the house itself. Or, you may want that gourmet kitchen you've been dreaming of which can add enjoyment and value to the home.
IV. Bad timing
If the housing market is weak, you may lose a large percentage of what you've paid into your home. The real estate market is cyclical, and it could be better to wait until conditions are in your favor.
Related article
Bordering Canada and the Great Lakes is a state fondly dubbed as the "North Star State" and "Land of 10,000 Lakes." The state has a lot of lakes sprawled across its more than 86,000 square mile area. In a comprehensive study of cities, Minnesota is the number one state for raising a family because of its high median income, affordable cost of living and exceptional education services…
The Seller's Frame of Mind
Once you decide to sell, your first step is to emotionally detach yourself from the house and treat it as a commodity. This means facing the pricing issues head-on. Get a comparative market analysis and examine your home's assets compared to other homes recently sold in your area.
Buyers tend to judge properties in terms of available living space. You may find that you need to lower your price because your basement, unlike your neighbor's, is unfinished. Or, your price may need to reflect the age and condition of the appliances and mechanical equipment.
On the other hand, if your home has a beautifully tended landscape and the other homes do not, you may be able to justify your price. This is also the case if you have completed significant renovations, such as replacing all the windows and patio doors.
Overall, I hope you find this article helpful. If you do, please share it with others so they can learn from it, too. Thanks!
Related article
This city has all the advantages of small-town living with proximity to big city amenities. New Prague earned the No. 2 place on our list of the Five Best Cities for Families in Minnesota with good reason. The city is peaceful and safe with a lovely downtown, beautiful lake and opportunity…