How Young Professionals can Benefit from Buying a Townhome
For those of you who are inspired and driven to be recognized as a top performer within your profession, I give you credit as you devote time and energy to your career. It can be difficult to nurture your relationships and even harder to find time for activities that replenish your energy and uplift your spirit. This article will give you some insights on homeownership options that can help you reach your personal and professional goals.
Here're 4 steps to creating the balance you need, possibly as a townhome owner, as you continue building a successful career path:
1. Evaluate your priorities

This sounds like a tall order, I know, but it's the most important component in this quest for success. Think about the reasons you are on your current career track. Whatever your motivation, you have a plan, a dream and a set of goals. Now, think about your lifestyle and where you live. Ask yourself if it's supporting you on your journey.
a. Do you wake up in a place that is comforting, yet motivating?
b. Is it conducive to maintaining a sufficient level of energy and positive attitude?
c. Does it come with a larger price tag than is comfortable?
d. If you also

work from home

, do you have adequate space and privacy?
Years ago, a close friend remarked that it was highly important to feel good about where you lived. He said that everyone needed to feel safe, comfortable and blessed in their home. It needed to be a cheery, uplifting place. I believe that too. You want to smile when you see your home and enjoy being there.
Your home should allow you to relax and re-energize. It doesn't need to be a mansion or come with an expensive mortgage, but it does need to help fill you with joy so you can be your best, every day.
Now it's time to set priorities for lifestyle as well as work. Make a list of what's important to you. We all need money to survive and thrive, but what makes life enjoyable for YOU? Make a list of 30 things and then circle your top 5. Does your current lifestyle help you achieve these objectives with a full and positive spirit?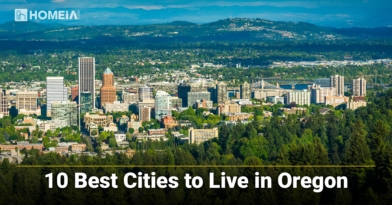 Related article
Oregon is a study in contrasts. It has 363 miles of the most breathtaking coastline you'll encounter anywhere in the world. But it also has dense forests, mountain ranges, and high desert country. Here're the 10 Best Cities to Live in Oregon…
Once you have your list, you'll see whether it's important for you to have time outdoors, lots of toys, a bouquet of fresh flowers, time for socializing, quiet time, a shorter commute, trips to the lake, etc. When you choose a place to call home, it makes a huge impact on the life you will lead. We want to get this right!
You already know how much time you invest in your work. Here are examples of some questions you can ask yourself to help you understand where your ideal neighborhood is located.
a. Would you like to live closer to work?
b. How close do you want to be to friends and family?
c. Do you want to live close to your fitness center or other attraction?
d. Do you like to drive, walk, bike, or use city transportation?
e. Are there parks, shopping, dining choices and recreational options close by?
f. Do you like an urban setting with plentiful opportunities?
g. Do you prefer the suburbs with a more tranquil setting and nearby shopping?
All these preferences must be carefully considered so that you can find a home that offers all of this, and more.
Related article
If you have the flexibility to move anywhere in the U.S., where could you buy the cheapest home? After examining data from Zillow and World Population Review. Here're 10 most affordable States in the South and the Midwest to consider when buying a house in 2022…
2. Rent or own better

Now that you are clear about your preferred lifestyle, you can consider where you are living now and whether there is a better option for you. If you are renting, it might be time for you to seriously consider buying a home. There are so many good reasons to take the leap. You'll start building equity in your home, rather than lining someone else's pockets with your rent money. Rent is not cheap and, unfortunately, rent keeps going up.
Think about the things your rental property does not provide for you. You could probably make a quick list that says it all. It might include things like an attached garage, washer/dryer, prompt service, colorful walls, functional air conditioning, convenient location, adequate parking, etc. Whatever your list reveals, these are things that you can look for when you buy. They were obviously important to you. Add them to your list.
If you already own a home, consider whether the property serves you well. Does it complement your list of priorities? If not, it might be time to re-evaluate your situation and make a change for the better.
a. If your current house is too big or too small, it might be time.
b. If it's too far away from work or activities, friends or family, it could be time.
c. If it takes too much of your paycheck every month, it's time for a change.
d. If there's too much maintenance, it might be time to make life easier on yourself.
Related article
Michigan is the only state in the United States with two separate peninsulas and five surrounding Great Lakes. Its landscape is diverse, ranging from industrialized skylines to sweeping sand dunes to gorgeous waterfalls. Once home to Henry Ford, it's also considered the epicenter of America's…
I've known people who thought living in a big house in a trendy neighborhood would be their ticket to happiness, only to find out it wasn't their reality. Their mortgage payment was higher than they would have liked and they had lost their financial cushion—and peace of mind.
The places they frequented the most were no longer readily accessible, and they wasted time on the road. They also saw a reduction in their social time or family time, and that didn't make them happy campers.
You can avoid this trap—or get out of the trap—by carefully evaluating what's important to you and what will make you happy. Everyone has a different story, but once you understand what brings you joy and the security you desire, you can make a confident decision. Think about the future as well as the present. Would a particular home or neighborhood feel right to you? Would it help you reach your goals, or would it hold you back? These are all good questions.
3. Buy wisely

Buying your own home might be easier than you thought. You can find an experienced realtor and mortgage lender who can help you uncover the truth about market values and financing. If you're afraid (or assume) that you won't qualify for a loan, ask the questions. There are many more options to help you move into homeownership than you might expect. Ask about mortgages that would be available to you and would help you achieve your financial goals faster.
You can also ask about the benefits of tax deductions, building equity and potential resale value. If you're renting and ready to take this step, be sure to time it with the end of your lease, or get a month-to-month extension. It's important to time this to your best advantage.
When working with a realtor, be sure to itemize your priorities. Conduct your search in your neighborhoods of choice and look for homes you feel are affordable. It's a good idea to be pre-approved for a loan, and the amount you are "approved for" might be more than you honestly want to spend each month.
Be realistic about your finances and your financial goals, and stick to your budget. Remember to make room in your budget for your savings plan, travel, hobbies and furthering education. You don't want to overbuy and eat Mac & Cheese every day.
The details of buying a home can be overwhelming, especially when you're busy. Just realize that you don't need to know everything about the financial aspects of buying a home, but can enlist the help of trusted professionals to help guide you. There are excellent resources available: realtors, mortgage loan officers, home inspectors and insurance agents.
Knowing the answers to these important considerations will give you confidence in your decision:
the value of what you are buying
the true condition of the property
what improvements might be needed
how it will affect your finances
Related article
Geographically, Oregon boasts dramatic Pacific coastlines as well as volcanic mountain ranges. Its climate spans from rainforests along the coast to semi-arid conditions in the central and southeastern regions. The Beaver State is home to both Crater Lake, the deepest lake in the U.S., and Mount Hood, the second-most-climbed mountain in the world…
4. Decide if buying a townhome is right for you

Once you've made your lists of priorities, if you have decided that you would be happier elsewhere, the next step is to decide what type of home will meet your expectations. If you want an affordable residence, a townhome should be a good fit. If you want less maintenance so you can invest your time in work and other interests, townhome living takes care of that too.
If you are married or in a relationship and looking for the perfect home together, I would suggest that each person make their own list of priorities. Check to see which "must-have" items you have in common. These will be non-negotiable. Then talk about the other items that are important to each of you to determine which will be on your combined list of must-haves.
The fabulous thing about townhome living is that you benefit from homeownership but delegate the exterior maintenance details to the association. That takes a lot off your plate. You don't have to mow the lawn, rake the leaves, trim the shrubs, remove the snow, or manage siding or roofing issues.
You will have a board of directors and a property manager to handle those details. Your responsibilities are reduced to maintaining the interior only, and if you travel for work, you have much less to worry about.
In addition to your mortgage payment, you will have monthly association dues. Ask how much they are. These are the fees that pay for the exterior maintenance, trash pickup, lawn services, sprinkler/irrigation costs, snow removal and shared amenities.
Find out the life expectancy of siding and shingles before you buy. When they need replacement, the association will pay for that. Ask to see the association's financial statements to determine if they have sufficient funds for such renovations. If not, you would be assessed your portion of the cost. This could be a financial hardship so it's better to be aware from the beginning.
The good news is that your utilities should cost less in a townhome than in a single-family dwelling because you are sharing walls and have gained greater efficiencies. They could also be less expensive than their energy-inefficient apartment or mobile home counterparts.
Square footage is also generally less, but perhaps with a more efficient floor plan, making the purchase price highly attractive. You can decorate inside to your heart's content and create an environment that supports your lifestyle and optimistic outlook. The ease of townhome living could offer you adequate time for work and personal pleasures that are meaningful to you.
Find the right location that is close to areas of interest, and you'll be feeling comfortable to achieve all your dreams.
We hope you've enjoyed this article and found inspiration for your future lifestyle choices. If so, please share it with a friend who might also like to read about the benefits of townhome ownership to enhance and balance their personal and professional lives. Thank you!
Related article
Before you consider a move to Chicago, you should consider 7 key factors that will increase your appreciation for the city and guide you to the right neighborhoods and activities for you…