What You Can Do if Your Air Conditioner Breaks Before Selling Your House
A functional HVAC is no longer a luxury in a home—it is an absolute necessity. Homebuyers around the country expect to step into a perfectly temperature-controlled environment and be able to trust that the existing HVAC will continue to work for a while. So, when your A/C is not functioning, and you want to sell your house, what are you supposed to do? Here are a few solutions that could help you sell your home quickly.
1. Fix Your Air Conditioner
It should come as little surprise that the best solution is to pay to have your air conditioner fixed. Before I sold my first house, I hired a home inspector to identify all the issues potential buyers might see. Among other small problems (mostly cosmetic), she noted that the A/C needed maintenance and could break down while my house was on the market.
Instead of risking any A/C failure, I hired an A/C repair service near me to tune up my unit and check over other elements of my HVAC. Overall, the cost of the service was a little over $100, and I avoided any last-minute crises that would significantly devalue my house.
Fixing your A/C is the best option if you have the cash to spare and if you are trying to sell your property for as much as possible (who isn't?). Once you have paper receipts to show that your HVAC system has been recently tuned up by an HVAC professional, potential buyers will be more likely to trust that you have invested good maintenance in other systems around your house.
While repairs do require some up-front costs, these costs will be more than covered by the increased perceived value of your home, thanks to your perfectly functional A/C.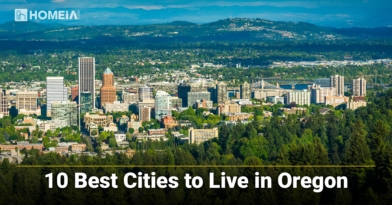 Related article
Oregon is a study in contrasts. It has 363 miles of the most breathtaking coastline you'll encounter anywhere in the world. But it also has dense forests, mountain ranges, and high desert country. Here're the 10 Best Cities to Live in Oregon…
2. Sell Your House As-Is
Your other option is to sell your home "as-is." For sellers, as-is sales are easily the most convenient option, because it does not require you to make any changes to your property, whatsoever. You can pack up your things, leave the key in the door and never go back. For this reason, as-is sales are ideal if you are facing a financial hardship (because you don't have the money to pay for costly repairs or updates) or if you need to relocate quickly.
In truth, "as-is" has a legal definition that can slightly vary from state to state, but generally, it means that buyers accept the condition of the property and are unable to back out of a sales contract due to a disclosed problem. Typically, as-is properties are dramatically riskier investments for buyers, meaning most buyers will offer much less money for them. Thus, if your broken A/C is causing you to list your home as-is, you should expect a notable drop in value.
In some areas, that low-cost home remains attractive, especially if buyers are only going to tear down the existing structure or if they have the capital to make necessary repairs and upgrades. In this case, the land is more valuable than the house structure, so you might not even take much of a loss (if any) on offering a property as-is.
Related article
The popularity of the waterfront can mean high housing costs and consumer prices. Luckily, for those willing to look past the likes of Malibu and Venice Beach, there are plenty of scenic spots along the country's lakes and oceans where retirees can make a nice home even with a reduced…
However, in other places, the "as-is" marker is a red flag telling buyers to stay away. After my father passed, I decided it was easier to sell his old, outdated and poorly maintained home as-is, and it drove down the price of the home significantly.
Buyers in that area wanted turnkey properties, meaning they were fully updated and ready for move-in. An as-is house would require significant work, which meant delays, which lowered the buyers' interest. Though I did sell the house, it is highly probable that I could have gotten a better sale price if I would have had the time to fix it up.
That said, before you decide whether to list your house as-is, you should do some research into your local real estate market, perhaps talking with a real estate professional to better understand your options. Rather than offering your home as-is, you might be better off selling your property directly to a company, like Opendoor or Zillow.
If you carefully weigh your options, you should be able to find one that gives you the right balance of home value and convenience.
3. Get a Home Warranty
There is a lesser-known, third option that many home sellers might not be aware of. If your A/C is puttering along fine now but is expected to break down in the next few months, you might want to offer your buyers a home warranty.
Home warranties are like insurance (but not the same as your home insurance). They provide protection against certain financial burdens of owning a home—except instead of protecting against unforeseen disasters, as insurance does, home warranties guard against failure of home systems.
Not only does a standard home warranty protect the HVAC system, but it also covers large appliances, water heaters, electrical, plumbing, and sometimes roofing or the pool.
It's common for sellers of older homes to offer a year's worth of home warranty coverage as a show of good faith that the home systems are in working order. Doing so will cost you between $350 to $600, depending on the optional coverage you add. This might be more than the cost of fixing the A/C, but it is a major perk for buyers who are uncertain about many systems within a home.
It means they would only pay a flat fee, usually around $70, to have any covered system inspected, fixed, and even replaced. Put plainly, if you believe a major system like the HVAC could go kaput within the year, a home warranty is a useful tool to give your buyers peace of mind to lessen their concerns.
A non-functional A/C won't kill your chances of selling your house—but it will severely impact the sale price of the home. In most cases, it is wiser and safer to get your A/C fixed before listing your property, so you can get the most money from your real estate sale.
Related article
Houston, Texas is a vibrant city with much to offer. U.S. News & World Report ranks Houston #30 in its Best Places to Live assessment and #26 in Best Places to Retire. There's much to love about this southern city, nicknamed Space City in the days of the NASA Manned Spacecraft Center…