"Home is…togetherness."
"Home is…where my children can play and feel safe."
"Home is…where my loved ones' dreams can be nurtured."
"Home is…a place that I am grateful for… a place that is filled with love and security… a place where my family's memories are made."
Your home is where your heart is. Have you ever heard this phrase? We can't stress enough why Home matters. Each person will have a different reason. For you, it might be the place where you grew up, the American dream, an investment, a safe haven, a place where lives have been transformed, and so on.
And this is only the beginning for most of us. We can go on and on as to why Home matters to us. In this article, we'll look at Why Home Matters to the Seller and Buyer—and even to the real estate professional.
Home Seller
When it's time to get their home ready to sell, many Sellers go through waves of emotional moments. Even before contacting a real estate professional, the thought of saying goodbye to a home which holds many great memories can be heartbreaking. The emotional attachment many Sellers have to their property is real and raw. As a Seller, what can you do to help reduce these effects on your emotions?
Related article
Bordering Canada and the Great Lakes is a state fondly dubbed as the "North Star State" and "Land of 10,000 Lakes." The state has a lot of lakes sprawled across its more than 86,000 square mile area. In a comprehensive study of cities, Minnesota is the number one state for raising a family because of its high median income, affordable cost of living and exceptional education services…
A. Start the packing process early
The earlier you start getting your home ready to sell, the easier it will be when it's time to say your goodbyes. Start with packing up your family's most sentimental items likes pictures, gifts and souvenirs. You're putting it away so it's not staring at you day after day. You're not constantly reminded of what took place in your home as you're getting it ready for the market.
B. Change up the little things
By re-organizing the layout of your furniture or changing the paint in a room, you can start to detach some of the emotions you might have with the house. It's not constantly reminding you of your memories because it's not the same as what it was.
Related article
The capital city of the United States has a reputation for being a busy political and business hub, but there is a lot more to discover and enjoy for residents of this diverse city. Washington, DC is consistently ranked among Business Insider's and Niche's top 50 cities to live in, and there are…
C. Tune in on your next home
Stay focused on what you really want from your next home. Maybe you want to have that dream kitchen where you can cook wonderful meals to share with your loved ones, or that master bath where you can wind down at end of the day with a glass of wine in a warm bubble bath reading your favorite book.
Or, it could be that perfect backyard where your family can hang out on the weekend. You can entertain friends and family, grill out, share great stories, roasted marshmallows and S'mores at your cozy fire pit. The vision is clear!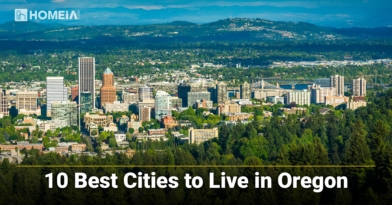 Related article
Oregon is a study in contrasts. It has 363 miles of the most breathtaking coastline you'll encounter anywhere in the world. But it also has dense forests, mountain ranges, and high desert country. Here're the 10 Best Cities to Live in Oregon…
D. Get out and about
Because you know what you want in your next home, give yourself permission to get out of the house. Maybe you can start by checking out the neighborhood you would like to live in. Check out what's nearby and how to work your way around to your favorite stores. You can browse for ideas by visiting new construction models for the latest market trends.
Check out staging ideas, new trends, paint colors, current styles of furniture, and so forth. Put together a "Favorites" list—maybe make a dream book—from your discoveries and plan to incorporate them into your new home.
Related article
Before considering your move to Boston, we have compiled a list of 7 key factors we put together for you. Boston life is about the best city life you can imagine. Relatively small, it's often referred to as the walking city, with world-class museums, universities, theaters, and gourmet dining…
Home Buyer
Why Home matters to the Buyer? It could be because of the precious memories they had growing up in their childhood home, or it might be the understanding that they haven't really had a "Home Sweet Home"—yet. With an opportunity to buy a home as a family, the home-buying journey becomes real, and Buyers are quickly attached to their vision of the ideal home.
Then, through the buying process, the attachment grows just like building a relationship. Often, when it's time to buy a home, Buyers will go through emotional moments as well. They will have excitement, attachment and disappointment as well as overwhelming moments and heart-breaking moments. As a Buyer, what can you do to help control some of these emotions?
A. Study the market
If you're working with a real estate agent, have your agent set up a search for you early, so you can pay attention to the market and the homes you think you like. Observe market activities and consider how they might affect you, such as the number of home styles you prefer, the number of active homes available in the neighborhoods you like, and the number of days it takes for the homes you like to have an accepted offer.
This way, when you are ready to go home shopping with your agent, you will have a good idea of realistic timelines, so you don't miss out on an opportunity that matters to you.
Related article
Before you consider a move to Chicago, you should consider 7 key factors that will increase your appreciation for the city and guide you to the right neighborhoods and activities for you…
B. Patience is the key
It's natural to feel excited when you have created your "must-have list" and you find a house that meets your criteria. The more you look at it, the more you build up that attachment that this is the one for you. You wanted to see it right away. You had your agent request a showing appointment ASAP.
The following are scenarios many Buyers encounter that can play with your emotions:
Scenario #1: At the showing, the house is not as it seemed when you viewed the online pictures—your first disappointment.
Scenario #2: Your agent calls back to inform you the Seller has accepted an offer and that's the first day it was listed on the market—another disappointment.
Scenario #3: Your agent showed you the home. You LOVE it! You had your agent complete a purchase offer, only to learn there are multiple offers received. Then, your nerves kicked in as your agent informed you that the Seller was calling for the Highest and Best from all interested Buyers. You had your agent re-submit the offer at a price point you felt was right and then learned that the Seller selected another offer. Your offer was not accepted. Your heart broke as you watched the house go to someone else—a big disappointment.
Scenario #4: This time, your offer was accepted because you learned and went above and beyond the asking price. During

the home inspection

, you learned of major issues that would come with the property or that the property did not appraise well. You were trying to make it work with the Seller and with your Lender. You felt overwhelmed at this point while fighting to get what you wanted. In the end, you lost out on the house—super disappointed!
All these things can and do happen, but don't take it out on yourself. It's not the end of the world. Keep a positive mindset and remind yourself that there will be other homes that will come on the market. You just need to give it time.
C. Listen to your agent
Your agent will be a good resource for feedback and opinion when you're unsure in your decision making. Seeking out their opinion will be beneficial as they have first-hand experience in your local real estate market. They probably will have a good idea of what works and what won't.
Often, a good agent will tell you things you didn't want to hear, but, remember—they are your advocate. They want to educate you so you can understand more about the market and the process of selling or buying. The more they educate and share with you, the easier it will be for you to make better, well-informed decisions toward your real estate goals.
Related article
Once a farming and milling community, Edina has blossomed into a preferred suburban city with all the most desired amenities. From upscale, boutique shopping and exquisite dining to consignment shops and casual bistros, residents and visitors are enamored with the…
Real Estate Professionals:
As a professional, we need to recognize the attachment our clients have with their homes and the emotional impact of going through the selling or buying process. Our job is to educate our clients in advance so they can understand the process and the market. The more informed they are, the better off they will be—and the happier they will be with their decisions and our services.
If your client feels that you've treated their most prized possession with care, that you understood the emotions they were going through, and that you were there to help alleviate the stress that was coming their way, you will truly be respected for a job well done.
When you enhance their real estate experience, you can count on them reaching out to you the next time they have a real estate need. Even better, they will send their friends and family your way for those real estate needs, too.
I hope you find this article helpful. If so, please share it on social media so others can benefit from it as well. Thanks in advance!
Related article
The Denver area is growing in population much faster than most of the country, increasing by almost 20% from 2010 to 2018. It's no wonder; it rates as the second-best place to live in the United States, according to U.S. News & World Report (2019). Here're 7 key factors you should know Before living in Denver Colorado…