How to Establish Credibility that Sets You Apart from Other Real Estate Agents
It used to be easy for a small number of real estate agents to make a living in each city. But, it's not the case today with many new agents entering the industry as we recover from the real estate market crash in 2008. Since it now takes just a matter of weeks for a new agent to get a real estate license, what should you do to establish a strong position in the market when most of them are tech-savvy individuals who can leverage the internet to their advantage?
In this article, I will lay out several important factors and show you how to leverage your resources and tools to position yourself competitively.
Before providing my recommendations, let's view some facts about today's market environment to give you a clearer picture of where you are.
Today, most people…
Use the internet to search for information they want before making the call or purchase.
Expect business' websites to be user-friendly no matter which computing device they are using to access the website.
Trust what other people share online (about their experience with products and services from providers) to make decisions on which provider to contact. In other words, today, online reviews play a critical factor in the decision-making process of consumers.
Have a harder time making decisions because there are so many options to choose from. Providers often appear to be as typical as the next one. For example, a person (let's call her Mary) looks online for a good realtor to help buy her a house. Many of the realtors Mary found online have good 4- to 5-star Google reviews and their corporate websites look pretty much the same. So, what other factors can Mary use to select a good real estate buying agent? Aha! That's a tough question.
Now the good news is that the process customers use to choose an agent is not always as simple as seeing a sign, printed ad, or billboard. Anyone of these encounters will not likely convince a person to choose that agent. With the internet at their fingertips, people often search online for information to educate themselves before deciding who to contact.
Therefore, to increase your chance of being selected, you must find ways to convince your potential customers (often before they even meet you in person) that you are an expert they can trust. To do this, you need to provide information that will be helpful to your future customers in their preliminary researching stage.
The more insightful your content is to them, the more they will value you as an expert. That is how you gradually gain their trust and set yourself apart from other real estate agents.
Related article
With year-round warm weather and over 8,000 miles of coastline, it's no wonder Florida is a prime vacation destination. Filled with wildlife, beaches, lakes, rivers, amusement parks, diverse entertainment options and much more, the population of Florida is growing with people that want to call Florida "home," soak up the sun…
So, to connect with your target audience at a more meaningful level while building credibility and setting yourself apart from other agents, here are the steps you must take:

Since customers are in complete control of how and when they engage with your content, you need to find out what types of stories and content will interest each persona before you even produce your content. Many marketers make the mistake of producing content first, then finding the channels to promote it. They "assume" these channels will be of interest to their audience.
That's like hopping into a vehicle, turning right at every intersection and "assuming" that the action of "turning right" will get them to the "right" destination. I know that paints a crazy picture, but you would be surprised to know how many people actually run their content marketing campaigns that way.
One way you can find out what content you should produce is to pay attention to the information your customers often ask for, from the beginning to the end of the real estate transaction process.
Besides the non-disclosed or confidential information, any real estate educational tips which you can legally share would do the trick because those are things customers are already letting you know they are interested in knowing more about. Why not provide that information to help solve their initial needs and begin to build some trust along the way, before your competitors do?
Related article
Given the outdoors benefits – the cost of living in Colorado is still one of the best values in the country. Here're the 10 most affordable places to live in Colorado, taking into account the cost of living, median housing price, average crime rate and other factors that make the place unique…
Another way is to create a simple four-question survey for your new customers. Ask them questions such as:
What information prompted you in your decision to contact me?
Besides the business name, what kind of information do you think a

real estate agent

should have on his/her website to convince you that s/he is knowledgeable and trustworthy?
What computing device did you first use to search for a real estate agent?
What type of content did you find beneficial while you were searching for information?
Overall, to effectively convince your potential customers to trust you as a provider, you need to understand them like they are your good friends. What are their needs? What information are they looking for? What's important to them?
You need to build a persona profile for each group of your customers (ex: first-time home buyers; first-time home sellers; commercial real estate investors, etc.). That way you can create the type of content which will strike a chord with each group; otherwise, you are just another average agent on the internet.
2) Produce educational content that helps each of your customer personas make good decisions that will benefit them.

When searching for information online, people only care about their benefits. So, to gain their attention and interest, you need to provide the type of content that's beneficial to them. It's important to demonstrate your expertise as well as your ability to understand their needs and wants.
With so much information available and only a mouse-click away, your customers have a lot to choose from. Businesses that win new clients today are those that effectively convince viewers (via customized content) and prove to potential customers (via online reviews) that they understand the needs and wants at every turn of the customers' selection and comparison process.
The sales-pitch content of yesterday's marketing approach has been downgraded to spam. People have learned to ignore it. Therefore, the new standard is to be exceptional, not just professional or "listed." Every licensed agent can claim professionalism online but few can convince and demonstrate how exceptional they are in the eyes of their clients.
Remember, customers already believe that many real estate agents can help them buy or sell property. Who they finally choose depends on the quality of the agent's content. Does it convince them (even before they meet you in person) that you are an experienced professional who can be trusted to provide a much better experience than the others?
Ultimately, that is what will differentiate you among other agents when web presence is the first medium they encounter.
Related article
We assessed the cost of living across Californian cities and compared them to the national average. The cost of living is calculated based on 5 main categories: housing, food, healthcare, transportation and energy. Based on these calculations, we narrowed down the list to California's 10 most affordable cities…
3) Establish a professional mobile responsive website for YOU.

Getting a qualified visitor to your website is difficult enough already. Not making the best impression through your website is just plain average. Many agents are just counting on their corporate agent web page to make a good impression with potential customers, not knowing that customers have raised their expectations.
Customers today expect a professional looking website that is user-friendly and provides the helpful information they are looking for. If your site doesn't meet their expectations, customers will value you less as a provider.
Remember, on the internet, "not judging the book by its cover" doesn't work. It's just the opposite with people "judging" businesses and professionals online, every day. Indeed, the internet has turned many conventional beliefs upside down in the last decades, as I'm sure you've noticed.
Besides, why would you want to invest all your time, effort and money building your house on rented property? A corporate real estate web page is just that. Yes, you can use it for business purposes, but don't count on it exclusively. What happens if one day that web page is no longer available to you? You have no control over it. Investing in a website that you own and have control over changes and updates is the best approach.
I know some of you may ask: Well, I'm one of the real estate agents in my group of many who already relies on our corporate team web page for business. Would setting up my own personal website on the side and investing in promoting it make sense?
Related article
If you are being transparent with your team about it, that is THE investment you should do for yourself. What happens if one, 2 or 3 years down the road you are no longer in that group, or even with that corporation? What if you have moved to another company as an agent or gone out on your own? Most of what you invested in on that previous "rented" web page is gone.
Also, if you look at it from the Search Engine Optimization (SEO) standpoint, if each of your team members built a simple website for themselves, then each agent would produce and promote content in their respected field and crosslink their content with other websites (including your corporate team web page) to help educate potential customers.
All your team members' personal websites would score high in authority and relevancy with search engines like Google.com and Bing.com.
Even better, if you have more than a decade of experience in your trade, make it shine on your personal website. And best of all, gather all those great testimonials your clients had given you over the years and post them on your personal website.
Combine these two tactics with producing the relevant content as suggested earlier, and you will create a praiseworthy profile that will stand out far better than any new agent in the field. Just remember, the website you own 100% is your online real estate that you should invest in and you can count on.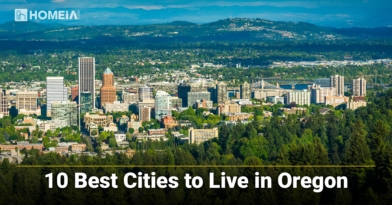 Related article
Oregon is a study in contrasts. It has 363 miles of the most breathtaking coastline you'll encounter anywhere in the world. But it also has dense forests, mountain ranges, and high desert country. Here're the 10 Best Cities to Live in Oregon…

Content marketing has been around for a long time, but the medium that really gives it a turbo boost is social media. Unlike TV or print ads that "push" their messages out to the audience (and most of the time to everyone, which is inefficient), social media allows your content to be "pulled in" by the right audience when promoted on the right channels.
Thus, social media is the best tool for permission-based marketing, which is the new standard for today's effective marketing campaigns.
Many of you are already utilizing a few of these social media channels to some degree, but to really maximize results you must integrate them with a well-planned content marketing campaign. The best approach is to hire a website design and marketing firm that is knowledgeable about the industry to help you plan and execute the campaign.
They will use social media to help share your content beyond your personal website. Keep in mind that these social media web pages are also rented properties. You use them in conjunction with your personal website to help amplify the content on your website, not to replace it.
By being aware of the factors discussed above, you've already won half the battle. The other half of the battle is for you to take action on the things that will position YOU as a credible real estate agent. I hope you find this article helpful. If you do, please share it and visit our Real Estate Marketing page for future articles that will be beneficial to you. Thanks!
Related article
The popularity of the waterfront can mean high housing costs and consumer prices. Luckily, for those willing to look past the likes of Malibu and Venice Beach, there are plenty of scenic spots along the country's lakes and oceans where retirees can make a nice home even with a reduced…