Considerations for Buying an Existing Home or New Construction
Buying a new home is a truly exciting time and offers many options to consider. Houses come in all styles of architecture, siding and roofing choices. They also come with a variety of neighborhoods and school districts. There's the option of buying a single-family home or multi-family home for additional rental income. Choices can include a traditional single-family home, townhome or condo living. You can also buy new or existing construction.
In this article, we'll discuss some of the differences between buying an existing single-family home or new construction. I have experience with buying both, and we'll discuss factors that I found interesting with each type of home purchase. Choices await you, from new homes to turn-of-the-century homes and everything in between. You can let your personality and preferences shine as you decide on the style that suits you best. Let's make a few comparisons.
1. Quality construction

If you are buying an existing home, you might know who the builder was and find out more about the reputation and reliability of their homes. This could influence your decision to buy, if, for instance, the builder became noted for cutting corners and eventually went out of business.
For most people, quality construction is at the top of their list once they think about it. Naturally, we would prefer a home that is well built and up to code. Your home inspector can give you a professional opinion on the condition of the home.
When looking at new construction, you will know who the builder is and can check reviews and search for information on the quality of their craftsmanship and products. If the home is well built, the value will be there. The home should appreciate nicely, and you won't have repairs to make because of improper construction techniques. You'll want a reputable contractor with a solid history of home building who will be around to honor the home warranty.
If the home is currently under construction, you can hire a home inspector to check on major phases of construction for an impartial, outside opinion. If the home inspector notices poor construction methods, you can address it with the builder before it's too late to make corrections.
For instance, if the insulation is inadequate, you might pay more for utilities. Or, if the house wrap is partially missing or improperly taped, especially around the windows, you may have leaks and water damage. If some components don't meet code, you could have an electrical or other safety issues.
Related article
The capital city of the United States has a reputation for being a busy political and business hub, but there is a lot more to discover and enjoy for residents of this diverse city. Washington, DC is consistently ranked among Business Insider's and Niche's top 50 cities to live in, and there are…
2. Location and neighborhood

Location is always important, and a primary consideration should be your preference of neighborhood. Look at several to see which fit your idea of a good place to call home. Once you've found a few possibilities, look at the lots to see if certain locations within that neighborhood suit you better than others. For instance, some people like to be on the main street, others like a corner lot, and some prefer a cul-de-sac.
When looking at existing homes, you will likely find the advantage of mature trees and beautiful landscaping. You will see what it looks like and if it meets your criteria for a welcoming location. You can also walk or drive through it at various times of day to see what activity goes on there.
New construction carries with it some unknowns. In one development, I was the first person to purchase. I saw a drawing of what the neighborhood would look like, but didn't really have an accurate picture of how close the homes would be or how much green space would be available. I wasn't sure about the trees and shrubs that would be planted or what size they would be.
The other adjustment was the constant construction noise and dealing with dust and dirt for a year or two until the area was built out. Only you know if you can overlook those things or not.
When a neighborhood is being built, you also don't know what type of neighbors you'll have. Will there be families with children and pets, or will you have mainly young professionals or retirees? If you have clear preferences, you might not want to be the first one to buy.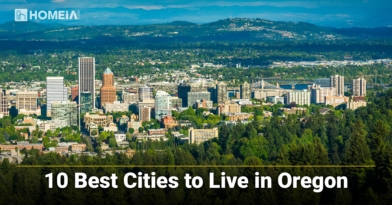 Related article
Oregon is a study in contrasts. It has 363 miles of the most breathtaking coastline you'll encounter anywhere in the world. But it also has dense forests, mountain ranges, and high desert country. Here're the 10 Best Cities to Live in Oregon…
3. Efficiencies, size and style

Existing homes offer a lot of choices regarding size and style. If architectural style is important to you, you can ask your realtor to look specifically for that type of home within your preferred neighborhoods. You can also voice your preference for square footage, number of bedrooms and bathrooms, size of the garage, etc.
While looking at existing single-family homes, you will notice whether they have been updated. If so, were those upgrades done professionally, by a talented DIYer or a not-so-handy DIYer? You might also notice issues with previous water damage or cracks in the walls or ceilings. In the end, a professional home inspection would provide key information for your decision-making process.
A newly constructed home should be up to code and could offer advantages such as more bathrooms, closets and storage, stronger water pressure, central air, or a more efficient heating system. The windows and insulation might be more efficient, and the layout might provide a comfortable flow and adequate space for privacy as well as entertaining. Most of these choices depend on your list of priorities for making it a home. Refer often to your list of most-wanted features.
4. Move-in condition, repairs and remodeling

Buying an existing home can mean many things. If the home is lovely and move-in ready, that makes it simple. You can move in without a lot of fuss since changes and updates aren't needed. It sounds great, but might not be totally true because people have different preferences for colors, textures and flooring. There still might be changes on the horizon.
Then, there are existing homes that need work to some degree. The extreme cases are those labeled "fixer-uppers" or being sold "as-is" because a lot of work is needed. If you are a buyer who likes to repair and remodel, these homes will work for you. It could be a DIYer's dream. If you make significant renovations, it will mean you're investing in sweat equity, improving the property and increasing the value of the home. Good for you!
Those who have remodeling experience will tell you that there is usually a continual dust pattern and the house is a mess. You can reduce the stress somewhat by working on one room at a time or one type of project at a time.
Carefully consider the extent of your intended upgrades because improvements beyond the average home in your neighborhood might make it difficult to sell your home at value when the time comes. I made that mistake once, and yes, it finally sold at a good price, but it wasn't easy.
Related article
Before you consider a move to Chicago, you should consider 7 key factors that will increase your appreciation for the city and guide you to the right neighborhoods and activities for you…
For those who don't like home improvement projects, it's best to hire that work done, or buy a home in move-in condition. For all upgrades and updating, make an estimate of how much it will cost to make the necessary changes whether doing it yourself or hiring a professional. Home improvement projects seem to take longer (and cost more) than expected. Schedule the work at a time without too many external commitments so it doesn't get too stressful.
With new construction purchases, you are definitely finding a home that will be move-in ready. If you don't like the added commotion and mess, this will be a plus. You won't be living with someone else's old carpet, pet stains, or smoke damage.
With your purchase, you might have also made some custom upgrades for flooring, appliances and selected special bath features, colors, doors or cabinets. Everything is fresh and new, comfy and cozy, as soon as the boxes are unpacked.
Related article
Before considering your move to Boston, we have compiled a list of 7 key factors we put together for you. Boston life is about the best city life you can imagine. Relatively small, it's often referred to as the walking city, with world-class museums, universities, theaters, and gourmet dining…
5. Calculate your true cost

In the case of an existing home, you might think you will pay less than for new construction, but not always. I once ended up buying new because it was actually less expensive than the existing homes on the market. There are many contributing factors, especially the location and size of the home. One neighborhood can be priced much higher for the same style of house that sells for less in another area.
When buying a home, the price seems straightforward. Just look at the listing. However, it soon becomes evident that there will be other costs. Typical costs for any home might be the mortgage payment, insurance, taxes, utilities, lawn care and snow removal if in the snow belt. When buying an existing home, you can get a good estimate of taxes and utilities by checking available information, and your insurance agent can calculate premiums.
The typical existing single-family home will require maintenance, updates and repairs. Make a list of these projects, when they would need to be done and what they would cost. See if that works into your budget. These expenses can add up quickly. If major repairs or replacements will be needed, you need to have a plan.
Upgrades and updates will bring you joy while living there, and can add value to the home, build equity and make a profit when you sell. That's making the most of your investment!
Related article
Seattle is a beautiful port city on the Puget Sound in the northwestern U.S. state of Washington, 100 miles south of the Canadian border. As the largest city in the state (and the Pacific Northwest for that matter), Seattle is heavily endowed with natural resources. This hilly city earned…
The newly constructed home may cost more than the existing home, especially if it's in an upscale neighborhood, has more square footage and energy-efficient or time-saving features. Work with your mortgage professional to find a payment schedule that makes financial sense for you. Maintenance and upkeep should be minimal since everything is new. You may not have an accurate idea of the cost of utilities or taxes, so you'll have to make an educated guess.
Buying a single-family home that will complement your lifestyle takes careful consideration of what's most important to you and your family. Knowing your priorities will help you compare the advantages of an existing home with new construction.
Decide ahead of time whether you are interested in repairs and remodeling or if you prefer a home in move-in condition. Calculating the true cost of ownership will create a better understanding of how it will affect your finances, lifestyle and overall contentment.
If you have enjoyed this article and gained ideas for comparing new construction with existing homes in your single-family home search, please share it with a friend who might also benefit. Thank you!