Buying Single-Family Real Estate Investment Properties
Real estate investing is a fascinating topic and a successful investment strategy for many people. As with most endeavors, the more information you have and the more carefully you apply that information to your set of circumstances, the better for you.
Residential real estate investing can be a great source of income and cash flow for those who understand the process. This article will likely interest you if you've been thinking about how to get started in real estate ownership or if you've already taken action and set goals for future opportunities.
Today, we are talking with a leading residential realtor in our second interview of a three-part series. The first article discussed views on purchasing properties for use as rentals, especially duplexes. This article delves into the same topic with a slant on buying single-family homes for investment purposes.
We are speaking with Tim Kindem, a Minneapolis residential Realtor with Keller Williams Integrity Lakes, who works with clients to locate and purchase properties that enhance their investment portfolios and supply an additional source of income. Let's invest a little time.
Tim, thanks for talking with me again today. I learned a lot in our first discussion about real estate investing with the emphasis on duplexes. Today, I'd like to know more about buying investment properties, especially single-family homes.
Question: Are you ready to help us gain a deeper understanding of the potential, process and possible pitfalls?
Answer: Absolutely. Thanks for the opportunity. As a full-time realtor, I enjoy sharing my views on real estate and working with clients to buy and sell. Those who are interested in buying houses as investments are usually goal-oriented and crave information and education. Investing can be challenging, yet fun and exciting, as you grow into it and see progress toward your goals.
Related article
Seattle is a beautiful port city on the Puget Sound in the northwestern U.S. state of Washington, 100 miles south of the Canadian border. As the largest city in the state (and the Pacific Northwest for that matter), Seattle is heavily endowed with natural resources. This hilly city earned…
Q: You've mentioned that you own many properties and help others buy for investments as well. It seems that buying a single-family home for rental purposes is a different animal than buying a duplex. Can you explain how it differs?
A: There's an adage that says you make money when you buy a house. The translation is that you want to buy at a good price (as low as possible) and the equity should already be there for you. Then, in good times, the value just keeps building. The issue with single-family homes is that buying at an extreme discount is a challenge. You are competing with owner/occupants who are willing to buy at a higher price.
When buying a duplex, there is generally a smaller pool of buyers who want to live in a duplex or multi-family building, so the opportunity for finding that attractive price point is more likely.
Q: Let's start on the bright side. What are some possible advantages to buying a single-family home to rent out?
A: One advantage is that there won't be the hassle of a splitting of utilities as is often the case with a duplex. With only one meter, the owner isn't stuck paying the bill. That would be the renter's responsibility.
The other good thing is that in a single-family home, the utility bill follows the person, so when they move out, there's no liability there for the owner. The exception is the water bill, which stays with the house. The owner can include water in the rent or invoice the tenant who would then have the chance to reduce usage to lower the bill.
Another possible advantage is that you are more likely to have the type of tenant who is interested in staying a long time. This situation can save on turnover costs between renters, such as repairs, cleaning, painting, etc. This helps your bottom line. On average, a duplex would be expected to have shorter-term tenants.
Related article
With year-round warm weather and over 8,000 miles of coastline, it's no wonder Florida is a prime vacation destination. Filled with wildlife, beaches, lakes, rivers, amusement parks, diverse entertainment options and much more, the population of Florida is growing with people that want to call Florida "home," soak up the sun…
Q: Is it harder to gain sufficient cash flow from a single-family property?
A: It certainly could be. When you pay a higher price for the house, which is usually the case for a single-family home, cash flow becomes more difficult. You need to be particularly meticulous with financial projections and planning. If you want a safe investment (which real estate can be), you can put a lot of money into it up front and make it cash flow.
Q: How can you make this type of investment work?
A: The beauty of real estate investing is the leverage factor. The lower the price, the better the return on your money as the house increases in value. Simply stated, the more money you put down on the house, the easier it is to cash flow. An example would be the person with extra cash who puts down 50% or a large down payment. Some investors with a self-directed IRA are pleased to find out that they can use that money to buy rental property. Paying cash also works.
It also depends on the location and many other factors that will affect the numbers. One option is to buy a house that can be improved. You're likely to get a higher return in the long run. If you make significant improvements, you can also charge more for rent.
The caveat here is that fixer-uppers are in high demand, and there's a lot of competition. You can work around that by being proactive: find opportunities early and be ready to take action. Working with a realtor skilled in investment properties will help. There's no time to waste, and there are generally multiple offers. Since it's a blind bid (not an auction), make sure your best offer is on the table at the right time.
On the other hand, as odd as this sounds, some sellers of single-family homes will take the first offer. It's always advantageous to be first. Some sellers just want to get the deal done. They don't want the stress or the hassles. There are cases when they don't even make a counteroffer. You need to be prepared for whatever comes up.
Q: Are there other sources than the typical MLS listings that can lead to a purchase?
A: A well-connected real estate agent will also hear of homes coming on the market through networking or their customer base and can help clients buy homes that are not yet on the market. Some sellers don't have the time or desire to jump through hoops and don't want to prep the house. They are ready and willing to make a deal, which is good news for a serious buyer.
Some agents also subscribe to a wholesaler list which features homes that are for sale but not on the MLS. There can be many reasons for owners choosing this option, and the bottom line is that the owner doesn't want it to go on the market but wants it gone. These owners are usually willing to take a lower price to get the deal done. For whatever reason, disposing of the property is more important to them than the money.
I feel a need to note that, although these additional sources are helpful, they are by no means guarantees. In fact, the number of potential homes added into the mix with these strategies is still very small compared to the MLS opportunities. In reality, they might only add a handful of possibilities for any one client in the course of a year.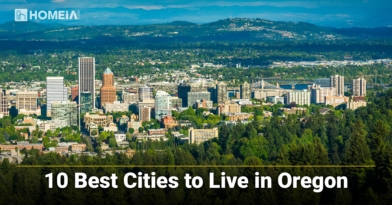 Related article
Oregon is a study in contrasts. It has 363 miles of the most breathtaking coastline you'll encounter anywhere in the world. But it also has dense forests, mountain ranges, and high desert country. Here're the 10 Best Cities to Live in Oregon…
Q: Is it a workable or successful strategy to live in a single-family home, then buy another and keep the first one as a rental property?
A: For sure! That's how I got my start as an investor. I did it with my first home, and it changed my life, multiple times! You can also refinance and cash out, then buy another investment property, and repeat. Using property wisely means knowing the numbers. It's a great strategy if you're comfortable with it. You can also take it a step further. You can move in, fix it up while living there, increase the equity and get even better returns.
We have options. When you have equity in a house, you may think you need to sell it to get the equity out to buy the next house. There is another option. You can do a cash-out refinance. It's a tax-free event, which is a miracle. You are not taxed on that house, and you'll still have equity.
Here's a classic book that goes over some of these options: How I Turned $1,000 into Five Million in Real Estate in my Spare Time by William Nickerson. When working with my clients, I discuss strategies with them, so they can understand the process, visualize the results and decide what makes sense for them.
Q: What makes first-time investors nervous about the commitment or transaction?
A: As a buyer, you should always ask what your biggest pitfall or apprehension is in owning this home or next. A big anxiety for many people is unseen, unexpected maintenance issues. Things will happen. However, the home inspection will let you know what could go wrong. You can also get a home warranty or service-plus option from the utility company to help protect you.
What I've seen is that people tend to get resourceful when investing in a home. Those unforeseen occurrences might not be a picnic, but people generally figure it out and learn something new.
Related article
Q: How do you build their confidence?
A: The more information you have, the more confident you will be. Planning and financial forecasting help. I remind people that you can back out of a bad deal, and you can safeguard yourself when you do make the deal. Make sure the home is inspected. Bring in as many people as necessary to look at the property, so you feel comfortable and confident about it. For added assurance, purchase a home warranty or service-plus agreement.
Q: Are there certain approaches or mindsets that are helpful for investors actively looking for properties?
A: I find that there are more opportunities for investors who are willing to be flexible with location. If they want to find a property in a very specific neighborhood of a specific city, it can take a very long time. However, if they are open to a few different zip codes, the whole metro area, or even a ring or two beyond that, they have far more opportunities.
The key is to have a plan for managing it if it is far away, but if they can account for that, there's an opportunity where others might not be willing to go.
Related article
We assessed the cost of living across Californian cities and compared them to the national average. The cost of living is calculated based on 5 main categories: housing, food, healthcare, transportation and energy. Based on these calculations, we narrowed down the list to California's 10 most affordable cities…
Q: If you could make some generalities, what type of investors are best suited for buying and renting single-family homes?
A: There are some good opportunities available.
1. Someone who has a good amount of cash to put down will have a much easier time with cash flow.
2. Cash investors who want a safe spot are interested in these transactions. You can buy with an IRA or Roth IRA, and that's a golden opportunity. It will cashflow if you pay cash. Then, it's just a matter of finding the right property.
3. As a first-time home buyer, it doesn't mean you can't rent out a room or two to friends. They could think of it as their house for 29 days of the month, and your house for one day a month (when they pay you the rent). This is a great idea that helps people get started in real estate investing.
4. Someone who is handy will be able to gain greater returns by exercising some elbow grease and making improvements.
Note: If you want a plug and play with little money down, it's very challenging to do with a single-family home purchase in the current seller's market, as of Feb. 2018.
Q: Do you have a few words of wisdom for new landlords?
A: I would suggest they do due diligence with property managers. Test them out month to month until you find the right one. A good property manager is as important as a good tenant. Sometimes, it's difficult to deal with tenant issues, especially if you have a big heart. It's good to let an expert handle it for you.
Also, be sure you understand the rules for screening tenants. You need to be compliant. Education is always a good thing. Be a student of the game. Read real estate books for landlords. Study up on legalities and pick up tips from other investors and real estate investing professionals.
Q: I've always wanted to know how realtors work around their clients' schedules and keep a healthy work/life balance. What's your secret?
A: Yes, realtors need to work around their clients' schedules, and it takes a little time to figure it out. Part of it is understanding that you can have a workable balance even though it might not be perfectly balanced like a see-saw with equal weights. During busy seasons, it's heavy on one side, and at other times of the year, it's heavy on the other.
Winter is easier, we can take some trips, I can make it home for dinner, and even prepare dinner. Other times, there's more work, more showings, and I get home late.
It helps if you really enjoy your work and your clients, and if you have a supportive family and friends who understand that sometimes you can kick back and relax and other times, not so much.
Q: In our last interview, you gave us a list of books that are helpful. Are there others that you would recommend?
A: There are always more books!
1. How I Turned $1,000 into Five Million in Real Estate in my Spare Time by William Nickerson
2. Hold: How to Find, Buy, and Rent Houses for Wealth by Chader, Doty, McKissack, and McKissack
3. Cashflow Quadrant: Guide to Financial Freedom by Robert Kiyosaki
4. Landlording on Autopilot by Mike Butler
Related article
If you have the flexibility to move anywhere in the U.S., where could you buy the cheapest home? After examining data from Zillow and World Population Review. Here're 10 most affordable States in the South and the Midwest to consider when buying a house in 2024…
Q: What other advice do you have for first-time real estate investors, especially those who might want to rent out their single-family home?
A: It starts with getting inspired. Because I am fascinated with real estate, I'm happy to help mold someone, but anyone will be best served by reading some good books. The Rich Dad books are great. My best advice is to get fired up. Get focused. Set priorities and a game plan for the future, even though you may need patience. You don't need to know everything, but you want to make sure your first step is made with confidence and good judgment.
Thanks, Tim! This is a treasure trove of great information for those of us interested in real estate investing. We now have some ideas about the differences between buying and renting a duplex and a single-family home, and you've given us some great pointers on what to consider and what type of planning we should do for better results. Once again, thanks for your time, thoughtful responses and your recommendations for exceptional books that will help us learn even more. I can see that the learning never ends (which is a good thing!).
If you've gained a deeper appreciation for real estate investing and developed a desire to learn even more, please share this article with a friend who might also benefit from it. Happy investing!