7 Home Insurance Tips for the First-Time Home Buyer
Buying your first home is one of the biggest financial steps you'll ever take. Becoming a homeowner is a great way to build wealth, and it allows you to set down roots, but it also brings on new financial responsibilities.
One of the most important responsibilities for a new homeowner is to make sure that your home is properly insured. Unfortunately, this can be complicated.
When you're considering homeowners insurance, you want to get the right coverage from the best provider, and at a good price. But how can you figure this all out?
To help you get the coverage you need while staying within your budget, here are a few key tips for you to follow.
1. Don't Wait to Buy a Policy

When trying to buy a house, a common mistake that first-time home buyers make is thinking they don't need to buy coverage until after they've moved into their new home.
Most likely, though, the bank giving you a mortgage will require proof of insurance before you can close on your loan. That means you'll need to have an insurance policy in place before your closing date—which is when you sign all the paperwork and the home becomes yours.
It takes time to shop around for a policy and obtain the necessary coverage. If you wait until the last minute, you could end up scrambling to get insured and provide the proof your bank needs to close on your loan. Don't put yourself in that position. Start shopping for coverage as soon as you have an accepted offer on the home you're buying.
Related article
Once a farming and milling community, Edina has blossomed into a preferred suburban city with all the most desired amenities. From upscale, boutique shopping and exquisite dining to consignment shops and casual bistros, residents and visitors are enamored with the…
2. Shop Around for an Insurance Provider

Another common error is assuming that all insurers are the same. There are actually big differences in terms of cost, coverage limits, and customer service. Shopping carefully among different insurance providers will help you find the best deal.
There are small insurers and large insurers, as well as national insurers and regional insurers. No single insurance company is right for everyone, so be sure to research all your options.
While you'll certainly want to know the price of the policies each company offers, it's not a good idea to choose an insurance policy based on price alone.
Policies vary in several areas, including their premiums (annual costs), deductibles (the amount you pay out of pocket when you file a claim), and coverage (what items are insured and what causes of loss are covered).
Cheaper policies may have coverage exclusions or high deductibles, or the insurer may have a poor record of customer service.
Check with the state insurance commissioner to find out if a company you're considering has had complaints, and review the company's Better Business Bureau ratings.
By taking the time to compare policies, prices, and insurers, you can get the right coverage without paying more than necessary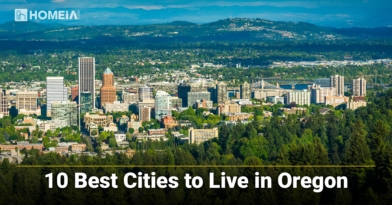 Related article
Oregon is a study in contrasts. It has 363 miles of the most breathtaking coastline you'll encounter anywhere in the world. But it also has dense forests, mountain ranges, and high desert country. Here're the 10 Best Cities to Live in Oregon…
3. Look into Discounts for Bundled Coverage

One way you may be able to save is by bundling multiple policies with the same insurer. For example, some home insurance companies offer discounts if you buy both home and auto insurance from them.
Ask your current car insurance provider if bundled discounts are available. You can also compare prices on both home and auto coverage when shopping around among different insurers. It may be worth moving your auto insurance to a new company if you can get a better deal on the bundle.
If you have additional policies, such as insurance for a business you run, see if you can bundle them, too, in order to get the very best deal on all your coverage.
4. Get All the Coverage You Need to Protect Yourself

When you buy insurance for your home, you're purchasing a policy to protect what's likely to be your most valuable asset. It's imperative you have sufficient coverage in case of disaster. That means you need to understand how coverage works and get a policy that can truly protect you.
Homeowners insurance provides two types of coverage: property damage coverage and liability protection.
Property damage coverage pays to repair or replace your home or the items within it in the event of a disaster.
Liability coverage pays for lawsuits against you if you're sued because someone is injured on your property—by falling down the stairs, for example, or being bitten by your dog.
You will need property damage coverage not just for the home itself, but also for everything in it. You don't want to pay out of pocket to replace every piece of furniture in your home if is lost in a fire or robbery.
Don't forget coverage for highly portable items that could be subject to theft, such as electronics and jewelry.
Related article
With year-round warm weather and over 8,000 miles of coastline, it's no wonder Florida is a prime vacation destination. Filled with wildlife, beaches, lakes, rivers, amusement parks, diverse entertainment options and much more, the population of Florida is growing with people that want to call Florida "home," soak up the sun…
When you buy your property damage coverage, you may also have a choice between market value coverage or replacement coverage. Market value coverage pays what your possessions and home are worth at the time they are lost. Replacement coverage costs more, because it covers the rebuilding of your house or the replacement of your possessions with brand new items. It's usually best to have replacement coverage because the market value of your belongings may be well below the actual cost to replace them.
Finally, make sure you understand policy exclusions. For example, many standard homeowners insurance policies won't pay for damage from a flood. So if you're in a flood zone and want your home to be insured against flood damage, you'll need to add a separate flood insurance policy.
Related article
5. Improve Your Credit Before Shopping for a Policy

Your credit score can impact how much you will pay for homeowners insurance. You can pay a higher premium if your credit score is low, so try to improve your score before buying a policy. Improving your credit score can also help you to get a better rate on your mortgage and more favorable loan terms.
You can improve your credit score by paying down existing debt so you use less of your available credit and develop a positive payment history. If a late payment is reducing your score, you could potentially improve it by calling your credit issuer or sending a goodwill letter asking them to remove the late payment from your record. They will usually do this for you if you've since proven you can consistently pay on time, or if it was a one-time occurrence.
It can take time to improve your credit score, so start working on building credit early if you want to buy a home.
6. Don't Ever Let Your Coverage Lapse

Finally, it's imperative you maintain your insurance coverage at all times after buying a home.
You may agree with your lender to make your mortgage payment slightly higher than the actual cost of your loan. The extra funds are held in escrow by the lender in order to cover property taxes and insurance.
If, on the other hand, you do not have an escrow account and pay your own premiums, it is critical to make sure your policy stays active.
Letting your policy lapse could lead to financial disaster; not only would you be unprotected if something went wrong, but your mortgage lender could also purchase force-placed insurance if your coverage is insufficient. Force-placed insurance is typically very expensive, but your mortgage loan terms will require you to pay it if you have allowed your coverage to lapse.
Related article
No matter your reason for considering relocating to Los Angeles, you will find a lot to love in this sunny, warm, sprawling, diverse city. In this article, we will give you a feel for L.A.'s standard of living, climate, housing, education and more. Here are 12 Key factors you should know before moving to Los Angeles, California…
Protect Your Home with the Right Coverage

Shopping for insurance is an essential step in the mortgage loan process. Insurance protects your investment and ensures that a disaster won't mean financial ruin.
With these tips, you can find the right policy so you can have the peace of mind of knowing you're protected should disaster ever strike.
Related article
If you have the flexibility to move anywhere in the U.S., where could you buy the cheapest home? After examining data from Zillow and World Population Review. Here're 10 most affordable States in the South and the Midwest to consider when buying a house in 2024…