What is the difference between a Real Estate Agent and a Realtor? And what is Real Estate Broker?
You've often heard these 3 titles for real estate agents, and while they all can help you buy and sell a house, there are differences that distinguish them. Let me clarify them for you:
A real estate agent:
Is a licensed saleperson who has taken and passed all required classes as well as the real estate agent's exams in the state where he or she wishes to practice their license. The agents are sometimes also referred to as saleperson, real estate consultant, real estate associates or professionals. This is where most real estate professionals begin their career and many are content to remain at this level during their years in real estate sales.
To conduct business, a real estate agent must have an independent contract with a real estate broker or brokerage, who is ultimately responsible for that agent's actions. Real estate agents are not qualified to open and operate a real estate office of their own until they meet certain criteria.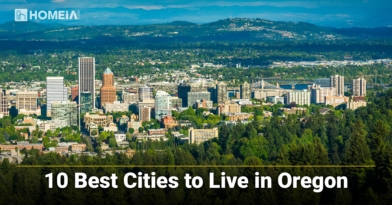 Related article
Oregon is a study in contrasts. It has 363 miles of the most breathtaking coastline you'll encounter anywhere in the world. But it also has dense forests, mountain ranges, and high desert country. Here're the 10 Best Cities to Live in Oregon…
A real estate broker:
Is a real estate agent with an active license for a minimum of three (3) years, who took his/her career to the next level by completing additional required education and passing another set of examination required by the Department of Commerce. Requirements can vary by state. Once passed, this allowed the individual to exercise his or her broker license if he or she wishes.
They can continue to practice within the same brokerage they're currently at or venture out and open, operate, and own their own brokerage as well as contract other real estate agents (above) or licensed brokers to work for him/her. The primary duties of a real estate broker is to supervise his or her real estate agents to maintain the best practice serving the consumer while representing the company.
A realtor:
Is an active real estate agent or broker who is a member of the state and local real estate board affiliated with the National Association of Realtors (NAR). To be a realtor, the real estate professional must agree to uphold the association's code of ethics and conduct and will be governed by the rules and regulations of the NAR.
It's good to know the definitions of these titles, but they should not matter too much to you because all of the above professionals can help you buy or sell a house. What really matters is local experience and integrity.
A real estate agent with 12 years of local experience in a specific area could be much more qualified than a newly licensed broker with little experience. Clearly, a real estate professional's reputation is also important since he or she will be representing you and assist you with a significant transaction that will impact your future and your finances.
Related article
Before considering your move to Boston, we have compiled a list of 7 key factors we put together for you. Boston life is about the best city life you can imagine. Relatively small, it's often referred to as the walking city, with world-class museums, universities, theaters, and gourmet dining…