Flipping House Basics: 3 Steps to Flip a House for Sale
Welcome to your new career: Flipping.
No, we're not talking about resurrecting those high school tumbling skills and sending you out on tour with Cirque du Soleil. We're talking about buying and selling real estate; for profit.
The term 'flipping' is normally applied to the business of buying and selling single-family homes. However, the basic principles of flipping house could be applied to any form of real property, including land, commercial properties, and multi-family residential properties. The reason flipping usually involves only single-family homes is that;
A. Most people have a basic understanding of the residential real estate market. The commercial, raw land, and multi-family markets are more specialized, and for that reason, a bit more difficult to navigate around in for novice real estate investors.
B. The residential market has liquidity. It has ongoing demand built into it. An investor who buys and sells houses is assured that once s/he is ready to put one of his properties on the market for sale, there will be a pool of ready buyers to market the property to.
Oh, and by the way, flipping house can be very lucrative, if done right.
Step #1: Flipping – Getting Started
Flipping real estate is a full-time career for some. It could be a way to finally turn in that timecard and work for yourself. But it won't create income right off the bat. You may need to keep that job for now and begin your flipping career part-time, on evenings and weekends.
It also wouldn't hurt to have a little savings in the bank to fall back on, if needed. If your spouse works and brings in a full-time income, perhaps the two of you could live off of it until the real estate money starts to roll in.
Along with having a source of income in the beginning, flipping is also going to require some seed money. How much seed money will be determined by the price levels you're going to be targeting and how you structure your financing. If you're targeting the low end of the residential market, you'll need less seed money.
It would also be helpful if you have some personal abilities that can be tapped for the rehab. If you're an experienced gardener or landscaper, for example, that knowledge and skillset can be applied. Perhaps you can do some of the work yourself. If not, you know how to direct your landscaping crew. The same goes for carpentry skills, plumbing skills, painting skills, and any other skill or experience that directly applies to your rehab and flip.
Related article
Houston, Texas is a vibrant city with much to offer. U.S. News & World Report ranks Houston #30 in its Best Places to Live assessment and #26 in Best Places to Retire. There's much to love about this southern city, nicknamed Space City in the days of the NASA Manned Spacecraft Center…
But the most important personal quality needed for success in flipping is imagination. Your investment property is a diamond in the rough. When you buy it, it's an ugly duckling. You need to have the imagination to be able to see its potential; what it can become, with a little work and a little investment. In the business of flipping, imagination is what separates winners from losers.
Most people begin their real estate investing careers on a part-time basis. This is often because there are unavoidable time factors involved in flipping a house. On average, it takes about six months; 180 days to flip a house, from the day you begin looking for your investment property, until the day you ultimately close on your sale. The process has three general stages:
A. Identifying a great investment property and buying it.
B. Making the needed renovations to the house in order to raise its market appeal and value
C. Listing the property for sale and closing on the sale.
Each of these stages needs to be completed in the shortest amount of time possible. In the flipping business, like all other businesses, time is money. The sooner you complete the purchase, rehab, and sale of your investment property, the sooner you can move onto your next profitable project.
Related article
With year-round warm weather and over 8,000 miles of coastline, it's no wonder Florida is a prime vacation destination. Filled with wildlife, beaches, lakes, rivers, amusement parks, diverse entertainment options and much more, the population of Florida is growing with people that want to call Florida "home," soak up the sun…
Step #2: House Flipping Formula
A. Buying: Buying your investment property is the most important step in the flipping process. You need to buy smart and buy cheap. Sam Walton, founder of Walmart and Sam's Club, was one of America's greatest entrepreneurs ever. According to Walton, you make money when you buy. Smart buying is the key to successful selling. Walmart's entire business model is based on strategic buying.
Just identifying and buying the right property is going to take at least 30-60 days, normally. You're looking for properties that the seller, or his listing agent, may have dubbed 'as-is', or 'tear-down', or 'rehab', or perhaps 'distressed'. You may also be looking for 'fixer-upper' or 'motivated seller'. These are some of your initial clues that a particular property may be a good candidate for flipping.
These clues may mean:
a) As-is: This means that your seller is not willing to make any repairs to the property, prior to sale. It also informs you that there are repairs that need to be made. S/he is probably strapped for cash, which may be why s/he's selling in the first place.
b) Tear-down: The owner has come to the conclusion that the best fate for the property is probably to raze the existing home and start over. If so, the seller realizes that for the new owner, there are not only going to be costs associated with building an entirely new house, there is also the cost of tearing down and removing the old house. For those reasons, s/he is probably soft on his/her asking price.
However, the need to tear the house down is his/her opinion and it may not be the smartest plan for you going forward. The seller may be wrong about the need to tear it down. If the house and foundation are structurally sound, maybe the house just needs an addition.
Perhaps it needs an architectural make-over. Tear-downs are often located in good neighborhoods and the subject house may not fit in with neighboring properties, either in terms of size, architecture, or condition. If you conclude that the house really does need to be torn down, walk away.
c) Rehab: The seller concedes that there are issues with the house which will most likely require some remodeling. Again, this is a sign that s/he may be soft on his price.
d) Distressed: These owners usually have some pressing financial problem which is forcing them to sell. This could be due to a default on mortgage payments, or perhaps a court-ordered sale resulting from bankruptcy or divorce. It might be a bank-owned property, previously

foreclosed upon

. It could also be a property in probate, requiring a quick sale.
e) Fixer-upper: This property has repairs needed and probably some deferred maintenance and may be an excellent candidate for flipping.
f) Motivated seller: Some sellers are patient and willing to wait for the right offer. This is an impatient seller, who may be receptive to an offer that is under-market.
But don't count on your seller providing any of these helpful clues. You may just have to dig into the listings and determine the best candidate on your own. This is where the value of a savvy, real estate buyer's agent comes into play. Ideally, your agent is competent enough, and is willing to invest the time and effort to help you identify the right property.
Do not choose a house to place an offer on because you personally like its features. The view from the bedroom, the size of the closets, the big shade tree in the back – all irrelevant. Take your emotions out of the equation. The only relevant factor is its likelihood of resulting in a sizable profit for you.
Related article
With year-round warm weather and over 8,000 miles of coastline, it's no wonder Florida is a prime vacation destination. Filled with wildlife, beaches, lakes, rivers, amusement parks, diverse entertainment options and much more, the population of Florida is growing with people that want to call Florida "home," soak up the sun…
Location is just as important to consider in flipping as the structure itself. Is there something in the neighborhood that detracts from the property's marketability? If so, walk away.
Professional real estate investors choose investment properties that are located in neighborhoods where the subject property's value is lower than the average property value in the immediate neighborhood. They do this because the neighboring properties tend to elevate and help bolster their own property's market value.
And don't be shy about putting in a low-ball offer. It should, however, be a reasonable offer, one that has some realistic hope of being accepted. Don't be impatient at this phase. Remember, you make money when you buy.
B. The Rehab: When planning your rehab, the first question you should ask yourself is; "How can I rehab this house for nothing?" Of course, you probably can't rehab it for nothing, but that needs to be your mindset going in. You need to transform this frog into a prince for the lowest possible out-of-pocket cost. The renovation phase is most likely going to take 1-3 months.
Related article
No matter your reason for considering relocating to Los Angeles, you will find a lot to love in this sunny, warm, sprawling, diverse city. In this article, we will give you a feel for L.A.'s standard of living, climate, housing, education and more. Here are 12 Key factors you should know before moving to Los Angeles, California…
I. Resources: Prior to initiating your property search, make a list of all of your skills and rehab-related resources. Maybe you have some carpentry skills or some electrical experience. Perhaps a family member or close friend has some construction experience. You might have a friend who manages a home improvement center and can arrange discounts for your supplies.
The property you ultimately choose to buy and flip may wind up being determined by the rehab resources you have ready access to.
a. Unless you're a contractor, you're not going to be able to do everything yourself. You'll have to pay for some of the work. When hunting for workers, a particular job may not require a contractor at all. Maybe you can use the services of a handy-man, or a non-skilled worker.
II. Repairs: Choose a property that needs repairs which are easy and inexpensive to complete, such as:
a. Painting, both interior and exterior.
b. Refinishing floors
c. Replacing carpeting
d. Repairing and/or replacing windows
e. Landscaping – including lawn renovation, the removal of unwanted plants, tree trimming, stump removal, and new plantings of shrubs, bulbs, and flowers
f. Resurfacing the driveway
g. Adding crown molding to interior rooms
h. Installing interior shutters
i. Replace kitchen cabinets and countertops, if needed
j. Replace the entryway door, if needed
k. Replace old, drab vinyl or linoleum floor tiling with ceramic tiles
l. Any repair which will improve the property's marketing appeal and that is simple to do
Related article
This city has all the advantages of small-town living with proximity to big city amenities. New Prague earned the No. 2 place on our list of the Five Best Cities for Families in Minnesota with good reason. The city is peaceful and safe with a lovely downtown, beautiful lake and opportunity…
III. Repairs that should be avoided include:
a. Roofing
b. Plumbing
c. Electrical work
d. Repair to the foundation
e. Mold build-up
f. Water heater replacement
g. Termite damage
h. Water damage
i. Heating and AC repairs
j. Septic system
You may also want to consider a property that requires a much larger renovation, such as a room addition, adding a second-story, building an apartment above the garage, or adding architectural facades. These types of projects are, of course, more costly and more time-consuming. However, given the right property, a more substantial makeover or rebuild may be warranted. It may be the perfect formula for cashing in big on a particular house.
C. The Sale: According to Zillow, the average time a home spends on the market prior to sale is about two months. This, of course, varies from market to market, and season to season.
Don't try to market the house yourself, unless you're a licensed real estate agent. Once you close on your first flip, if you've done everything right, you'll have a check issued to you by the escrow company that will represent your gross profit. Now it's time to go back into MLS and find your next project!
Step #3: The No-Money-Down House Flip
Real estate investors use other people's money to finance their projects. Oftentimes, that other person is a bank, but it could be the seller himself/herself. There are essentially four ways to structure a no-down-payment purchase offer.
1. Hard Money Lenders: Hard money lenders are businesses that lend money at rates which are higher than standard industry lending rates. They often charge points as well. A hard money lender will typically lend more than a conventional lender and it may be possible to arrange for enough funds to cover the cost of renovations as well. A hard money lender will use your property as collateral and will not be concerned with your creditworthiness.
2. Private Lenders: Private lenders are individuals who like investing in real estate deals. Sometimes they only want a percentage of return on the money they loan, but others want a piece of the action as well. So, a private lender is more of a partner in your business. Their rates, like hard money lenders, are normally higher than conventional market rates. A private lender will usually loan enough to cover the transaction plus the renovations.
3. Contract for Deed Financing: A contract for deed is a real estate sales transaction which is financed by the seller. A contract for deed transaction is typically a no-money-down sale. They are usually structured with a balloon payment after a certain period, typically several years. For this reason, a contract for deed is ideal for the investor, because s/he's not interested in holding the property any longer than s/he needs to.
Related article
You may have heard stories (the good, the bad and the unbelievable!) and you're intrigued with finding more information on the city and all its wonders. You've come to the right place. Here, we'll discuss some of the common themes about Minneapolis for standard of living, climate…
A contract for deed agreement with a balloon payment after 12 or 18 months is probably the most viable way to structure a no-money-down transaction. However, the weakness of the contract for deed, with respect to flipping, is that the typical scenario where a home can be purchased under the current market value, is a situation where the owner/seller wants or needs to cash out completely and immediately.
This is not always the case, however, so when the seller is willing to remain tied to the property for a few more months, the contract for deed can be the perfect solution.
4. Another no-money-down option is to work with a real estate wholesaler. However, a wholesaler is usually looking for a piece of the action; sometimes as much as 10 percent of the final sale price. This percentage may represent all or nearly all of your profit. If you have a mature, well-established flipping business, with multiple properties in the pipeline, it might make sense to work with a wholesaler. However, the wholesaler is another mouth to feed at escrow time.
Related article
Once a farming and milling community, Edina has blossomed into a preferred suburban city with all the most desired amenities. From upscale, boutique shopping and exquisite dining to consignment shops and casual bistros, residents and visitors are enamored with the…
Bonus: House Flipping FAQ's
1. How much money do you need to flip a house?
A. The answer depends on many factors, especially the market value of the subject property. It also depends on the type of financing you are able to arrange. Will you be paying for renovations out of your own pocket, or will they be paid with loaned funds? Assuming that you'll be paying for the repairs yourself, it is best to formulate a pro forma prior to purchase.
The data you'll need will be:
a. Initial purchase price
b. Financing costs, including interest and points
c. Projected renovation costs
d. Closing-related costs
e. Broker commissions and other marketing costs
f. After-repair value, or anticipated selling price
The 70% rule in house flipping: Some investors have devised this simple formula, known as the seventy percent rule, for assessing the financial viability and ideal offer of a potential flip, as follows:
Ideal offer on subject property = ARV (after repair value) X 70% – cost of renovation
So, if the ARV is $200,000, and you anticipate $20,000 in renovations, the most you should bid on the property is $120,000.
2. What is my tax exposure on a real estate flip?
A. You will be responsible for your share of the property taxes. You will also have to pay short term capital gains taxes (ordinary income), assuming you realize a profit on the flip, and you've owned the property for less than three years – plus self-employment taxes. You owe the taxes in the year you sell the house. You will have to pay income tax on the amount calculated, as follows:
Final sale price – (acquisition cost + renovation costs + transfer costs)
3. Can I use an FHA loan to finance a property flip?
A. The Federal Housing Authority is concerned about possible fraud in the flipping business. For that reason, they have devised some rules that govern loans on these transactions, based on two durations of ownership; less than 90 days and 91-180 days. If an investor flips a house in less than 90 days after initial purchase, the new buyer is not eligible for FHA loan insurance. That eliminates the conventional financing option for your buyer.
However, if the flipper holds the property for 91-180 days, then the property does qualify for FHA financing for the new owner. One caveat is that if the price the property sells for is more than double the price the investor originally paid for the property, then a new, third-party appraisal is required by FHA.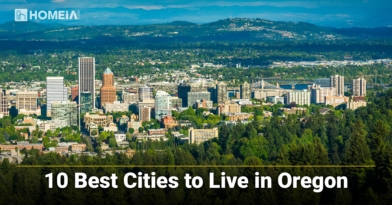 Related article
Oregon is a study in contrasts. It has 363 miles of the most breathtaking coastline you'll encounter anywhere in the world. But it also has dense forests, mountain ranges, and high desert country. Here're the 10 Best Cities to Live in Oregon…