What are the Pros and Cons of a Land Lease Agreement
When you purchase a home, you usually buy the dwelling itself as well as the property it occupies. However, you might encounter another arrangement – purchasing the home and leasing the land.
What is a land lease agreement?
Under a land lease agreement, which also is known as a ground lease, you buy a home or a building, but you rent the land from the landowner. A home buyer might see this scenario with condominiums, townhouses, manufactured homes, or trailer parks.
Sometimes the arrangement is explicitly stated in a real estate listing, and other times, it might be more subtle. A key phrase you might notice is "leasehold interest."
A land lease agreement, which can range from 50 to 99 years, outlines rules and obligations for the lessee when it comes to the use of the land. The arrangement has some distinct advantages and disadvantages for the home buyer.
It's important that you understand both before you consider entering into this arrangement. We'll also examine some of the other factors you need to know.
A. Let's first look at the advantages of a land lease arrangement.
1. Lower price.

A home under a land lease agreement tends to fall below the market value of other comparable homes. Your monthly mortgage payment will also be less than when you own the land. These savings may allow you to

buy a more expensive home

or one in a location you might not otherwise be able to afford.

2. Low or no property taxes. Since you don't own the land, you will save when it comes to property taxes. You likely will pay some local property fees, but some areas restrict the amount that land lease fees can increase each year.
3. Property maintenance. Homeowners with a land lease arrangement typically pay fees to a community association that handles lawn and

garden maintenance

, snow removal, and other repairs and ongoing

maintenance for

shared property

.

4. Amenities. Leased land communities often offer conference/party rooms, exercise rooms, swimming pools, tennis courts, playgrounds, and other recreational facilities for homeowners.
Related article
B. Here are the disadvantages of a land lease arrangement.
1. Lack of equity. Owning a home is a way to

build wealth over time

. However, unlike with traditional homeownership, you'll build equity only on your dwelling, not on the land, in a land lease arrangement. You also risk losing all of your equity at the lease's expiration, depending on the surrender clause.

2. Difficult resale. Since the remaining time on the lease shortens with each year you live on the land, you may have difficulty selling your home down the road. Even if you plan to live there for many years, a land-lease home is not as valuable to your heirs as a traditional home.
3. Monthly fees

. Most land-lease properties are part of a

homeowner's association (HOA)

that require monthly payments. HOA fees can increase each year, and the HOA can levy extra fees for community property repairs or major upgrades. You may have to pay for amenities you don't use (like a golf course) or landscaping changes you don't want or would rather do yourself.

4. Instability. Leases are renewed by the month or by the year. If a landowner decides not to renew the lease, you would have to move. Also, even though you're not

buying the land

, you still may have to pay an annual lease fee. This fee will rise over time at the rate of inflation or greater.
Related article
Houston, Texas is a vibrant city with much to offer. U.S. News & World Report ranks Houston #30 in its Best Places to Live assessment and #26 in Best Places to Retire. There's much to love about this southern city, nicknamed Space City in the days of the NASA Manned Spacecraft Center…
C. Key factors to consider before entering into a land lease agreement
As you can see, there are both pros and cons to land-leasing. Making the best decision for you and your family requires you to do some research and ask some questions. Here are key factors to consider.
1. Determine the length of time on the lease. Some land leases are up for renewal renew every month while others are every year. Some may last for nearly a century?

However, the clock is ticking. If you buy a condominium or townhome on a property that has a 40-year lease, but the lease term is already in its 20th year, then you have 20 years left on the lease. If you want to live in the home after the end of the lease, ensure that option exists.

2.

Investigate your

mortgage options

. It might be difficult to get a mortgage loan for longer than the lease term, such as a 30-year mortgage on that 20-year lease.

3.

Take note of the current monthly land-lease payment and ask how much that fee might change over time. For example, if you are able to renew an expired lease, how much might the rate increase?

4.

Read the surrender clause carefully

. After a land lease expires, some surrender clauses require that you give up any improvement made on the land. You'll want to know about this ahead of time to avoid a potentially costly mistake.

5.

If you're a pet owner, ask about animal rules and regulations. For example, there may be rules about leashes, barking, the number of animals in each home, and pet clean-up. Some communities require cats to be kept inside. It's better to know these rules now, so you and your pet don't experience any unwelcome surprises.

6. Find out if there are rules on visitors. For example, you may be limited on how many visitors you can have at one time and how long they can stay.
7.

Ask if there are restrictions on getting a roommate to share costs or

sub-letting your home

if you will be away for an extended period of time.

8.

Read the fine print on any improvements or building projects you may choose to undertake. For instance, you may not be able to construct a fence or an outbuilding, and you may not be able to have certain kinds of outdoor lighting.
Related article
We assessed the cost of living across Californian cities and compared them to the national average. The cost of living is calculated based on 5 main categories: housing, food, healthcare, transportation and energy. Based on these calculations, we narrowed down the list to California's 10 most affordable cities…
Purchasing a home through a land lease agreement can be an attractive option. You may be able to buy a home in a desirable neighborhood at a lower price than a traditional home. You also might enjoy the amenities that come along with an HOA.
However, there are some problems with the concept. Perhaps the main one is the lack of equity. Houses tend to depreciate over time, whereas property and its location usually increases in value.
In order to make an informed decision that is best for you, do your homework. It's also a good idea to consult a local real estate professional who is knowledgeable about land lease agreements for their advice and recommendations.
D. How to write a land lease agreement
Land leases are a unique arrangement since a home and the land it is on are owned by two different people or businesses.
Like other forms of rental agreements, a legal land lease requires a written contract between the two parties – the landowner and the renter. A land lease agreement gives the specific terms of the arrangement between the landowner and land renter, including what – if any — changes can be made to the property.
Under most land lease agreements, the owner has a duty to provide a habitable and safe property. The owner must repair any conditions that make the land unsafe or unfit for habitation. On the other hand, the renter must make lease payments on time and must not damage the property.
However, a strong land lease agreement goes into more detail than those overall responsibilities. If you're thinking of entering into a land lease agreement as a tenant or as a landlord, you may be wondering how to go about writing the document.
Fortunately, the process is not complicated, but since it is a legal document, you'll want to make sure you clearly detail all expectations and responsibilities for both parties.
The language in the contract does not have to be "legalese" or include fancy jargon. However, it does have to be very clear. In the event of a dispute, vague wording could mean the difference between a favorable and an unfavorable outcome.
Related article
If you have the flexibility to move anywhere in the U.S., where could you buy the cheapest home? After examining data from Zillow and World Population Review. Here're 10 most affordable States in the South and the Midwest to consider when buying a house in 2024…
Here are 9 steps to writing a land lease agreement.
1) Research your state's laws regarding land leases. Real estate laws can vary by state and sometimes even by city, so consult an attorney or contact your local government to make sure you cross every "t" and dot every "i."
2) Use consistent names for the parties involved in the lease. Consistently use the terms "renter" and "owner" or "lessee" and "lessor." Avoid the use of pronouns (like "he/she," "they," "them," "us," or "you"), which can cause confusion. If you prefer, another option is to refer to each party by their name.
3) Set a timeframe for the agreement. Your land lease agreement should have a specific start and end date. You can add a provision that states the contract can be extended if you'd like. Landlords generally have the right to terminate the lease at the end of the term or upon providing the tenant adequate notice as required by either the lease or state law.
4) State the financial terms. Clearly stipulate all amounts and payment terms in the contract. If the renter does not pay the rent on time, the agreement can specify at what time the owner can evict the renter. As part of this section, the lessee should provide proof of liability insurance to cover any possible damage to injuries to people, belongings, or property.
5) Describe the land in detail. Provide a legal description of the property. The street address or unit number is not sufficient; you must state the property's boundaries using the coordinates on the property's deed or a land survey map.
Include the total acreage that the lessor owns, and, if the agreement if for less than that amount, specify the exact portions the lessee is entitled to use. Including a topographical map with the agreement is a good idea.
6) Explain the use of the property. The agreement should include details on how the land will be used as well as who is responsible for maintaining it or making any and improvements on it. Explain who is responsible for landscaping, snow removal, irrigation, and any other maintenance.
Generally, the owner must obtain the renter's consent before entering the leased property, except during an emergency. You also can include any details in this section that are pertinent to the specific property.
For example, are any animals prohibited from the property? Can the renter build anything on the property? In an effort to protect themselves from any potential damage or lawsuits, owners can also prohibit certain conduct on the property.
Consider adding an arbitration clause, which required that the parties go to arbitration rather than court to settle any disputes.
7) Itemize the utility bills. Describe who is responsible for any gas, electric, or water bills for the property. If the utilities are shared among other tenants, discuss how the bills will be itemized.
8) Include any shared profits. If the land is being used for profit – such as a farm – add specific profit-sharing clauses.
9) Review the contract. Every land lease is a little bit different since every property is a little bit different. Both parties and their legal representatives should carefully review the document before signing it. You will need to pay a lawyer a fee for reviewing the contract, but it could save you time, trouble, and money in the long run.
You can download free templates of land lease agreements at many online sites. The templates give you an idea of the format and writing style you should use in your own agreement.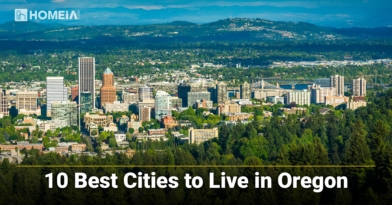 Related article
Oregon is a study in contrasts. It has 363 miles of the most breathtaking coastline you'll encounter anywhere in the world. But it also has dense forests, mountain ranges, and high desert country. Here're the 10 Best Cities to Live in Oregon…
Here are some examples:
With a land lease agreement (also known as a ground lease), you purchase the home but rent the land. One of the main advantages is the lower price of this unique arrangement.
One of the main disadvantages is that you will not be able to build valuable equity in the land on which you live. We hope you now have a clear idea of this arrangement's pros and cons and how to enter into the agreement that works for you.