The Magic of a Minnesota Christmas
Christmas is a magical time across the country—and Minnesota is no exception. The holiday is a joyous Christian celebration of the birth of Jesus, the Son of God, to Mary and Joseph long ago in Bethlehem. The unique sequence of events unfolds in the Bible's New Testament books of Matthew and Luke.
Because of the extraordinary life and teachings of Jesus and his death and resurrection to provide salvation for all those who believe, Christmas is much more than a birthday celebration. It is a time of caring, sharing and giving that is often overlooked when caught up in our busy daily routines.
For these reasons, the holiday itself is enjoyed by people of all backgrounds and faiths. It's a time of music, compassion, generosity, gratitude, twinkling lights, festivities, traditions, peace and joy.
Related article
If you have the flexibility to move anywhere in the U.S., where could you buy the cheapest home? After examining data from Zillow and World Population Review. Here're 10 most affordable States in the South and the Midwest to consider when buying a house in 2024…
In Minnesota, preparations for Christmas often start the day after Thanksgiving. People start shopping, decorating and baking. Cards are purchased and the post office is at peak performance for weeks keeping up with cards and packages. It's a time when people are receiving mail they really enjoy and news and photos from old friends and new.
The holiday traditions are many, and one of the brightest is the Christmas tree. Families will often go to a tree farm to choose and cut down their favorite tree. Or, they might buy a real tree at the corner market or go to the attic to uncover their artificial tree. The tree is decorated with lights and festive ornaments, sometimes with a theme or treasured family ornaments.
Once gifts are purchased and wrapped with colorful paper, they are placed beneath the tree to admire until Christmas.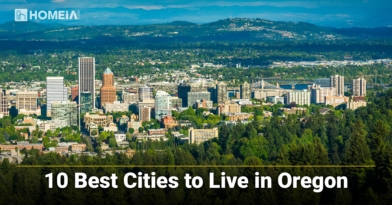 Related article
Oregon is a study in contrasts. It has 363 miles of the most breathtaking coastline you'll encounter anywhere in the world. But it also has dense forests, mountain ranges, and high desert country. Here're the 10 Best Cities to Live in Oregon…
Since I've lived in Minnesota for most of my life, I have had a few occasions when I couldn't promise Christmas snow to visitors, but that is the exception. Typically, our winters are spectacular, and it adds to the joy. We make snow angels and snowmen, build snow forts and have friendly snowball fights. Everything has a family flair with much goodwill sent to people everywhere.
We can also enjoy the snow and ice creations made by others with their love and talent. One example is the amazing snow sculpture designed each year by the Bartz brothers in New Brighton. They create their annual sea-life snow sculptures and raise money for clean drinking water in various countries. Check out this year's masterpiece to see which sea creature they are featuring! (see https://www.facebook.com/BartzSnowSculptures/)
Related article
Michigan is the only state in the United States with two separate peninsulas and five surrounding Great Lakes. Its landscape is diverse, ranging from industrialized skylines to sweeping sand dunes to gorgeous waterfalls. Once home to Henry Ford, it's also considered the epicenter of America's…
In addition to the trees, sparkling lights and decorations seen everywhere, there are many outdoor activities: sledding, tobogganing, snowboarding, skiing, skating, snowshoeing, snowmobiling and ice fishing. This is when you learn that snow can be a lot of fun.
These winter sports are at their best at Lutsen, Spirit Mountain, Giants Ridge, Detroit Mountain, Andes Tower, Buena Vista, Wild Mountain, Buck Hill, Afton Alps, Hyland Hills, Welch Village, Powder Ridge, and more.
Many communities have ponds and lakes perfect for skating, and some have recreation centers designed for outdoor fun, such as Maple Grove's Central Park Skate Loop, a 20-foot-wide trail for skaters of all abilities. For those of you who haven't yet experienced our winter wonderland, ice fishing is an unbelievable adventure.
The frozen lakes become mini villages with temporary fish houses, and unlikely as it seems, we drive on the ice to reach the warm shanty and comfortably catch fish through a hole in the ice!
Light shows are also on the itinerary. One of the most incredible is the Bentleyville Tour of Lights at Bayfront Festival Park in Duluth. Here, you'll walk through one of the largest light shows in the country (4 million lights, more or less) displayed along Lake Superior. You'll also meet Mr. and Mrs. Santa Claus and Rudolph the Red-Nosed Reindeer—perfect for a seasonal family photo.
In the Minneapolis/St. Paul metro, you'll also see lights at Rice Park in St. Paul and the 25-foot tree with 15,000 glittering lights at the Governor's Residence at 1006 Summit Avenue in St. Paul. Another favorite is the Schulz Family Lights at 1526 York Ave, St. Paul.
Here, you can tune your car radio to 91.5 to enjoy the synchronized music—and make a donation for the Merrick Food Shelf. Every neighborhood will have decorations and lights worth viewing, and each residential area is uplifting and guaranteed to produce an abundance of smiles.
Related article
This city has all the advantages of small-town living with proximity to big city amenities. New Prague earned the No. 2 place on our list of the Five Best Cities for Families in Minnesota with good reason. The city is peaceful and safe with a lovely downtown, beautiful lake and opportunity…
Of course, Christmas wouldn't be the same without the shopping and the beautifully decorated malls. Children of all ages flock to their favorite mall for pictures with Santa and wishes for special gifts. Some malls even feature a reindeer outside for additional photo ops. The enormous Mall of America is all decked out with glistening lights, decorations, shopping, dining, movies and activities galore, and neighborhood malls are equally as festive.
The holidays are prime time for family movies on the big screen and watching classics at home. Some of our favorite traditions are Elf, A Christmas Story, It's a Wonderful Life, Home Alone, The Santa Clause, Miracle on 34th Street, National Lampoon's Christmas Vacation, How the Grinch Stole Christmas, White Christmas and, of course, A Charlie Brown Christmas.
Related article
Bordering Canada and the Great Lakes is a state fondly dubbed as the "North Star State" and "Land of 10,000 Lakes." The state has a lot of lakes sprawled across its more than 86,000 square mile area. In a comprehensive study of cities, Minnesota is the number one state for raising a family because of its high median income, affordable cost of living and exceptional education services…
In the Twin Cities, celebrations continue with events such as the Holidazzle in Loring Park, Minneapolis, complete with skating, music, scavenger hunts, vendors and fireworks. You can also take a trip back in time with the Night Trains at the Twin City Model Railroad Museum in St. Paul highlighting vintage railroad scenes.
And, you can take in a guided tour of an 1875 Victorian Christmas at the Alexander Ramsey House with music of the era and home-baked cookies. Other communities have their own delightful traditions and celebrations.
To make the season extra special, there are performances for the whole family in cities throughout the state. In the metro this year, Elf the Musical, Jr. is playing at the Stages Theatre, and a must-see is the classic A Christmas Carol by Charles Dickens at the Guthrie.
You're sure to find several versions of The Nutcracker ballet at various venues. And, for music lovers, the Saint Paul Chamber Orchestra performs Handel's Messiah at the Basilica of St. Mary and the Ordway Concert Hall.
Related article
Geographically, Oregon boasts dramatic Pacific coastlines as well as volcanic mountain ranges. Its climate spans from rainforests along the coast to semi-arid conditions in the central and southeastern regions. The Beaver State is home to both Crater Lake, the deepest lake in the U.S., and Mount Hood, the second-most-climbed mountain in the world…
So much to do and so little time—you can always save some of the festivities for next year! There's something especially nice about a white Christmas, carolers singing holiday favorites, the smell of freshly baked Christmas cookies, favorite ethnic dishes and mulled cider, friends greeting friends, and families gathered together.
Churches have beautiful services, inspirational performances, concerts and reminders of the reason for the season. Children are excited when they go to sleep on Christmas Eve with hopes of hearing Santa and his reindeer approaching in the night. And, on Christmas morning, they are happily surprised to see presents under the tree.
Related article
The capital city of the United States has a reputation for being a busy political and business hub, but there is a lot more to discover and enjoy for residents of this diverse city. Washington, DC is consistently ranked among Business Insider's and Niche's top 50 cities to live in, and there are…
What makes Christmas in Minnesota so special is the peace and goodwill. You'll witness it at your favorite store where the Salvation Army bell ringers are happily accepting donations for those in need.
There are many locations to drop off gifts for children who might not otherwise receive a gift, and thankfully, there are many volunteers to provide, pack and deliver food and gifts to families and elderly who will gratefully receive them. We're a giving people, and it really shows at Christmas!
Wishing you a holly, jolly Christmas—it's the best time of the year.
Let HOMEiA helps you find the best local real estate agent!
Find Agents

Interview Agent(s)

Hire an Agent