5 Factors that Affect the Value of Your House
For many, selling their home, and especially pricing it for a sale, can be quite emotional. Besides the memories, there are all types of investments that have invested into the home (from sweat to time to money and especially the emotion). So, it's natural that when sellers learn that the value of their home is less than expected, it can be upsetting. However, if they can understand the factors that affect the market value of their homes, they are often better equipped to deal with the reality. Let's go over these 5 factors:
1. Market conditions

A house is a product in the market, and like any products in the real market, it will be affected by the rule of supply and demand in the industry. When there are more sellers than buyers in the market (aka "a Buyer's Market"), sellers need to compete on price to make their home attractive to buyers, and vice versa. Both trends are shaped by many factors in the global economy.
A good example is the 2008 economy crashed. It dropped home values significantly on a global scale, which shaped that period as a buyer's market. Now as the economy seems to be on the upward swing for a number of years (as of July, 2019), there are more home buyers than sellers (aka "a Seller's Market"). In this market, buyers are willing to bid up home prices to buy the house of their choice. This has shaped the period into a seller's market.
To sum up, market conditions are a very important factor affecting public opinion and the value of your house.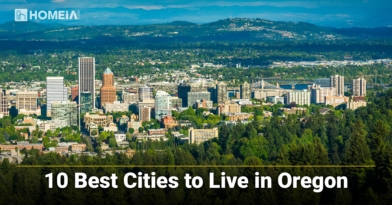 Related article
Oregon is a study in contrasts. It has 363 miles of the most breathtaking coastline you'll encounter anywhere in the world. But it also has dense forests, mountain ranges, and high desert country. Here're the 10 Best Cities to Live in Oregon…
2. The motivation to sell

When shopping for clothes, you can find sales easily if you're motivated to hit the big sale of the season. Yes, it's about a month before the end of the season. Retailers are highly motivated to get the inventory off their shelves so they slash prices aggressively.
Selling your home works much the same way. If you are highly motivated to sell your house quickly, you must price it more competitive (to the buyers) compared to similar homes in your neighborhood.
On the other hand, if you are not in a rush and can handle the monthly mortgage, your asking price can start at a higher point. But remember, don't price your home too high above the average price for a similar home in your area or you will miss the buyer's interest completely.
Related article
If you have the flexibility to move anywhere in the U.S., where could you buy the cheapest home? After examining data from Zillow and World Population Review. Here're 10 most affordable States in the South and the Midwest to consider when buying a house in 2022…
3. Property features

The unique features and layout of your home will add more value. For example, your house may easily divide up into two living unit, which is often attractive to larger families or two generation family. Features like upgraded items will add value to your home. Upgrades that can possibly add value might include a new roof, a four-season porch, deck, updated kitchen, updated master bath & bathrooms, or handicap accessibility.
4. Community features

"Location" is the key differentiating factor for value when comparing similar homes. Community features such as a nearby shopping center, top-rated school district, peaceful neighborhood, family-friendly parks, etc. are what make your community desirable and unique. Some features even add as much as $100,000 or more to a home's value, such as lakefront property, distinguished school districts, booming towns, etc.
Related article
Michigan is the only state in the United States with two separate peninsulas and five surrounding Great Lakes. Its landscape is diverse, ranging from industrialized skylines to sweeping sand dunes to gorgeous waterfalls. Once home to Henry Ford, it's also considered the epicenter of America's…
5. Exposure to the market

The marketing approach your agent will take to listing your home can make or break the sale. A professional real estate agent should provide a pre-listing consultation to make you aware of their planned strategy for promoting your home. Here are the common steps a professional agent would take when listing your home:
a. Walks the home with you and recommends things you need to quickly adjust and stage for professional photos.
b. Schedules a professional photographer to take pictures and videos of your home.
c. Markets your home for sale on social media and websites like MLS, Zillow, Trulia, etc.
d. Installs "For Sale" signage post in front of your home, where allowed.
e. Designs a property feature sheet or brochure for potential buyers.
f. Discusses other marketing techniques to get the most exposure for your home.
Related article
Geographically, Oregon boasts dramatic Pacific coastlines as well as volcanic mountain ranges. Its climate spans from rainforests along the coast to semi-arid conditions in the central and southeastern regions. The Beaver State is home to both Crater Lake, the deepest lake in the U.S., and Mount Hood, the second-most-climbed mountain in the world…
Once your home's value is determined, don't take it personally if the value is less than you expected. It is just a real-time factor of the economy, combined with the price buyers are willing to pay in your community. At the same time, if a buyer makes an offer less than your price, they are not out to insult or cheat you; and if they offer more, they aren't intending to make a donation on top of the sale price.
It's just the way the market shapes what buyers are willing to offer to become a homeowner in your neighborhood at that time. As the economy changes, so does the current "value" of a home and the price buyers are willing to pay for it.
I hope this article is helpful in explaining why a home's value will vary from time to time within the same neighborhood and how certain factors contribute to the change in real estate values. If you find this article helpful, please share it with others who you believe can benefit from it as well. For more articles on this topic, please visit here!