8 Types of Neighborhood: Choose What Fits Your Personality
When buying a new home, your first impulse might be to focus on finding a house that speaks to you. Like many buyers, you might go to an open house, tour the home, feel the ambiance, and see if it ticks all the boxes on your list of requirements.
If you really want to make the best decision, however, don't forget to take time to tour the neighborhoods you're considering and see if they meet your standards. When you buy a home, you are essentially purchasing a piece of that neighborhood. It should be a place that helps you cultivate your growth as a family and as part of society.
Each neighborhood is unique, but most fall into general categories that can give you an idea of what to expect. Here are eight types of neighborhood you might see in your home search. Which one fits your personality?
1. Urban Core/Downtown Neighborhoods
These neighborhoods are located in the heart of the metro. Homes you can find here are mostly multi-family buildings and apartments, though there may be some aging single-family homes, too.
Older buildings in the Urban Bore might have been converted—old warehouses converted into modern luxury lofts and condos, for example. Expect some homes to be located on top of businesses.
If you like an eclectic blend of high-end and modest housing close to many city attractions and nightlife, then a Downtown neighborhood could work best for your personality. It is also an excellent option for those who like interacting with a diverse mix of people.
Note, however, that when it comes to safety, these neighborhoods tend to post higher crime rates. Parking is usually an issue, too.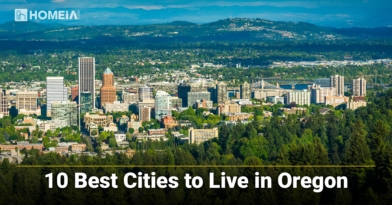 Related article
Oregon is a study in contrasts. It has 363 miles of the most breathtaking coastline you'll encounter anywhere in the world. But it also has dense forests, mountain ranges, and high desert country. Here're the 10 Best Cities to Live in Oregon…
2. Urban Pioneer Neighborhoods
If you don't like the hustle and bustle of Downtown neighborhoods, you can opt to explore Urban Pioneer areas. They are close to the city center but nestled in suburban areas. Homes are typically older single-family homes, many of them fixer-uppers. Styles can range from modern to ranch; you may also find some garden-style apartments.
The people in this neighborhood are also a mix, including many younger adults (singles and couples), one-parent families, and retirees who have been living in the neighborhood for a long time.
If you have a tight budget and you want to remain close to the city, an Urban Pioneer neighborhood is a great option. You can buy a fixer-upper here, renovate it, and sell it for a mark-up later on, as these neighborhoods tend to increase in value after a few years. Since a lot of people are moving from Downtown to Urban Pioneer neighborhoods, expect ongoing construction and renovations.
3. New Urban Neighborhoods
Away from the main Downtown area, but near other business hubs, you'll find New Urban neighborhoods. Homes that you can typically find here include new single-family houses, condos, and upscale apartments. The style here may be a bit more retro and hipster.
Like Downtown neighborhoods, the limited space in New Urban neighborhoods encourages lofts above businesses. Most people you will meet here are young professionals and middle- to high-income couples, and relatively few children.
New Urban neighborhoods have nearby businesses, shopping malls, and clubs to cater to the community, making it unnecessary to leave the area most of the time.
One downside of New Urban neighborhoods is that most of the home prices are inflated due to high demand from affluent home buyers.
Related article
If you have the flexibility to move anywhere in the U.S., where could you buy the cheapest home? After examining data from Zillow and World Population Review. Here're 10 most affordable States in the South and the Midwest to consider when buying a house in 2024…
4. Cul-De-Sac Neighborhoods
These are often located in gated subdivisions and are home to many families with kids.
Homes here are single-family homes with basements and well-maintained lawns. They are a great option if you have kids, because you can easily organize playdates with neighborhood families. They are also commendable for having active neighborhood associations that can help ensure your home and family's safety.
Singles may feel out of place here, and these subdivisions are often far from city hotspots.
If you have a family and would appreciate some quiet time at home, cul-de-sac neighborhoods are worth a look.
Related article
Michigan is the only state in the United States with two separate peninsulas and five surrounding Great Lakes. Its landscape is diverse, ranging from industrialized skylines to sweeping sand dunes to gorgeous waterfalls. Once home to Henry Ford, it's also considered the epicenter of America's…
5. Pedestrian Neighborhoods
If you want to be able to get around every day without a car, consider living in a pedestrian neighborhood. These are where you can find condos and apartments that are often home to single professionals, hipsters, and others who appreciate that they can get everything they need on foot.
That said, if you have a car, parking can be problematic.
Choose a pedestrian neighborhood if you don't mind the noise and the high density of people you may interact with.
6. Resort Neighborhoods
Resort neighborhoods are those located in coastal cities where most homes are by the water.
You can find large single-family homes with modern architecture or upscale condos. You may also find luxury cabins that serve as retirement homes of affluent middle-aged adults and seniors.
If you are big on outdoor activities, resort neighborhoods provide plenty of options that allow you to live an active lifestyle. You can go hiking, fishing, boating, and sunbathing whenever you feel like it.
Related article
Geographically, Oregon boasts dramatic Pacific coastlines as well as volcanic mountain ranges. Its climate spans from rainforests along the coast to semi-arid conditions in the central and southeastern regions. The Beaver State is home to both Crater Lake, the deepest lake in the U.S., and Mount Hood, the second-most-climbed mountain in the world…
7. Golf Neighborhoods
Golf neighborhoods are usually in gated and highly exclusive subdivisions. Homes in this type of neighborhood are often luxurious mansions and upscale condos. They are perfect if you love golf and appreciate not having to travel to practice your swings.
In addition to golf courses, residents can enjoy swimming pools, tennis courts, basketball courts, and clubhouse restaurants.
Related article
Before you consider a move to Chicago, you should consider 7 key factors that will increase your appreciation for the city and guide you to the right neighborhoods and activities for you…
8. Historic Neighborhoods
If you are an old soul, you might want to check out historic neighborhoods. They are mostly composed of homes with preserved architectural styles ranging from Victorian to Colonial Revival. Many of the residents living in these neighborhoods grew up in the area or have inherited their homes from their families. Since the homes are part of history, careful renovations are important (and can be rather expensive).
Now that you know about a few types of neighborhood, you can carefully consider them to see if one fits your personality and your requirements.
Of course, you also have to factor in your budget and the logistics of moving to a new home. Once you have a neighborhood in mind, you can start looking for listings of homes available for sale or rent. Plan your move carefully, and rely on professionals like Rainbow Movers to handle your belongings. This way, you can start a new chapter in your life without any hassle.
Related article
Bordering Canada and the Great Lakes is a state fondly dubbed as the "North Star State" and "Land of 10,000 Lakes." The state has a lot of lakes sprawled across its more than 86,000 square mile area. In a comprehensive study of cities, Minnesota is the number one state for raising a family because of its high median income, affordable cost of living and exceptional education services…